So you want to plan the perfect Northern Patagonia travel itinerary and you're not sure where to start?
Well, you've come to the right place!
Today, we're sharing a self-guided itinerary for Northern Patagonia that stretches 500 kilometres and can be done from north to south by flying into Bariloche, or from south to north by flying into Esquel.
We'll be covering the destinations from south to north in this blog post, but you can reverse the route if that works better with your travel plans.
This itinerary features some of the best destinations in Northern Patagonia and includes a nice mix of cities, towns and villages surrounded by pristine nature in the heart of the Argentine Lake District.
But it's not all national parks and hiking; this part of Argentina is also known for craft breweries, wineries, Welsh tea houses, sculpture forests, farms and some pretty amazing natural wonders.
This Northern Patagonia travel itinerary offers something for everyone, so feel free to pick and choose or do it all. The choice is yours!
And if you're planning an even bigger trip, you can also check out our coastal Patagonia road trip itinerary.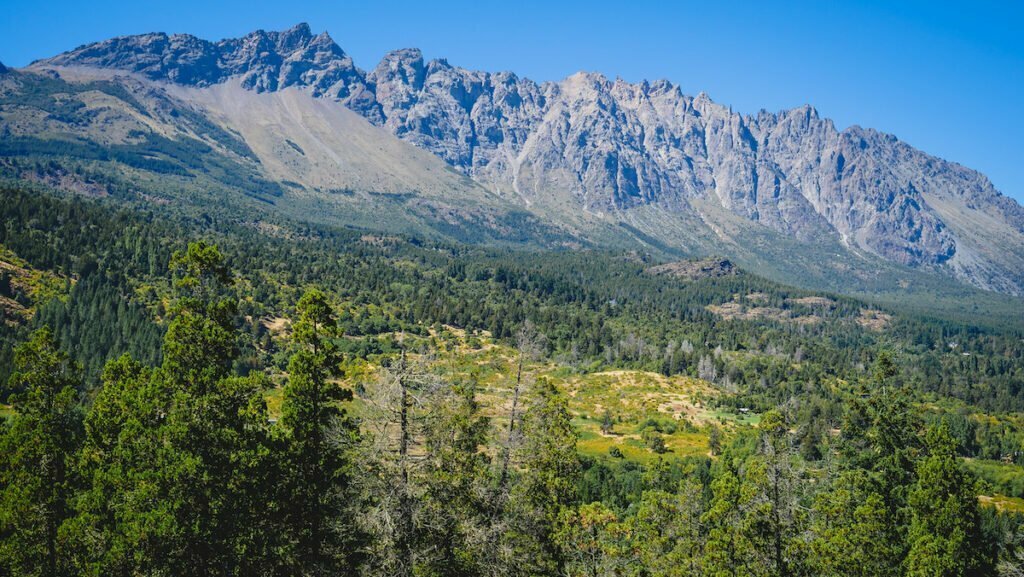 Northern Patagonia Travel Itinerary
Esquel
4 days
We're kicking off this Northern Patagonia travel itinerary by flying into Esquel, a mountainside town that offers plenty of trekking options as well as easy access to a national park.
Esquel has a very laidback feel and it is a town without street lights; we were surprised that vehicles here stop for pedestrians, which is quite rare in Argentina!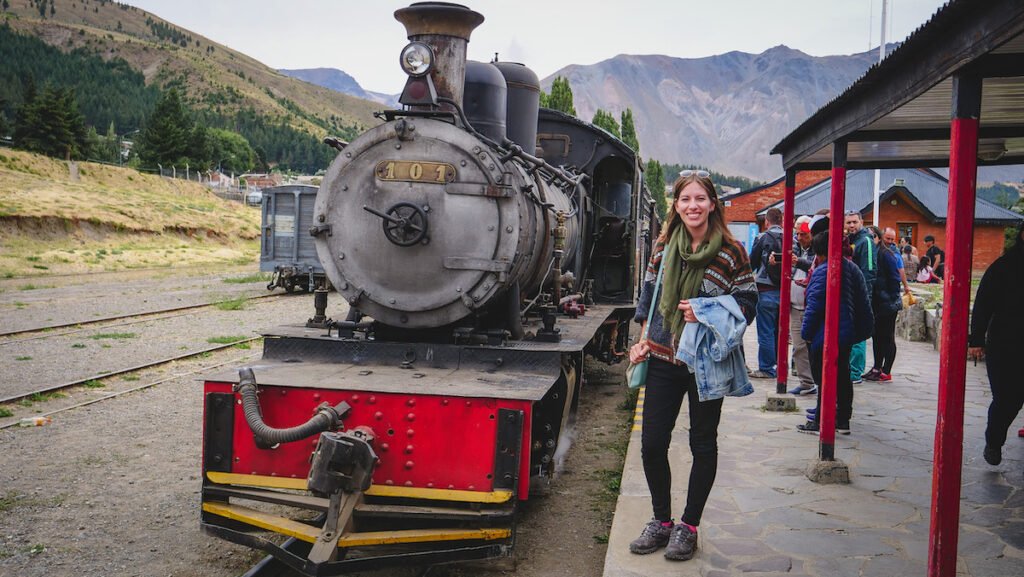 Things to do in Esquel
Ride the Old Patagonian Express
No visit to Esquel would be complete without riding aboard the Old Patagonian Express, locally known as La Trochita!
This train journey rose to fame when Paul Theroux published his book The Old Patagonian Express in 1978. In it he recounted his travels from his hometown in Massachusetts all the way down to Argentina, and clearly the Patagonia leg of his journey made quite the impression on him!
Today, La Trochita may only operate a short portion of the original 402-kilometre route it once covered, however, it captures the nostalgia of 20th-century train travel.
Travellers can enjoy 3 different segments of the original journey, however, the one from Esquel to Nahuel Pan is our personal favourite!
As you leave Esquel, you begin the ascent out of the valley where you are treated to mountain views and sheep grazing in the Patagonian steppe.
The 1-hour journey is incredibly scenic, and upon arriving in Nahuel Pan there's an artesanal fair where you can buy all sorts of souvenirs (including Welsh-inspired alfajores!), you can enjoy a choripán for lunch, and visit the Museum of Patagonian Culture.
This can be done as a half-day trip from Esquel (the train departs in the morning), and then you still have the afternoon to explore around town.
Laguna La Zeta
If you're looking for a relaxing way to spend the afternoon – perhaps after travelling aboard the Old Patagonian Express in the morning! – then consider Laguna La Zeta, a natural urban reserve in the outskirts of town.
The lagoon gets its name from the Z-shaped trail that zig-zags its way up the mountain. Laguna La Zeta can be reached by car (10 minutes) or on foot (1 hour).
Once you reach the lagoon you'll notice kayak and canoe rentals, as well as horseback riding excursions.
Most people come up for a picnic and to enjoy the surrounding scenery.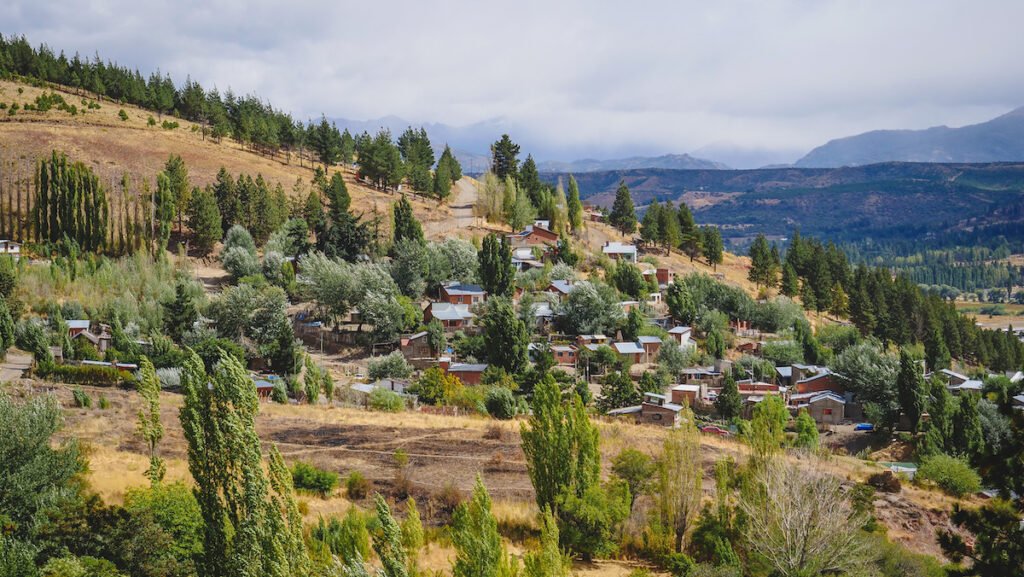 Cerro La Cruz
Esquel offers a fair bit of hiking and Cerro La Cruz is one of the many trails you can enjoy.
This hike takes about 1.5 hours each way, is medium level difficulty, and reaches a maximum altitude of 1,050 metres.
There are two main access points for anyone wanting to hike Cerro de la Cruz; you can go via Barrio Baden on the east end of town or Barrio Ceferino on the west.
Yes, it's steep the whole way, however, you efforts are rewarded with panoramic views.
You can read our complete travel guide to Esquel for more ideas of things to do in town and nearby.
Day trips from Esquel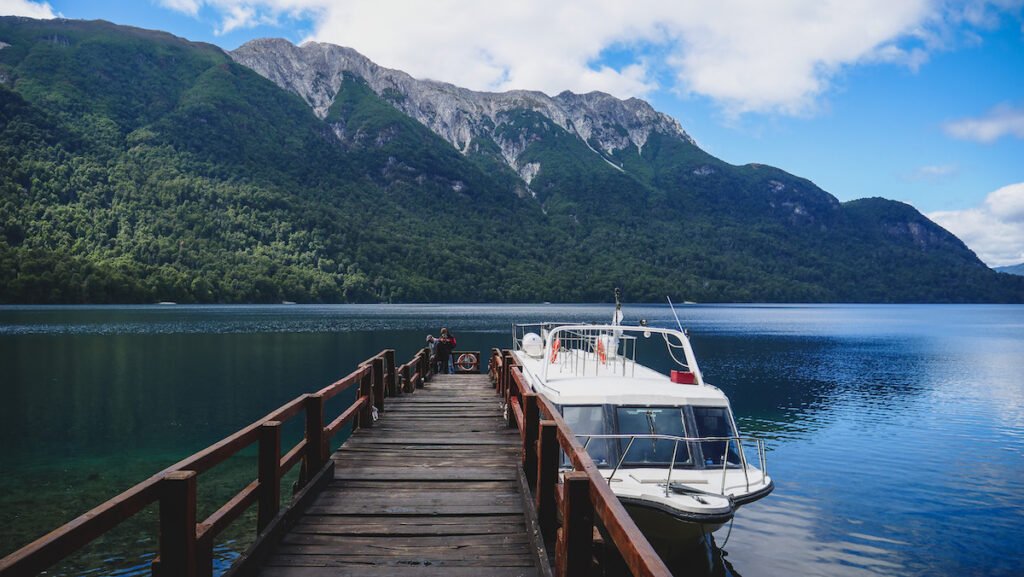 Los Alerces National Park
This park sits in the Andes Mountains of Northern Patagonia and it borders Chile. It consists of Valdivian forest and is home to hanging glaciers, snowcapped mountains, alpine meadows, and lakes and rivers that shift from turquoise to emerald.
One of the main draws to Los Alerces National Park is the forest with millenary alerce trees, including one specimen that is 2,700 years old. Reaching it involves a hike to Puerto Chucao, followed by a boat trip on Lake Menendez. Plus you even get to see the hanging Torrecillas Glacier along the way!
Other activities you can enjoy in the park include a trek to the base of the Torrecillas Glacier, kayaking excursions, and of course hiking the many trails.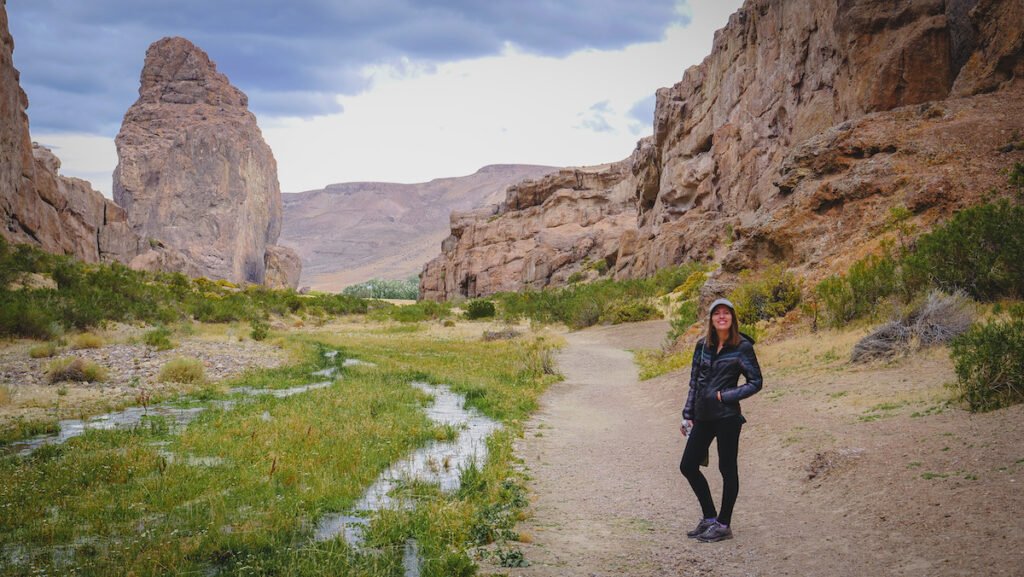 Piedra Parada
Piedra Parada translates to 'standing rock' and it is a giant rock that rises 240 metres from the middle of the Patagonian steppe.
Its origins are volcanic and once upon a time this area would have been the caldera of an ancient mega volcano.
Aside from the giant monolith, another impressive landmark is Cañón de la Buitrera, or the Vulture's Canyon.
The canyon stretches 8 kilometres with a 3-kilometre walking trail, and the walls stand around 150 meters high. This is a popular rock climbing spot.
Along the canyon, you can visit the aleros, which are small refuges in the rock, almost like caves. These would have been used by the pre-Tehuelches and Tehuelches who inhabited this area in a seasonal manner up to 5000 years ago.
Piedra Parada can be visited from Esquel independently or as part of a guided tour.
Trevelin
3 days
The next stop on our Northern Patagonia travel itinerary is Trevelin. This is one of the many Welsh towns you'll find sprinkled across Patagonia. Its name translates to 'mill town' in Welsh, named so after the first flour mill which was established in 1891.
The town sits on the edge of the Percy River and boasts beautiful mountain views to the west.
It's an ideal destination to come and enjoy a few days of relaxation and good wine!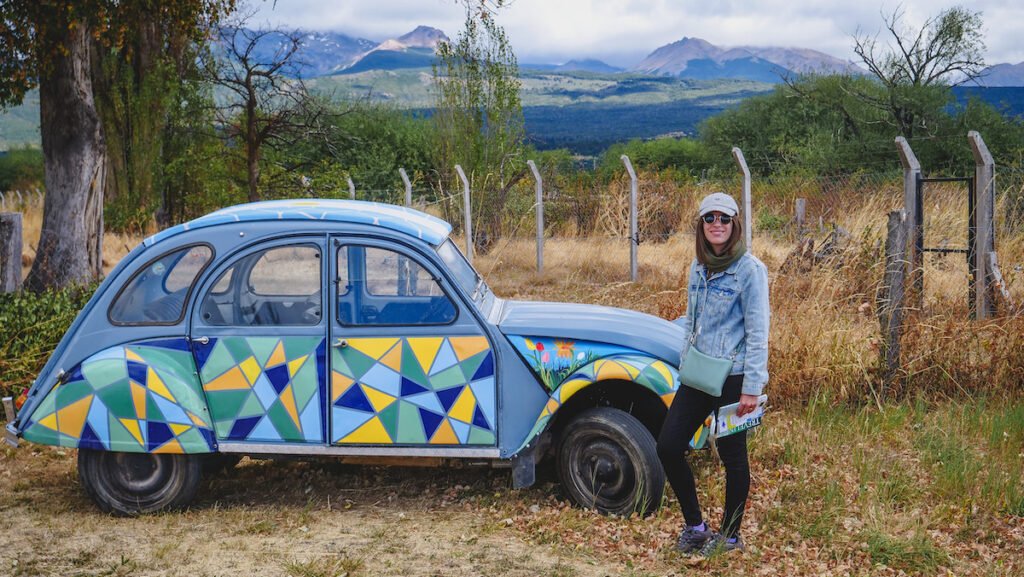 Things to do in Trevelin
Trevelin Wineries
Trevelin has a fairly new but blossoming wine scene offering a mix of wine tastings, in house restaurants and winery accommodations.
White wines do very well in this climate, so you can expect to sample Chardonnay, Riesling and Gewürztraminer. And as far as red grapes, it's all about the Pinot Noir around these parts.
Some of the wineries you can visit in Trevelin include:
Viñas del Nant y Fall
Contra Corriente
Casa Yagüe
Tulip Farm
Depending on the time of year you visit Trevelin, you may be able to see the beautiful tulip fields the town is famous for.
Aside from visiting the tulip fields, Tulipanes Patagonia also sells tulip bulbs, plus they have an on-site tea house where you can enjoy a Welsh afternoon tea.
October is the month to visit with visitors coming from far and wide.
Nant Fach Mill
The Nant Fach Mill is located about 17 kilometres outside of Trevelin and it's a replica of the flour mills used in the late nineteenth century.
Its name Nant Fach translates to 'small creek' from Welsh.
The mill acts as a museum with lots of agricultural machinery on display around the garden, and an indoor museum featuring tools, furniture, crockery and musical instruments brought over by the Welsh.
Nant y Fall Waterfall
Another thing to do in the outskirts of Trevelin is hike to the waterfalls.
Nant y Fall is a natural protected area where you can see three main waterfalls: La Petisa or 'the short one', Las Mellizas or 'the twins', and El Salto Grande or 'the big jump' which is 64 meters high.
It's a 4-kilometre walk from the main road Ruta Nacional 259.
Andes Mill Museum
The Andes Mill Museum in Trevelin is not to be missed!
If you want to learn why there are so many Welsh communities scattered all over Patagonia, this museum is a good place to start.
The museum is divided into different galleries that document the arrival of the Welsh settlers and their relationship with the indigenous peoples, the every day items they brought over from Europe, and the tools and machinery they would have used once they started their lives as farmers in Patagonia.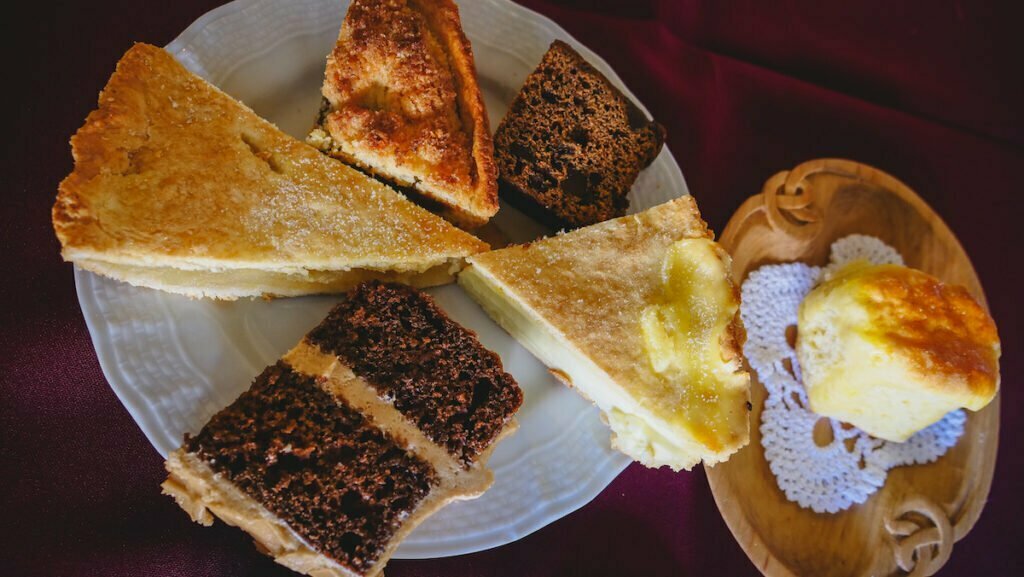 Welsh Afternoon Tea
Another thing to do in Trevelin is to enjoy a Welsh afternoon tea. After all, this town was founded by Welsh immigrants!
The two main tea houses in Trevelin are:
Nain Maggie Teahouse
Casa de Té La Mutisia
We've eaten at both and they each have their own feel. Nain Maggie felt very casual and cozy and they had an impressive selection of cakes – we were obsessed with their chocolate sponge cake with coffee icing!
Casa de Té La Mutisia felt slightly fancier and it had some historical displays.
You can read our complete Trevelin travel guide here.
El Bolsón
4 days
El Bolsón is a hippie town with epic views carved out between two mountain ranges.
This a destination in the Andean Region of the 42nd Parallel where nature abounds and each day of your visit can be spent chasing waterfalls, going to the lake, or tackling yet another breathtaking hike.
El Bolsón also has lots of craft breweries, ice cream shops and restaurants, so in between all the hiking and outdoor fun, you can eat very well!
It's a destination you won't want to miss on your Northern Patagonia travels.
Things to do in El Bolsón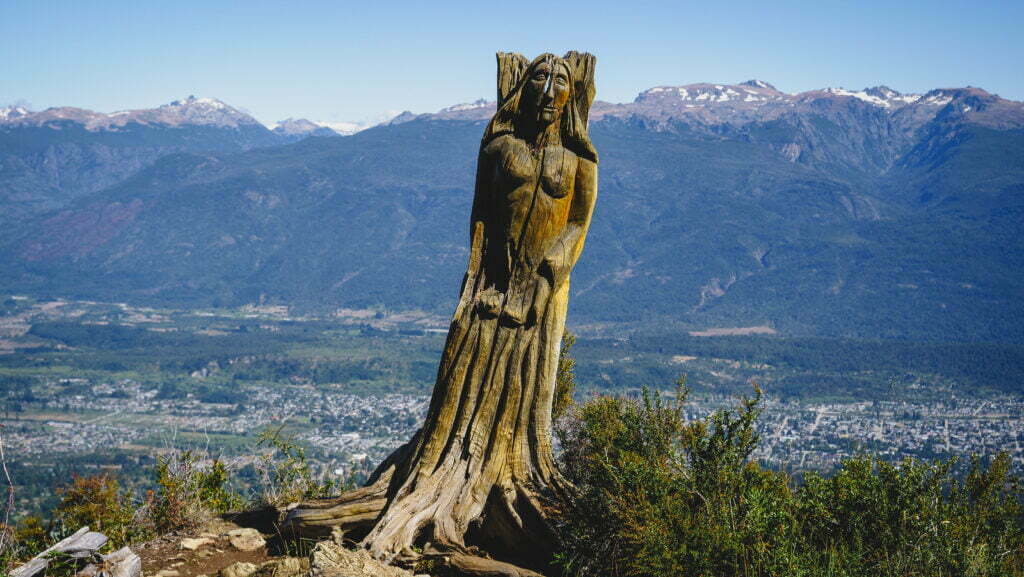 Bosque Tallado
One of the most unique attractions in El Bolsón is the Bosque Tallado or the Carved Forest located on Cerro Piltriquitrón at 1,420 meters above sea level.
This sculpture forest came about after a series of fires burnt down much of the mountainside.
Local artist Marcelo López came up with the idea of inviting artists to breathe new life into the forest through art. The idea: each artist would create a sculpture using the burnt and fallen lenga trees in the forest.
Gatherings were organized in 1998, 1999, 2003, 2007, 2010, and 2014 adding new sculptures to the forest.
It's a beautiful hike and aside from the artwork, the mountain views are pretty spectacular!
Hippie Fair
El Bolsón is well known for its artesanal fair that sets up in Plaza Pagano every Tuesday, Thursday, Saturday and Sunday.
There are around 200 stalls selling ceramics, leather, tapestries, candles, honey, jams and even natural cosmetics. Plus, we can't forget all the food trucks where you can sample empanadas, choripán, crêpes, hamburgers and more.
It's a great spot to do a bit of souvenir shopping.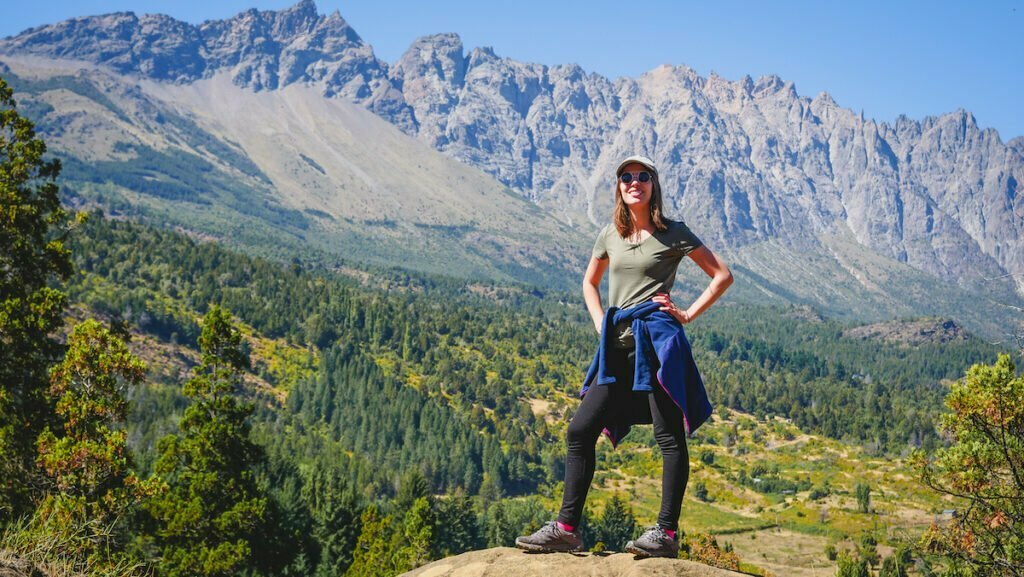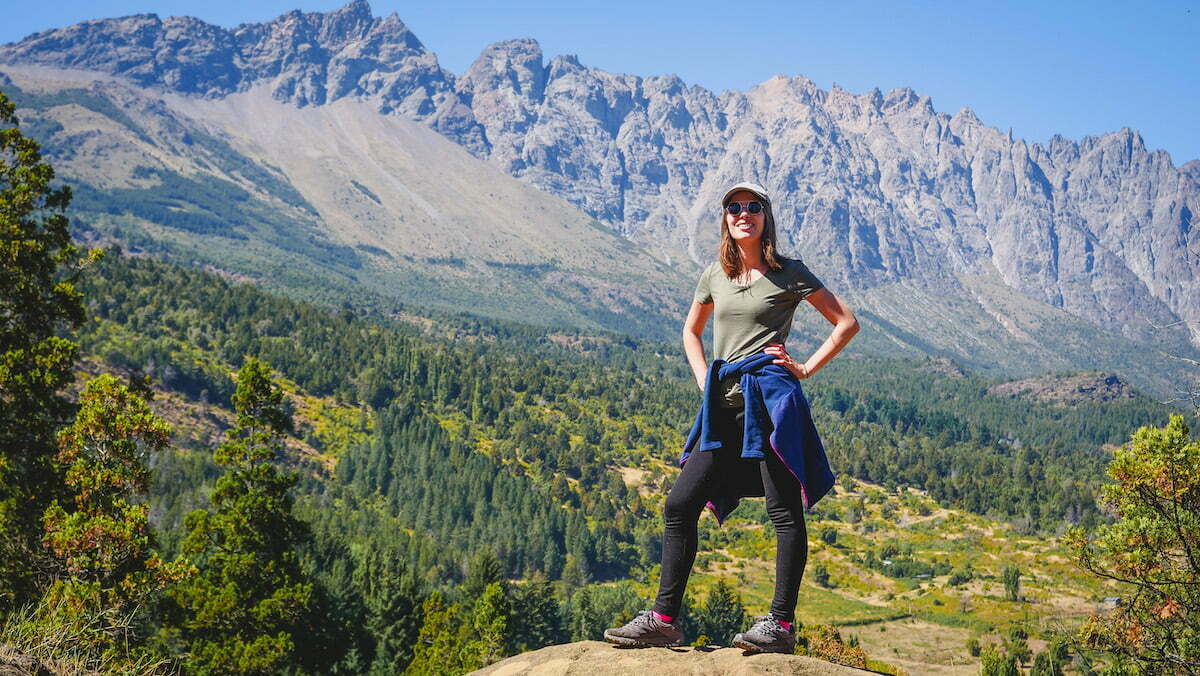 Hiking in El Bolsón
El Bolsón is a great hiking destination and there are numerous trails to choose from all ranging in length and level of difficulty. A few to consider include:
Cerro Amigo – Easy hike with 3 lookouts offering town and mountain views (2 kms, 30 mins)
Cerro Piltriquitrón – The most iconic mountain whose name means 'hanging from the clouds' and leads to a refuge (9.3 kms, 5 h)
Cabeza del Indio – Leads to a lookout of the valley and there's a rock that resembles a human head (6.8 kms, 2 h 15 mins)
El Cajón del Azul – This trails starts at the Wharton Farm and leads to a river canyon (17.4 kms, 5 h 45 mins)
Distances and trekking times are there and back. You can find a complete list of hiking trails in and around El Bolsón here.
Day trips from El Bolsón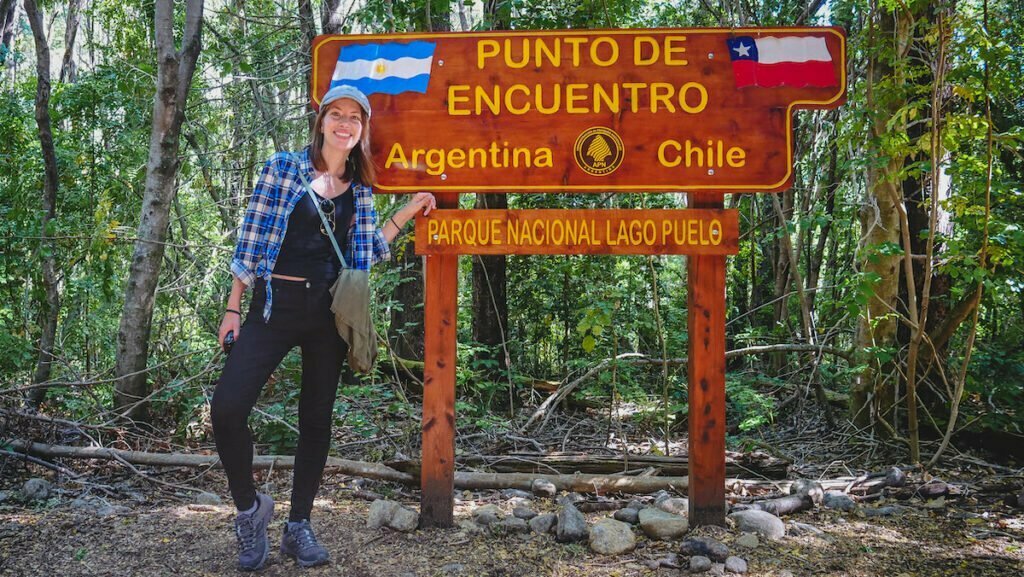 Lago Puelo
Lago Puelo or Lake Puelo is another spot not to be missed on your Northern Patagonia travel itinerary!
This lake is situated in Lago Puelo National Park in the northern end of the Chubut Province and it is home to Valdivian forest, mountain peaks, and beautiful hiking trails including one that leads to the Chilean border.
Lago Puelo's waters are deep blue and they get their colour from the glacier sediment found in the rivers that feed the lake.
This is a really nice place to spend the day; you can enjoy a dip in the lake, have a picnic lunch (sometimes there are food trucks!), and if you want to tackle an easy hike that offers panoramic views, you can't go wrong with Mirador del Lago.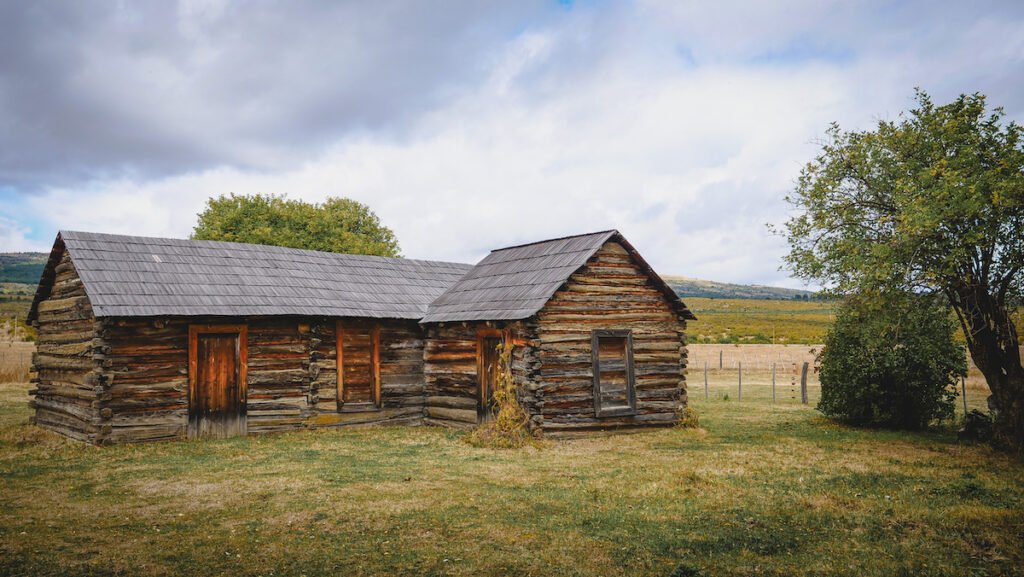 Butch Cassidy's Ranch in Cholila
Did you know that Butch Cassidy and the Sundance Kid owned a ranch in Patagonia?
Yes, we're talking about the infamous American train and bank robbers from the days of the Wild West.
After law enforcement got hot on their trail, the two escaped to Argentina along with the Kid's girlfriend, Etta Place.
After arriving in Buenos Aires on a steamer using fake identities, they made their way even further south to Patagonia. Here they purchased land, bought cattle, and set up shop in a four-room cabin.
Today their cabin has been restored and it is open to visitors. Though keep in mind it is free of furnishings, so you are going to look at an empty log cabin!
There's also a museum on site called Museo Bar: La Legal, which also acts as a cafe and bar. It's a cool spot in this relatively rural and desolate area.
The ranch is a 1-hour drive south of El Bolsón, just 10 kilometres before you reach the town of Cholila.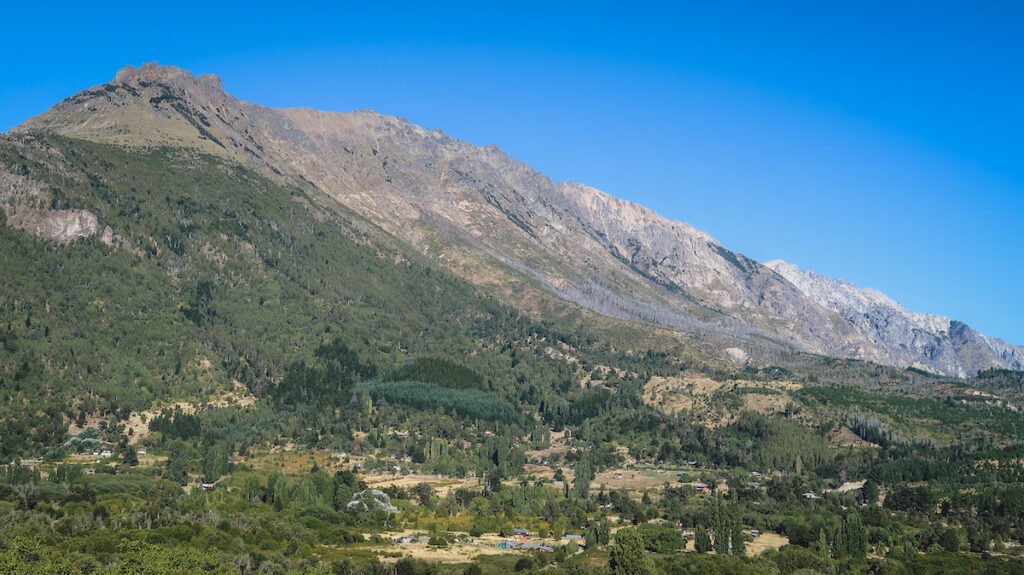 El Hoyo
The town of El Hoyo is home to Laberinto Patagonia, which is the largest labyrinth in South America!
Nestled in a 5-hectare estate, the labyrinth has 2,200 metres worth of paths and is a fun activity whether you're visiting as a couple, with family or friends.
The views when you emerge from the labyrinth are pretty epic – you can see the whole valley and mountains on either side!
The labyrinth also has a tea house on site and they serve the most delectable cake; you absolutely must order their chocolate cake with blackberries, raspberries, blueberries, gooseberries, strawberries and whipped cream.
El Hoyo also has a few wineries and vineyards if you'd like to add wine tasting to your visit:
Patagonian Wines
Bodega y Viñedos Ayestarán Allard
Mammarelli Wines
Bariloche
4 days
San Carlos de Bariloche, more commonly known as Bariloche, is the biggest city we're covering on this Northern Patagonia travel itinerary yet it still manages to have that easygoing feel you'd expect from a Patagonian town.
The nice thing about Bariloche is that it is very spread out and you're surrounded by lakes and mountains in all directions.
It is a nature lover's paradise where you can enjoy hiking, boating, brewery-hopping and lots of light adventure!
Things to do in Bariloche

Isla Victoria
The most popular activity you can do in Bariloche is go on a boat tour of Isla Victoria and the Arrayanes Forest.
This excursion departs from Puerto Pañuelo and journeys through the waters of Lago Nahuel Huapi towards the Quetrihué Peninsula where you visit the Arrayanes Forest.
The boat then continues its journey towards Bahía Anchorena which is located on Isla Victoria. Here you disembark once more and can join a guided hike or explore at your own leisure.
There's also a nice beach called Playa del Toro and while the waters are pretty cold year round, that doesn't stop people from enjoying a refreshing summer dip!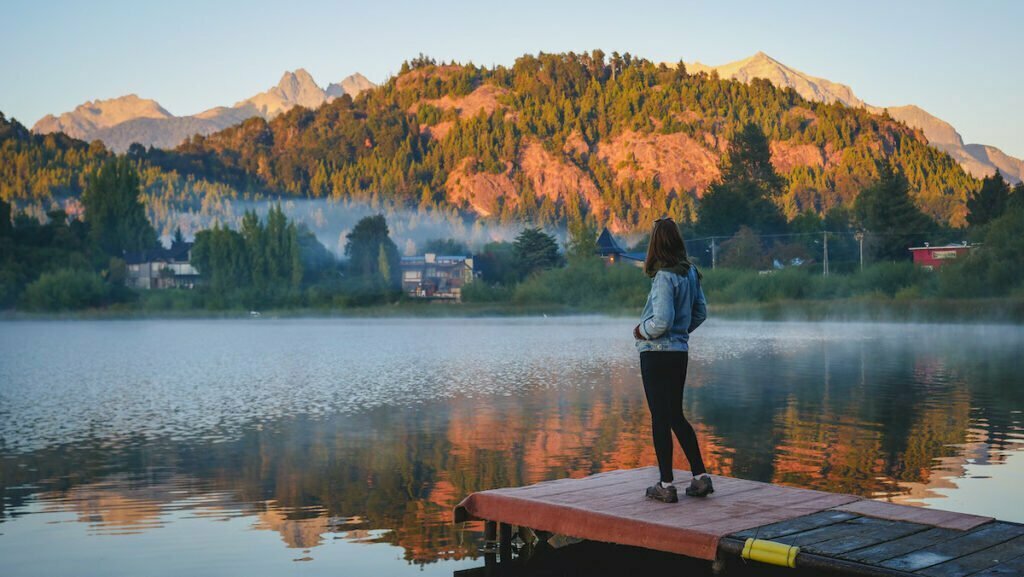 Circuito Chico
Another must-do in Bariloche is to drive the Circuito Chico, literally 'short circuit'. And if you're not renting a car, then do the same route by bus!
This is a scenic drive that follows the shores of Lago Nahuel Huapi as you leave Bariloche heading northwest, and it then does a loop around various lakes before circling back towards Bariloche.
Along the way, there are lookout points where you can pull over and snap photos. Plus, there are also breweries, restaurants, cafes, hiking trails, kayak rentals, and everything you could possibly want for a beautiful day out in nature.
The drive can typically be done in half a day, including stops for food and photos at various panoramic lookouts. Or you could make it a full-day activity by enjoying some of the tours and activities in the area.
Cable Car to Cerro Otto
Cerro Otto is a mountain peak in Nahuel Huapi National Park that stands 1,405 meters above sea level.
The peak of Cerro Otto offers 360° views from which you can observe Lago Nahuel Huapi, Lago Moreno, Lago Gutiérrez, Cerro Tronador, Cerro Catedral, and Cerro Campanario. The views are pretty spectacular!
You can hike to the top of Cerro Otto, however, it's a bit of a dusty hike with quite a bit of foot traffic, so I would recommend taking the cable car up instead.
It's worth going up for the photos and to get a bird's eye view of the area, but that's about it. I would come back down for better food options once you're done visiting.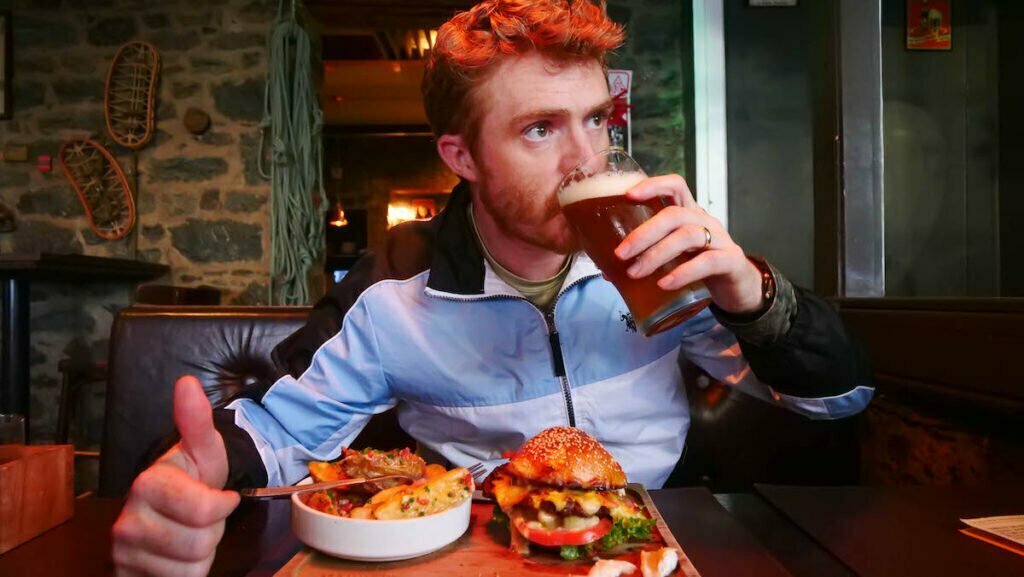 Patagonian Breweries
Bariloche is synonymous with craft beer. There are countless breweries to choose from and it would be almost impossible to try them all in one visit, but you can sure try!
Some of the breweries we enjoyed include:
Cervecería Patagonia – the best views! Sip on your beer while enjoyed views of lakes and snow-capped mountains.
Cervecería Gilbert – cozy and rustic brewery that serves up local dishes like deer stew, wild boar and trout.
Cervecería Manush – order a beer flight with one of their mouthwatering gourmet burgers.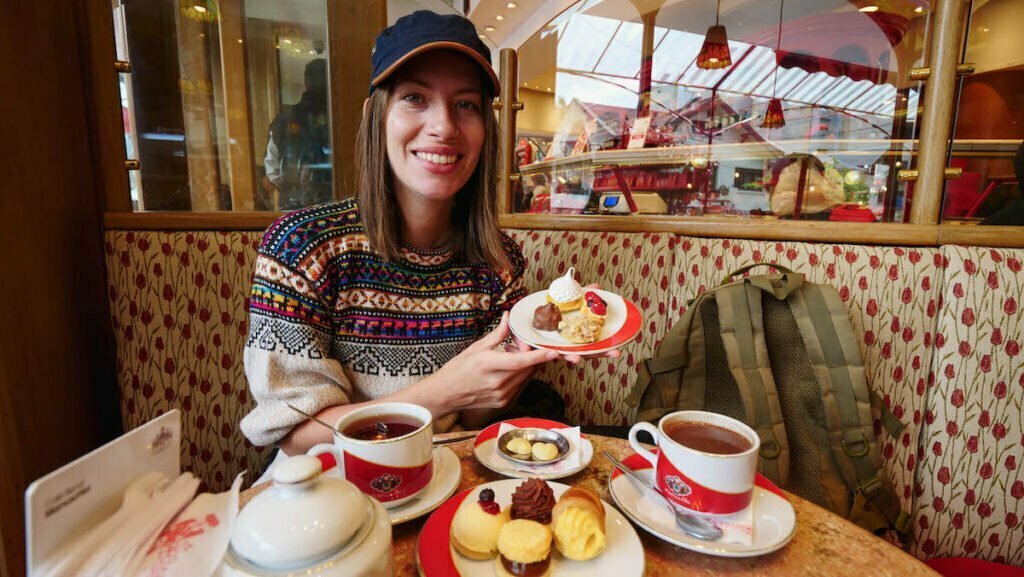 Patagonian Chocolate
Another thing you must try in Bariloche is Patagonian chocolate! Just walk down Calle Mitre and you'll be overwhelmed with options.
Mamuschka is a nice spot to stock up on chocolate, or enjoy breakfast or afternoon tea. Because did I mention that aside from chocolates they also serve all sorts of delicious pastries, cakes and specialty coffees? That's right!
For something a little unusual, Rapa Nui features a cafe, an ice cream parlour and a skating rink all under the same roof. Have a dulce de leche ice cream, then go ice skating, and lastly hop over to the cafe to warm up with a cup of coffee and maybe snack on their famous chocolate-covered raspberries.
Day Trips from Bariloche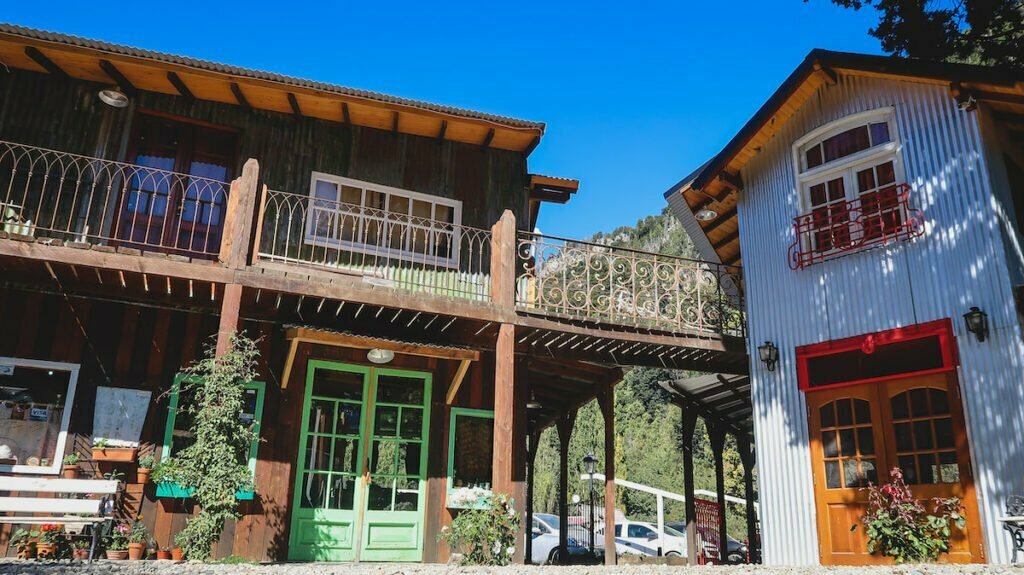 Colonia Suiza
A popular day trip from Bariloche is Colonia Suiza, a small village that was founded by early Swiss settlers in Patagonia. It draws a lot of backpackers and campers, as well as nearby day trippers – yes, it's a bit touristy!
Colonia Suiza is the type of place that has the power to transport you back in time with its sleepy dirt roads lined by tall trees. A fun day here includes enjoying some beach time on the shores of Lago Perito Moreno, sipping on craft beers at Berlina, and feasting on German and Swiss dishes at the local restaurants.
If you happen to visit on a Wednesday or Sunday during the tourist season, you can try curanto, a method of cooking food using heated rocks buried in an earth oven. This is a tradition that was brought over from Chiloé, Chile.
Villa La Angostura
2 days
Villa La Angostura is yet another Northern Patagonia destination worth adding to your travel itinerary!
This town is nicknamed 'the Garden of Patagonia' thanks to its rosebush-lined streets, plus its streets are also named after different plants and flowers.
Villa La Angostura is known for its two bays, fly fishing opportunities, and it's also the gateway to the famous Arrayanes Forest said to have inspired Disney's Bambi.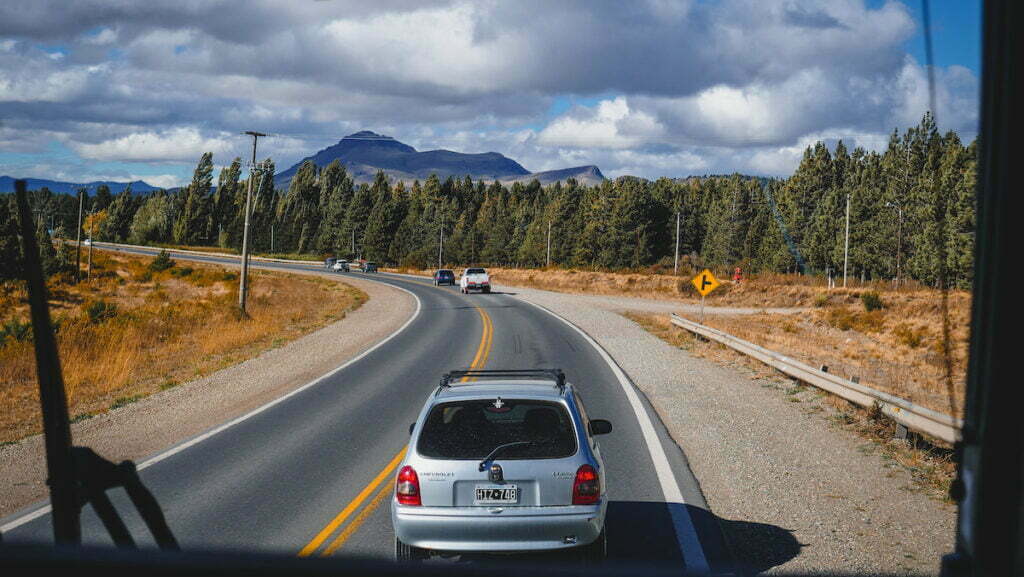 Road of the Seven Lakes
The Road of the Seven Lakes, or La Ruta de Los Siete Lagos in Spanish, is a scenic 107-kilometre drive that stretches from the town of Villa La Angostura in the south to the town of San Martín de Los Andes in the north.
Aside from going past seven lakes, it also crosses 2 national parks, and it's considered one of the most scenic drives in Argentina!
The route can be driven in one day independently or as part of a guided tour. And while it takes just under 2 hours to cover the full distance, this is best done as a full day activity so that you can enjoy all the scenic stops along the way, and of course, visit all the lakes!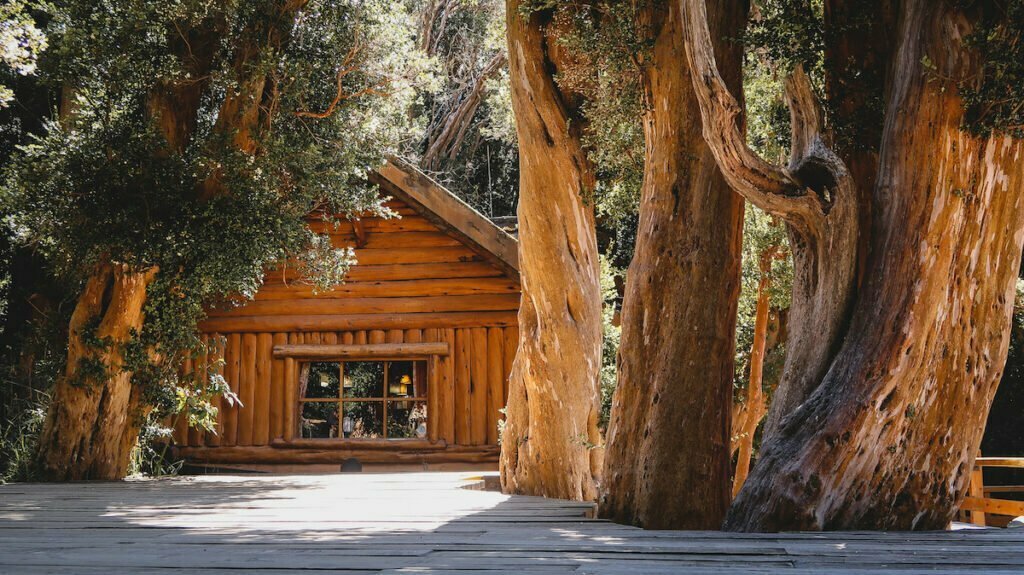 Arrayanes Forest
Set on the Quetrihué Peninsula that juts out from the town of Villa La Angostura, is a forest locally known as Bosque de Arrayanes.
This forest is home to the arrayán tree known for its flakey cinnamon-coloured bark with cream patches. What makes this tree special is that it always feels cool to the touch because its bark is so thin that you can feel the sap flowing!
The trees in the Arrayanes Forest are around 300 years old, though a few are over 650 years of age.
The best way to experience this forest is to go a boat tour to the peninsula which includes a guided walk around the forest, and then rather than getting back on the boat, you can hike the 12 kilometres back to Villa La Angostura.
This is a full-day activity and it's a really nice way to soak in the beauty of Northern Patagonia.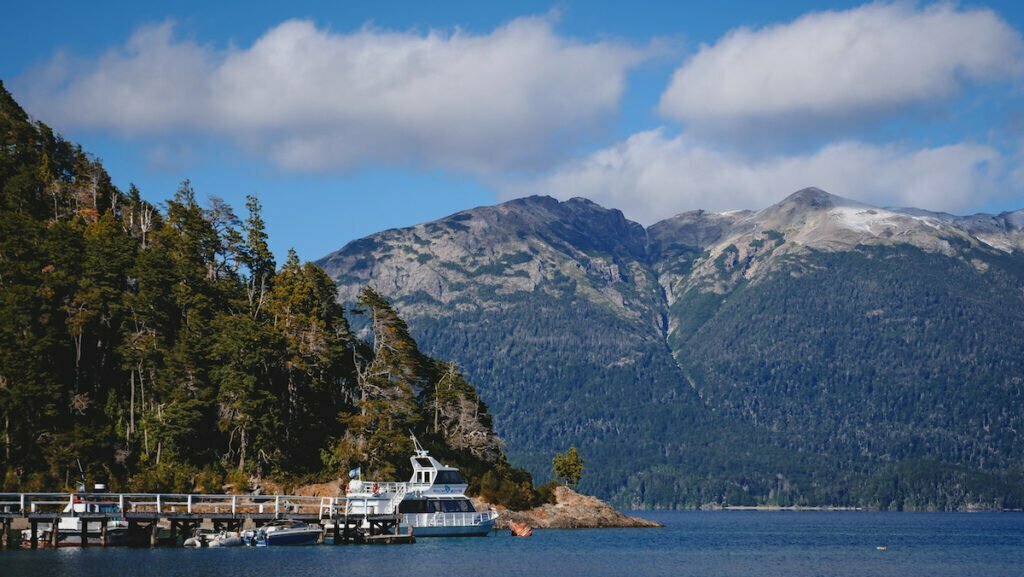 Bahía Mansa and Bahía Brava
Villa La Angostura has two bays: Bahía Mansa, meaning 'calm bay', and Bahía Brava, meaning 'wild bay'.
The two bays are separated by the narrowest point of the Quetrihué Peninsula and are just a 5 minute walk away from each other.
The bays are popular for a cool dip, water activities and enjoying the sunset.
Here's our complete itinerary of things to do in Villa La Angostura during your visit.
San Martín de Los Andes
3 days
San Martín de Los Andes is the next stop on this Northern Patagonia travel itinerary offering plenty of nature and outdoor fun.
This town is surrounded by mountains and also features a lake to the west with beach access and plenty of boating options.
Like most of the destinations we've covered so far, craft breweries, artesanal chocolate shops and restaurants abound, so you can be sure you'll eat well around these parts.
Things to do in San Martín de Los Andes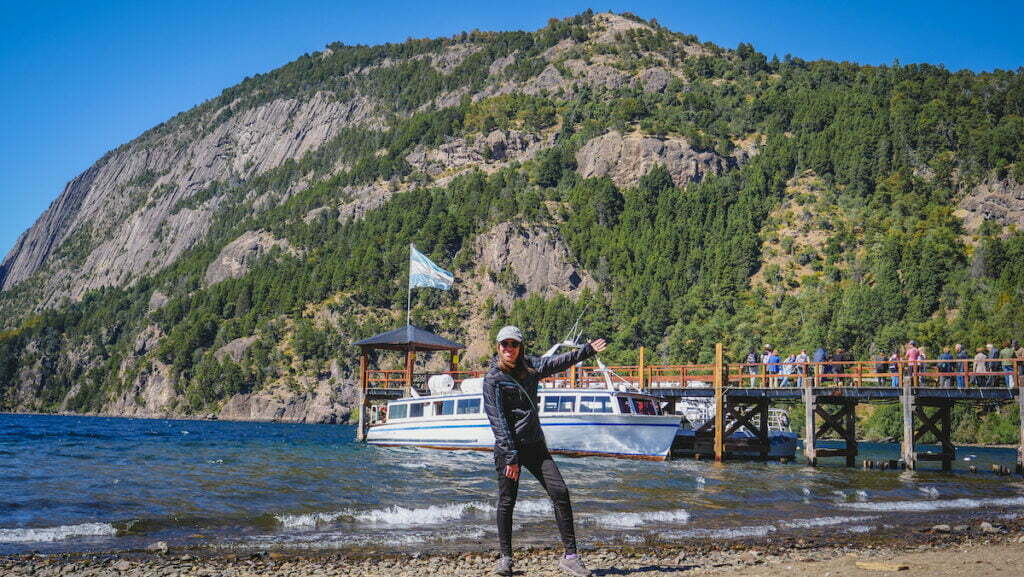 Lago Lacar Boat Trip
The main thing to do for anyone visiting San Martín de Los Andes is to go on a boat tour of Lago Lacar.
This lake stretches 25 kilometres in length and is neatly tucked into the Andes Mountain range.
Over the course of the tour, you make stops at Quila Quina Beach, where you can grab lunch or enjoy a stroll along the beach; Chachin Waterfall, which can be reached by a dirt trail through the Valdivian forest; Hua Hum, where there's a tea house serving cakes and pastries; and the island of Santa Teresita, where there is a small chapel.
It's a really enjoyable trip and a nice way to experience this part of Patagonia.
Hiking in San Martín de Los Andes
Like most of the destinations covered on this Northern Patagonia travel itinerary, San Martín de Los Andes also offers plenty of hiking opportunities! We mainly enjoyed the lookouts:
Mirador Arrayán – lake and town views from the south side, plus it leads to a tea house! (2.6 kms, 30 mins)
Mirador Bandurrias – moderate hike offering views of Lake Lácar (4.0 kms, 1 h 30 mins)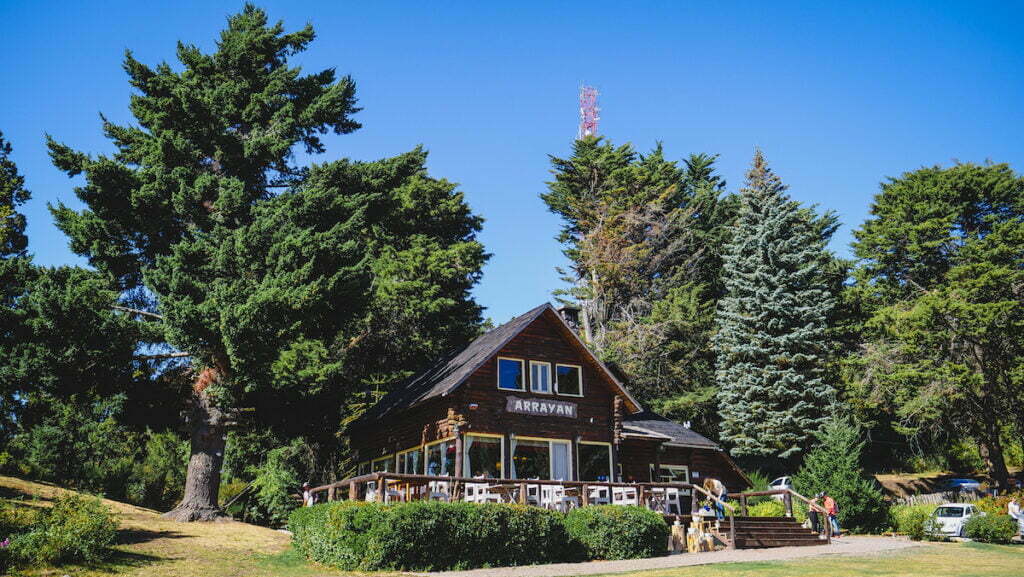 Casa de Té Arrayán
Another place we enjoyed in San Martín de Los Andes was the Arrayán Tea House, which is located just past Mirador Arrayán.
You can do the hike and then reward yourself with afternoon tea!
The tea house is set in an old log cabin with epic lake views, they offer a variety of loose leaf teas, and we were pleasantly surprised with their selection of cakes, scones and sandwiches.
It's worth the trek up, for sure.
Here are some more ideas of things to do in San Martín de Los Andes on your visit.
Villa Traful
2 days
The final stop on this Northern Patagonia travel itinerary is Villa Traful, and of course, we chose a scenic out-of-the-way destination to end the trip.
This lakeside destination is all about relaxation and unwinding after a busy few weeks of road tripping!
Things to do in Villa Traful
Lago Traful
Villa Traful gets its name from Lake Traful and it's the main attraction in town.
Who doesn't want to enjoy lakeside strolls and lakeside views from a cozy cabin on the hillside?
Most of your time here will centre around the lake and the activities it offers.
Submerged Forest
One of the more unusual attractions in Villa Traful is the Submerged Forest, known as Bosque Sumergido in Spanish.
The trees you see rising from the lake once grew on the hillside, but a landslide in the 1960s left them submerged beneath the waters of Lago Traful.
There are about 60 submerged cypress trees in total, and their trunks and branches are visible thanks to the crystal-clear waters.
The Submerged Forest can be visited by boat; excursions depart from the dock on the south side of the lake and travel to the north side where the forest is located.
And if you want to go scuba diving and see the Submerged Forest in all its glory, you can do so too via Buceo VLA.
Waterfall Hikes
Villa Traful offers two different hikes through the Patagonian forest and both hikes lead to waterfalls.
Cascada del Arroyo Coa Co is a 40-minute loop, while Cascada del Arroyo Blanco is a 60-minute loop that also features a small detour to a bird watching observatory.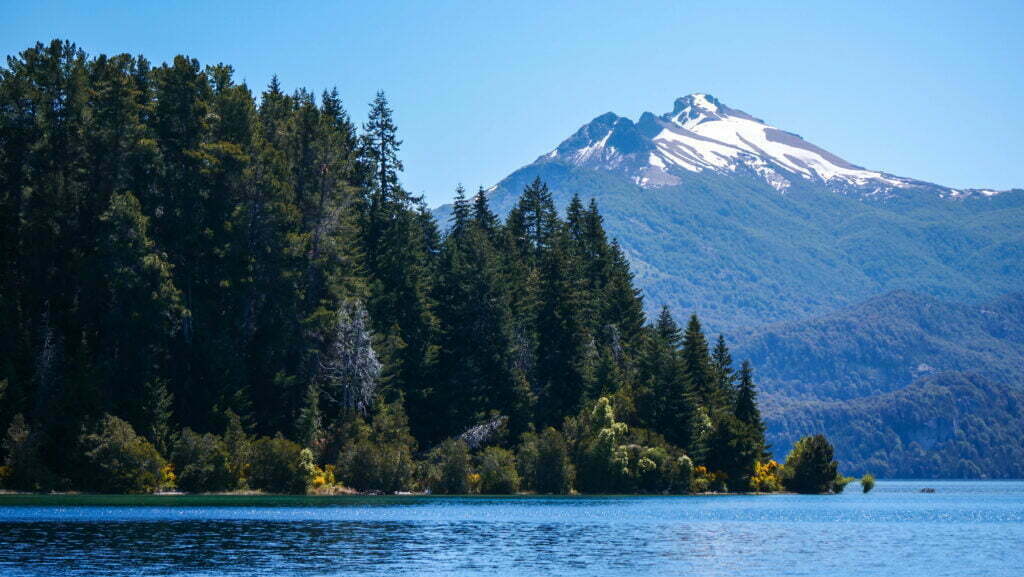 Northern Patagonia Travel Tips & Advice
If you're planning to drive this route, note that rental cars in Argentina are almost exclusively standard/manual transmission. Automatic transmission cars are few and far between, and the rental price is typically 3x as much as that of a standard car.
You can do this route by bus, but keep in mind there may not be daily connections, especially to some of the smaller destinations. For example, the bus to Villa Traful only runs twice a week.
December-February is the summer travel season in Argentina, and there's a lot of domestic tourism. If you want to enjoy the peace and solitude of Patagonia, you may want to consider travelling off-peak (September-November is springtime and March-May is autumn).
You can expect to find some English spoken in the cities and bigger towns, but less so in the smaller destinations listed on this itinerary. Though don't let that deter you because locals are friendly and charades can work wonders to get a message across.
That's our complete Northern Patagonia travel itinerary!
As mentioned earlier, this route can be driven from south to north or north to south. It can also be lengthened or shortened by adjusting how many days you spend in each destination, or removing some of the places you don't have enough time for.
Whichever version of this itinerary you decide to follow, we hope you'll have a wonderful time exploring Northern Patagonia!