Argentina is home to many epic train journeys, but perhaps none is more famous than the Old Patagonian Express!
The train is locally known as La Trochita, meaning 'little gauge' because it's a narrow gauge railway that's only 750 mm wide, or about 2 feet 5 and a half inches.
This heritage train showcases the ruggedness of Patagonia and along the journey, passengers can expect to be treated to epic views of mountains, valleys, and Patagonian steppe. It truly is one of the highlights of a visit to Chubut!
Today, La Trochita may only operate a short portion of the original 402-kilometre route it once covered, however, it captures the nostalgia of 20th-century train travel.
That alone makes it worth adding to your northern Patagonia travel itinerary!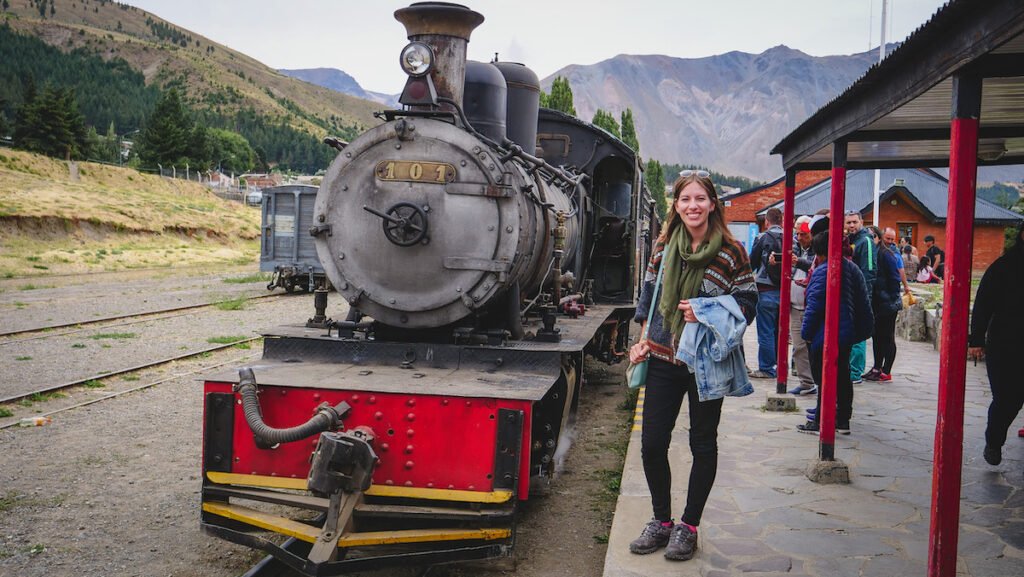 History of the Old Patagonian Express
The Old Patagonian Express once stretched out 402 kilometres and it was originally planned as part of a larger network that would connect all of Patagonia. However, the project was never completed due to ministerial changes and then the start of the First World War, which also affected Argentina's economy.
Its use eventually began to decline as road systems improved, and because part of the railway network was never completed, it left this line isolated and disconnected from the rest of the country.
But then things changed when Paul Theroux published his book The Old Patagonian Express in 1978.
In his book, Theroux set out to travel by train from his hometown in Massachusetts all the way down to Argentina, and clearly the Patagonia leg of his journey made quite the impression because it earned the book's title!
Travellers suddenly began to take interest in the Old Patagonian Express, and that brings us to the train journey as we know it today.
Today the train operates on alternating locomotives; one is a Baldwin from the United States and the other a Henschel from Germany. The wooden wagons came from Belgium, and the heaters were installed in Argentina to make the journeys across Patagonia in winter a little more bearable.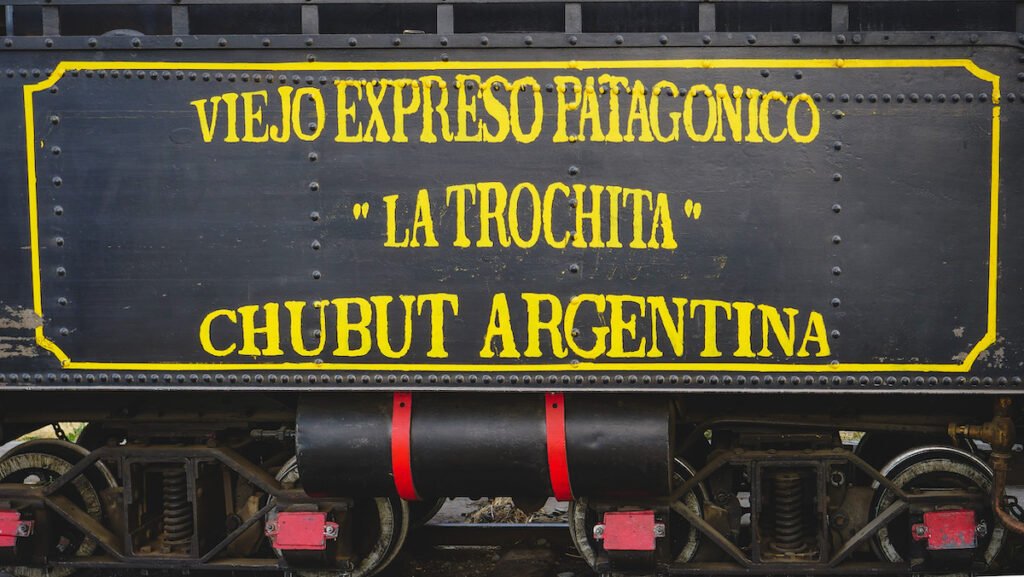 How to ride the Old Patagonian Express
There are three segments of the Old Patagonian Express for travellers to choose from – those some are more frequent than others:
Esquel to Nahuel Pan – 18 kilometres
El Maitén to Desvío Bruno Thomaé – 26 kilometres
Ingeniero Jacobacci to Ojos de Agua – 42 kilometres
Before you plan your train journey, it's best to check an updated schedule on the official La Trochita website since some routes aren't in operation year round.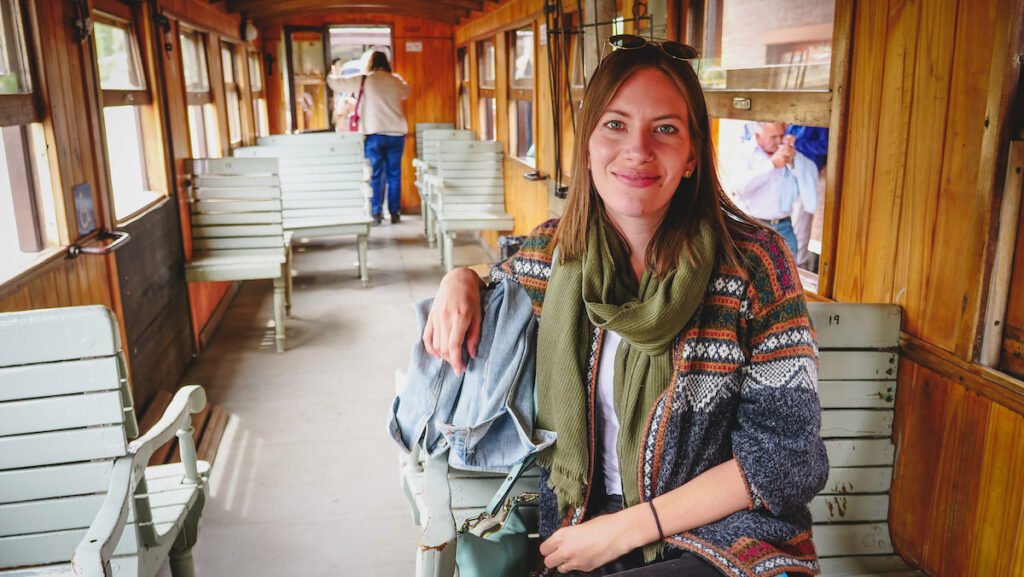 Esquel to Nahuel Pan
The most popular route runs from Esquel to Nahuel Pan and it's a beautiful journey. As you leave the town of Esquel, you begin the ascent out of the valley where you are treated to mountain views and sheep grazing in the Patagonian steppe.
You'll notice this is the shortest of the three segments in terms of distance covered, however, this train journey involves an ascent out of town, so it travels a bit slower.
It is a 1-hour journey from Esquel to Nahuel Pan.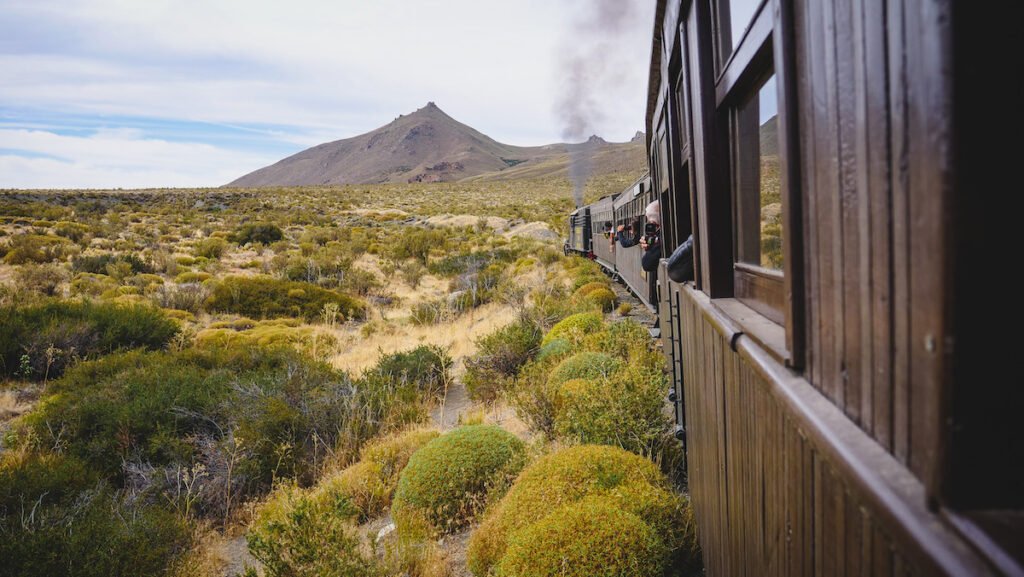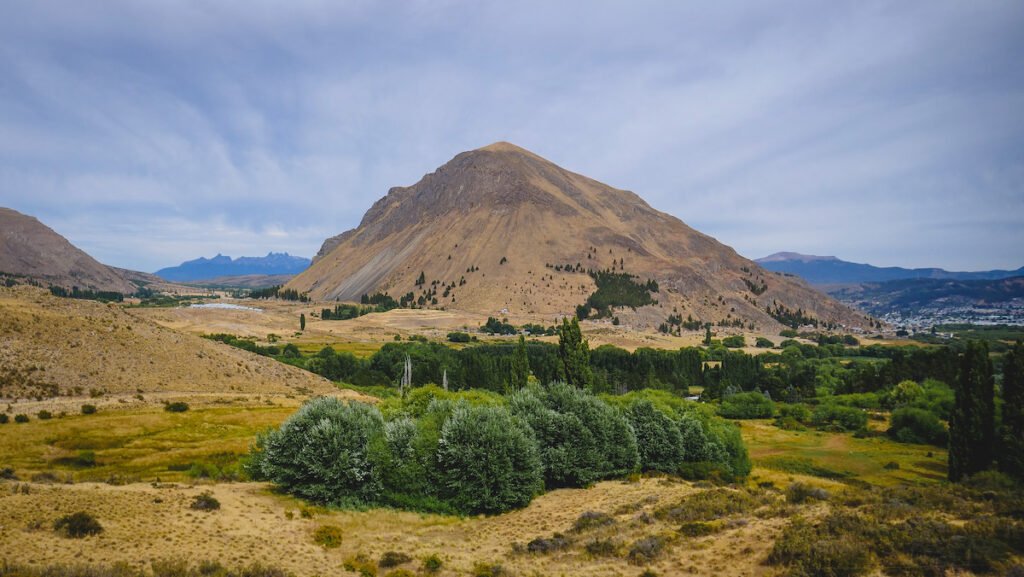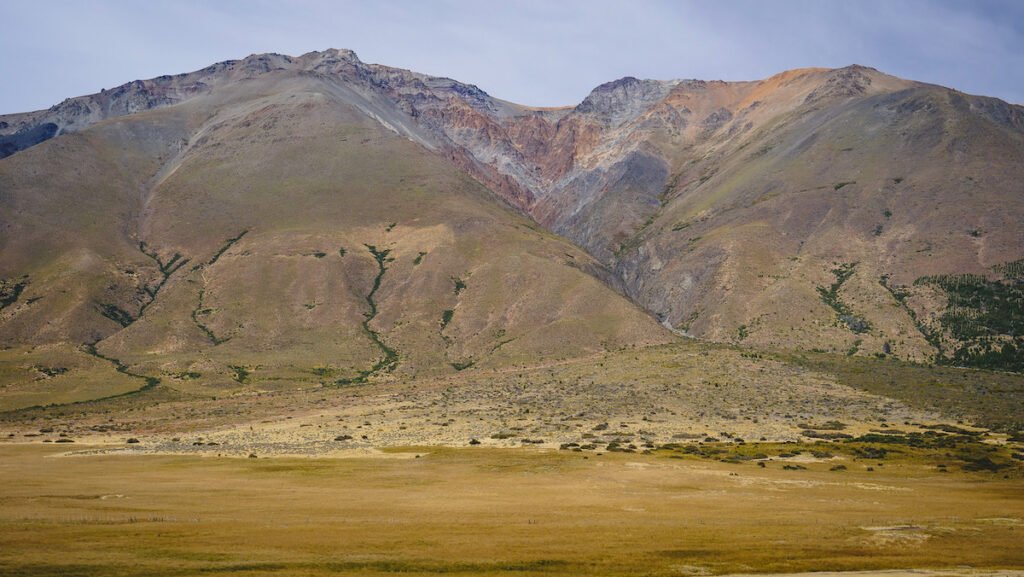 Once you arrive in Nahuel Pan, you have 45 minutes to explore at your own leisure.
Here you can visit the Museum of Patagonian Culture, which focuses on the indigenous peoples of Patagonia. It's a small museum with only two rooms, but the displays showcase ceramics, musical instruments and textiles. If you speak Spanish, you can also ask questions to the museum guide on site.
The highlight of our brief stop in Nahuel Pan was the artesanal fair. Vendors had set up booths showcasing all sorts of handmade souvenirs, and we were immediately drawn to the alfajores with fillings like dulce de leche, raspberry, Welsh-inspired Bara brith, and rum and raisin.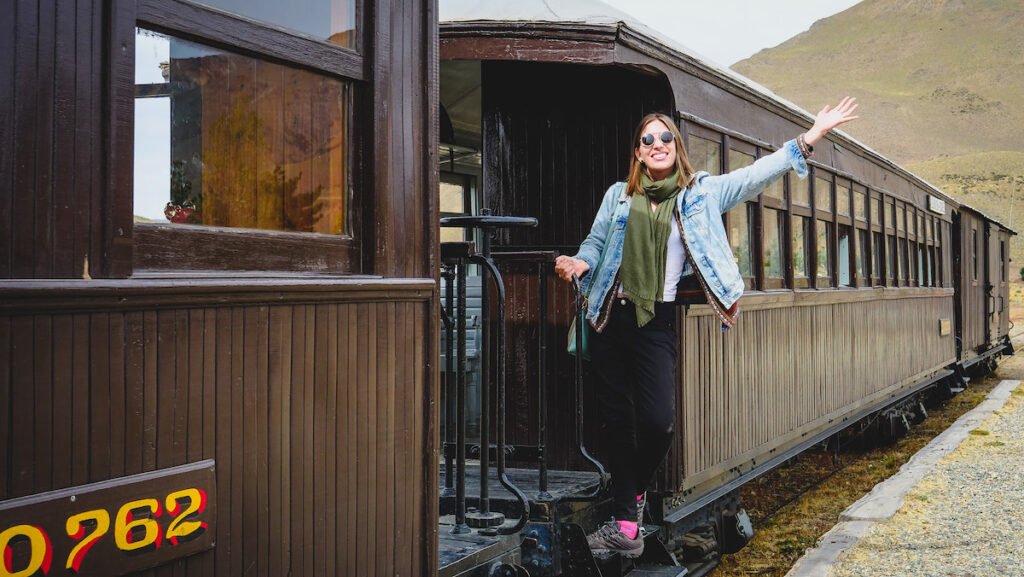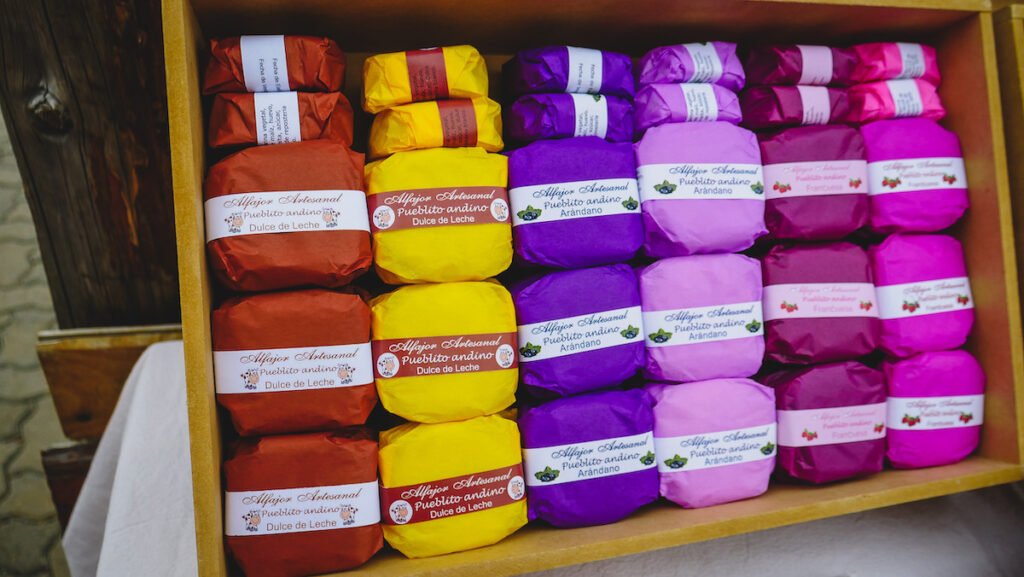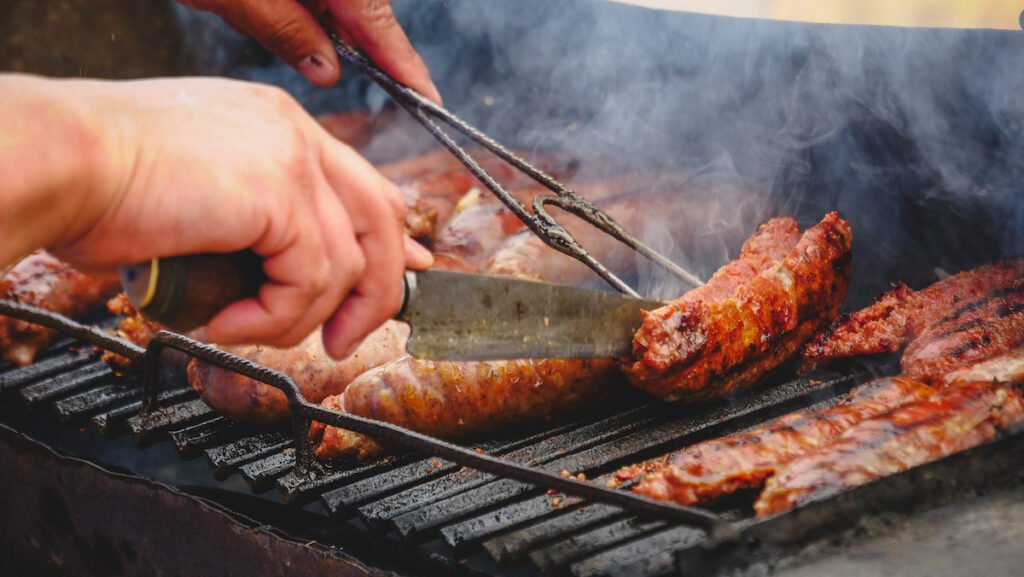 There was also a man cooking chorizos on the grill, so we got some choripán (chorizo on a bread bun) with chimichurri. It's worth lining up for this right away as it's a popular food stop.
On the journey back, there was live music on the train. A local musician made his way through the carriages singing and playing songs on his guitar as we travelled back to Esquel.
El Maitén to Desvío Bruno Thomaé
Another option for train enthusiasts is to travel the segment from El Maitén to Desvío Bruno Thomaé.
This is a 26 kilometre journey across the Patagonian steppe. The journey is relatively flat, however, you do get mountain views on the horizon.
It's worth arriving early in order to visit the Railway Museum and tour the Locomotive Repair Shop. This is a guided visit that's included in the ticket price and it's a great opportunity to ask questions about this historic train (albeit in Spanish).
We heard stories about the extreme weather in Patagonia and how when the train is scheduled to do it's weekly outing in winter, sometimes they have to get it running 2 days ahead of time!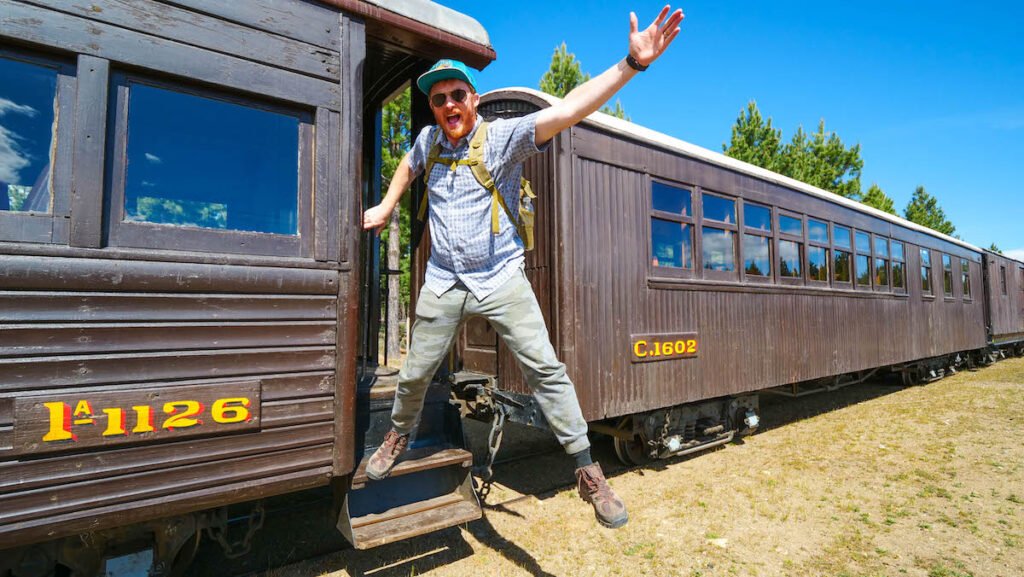 We also learned that when a working component of the Old Patagonian Express breaks down, workers have to handcraft a new part since the train is so old that spare parts are no longer produced industrially.
The fact that this train is still running is a true testament to the ingenuity of the workers!
Now, if we compare this journey with the one from Esquel to Nahuel Pan, the major difference is that when you arrive in Desvío Bruno Thomaé, there's nothing there apart from a train station that was burned down by a Mapuche protest. So there's nothing to see or do (no artesanal market like in Nahuel Pan) while you wait for the train to reposition for the return journey.
Ingeniero Jacobacci to Ojos de Agua
Ingeniero Jacobacci to Ojos de Agua is the less frequent and lesser known of the three train segments you can travel aboard the Old Patagonian Express.
In fact, this route was closed for a long time and only recently reopened while also providing connections to make this journey a bit more accessible.
Getting there involves either driving in from Bariloche (3-hour drive) or joining a guided tour departing from Bariloche to Ingeniero Jacobacci.
It is then a 2-hour train journey from Ingeniero Jacobacci to Ojos de Agua.
Upon arrival, passengers have about 1 hour and 15 minutes to enjoy a meal and walk around. The train then returns to Ingeniero Jacobacci via the same route.
How to book train tickets
How do you book tickets for the Old Patagonian Express?
Here are a few different options:
Booking in person
If you're already planning to be in one of the towns the train departs from (Esquel, El Maitén or Ingeniero Jacobacci), the easiest option is to go to the train station and buy them in person. Though do be mindful of each train station's hours of operation, which are limited.
If you're visiting during low season, you may be able to get a ticket on the same day, but this isn't advised during high season when every last seat on the train can be sold out.
Booking through a tour operator
If you want to avoid the hassle of going to the train station and booking in person, the best thing to do is to book through a local tour operator.
If doesn't matter if you're in Bariloche or El Bolsón, you can walk into almost any tour operator and book this excursion through them. This will often also include transportation to and from the departure station.
So hit the streets and walk into some offices. Just try to do so earlier in your trip since the train departures are not daily, especially outside of high season.
Booking online
If you prefer to book online you can do so directly on the official La Trochita website by clicking 'Comprá tu ticket'. This will open another window where you can select your journey, date and departure time. You'll then be presented with a list of fares and will want to click 'Internacional' if you're an international tourist. Next you'll select your seats and choose your payment method.
You can also buy tickets online at Tren Patagónico Official Website by scrolling down to La Trochita. But be very careful you don't book the Tren Patagónico which is an overnight train journey that crosses the country from the Andes to the Atlantic Ocean!
This isn't the easiest website to navigate so I'd only recommend it if you can read Spanish and understand the steps outlined on how to book the correct segment of the journey. In our experience this website can sometimes be glitchy, which is why we recommend booking in person or via a tour operator.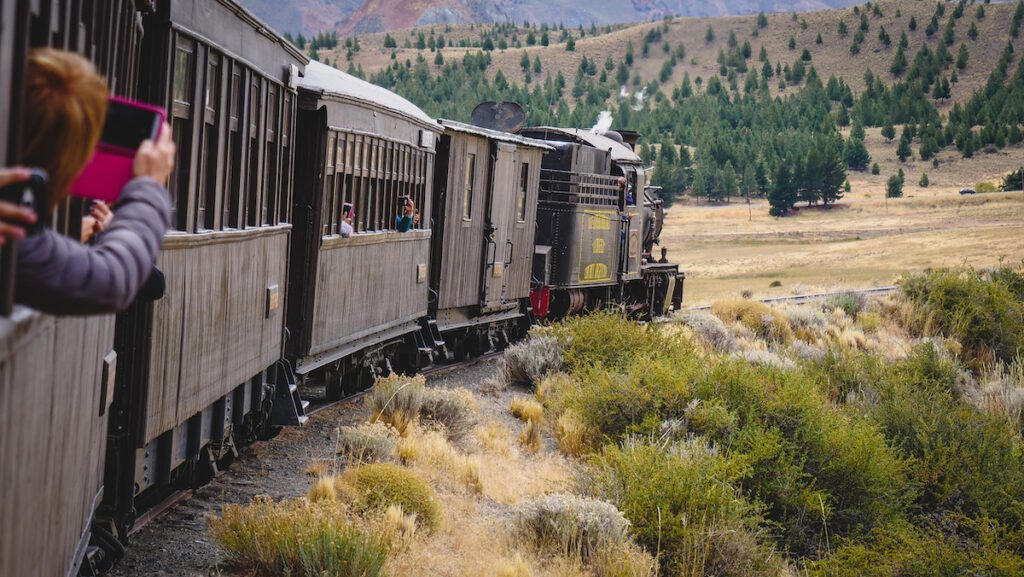 And that's how you book a trip aboard the Old Patagonian Express!
The journey may be a fraction of what it once was, but it's an adventure nevertheless and worth adding to your list of places to visit in Patagonia, Argentina.
Even though this steam train covers a short distance, it's a fun way to experience the magical landscapes of the Patagonian steppe.
Now over to you. Are you a train enthusiast? Would you like to travel aboard the Old Patagonian Express?
Let us know if there are any other train journeys in Argentina you'd like to do.