So you're travelling to Argentina and you're considering a coastal Patagonia travel itinerary. Where should you go and what should you do?
Well, we've got you covered!
Coastal Patagonia may not get as much attention as its mountainous counterpart, but it offers hundreds of kilometres of beaches and it's one of the best places in Patagonia for wildlife viewing opportunities – we're talking penguins, sea lions, elephant seals, Southern right whales and more!
Plus, coastal Patagonia is also home to a surprising number of Welsh communities seeing as this is where the early Welsh settlers first landed.
Much like with our Northern Patagonia travel itinerary, on this road trip guide we'll be covering places to visit, activities to enjoy, where to stay and more.
This coastal Patagonia travel itinerary features a mix of port cities and seaside towns, so there's plenty of variety.
The coastal route takes 14 days to complete and can be driven from north to south starting in Puerto Madryn, or south to north starting in Comodoro Rivadavia. The choice is yours!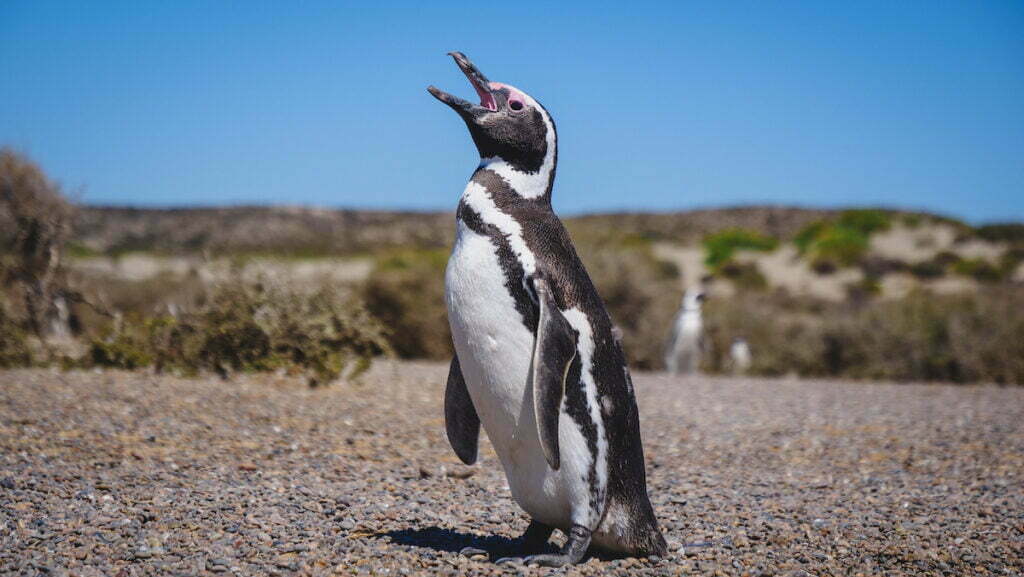 Coastal Patagonia Travel Itinerary
Puerto Madryn
2 days
The first stop on this coastal Patagonia travel itinerary is the port city of Puerto Madryn.
Yes, this city is known as the gateway to Península Valdés and all the wildlife viewing opportunities the destination offers, however, right now we're going to focus on what you can do in the city before you make your way over to the peninsula.
Things to do in Puerto Madryn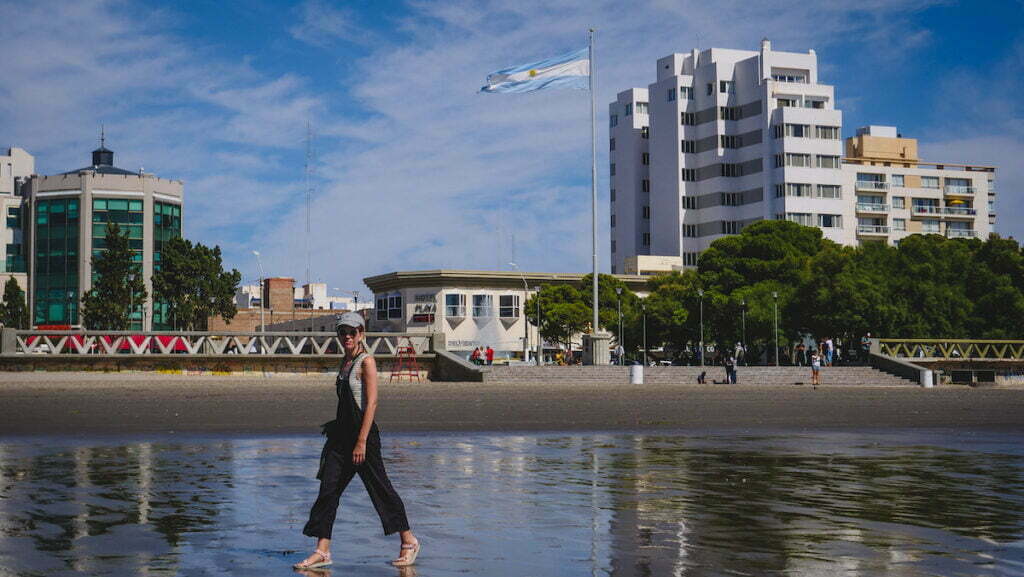 Museum of the Man and the Sea
The Museum of the Man and the Sea is housed in the former home of Agustín Pujol, an early pioneer who immigrated from Catalunya and built this beautiful house in 1915.
The museum is spread out across the home's three floors and focuses on local wildlife both on land and the sea.
Don't miss the giant squid exhibit; it looks like something straight out of Moby Dick!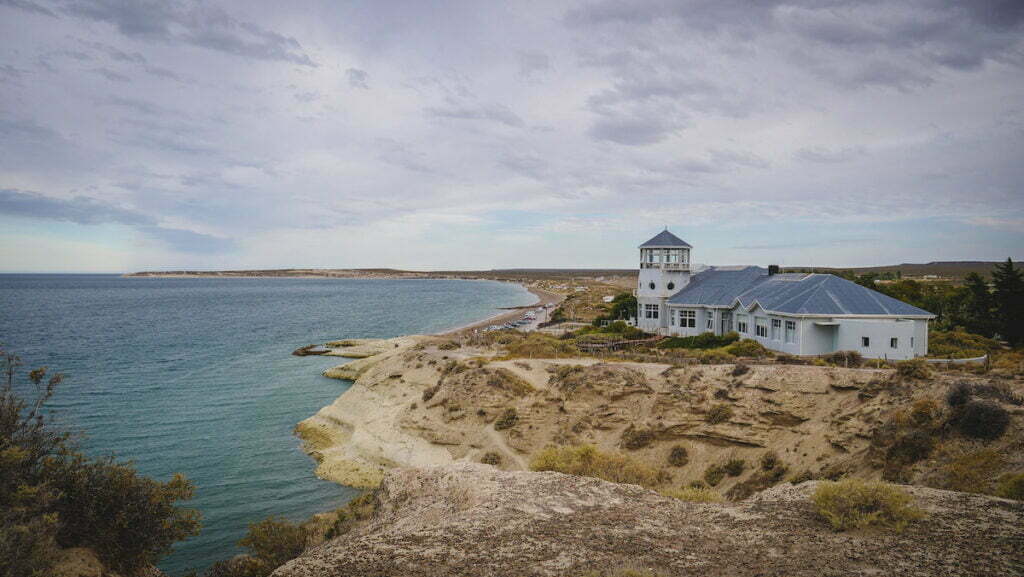 EcoCentro
The EcoCentro is an interpretive space that looks at man's relationship with the marine ecosystem. It's a space that combines science and fine arts to raise awareness about our natural world.
The EcoCentro also has a tower that resembles a lighthouse where you can go up and enjoy the views. They have sofas and books, so it's a nice place to linger on a rainy day!
Caves of the Welsh Settlers
When the Welsh first disembarked on the shores of Puerto Madryn in 1865, they set up temporary shelters in the caves that line the coast.
Today, there's also a small museum on-site called Museo del Desembarco Punta Cuevas.
Inside, there's a display of the Mimosa, the ship they sailed on, as well as photographs and items that were brought over from Wales on this quest for a new life.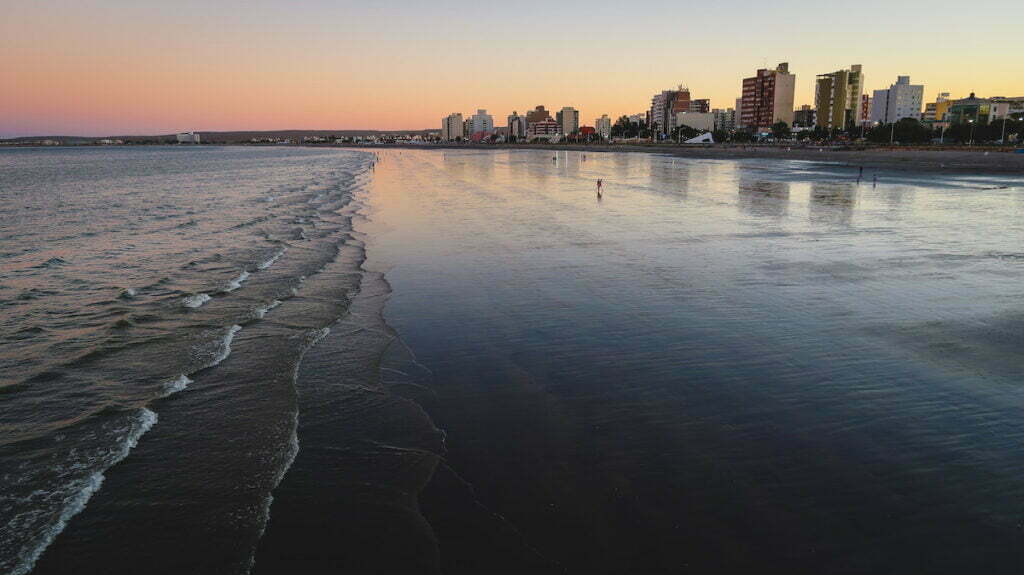 Comandante Luis Piedra Buena Pier
If you're looking for a nice sunset stroll, the pier is the place to be!
The Comandante Luis Piedra Buena Pier juts out into the gulf and there are always people fishing, birdwatching, or enjoying a leisurely walk.
It's not open to the public on cruise days (since this is where passengers disembark by the hundreds), however, if there's no cruise ship docked at the end, you're good to go.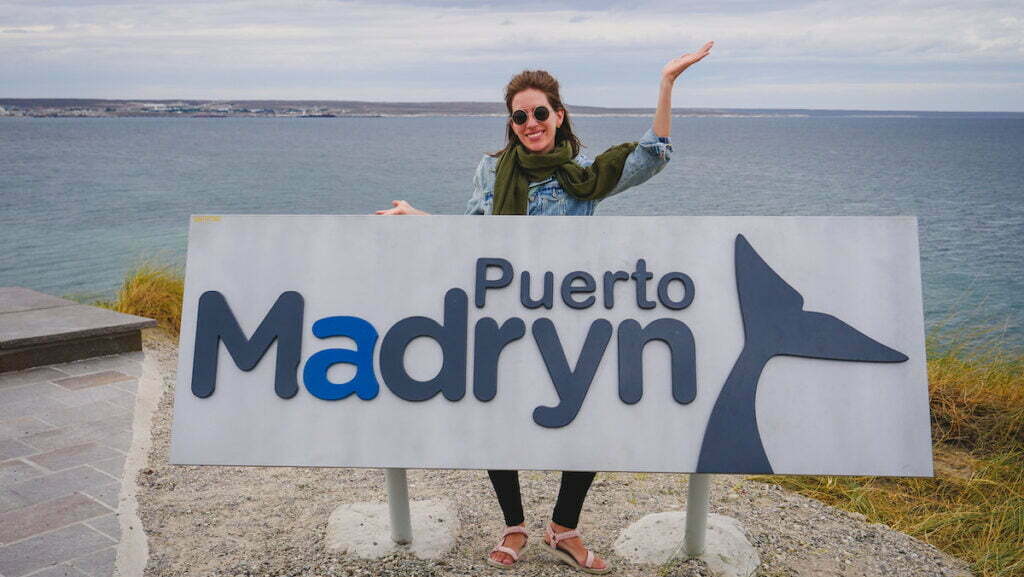 Where to stay in Puerto Madryn
Hotel Territorio – 4-star luxury hotel situated in the outskirts of town overlooking the ocean
Hotel Península Valdés – 4-star hotel with bright rooms and a beachy feel
Hotel Bahía Nueva – 3-star centrally located hotel with an impressive buffet breakfast and a cozy feel
Day Trips from Puerto Madryn
Without touching on any of the activities on Península Valdés quite yet, here are some of the other day trips you can enjoy from Puerto Madryn.
Snorkelling with Sea Lions – this is a 3-hour excursion to Punta Loma Nature Reserve where you can go snorkelling with sea lions in their own habitat
Punta Tombo Penguin Colony – this is a 9-hour tour to Punta Tombo where penguins come to mate and give birth every year, and there's the option to add on a dolphin watching tour (weather permitting)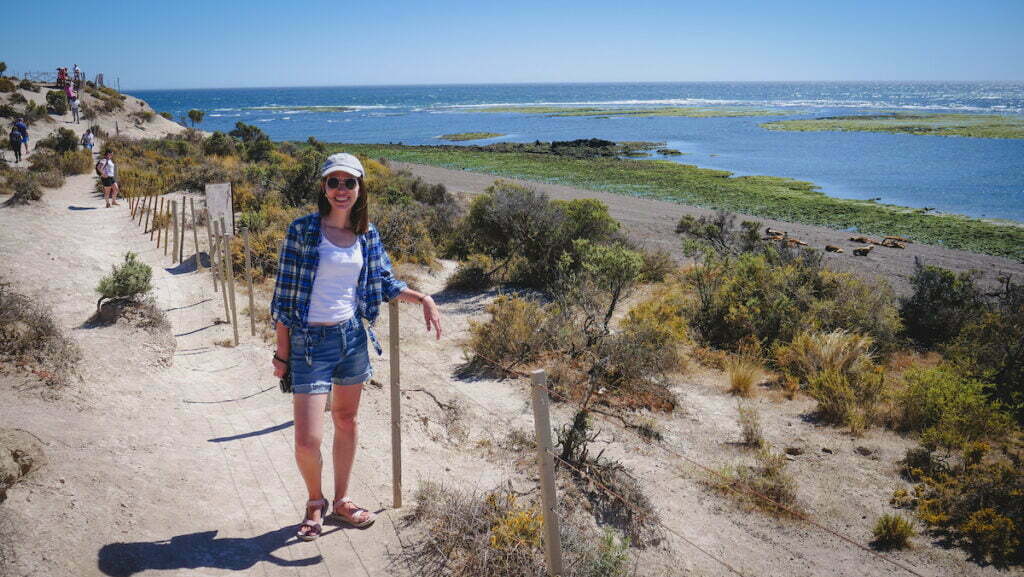 Península Valdés & Puerto Pirámides
3 days
Península Valdés is the highlight of any coastal Patagonia travel itinerary, and while many choose to visit for the day from neighbouring Puerto Madryn, the best way to experience the peninsula is by staying on the peninsula!
And because there's only one town on the whole peninsula, you'll be staying in Puerto Pirámides.
First we'll cover some of the various destinations you can explore on the peninsula, and then we'll share what there is to see in the actual town.
Things to do in Península Valdés
Istmo Ameghino Interpretation Centre
The first attraction you'll hit is the Istmo Ameghino Interpretation Centre which is located on the narrowing that leads to Península Valdés.
This may not seem like the most exciting stop on the tour when there is wildlife to see, but it does serve as an introduction to the local biodiversity on the peninsula with accompanying facts about each species, their behaviour and migration patterns.
There are also displays of a whale skeleton and the skull of an orca. And there's a lookout point you can climb in hopes of spotting a real whale out in the bay!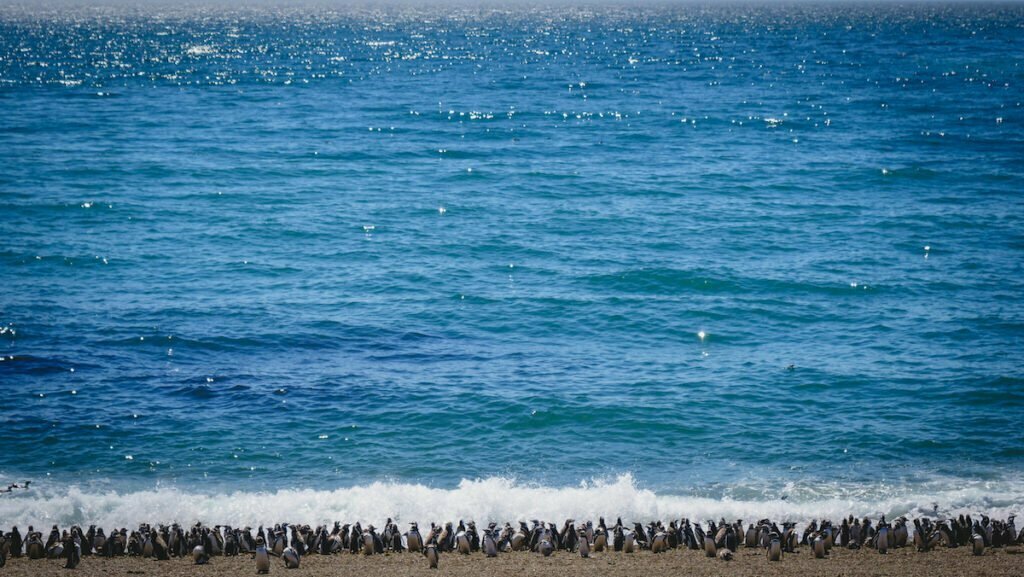 Punta Norte
Punta Norte translates to 'north point' and as the name suggests it's the northern point on the peninsula.
There's a boardwalk that leads to the edge of the bluffs where you can typically see sea lions basking in the sun.
Since we visited in mid-February, there were lots of pups splashing in the water and familiarizing themselves with their new surroundings.
There was also a smaller group of elephant seals a bit further down, but it was towards the end of the season for them.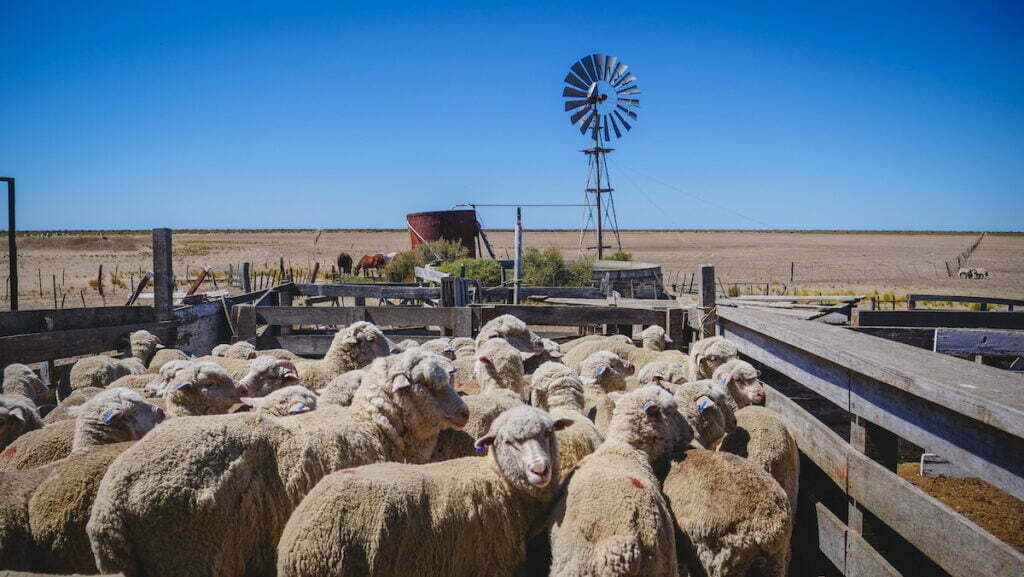 Estancia San Lorenzo
In the northern part of Península Valdés, you'll also find Estancia San Lorenzo. This is a traditional Patagonian sheep ranch that raises Australian merino sheep for wool production.
Depending on the time of year you visit, you can witness different activities related to sheep farming like marking, shearing, and herding with the help of dogs.
The old shearing barn at Estancia San Lorenzo has been turned into a rustic Patagonian-style restaurant, that also features a visitor center and shop selling local products and souvenirs.
The estancia belongs to the Machinea family of Basque origin that arrived in Península Valdés in 1900.
Estancia San Lorenzo also happens to be home to the largest Magellanic penguin rookery in the world. Hundreds of thousands of penguins mate and nest along these shores.
Their waddling down to the beach will definitely put a smile on your face. It's a pretty epic spot!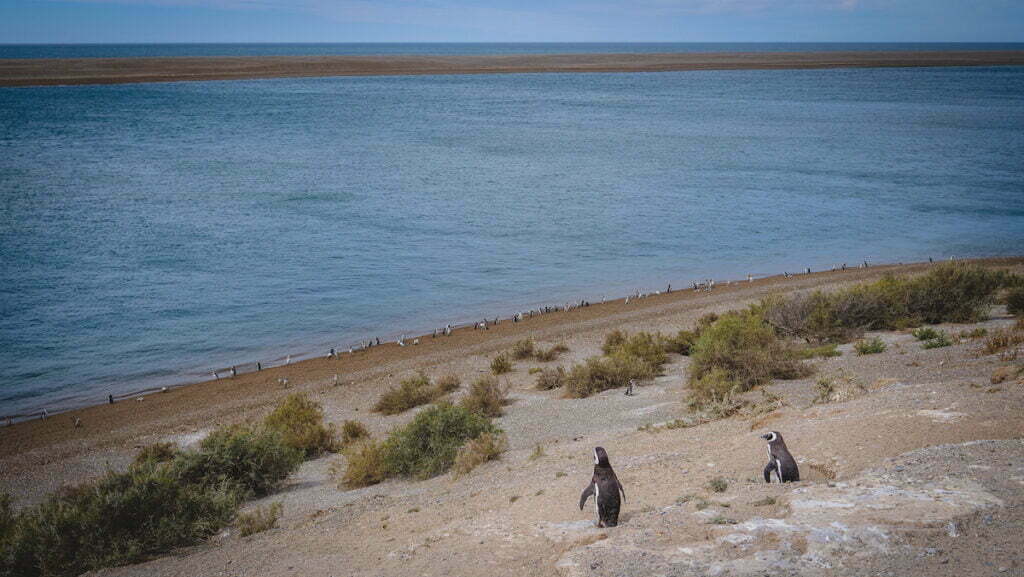 Caleta Valdés
Caleta Valdés is located on the eastern shore of Península Valdés and is considered a 'geographic accident'.
The caleta is essentially a long and narrow body of water that has been naturally closed off by a strip of land, with only a small opening connecting it to the sea.
This is generally a good spot to see elephant seals and also penguins, though in smaller numbers in comparison to Estancia San Lorenzo.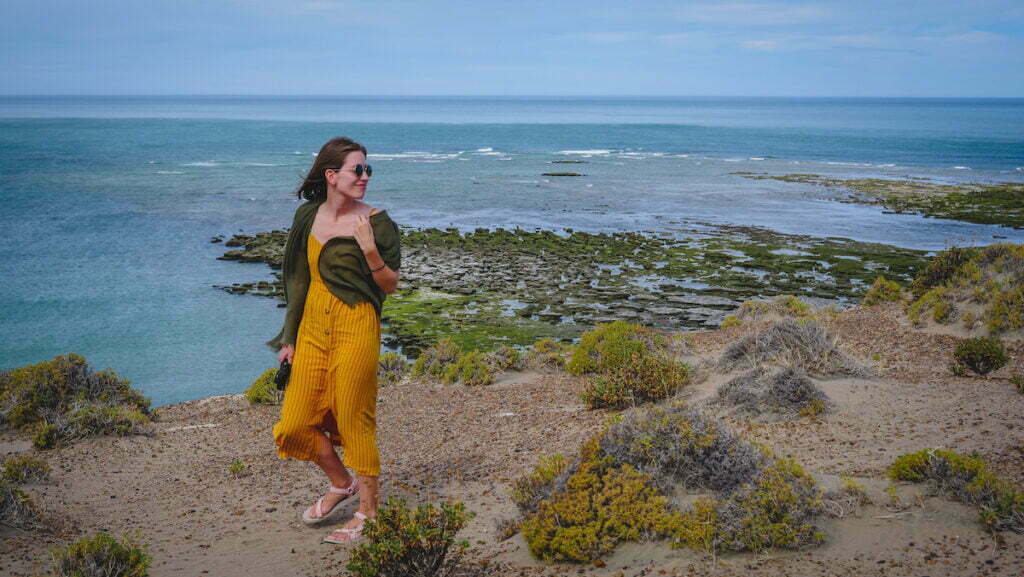 Punta Delgada
Another spot to visit on Península Valdés is Punta Delgada on the south end of the peninsula.
Punta Delgada is a beach with steep sandy cliffs and it witnesses a high concentration of elephant seals during mating and moulting season (this is when the seals shed their hair and the upper layer of their skin).
A good lunch option is the Punta Delgada Lighthouse, a former post office and military building turned sheep farm, countryside hotel and restaurant.
We ordered empanadas as a starter followed by a Patagonian lamb stew with carrots, onions, rice and parsley. A simple yet wonderful meal.
Things to do in Puerto Pirámides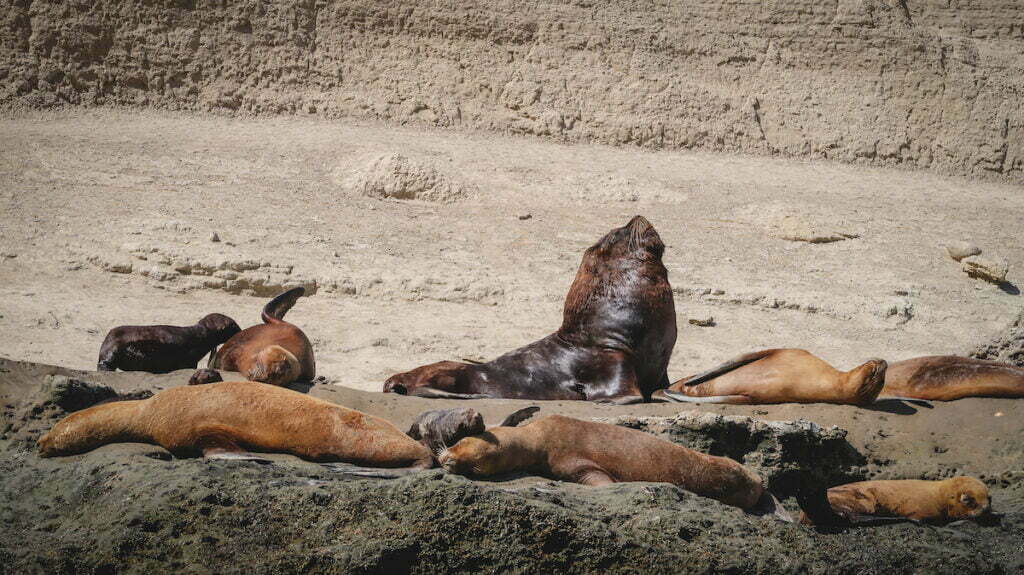 Boat tour to See Wildlife
First and foremost, if you want to go on a boat tour during your visit to Península Valdés, you'll depart from Puerto Pirámides.
Depending on the time of year you visit, there will be different wildlife viewing opportunities.
We went out on a zodiac-style raft and got to see sea lions sunbathing on the cliffs, and countless sea birds – especially cormorants!
Whale-watching tours are typically June to December. It's worth mentioning that law requires the operators to cut their engine within 100 metres of a whale and they are not permitted to chase them.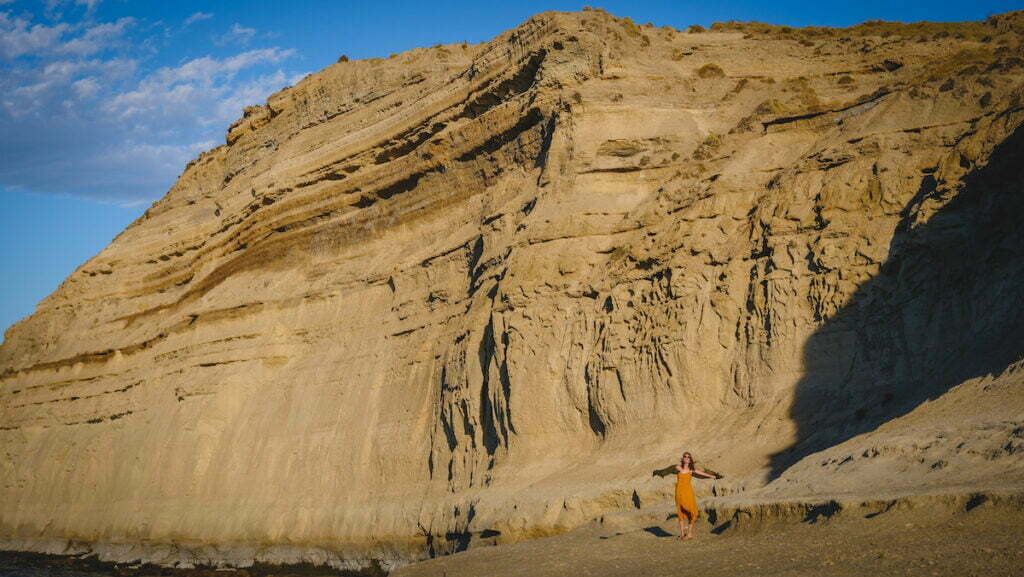 Hike the Cliffs 
Puerto Pirámides is surrounded by cliffs that you can hike for epic views.
You can hike up for sunrise, or walk the trail at sea level where you are bound to spot a fossil or two!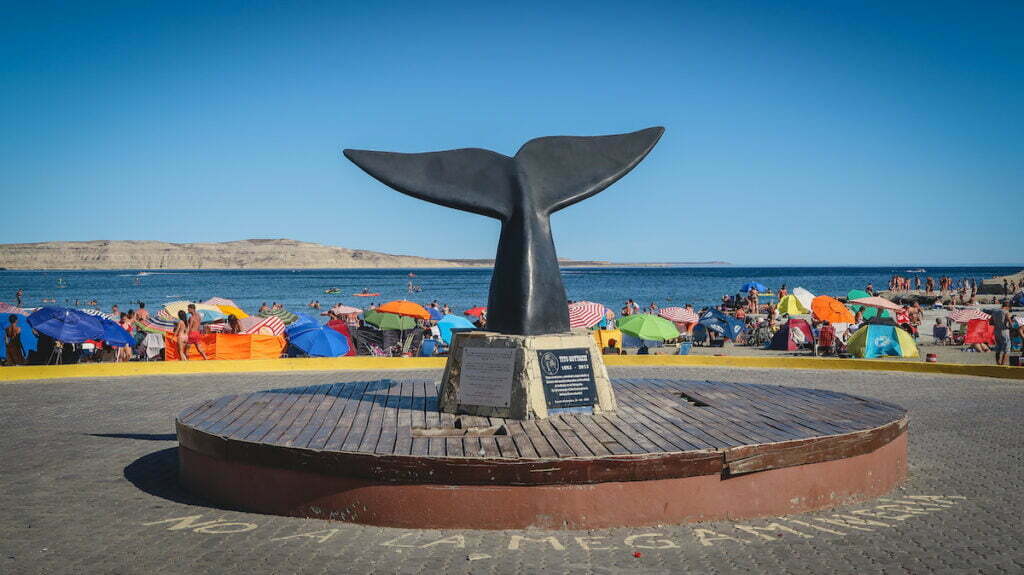 Avenida de las Ballenas
Literally 'the Avenue of the Whales', this is the main road in Puerto Pirámides and it is lined with colourful buildings and plenty of street art.
You'll find breweries, cafes, restaurants, and souvenir shops. It's worth a stroll during your visit – just maybe not during siesta time when most places close.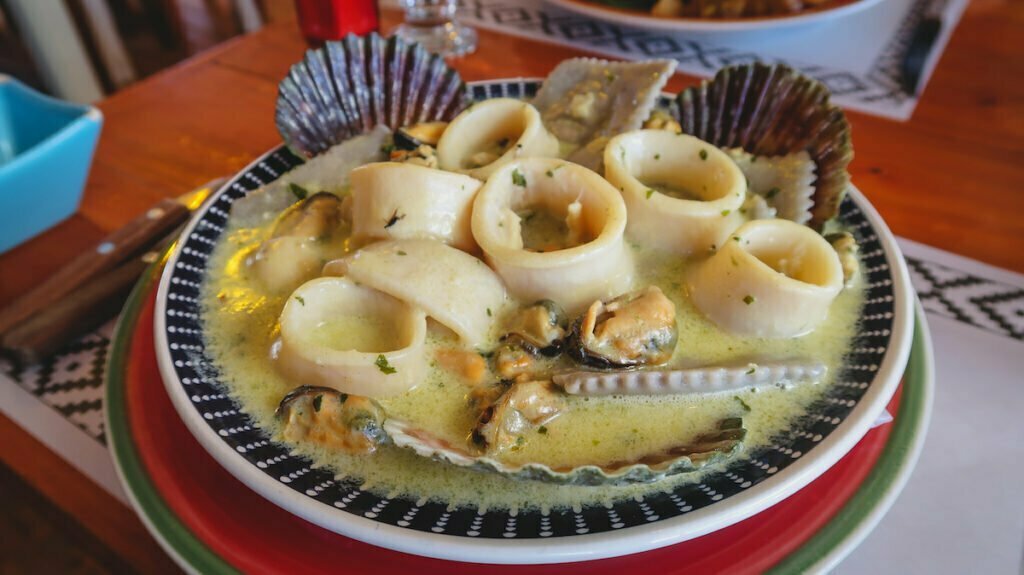 Seafood at La Covacha
Our favourite restaurant in Puerto Pirámides was La Covacha, a laidback restaurant serving seafood and traditional Patagonian dishes.
I got their giant ravioli stuffed with shrimp in a buttery mussel sauce with calamari a la provencal – it was one of the best pasta dishes I had in Patagonia.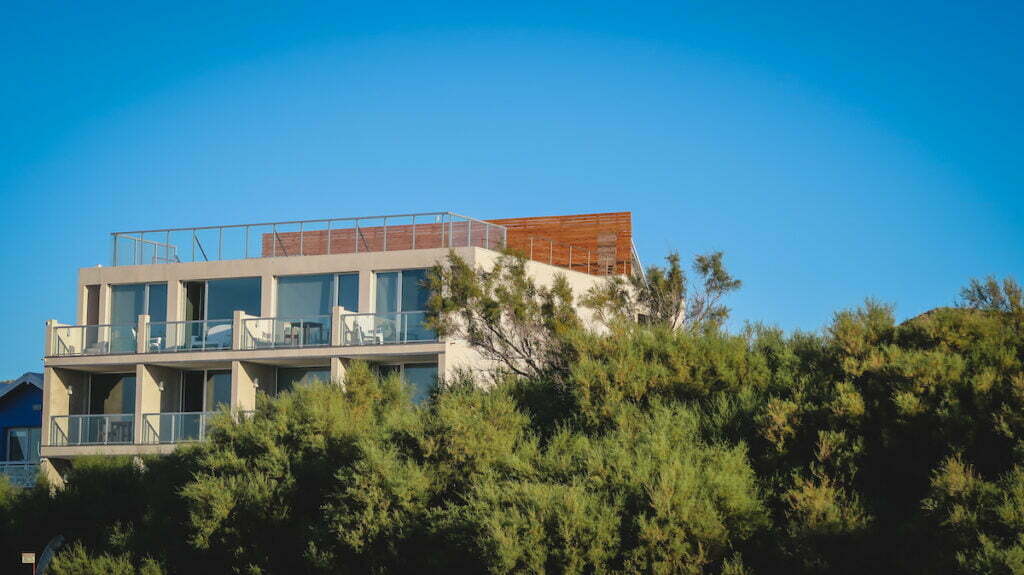 Where to stay in Puerto Pirámides
Océano Patagonia Wild Coast Residence – 3-star modern eco hotel right on the beach
Del Nomade Hostería Ecológica – centrally located eco guest house located on the main road
Estancia San Lorenzo – not in Puerto Pirámides, but you can stay at the estancia we mentioned earlier!
Trelew
3 days
The next stop on this coastal Patagonia road trip is Trelew, a city known for dinosaurs, Welsh culture, and strange links to Butch Cassidy and the Sundance Kid.
Things to do in Trelew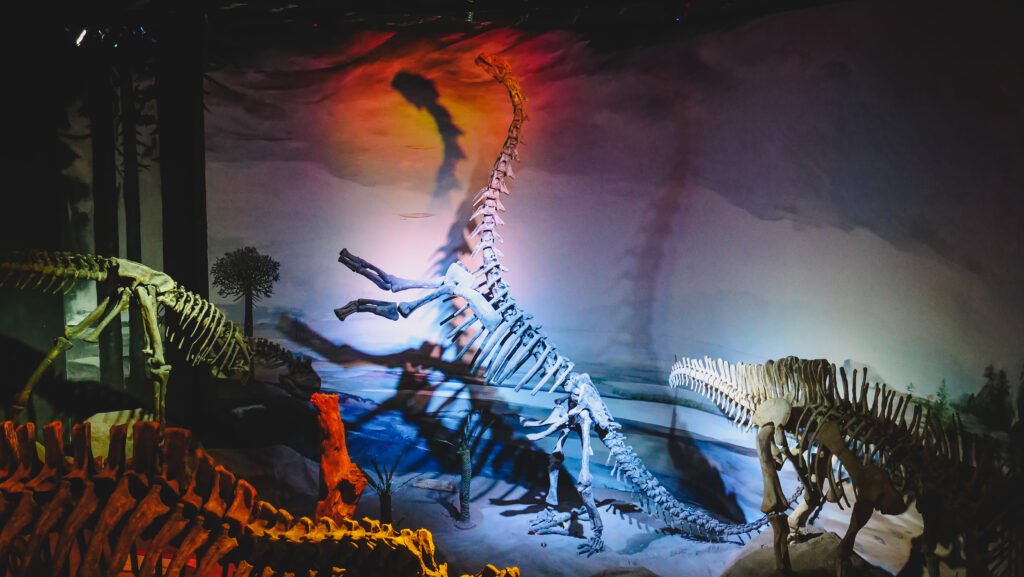 Egidio Feruglio Paleontological Museum
The Egidio Feruglio Paleontological Museum has over 30 dinosaurs on display and you can even see dinosaur eggs.
However, no dinosaur is more famous than the Patagotitan Mayorum – the largest dinosaur in the world!
This titanosaur was discovered in 2013 and measures more than 8 metres in height, 40 metres in length, and is estimated to have weighed around 74 tons.
Biggest Dinosaur Sculpture
Speaking of the Patagotitan Mayorum, in the outskirts of Trelew you can visit a massive sculpture of the biggest dinosaur in the world.
It is located directly across from the Trelew Airport about 6 kilometres north of town.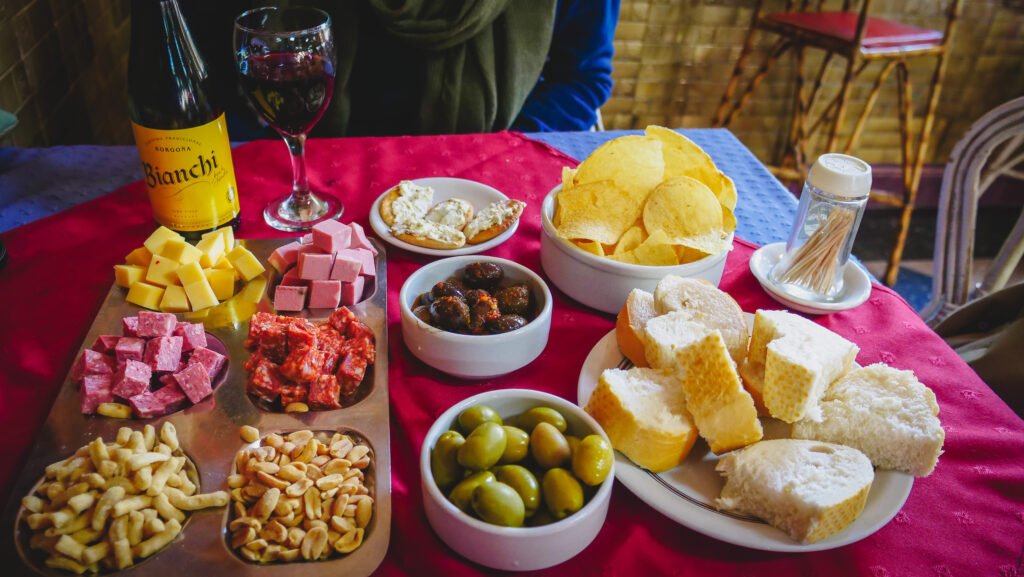 Hotel Touring Club
It may not look like much today, however, Hotel Touring Club was once considered one of Argentina's most luxurious hotels. It was constructed in 1898 and remained the 'it' place hosting multiple presidents through the 1930s.
Some of the more famous guests known to have passed through include writer and aviator Antoine de Saint Exupéry of The Little Prince.
And the hotel also welcomed Butch Cassidy, the Sundance Kid and Etta Place – the infamous train and bank robbers from the days of the American Wild West. They settled in Patagonia and eventually bought a ranch in Cholila.
There's a cool bar in the hotel that's worth a visit. Order the picada for a tapas-style meal where you can sample a bit of everything!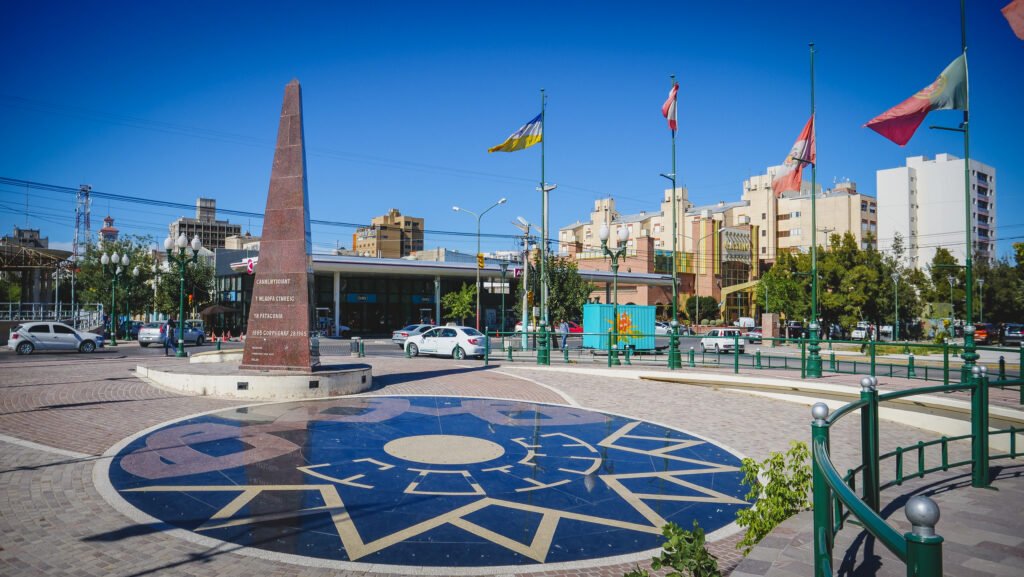 Regional Museum Pueblo de Luis
If you want to learn about Trelew's history, you can visit the Regional Museum Pueblo de Luis.
The name says it all: 'Pueblo de Luis' is Spanish for 'Town of Lewis', or 'Trelew' in Welsh.
The museum is set in the former railway station which dates back to 1889 and has displays focusing on the Mapuches and the Tehuelches who lived in these lands, followed by the early exploration of the area between 1520 and 1865, and then the arrival of Welsh immigrants.
Here are a few more ideas of things to do in Trelew.
Where to stay in Trelew
Hotel Libertador – centrally located 3-star hotel close to most attractions offering breakfast.
Apart Hotel Argenta – spacious self-catering apartment-style accommodations with a kitchen, living and dining area.
La Casa de Paula – bed and breakfast set in a residential neighbourhood with a familiar touch.
Day Trips from Trelew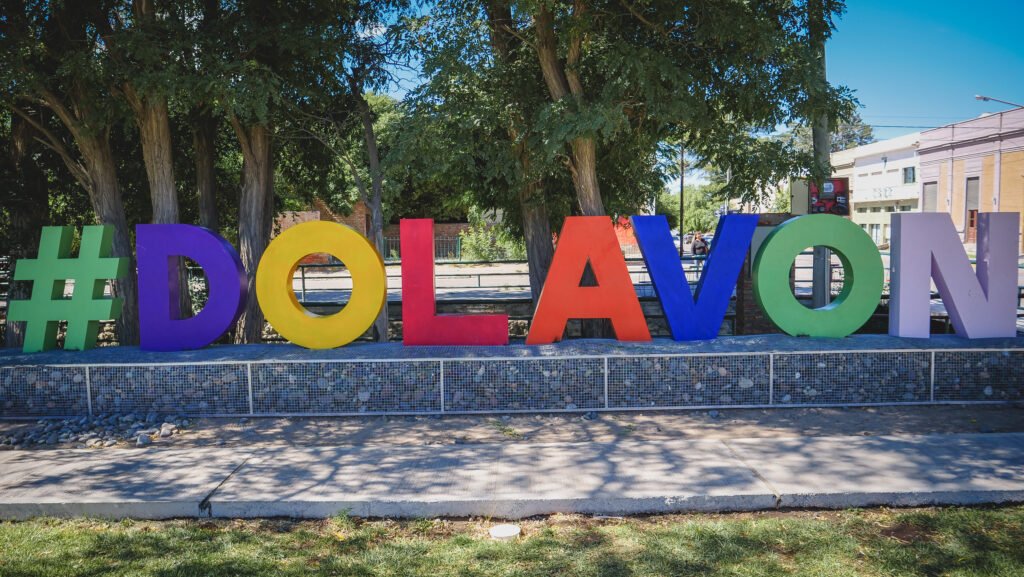 Dolavon
Dolavon translates to 'river meadow' and is another Welsh community you can visit in Chubut.
This is a very small, sleepy town that can easily be visited in half a day.
Some of the highlights include walking along the canals, and visiting the old mill turned museum and restaurant.
Bosque Petrificado Florentino Ameghino
If you don't mind a bit of a drive, you can visit the Florentino Ameghino Petrified Forest.
Here you'll come face to face with petrified logs that were part of an extensive forest, and were carried by rivers to the sea coast of that time.
The tree logs are estimated to date back 60 million years!
Rawson
Rawson was the first town founded by the Welsh immigrants who sailed to Patagonia aboard the Mimosa in 1865.
The city sits next to the Chubut River not too far from where it meets the sea.
It's a popular dolphin and whale watching destination depending on the time of year you visit.
Gaiman
2 days
The next stop on this coastal Patagonia travel itinerary is Gaiman! This is the place to visit if you want to experience a taste of Welsh culture in Patagonia.
Things to do in Gaiman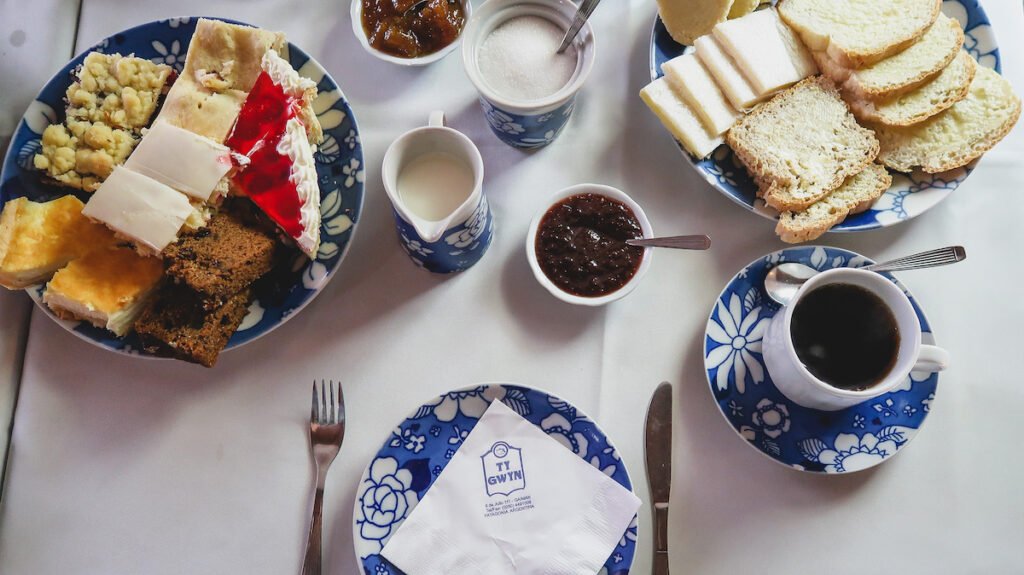 Welsh Afternoon Tea
The main thing to do in Gaiman is to enjoy Welsh afternoon tea in one of the town's many tea houses.
Heads up, you'll want to skip lunch and go hungry because there will be a lot of food!
There are plenty of tea houses to choose from, however, the most famous of them all is Ty Te Caerdydd as it hosted Lady Diana during her visit to Argentina in 1995.
But whichever tea house you choose, you can expect to find a similar menu, including a slice of bara brith or 'Welsh cake'.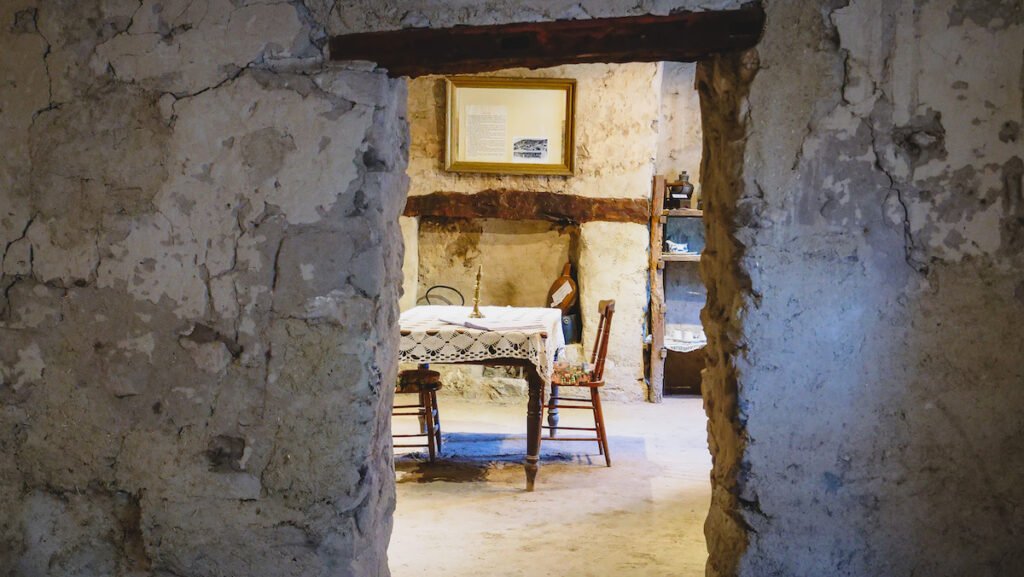 Museums in Gaiman
There are several museums you can visit in Gaiman that explore Welsh culture and these include:
Regional History Museum – set in the old train station, this museum displays a variety of items that were brought over by the early Welsh settlers.
First House in Gaiman – this first house to be built of stone dates back to 1874 and belonged to David D. Roberts and his wife Jemima Jones, who became the first settlers of Gaiman.
Tehuelche-Mapuche Museum – formerly known as the Gaiman Anthropological Museum, this museum focuses on the Tehuelches and the Mapuches and their friendship with the Welsh settlers.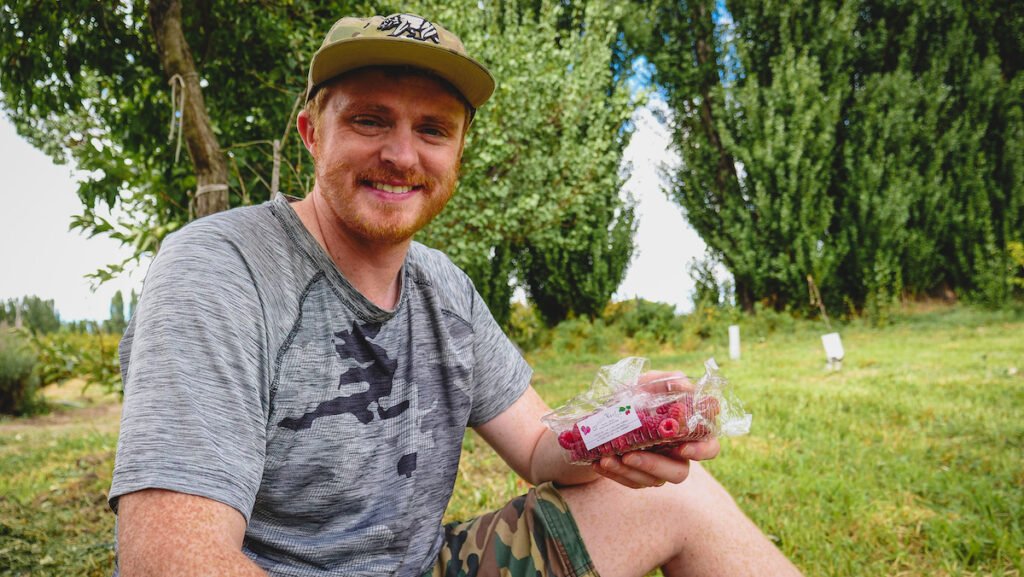 Quintas Narlú
This is a beautiful farm that welcomes visitors. Their shop sells homemade jams, freshly picked berries, Welsh bara brith cake, honey, dry lavender bundles, plus all sorts of souvenirs.
You can pick up some cake and berries like we did, and then enjoy a stroll through the apple orchard and have a picnic.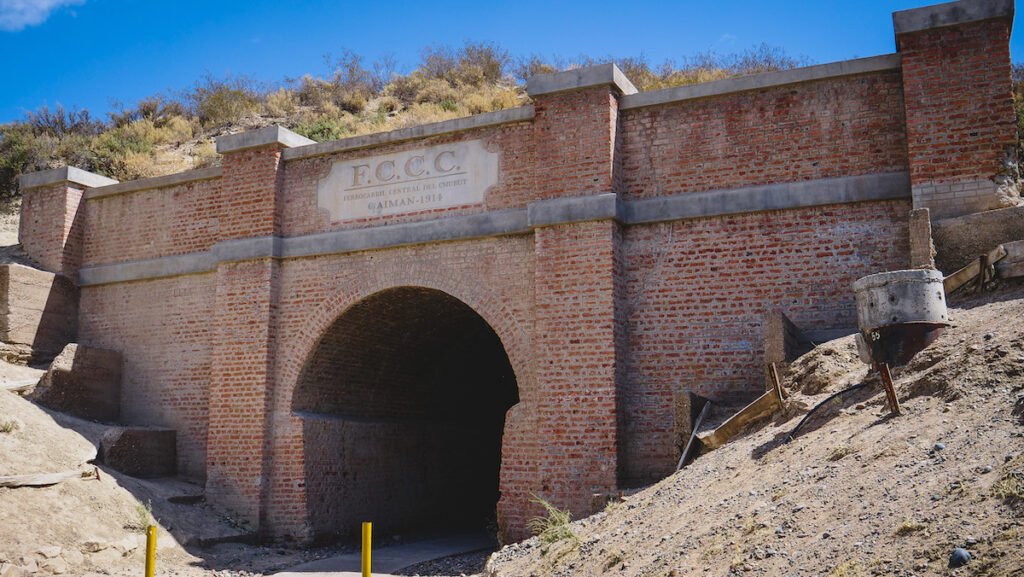 Central Chubut Railway Tunnel
One of Gaiman's main tourist attractions is the old train tunnel that was part of the Central Chubut Railway. This railway operated between the valley of the Chubut River and the port city of Puerto Madryn.
It was in operation from 1888 until 1961 – making it the first railway in Patagonia! – and it helped cut down travel time since this journey was previously something that had to be done on horseback.
The tunnel is 282 metres in length and inside there are audiovisual displays that share the history of the railway in Spanish, English and Welsh.
Here are some ideas of things to do in Gaiman on a day trip. Though if you have the time, it's worth staying for a night!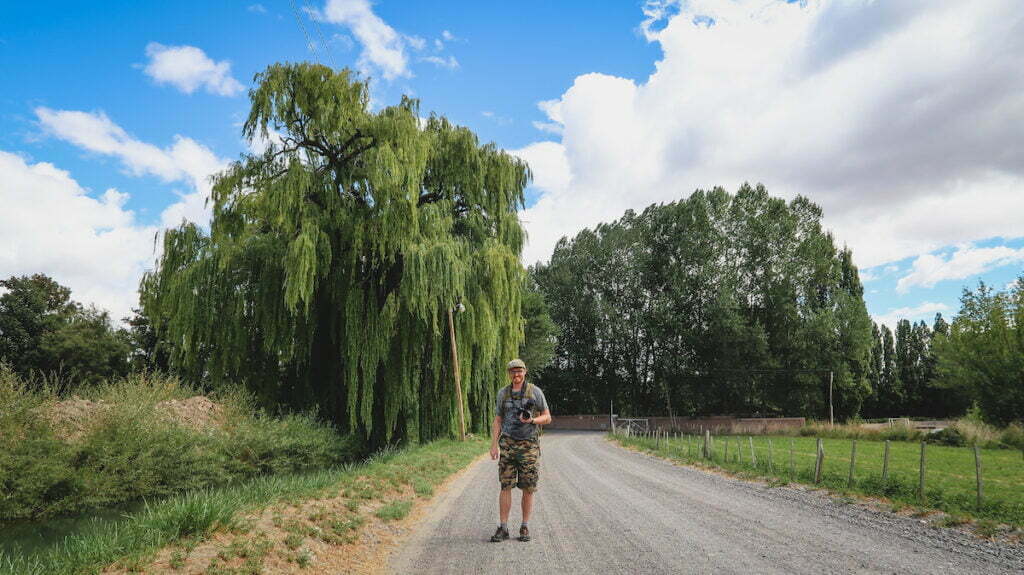 Where to stay in Gaiman
Posada Los Mimbres – This is a 3-star hotel located 4 km from the historic district. It offers beautiful gardens, a swimming pool, free bicycles to get around, and a restaurant that serves home cooked meals.
Hostería Gwesty Plas y Coed – This place offers private rooms in a Welsh-style house in the historic centre of Gaiman.
Comodoro Rivadavia
2 days
The final destination on our coastal Patagonia travel itinerary is Comodoro Rivadavia, but let me warn you, this isn't your typical tourist destination.
In fact, if you tell Argentines you're travelling here, they'll look at you perplexed and wild eyed.
What could there possibly be to see or do in an oil town?
Well, if you enjoy travelling off the beaten path and experiencing regular every day towns, this might be up your alley.
It is admittedly a bit of a drive from the other destinations we're covering (4 hours and 30 minutes from Trelew), so the choice is yours.
Things to do in Comodoro Rivadavia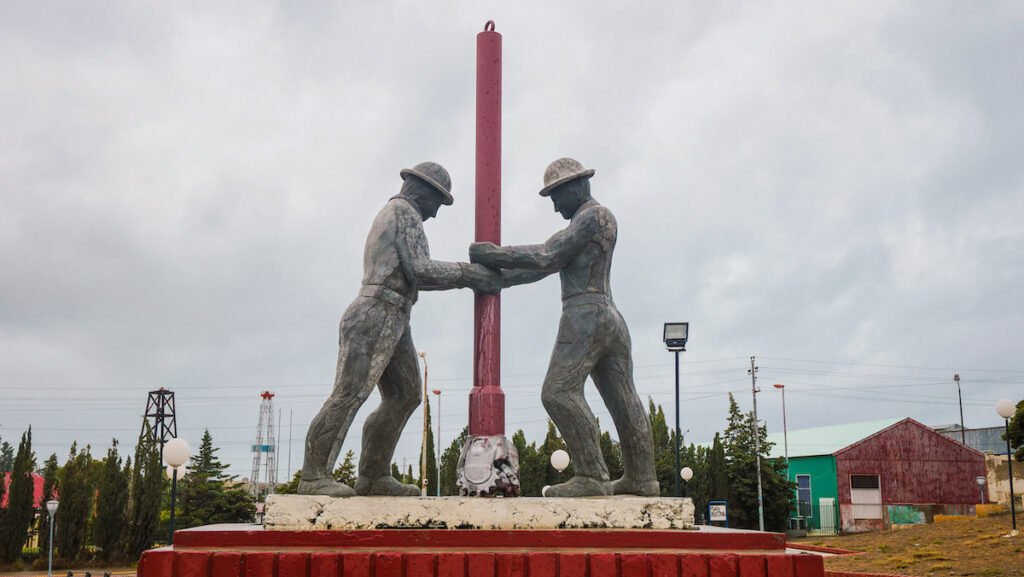 National Petroleum Museum
The top attraction in Comodoro Rivadavia is the National Petroleum Museum. This is an oil town after all!
The museum is located in the General Mosconi neighbourhood about 3 kilometres north of the city centre on the very spot where they first struck oil.
This is a must-do activity in the city as it's a great way to learn about the city's origins. There is a guide on site who will share the history (yes, it's free!) and you're then free to wander around the museum on your own.
There is an outdoor component to the museum where you can view all the machinery that was used to drill for oil.
And then there's an indoor component that has a simulator depicting what it would be like if you could shrink down and travel to the bottom of an oil well. I'm sure it's an experience meant for children, but it's a lot of fun at any age!
You can read our complete guide of things to do in Comodoro Rivadavia here.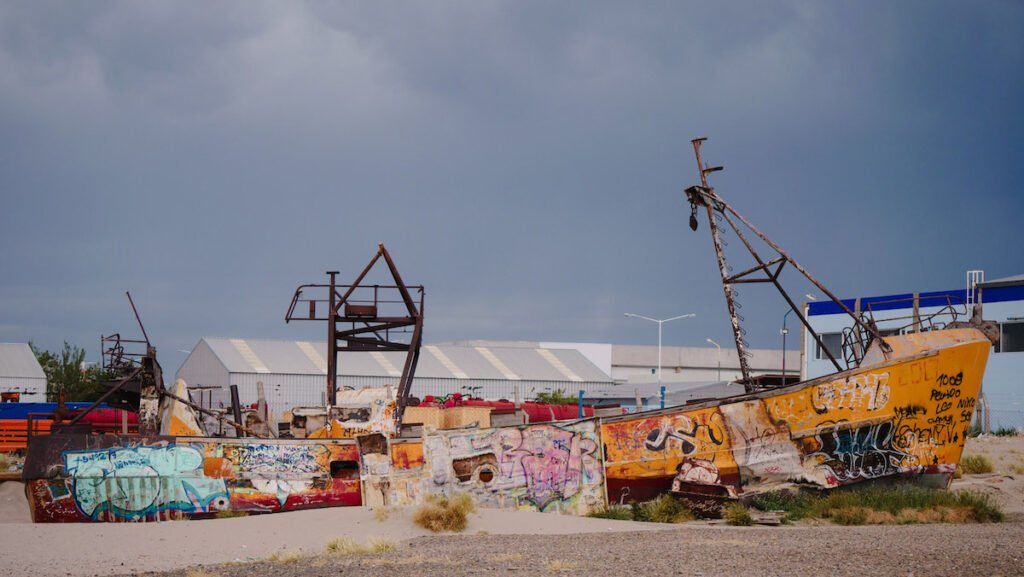 Playa Costanera
Since Comodoro Rivadavia is a seaside city that means you can enjoy some beautiful coastal walks along the Costanera.
We did the walk along Playa Costanera starting from Plaza Soberanía. You go through a bit of an industrial shipping area where you can see some old abandoned boats covered in graffiti, and you eventually reach the beach.
There are also some seafood restaurants right by the beach. Our personal favourite was Cayo Coco del Mar. You can order their seafood platter if you want to sample a bit of everything.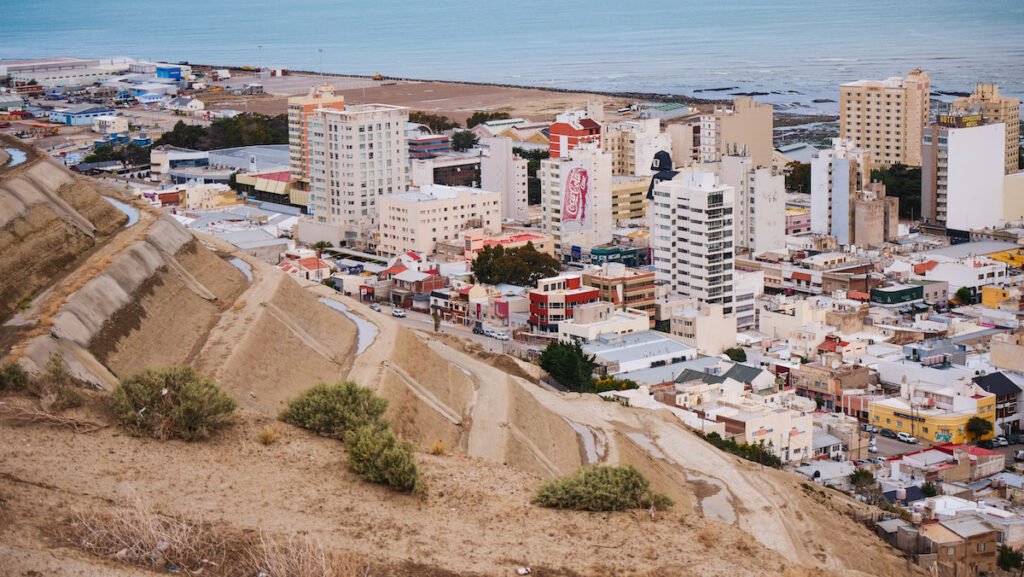 Cerro Chenque
Cerro Chenque is a hill that rises 212 metres above sea level and offers great panoramic views of the city and the coastline facing south.
The name 'chenque' means cemetery or grave in the native Pehuenche language, since this was used as a burial ground.
It is possible to walk to the top, but it's a busy road shared with heavy traffic, so I would suggest asking a taxi to take you up.
Where to stay in Comodoro Rivadavia
Comodoro Hotel – 3-star hotel, centrally located with lobby bar and buffet breakfast. This is where we stayed!
Lucania Palazzo Hotel – 4-star hotel featuring bright and spacious rooms, a piano bar, gym and sauna.
Austral Plaza Hotel – 4-star hotel with an in-house restaurant specializing in seafood dishes and regional cuisine.
Rada Tilly
2 days
The most popular day trip from Comodoro Rivadavia is to the neighbouring beach town of Rada Tilly.
Located just 13 kilometres from Comodoro Rivadavia, Rada Tilly is considered the weekend playground for those with oil money. The beachfront is lined with mansions – some that look like they were inspired by homes on Santorini!
If you're already going to be in Comodoro Rivadavia, it's worth adding Rada Tilly to your coastal Patagonia travel itinerary.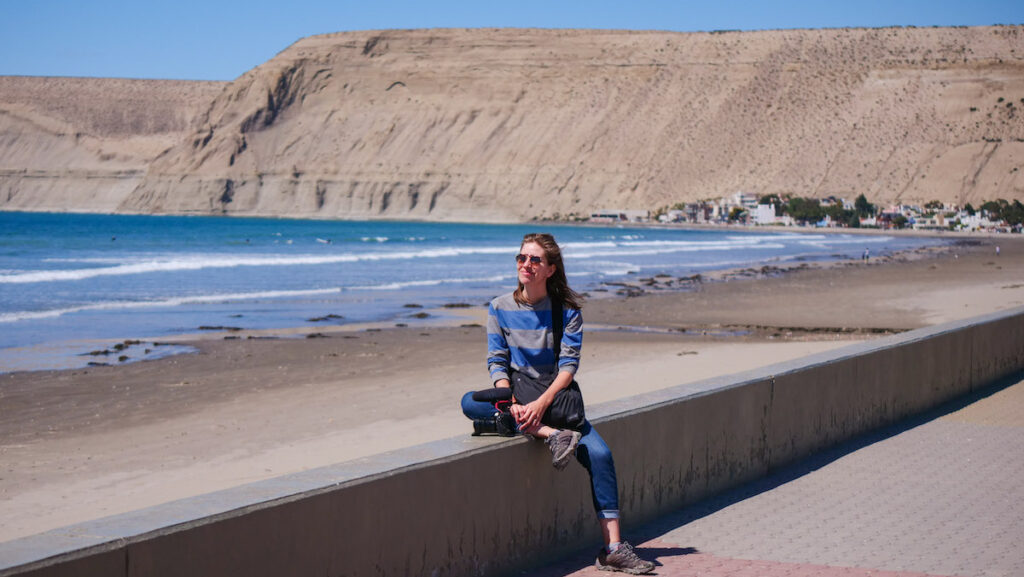 Beach and Wind Sports
Rada Tilly's beaches are super wide at low tide and there are also some pretty impressive cliffs at the far end of town.
The beach is also a popular destination for windsurfing, kitesurfing, and even landsailing – a sport where three-wheeled carts with a sail move using the force of wind.
Rada Tilly also has the distinction of being the southernmost beach resort on the South American continent, so that alone makes it worth a visit!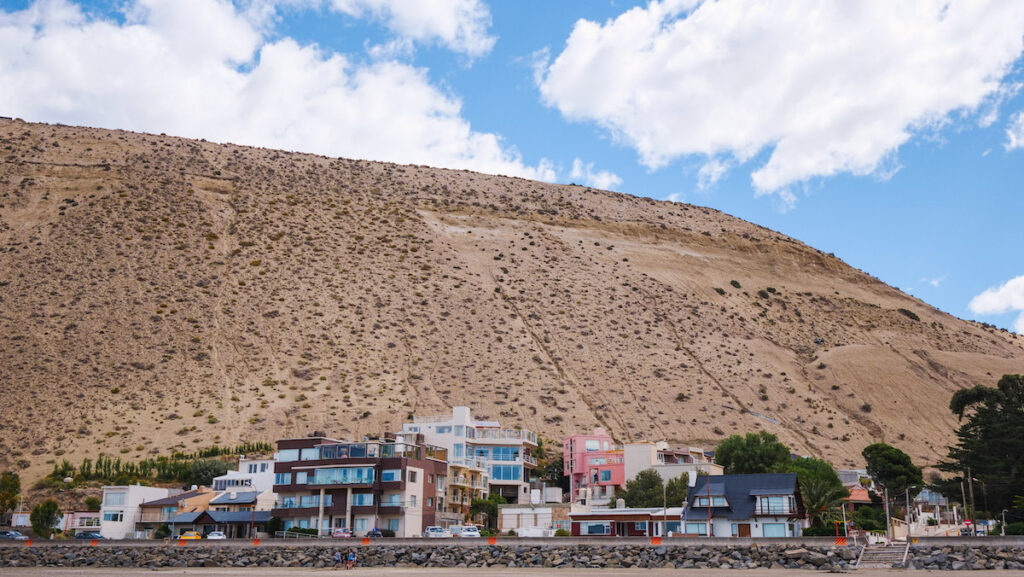 Where to stay in Rada Tilly
Posada Marina Bella – guesthouse located 4 blocks from the beach
Roots Backpackers – hostel option at the end of town close to the beach
Day trips from Rada Tilly
Punta Marqués
Just past Rada Tilly, you'll find Punta Marqués, which is another popular day trip from Comodoro Rivadavia.
This natural reserve is an opportunity for visitors to see the sea lions that live on the cliffs year-round, though you'll find the highest concentration of them from October to December.
If you're up for a hike, Punta Marqués is a 6-kilometre walk from the south end of Rada Tilly. However, you can also pay for a taxi to the top and ask them to wait for you.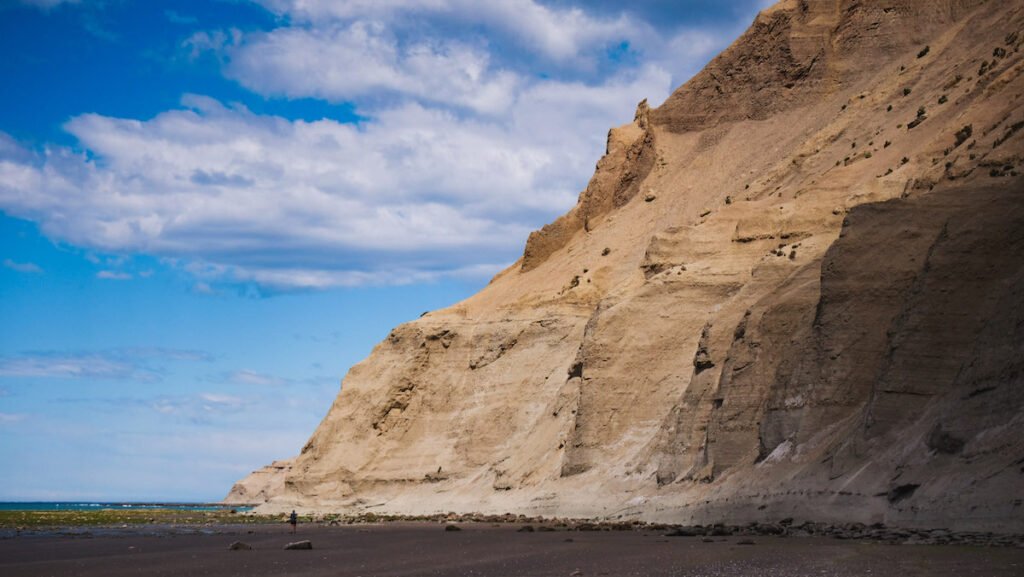 Coastal Patagonia Travel Itinerary Tips
Distances between certain towns can be hundreds of kilometres without much in sight. Fuel up when you get the opportunity.
Don't go off-roading if your vehicle can't handle it. This part of the world is pretty remote and you don't want to get stranded far away from any sign of civilization. Also make sure your rental car has a spare tire.
Rental cars in Argentina are almost exclusively standard/manual transmission. Automatic cars are few and far between, and the rental price is typically 3x as much as that of a standard car.
You can travel this coastal Patagonia route by bus. The bus company Via TAC covers the complete route from Puerto Madryn to Comodoro Rivadavia.
That concludes our coastal Patagonia travel itinerary for anyone planning an overland trip.
Can you keep driving further south down coastal Patagonia!
Sure! However, the distances become much longer with few cities or towns in between.
Also, keep in mind that if you want to reach Ushuaia (the southernmost city in the world!), you'll have to go through Chile and then there's a ferry crossing involved to reach the Tierra del Fuego province, which is an island.
Yes, you continue your coastal road trip to the ends of the Earth, it just takes a bit more effort. But if you're up for the adventure, upwards and onwards!