Today we are sharing 11 reasons why you should visit Chubut in Patagonia, Argentina!
We have spent a lot of time travelling across some of the best places in Patagonia, and the Province of Chubut has quickly become one of our favourite destinations in the country.
Why do we like visiting Chubut so much?
Because of the variety it offers!
In Chubut you can explore an oil town or have tea in a Welsh town, hike through strange rock formations in the Patagonian steppe or marvel at a 1000-year old tree in the forest, stand in front of the largest dinosaur in the world or tackle the biggest labyrinth in South America.
The landscapes are varied, the activities are endless, and the climate boasts four distinct seasons making it a fun year-round destination. And because this is Northern Patagonia, it's a shorter flight to get there.
Here are our reasons for visiting Chubut in Patagonia, Argentina: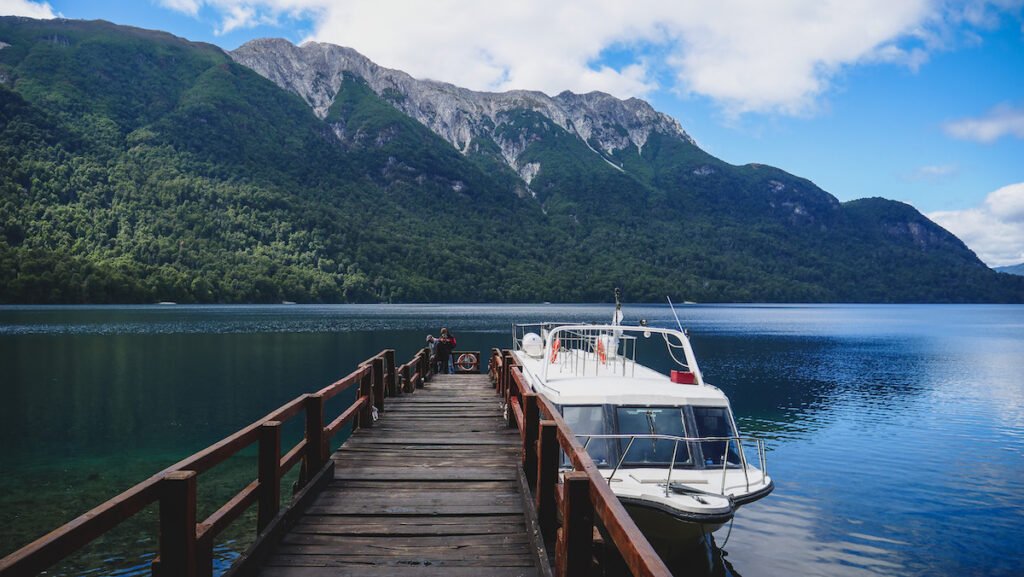 Discover the diversity of landscapes
The province of Chubut stretches from the Andes Mountains in the west to the Atlantic Ocean in the east, and that means you can experience a variety of geographies along the way!
Whether you want to marvel at snow-capped mountains and hanging glaciers, experience the wilderness of the dry Patagonian steppe, or splash around in the ocean and witness all sorts of wildlife, you can do so all in one province.
The nice thing about Chubut is that you get to experience real seasons. Summers are hot and best spent along the coast, and winters offer a myriad of outdoor activities if you head over to the mountains.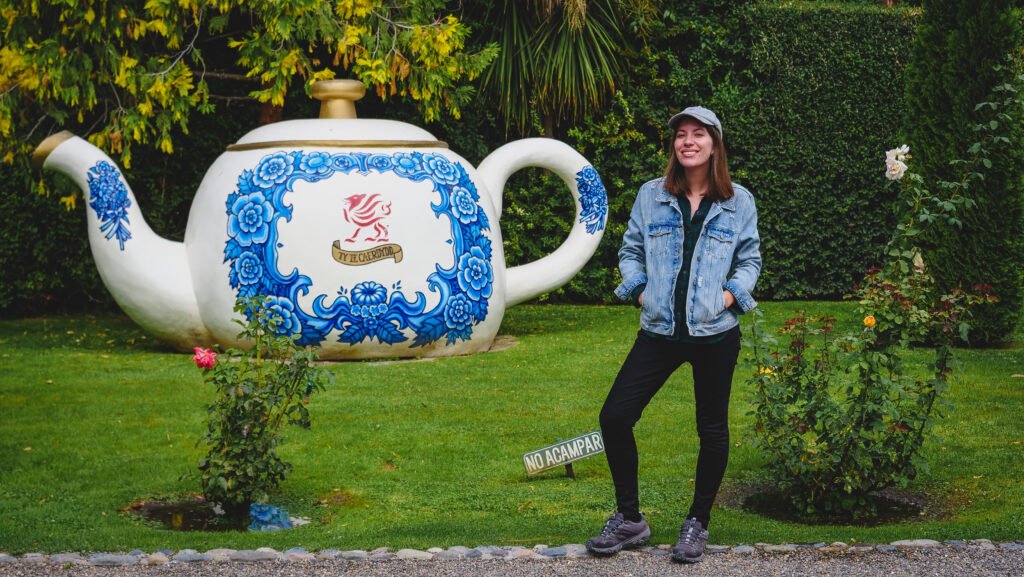 Experience Welsh culture
Did you know there are Welsh towns in Patagonia?
Argentina is a nation that experienced many waves of European immigration, and the Province of Chubut is where Welsh immigrants chose to settle.
The Welsh arrived in 1865 aboard a ship called the Mimosa, and though they first settled along the coast, they eventually moved inland to the Chubut Valley, and slowly ventured over to places like Trevelin along the Andes.
The town of Gaiman is a really interesting place to visit because here you have this Welsh town in the middle of Patagonia and the business names are in Welsh, the foods on the menu are Welsh, and you have countless tea houses serving up Bara brith cake.
It kind of makes you look around like, "Where am I?"
Around town you can also visit the homes of the early settlers, learn how the native Tehuelche helped the newly arrived immigrants survive in a climate they were completely unprepared for, and you can also visit the farms of Welsh descendants to buy fresh fruits and homemade preserves.
If you're going to be travelling near Puerto Madryn or Trelew, it's worth the detour to visit, even if it's just on a day trip. There are even day tours from Puerto Madryn – like this Welsh colonies tour – where you can experience Gaiman as part of a guided visit.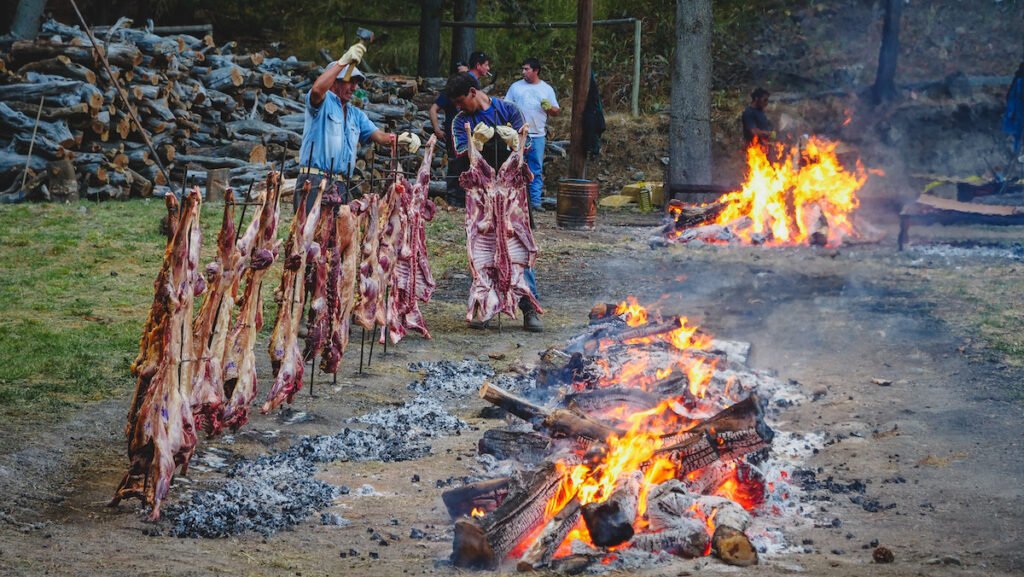 Attend the biggest BBQ festival
Another reason to visit the province of Chubut is to experience the biggest BBQ in the world!
Every year, thousands of people descend on the small town of Cholila to take part in an event unlike any other, the Fiesta Nacional del Asado, also known as the National Asado Festival.
If there's one thing you should know about Argentines is that they are very much a meat-loving country. The asado is the national dish and it's not just a meal but rather an experience.
Going to an asado is a full day event that involves starting a fire from scratch, enjoying each others company and conversation, snacking on empanadas, opening a few bottles of wine, eating some choripan, cracking jokes around the fire, savouring the fresh air and sunshine, feasting on various cuts of meats, and this can go on for hours!
Now take this and turn it into the biggest party of the year with tens of thousands of kilos of meat to grill, thousands of attendees, live music and dancing, horse competitions and races, and you've got yourself a meat festival!
It's a one of a kind event with great energy, so if you're planning to travel in Argentina in the month of February, you may want to include a visit to Chubut!
This destination is a prime example of Patagonia off-the-beaten-path – a little harder to get there, but well worth the effort.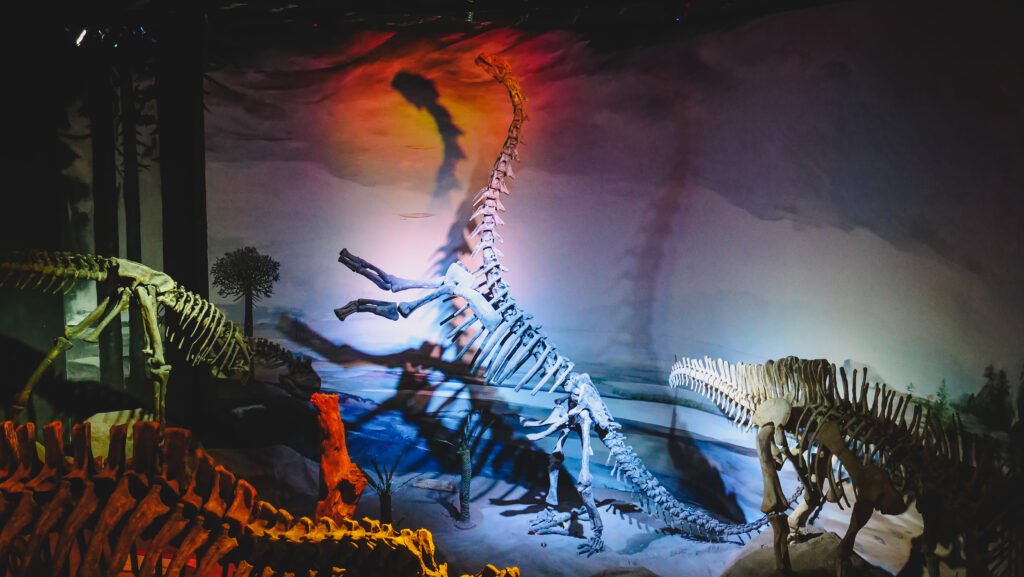 See the largest dinosaur in the world
Want to see the dinosaurs that once roamed Patagonia?
Then come and visit the province of Chubut!
There are plenty of things to do in Trelew, however, your first stop should be the Egidio Feruglio Paleontological Museum, also known as the Dinosaur Museum!
This museum is named after Egidio Feruglio, an Italian-born geologist who spent a great part of his career in Argentina, and it's also where you'll be able to see the largest dinosaur in the world, the Patagotitan Mayorum.
This titanosaur was discovered in early 2013 by a group of museum researchers who were on a routine field trip. Well, they made quite the discovery, because it turns out this is the largest known creature to have walked the Earth!
The Patagotitan Mayorum was over 8 meters tall, 40 meters in length, and would have weighed around 74 tons.
This was a huge discovery given the size of the dinosaur and the amount of fossils that were found, but perhaps what's even more impressive is that no less than seven colossal herbivorous dinosaurs were found in a single site right here in the Province of Chubut!
If you're still craving more after your museum visit, head north on Ruta 3 just outside of Trelew and you'll find a sculpture of the largest dinosaur in the world (it's just across from the international airport). There you'll see the Patagotitan mayorum face to face.
If you prefer joining a tour, there are excursions from Puerto Madryn – like this one – that include a visit to Trelew, Gaiman and Punta Tombo to see penguins!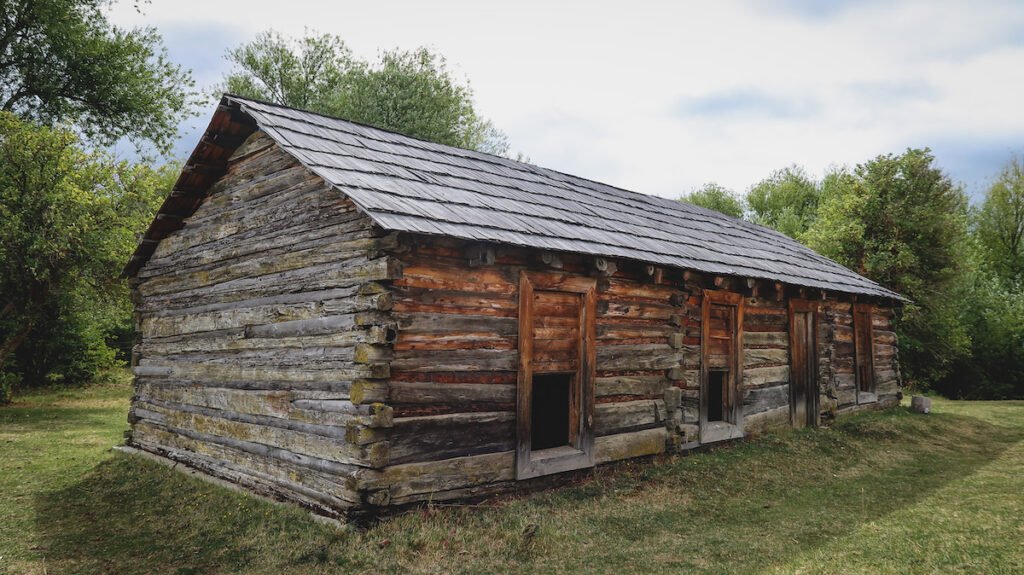 Visit Butch Cassidy's Ranch
Did you ever watch the 1969 film Butch Cassidy and the Sundance Kid?
Well, here you can see where the real story unfolded.
Butch Cassidy and the Sundance Kid were outlaws who made a career out of robbing banks and trains. Eventually the pressure of the pursuing law enforcement forced them to leave the country, and where did they end up if not in Patagonia, Argentina.
They bought a ranch in Cholila with the money from their robberies and changed their names – it is said they were trying to lead honest lives. However, law enforcement was already onto them so they sold the ranch and went on the run again.
Today, you can still visit the infamous ranch, which is in such a rural out-of-the-way area, that you're almost guaranteed to have it to yourself.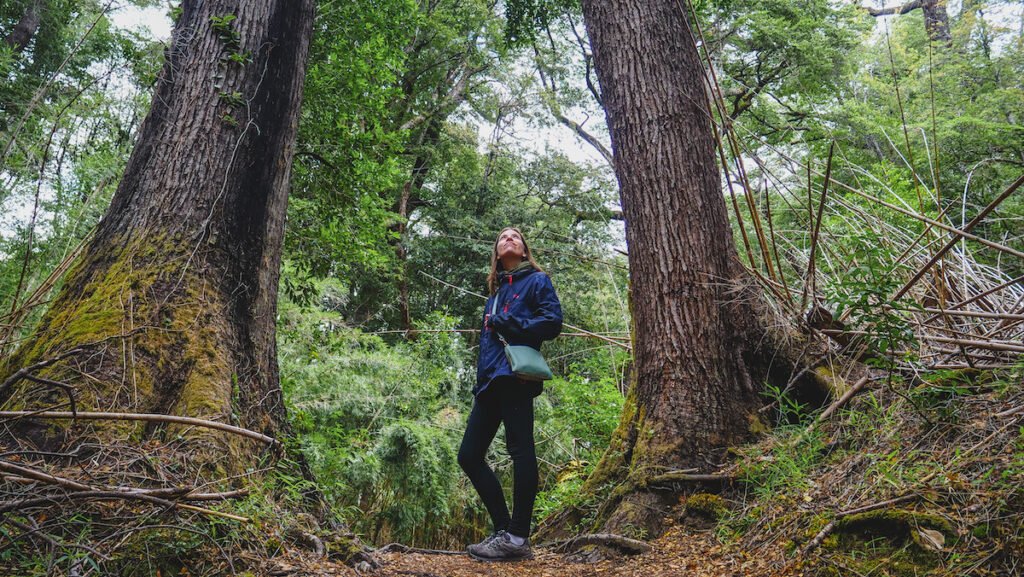 Marvel at a 2,600-year-old tree
One place you simply cannot miss when you visit Chubut is Los Alerces National Park.
The park is set in the Andes Mountains and the western boundary coincides with the Chilean border.
The biggest draw to the park is the Alerce Forest which is home to the second longest living tree species in the world. The alerce tree goes by a few other names including Fitzroya cupressoides, lahuán, and Patagonian cypress, and it grows in the Valdivian temperate rain forests.
The alerce tree can grow to a height of 40-60 metres (though there exist a few 70 metre specimens!), and it can have a trunk diameter of 5 metres.
In Los Alerces National Park, you'll find the 'Alerce Milenario', or the Grandfather tree which is around 2,600+ years old.
Reaching it involves a beautiful boat journey across turquoise waters, past a hanging glacier, and a forest trek down a boardwalk.
You can feel the wisdom in the towering trees and it's an experience unlike any other.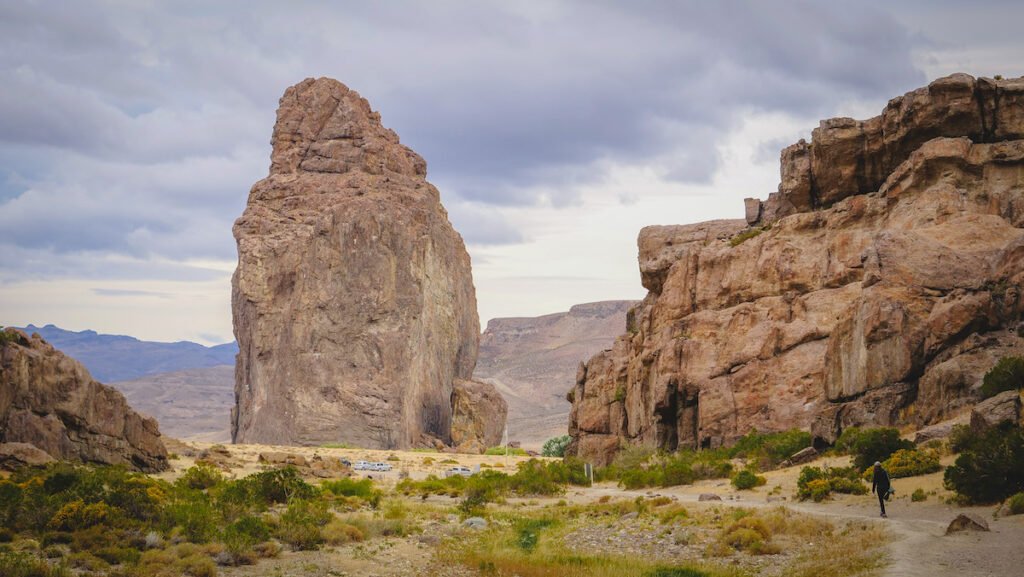 Hike through strange rock formations
The Province of Chubut boasts some spectacular other-worldly landscapes and Piedra Parada is one such place!
This is a protected natural area with 132 hectares of Patagonian steppe.
The name Piedra Parada literally translates to 'standing rock' and that's thanks to the giant rock which rises 240 meters high next to the Chubut River.
Then, next to this enormous rock, there is a trail that leads into the Cañadón de la Buitrera or the Vulture's Canyon. The corridor is over 100 meters high and along the way there are Mapuche-Tehuelche cave paintings.
It's also worth noting that this area is considered rock climbing mecca, so if you're into the sport, you'll have a lot of fun here!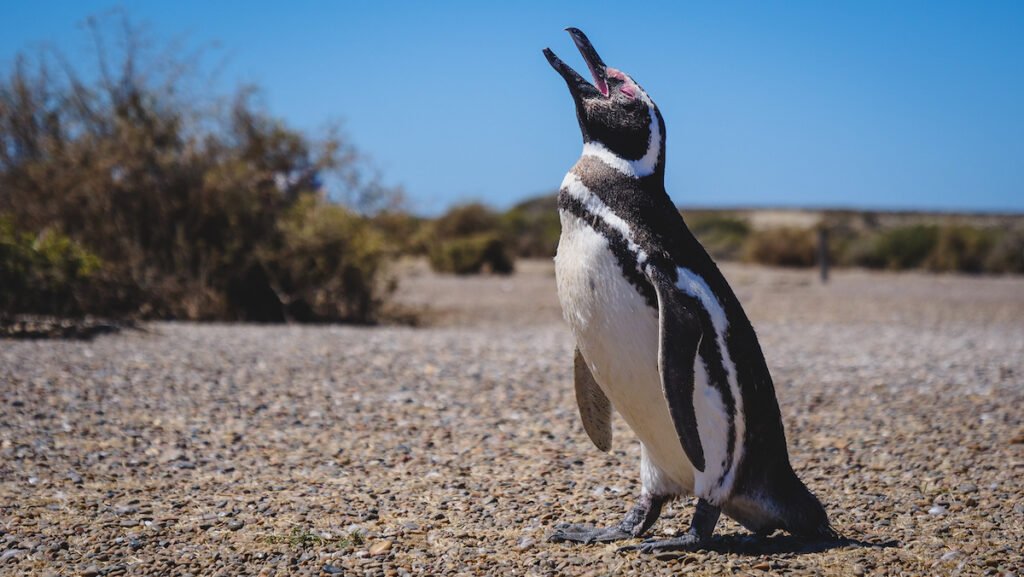 Witness wildlife like nowhere else
Another reason to visit the Province of Chubut is to view wildlife in Península Valdés. Trust me, this place will blow your mind!
The peninsula is considered one of the best places to see wildlife in all of Patagonia. You can spot sea lions, elephant seals, Southern right whales, Magellanic penguins, rheas, guanacos, maras and more!
Whether you're driving across the arid steppe or joining a boat tour of the Golfo Nuevo, you are bound to encounter wildlife at every turn.
The peninsula is accessed via the port city of Puerto Madryn, or you can also opt to stay in Puerto Pirámides, which is a hippie beach town and the only community on the whole peninsula.
You can do a full day tour of Peninsula Valdés departing from Puerto Madryn including stops at the Carlos Ameghino Isthmus Visitor Centre, Puerto Pirámides, Península Valdés and Caleta Valdés.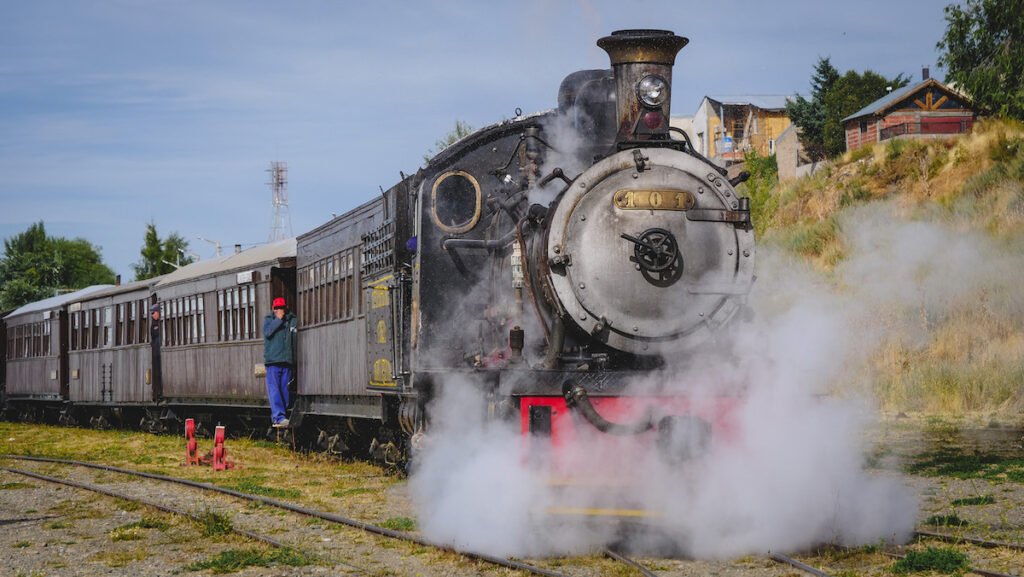 Ride the Old Patagonian Express
If you're a train enthusiast, another reason to visit the Province of Chubut is to ride the Old Patagonian Express.
This train journey rose to fame soon after the release of Paul Theroux's 1978 novel The Old Patagonian Express. In his book, Theroux sets out to travel by train from his hometown in Massachusetts all the way down to Argentina, and based on the book's title, Patagonia clearly made a strong impression on him!
The Old Patagonian Express, known as La Trochita in Argentina, once stretched out across 402 kilometres and it was originally planned as part of a larger network that would connect all of Patagonia.
Today small segments of the original route remain and travellers can choose to ride one of three journeys from Esquel to Nahuel Pan, El Maiten to Desvio Bruno Thomaé, or Ingeniero Jacobacci to Ojos de Agua.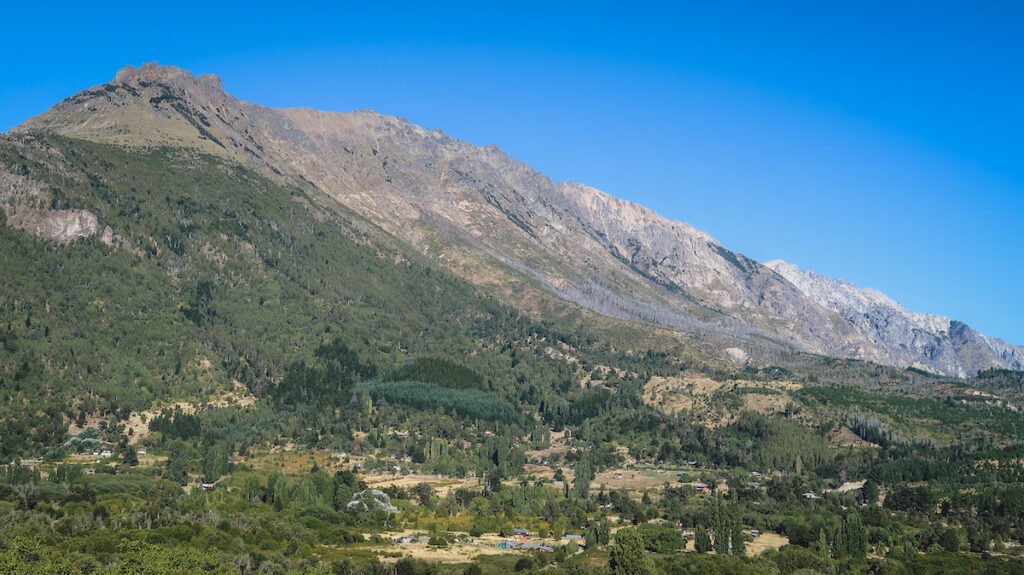 Tackle the biggest labyrinth
The town of El Hoyo is home to Laberinto Patagonia, which just so happens to be the biggest labyrinth in South America!
Nestled in a 5-hectare estate, the labyrinth is surrounded by native forests and spectacular views of the surrounding valley.
The labyrinth itself is 8,000 square meters, with 2,200 metres worth of paths to find your way around. It's a really fun activity whether you're visiting as a couple, with family or with friends.
The views when you emerge from the labyrinth are reward enough, however, if you want to treat yourself to something sweet, there's a tea house on site that you really should visit!
I would highly recommend ordering a slice of their chocolate cake with blackberries, raspberries, blueberries, gooseberries and strawberries. And if that weren't decadent enough, it also has dulce de leche and whipped cream. It's one of the best cakes you'll try in your life!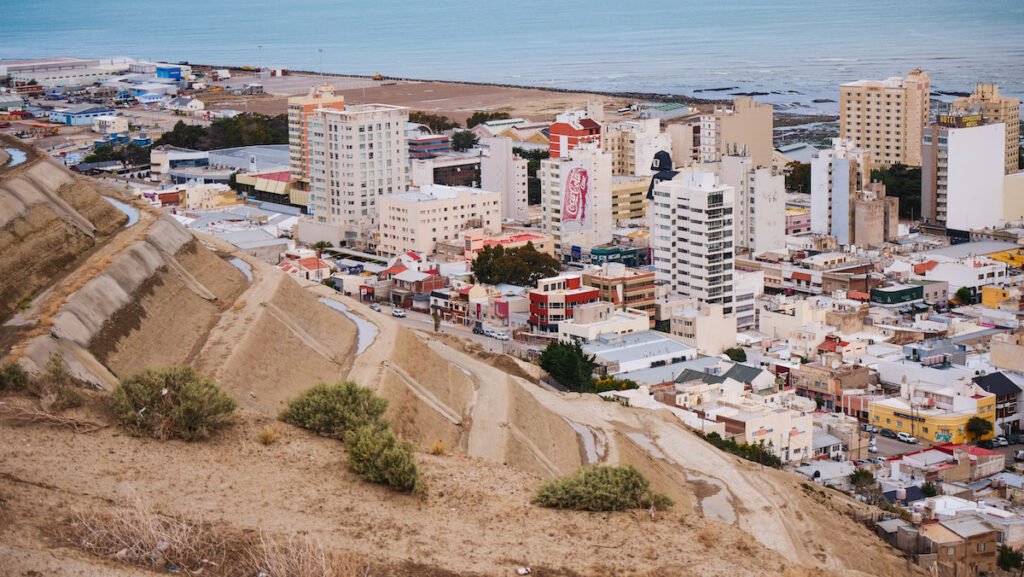 Visit an oil town
If you enjoy going off the beaten path and visiting places that most tourists skip altogether, then I'd recommend checking out the coastal city of Comodoro Rivadavia. This was one of the many stops on our coastal Patagonia travel itinerary.
When we first told people that our travels across Patagonia were going to include a stop in the oil city of Comodoro Rivadavia, most people looked at us with bewildered eyes and asked, "why?!"
Well, why not?
Comodoro Rivadavia is the largest city in the Province of Chubut and it offers quite a bit to see and do. We really enjoyed our visit to the Petroleum Museum to learn about the discovery of oil that in turn gave rise to this city. This stop is a must for anyone visiting.
Aside from that, the city has excellent seafood restaurants, you can enjoy some great panoramic views from Chenque Hill, and you can also go on a day trip to the neighbouring beachside town of Rada Tilly.
So, has this convinced you to give the Province of Chubut a visit? We certainly hope so! Let us know what destination in Chubut you'd most like to experience!