So you're kicking off your trip to Patagonia and you're wondering how to get to Bariloche. Should you take a plane, bus, train or even attempt driving? Well, we've got you covered and we're going to let you know exactly what your options are and what to expect from each journey.
Situated on the shores of Nahuel Huapi Lake, Bariloche is considered the gateway to Patagonia offering panoramic mountain views, a plethora of outdoor adventures, and a picturesque alpine-inspired downtown lined with chocolate shops, breweries, and restaurants. It's no wonder it's so popular with both domestic and international tourists!
Bariloche also happens to be a year-round destination (lakeside fun in the summertime, and snowy adventures in the wintertime), meaning it is very well-connected with the rest of Argentina.
So let's dive right in and see what's the best way for you to get here – airplane, bus, train or car!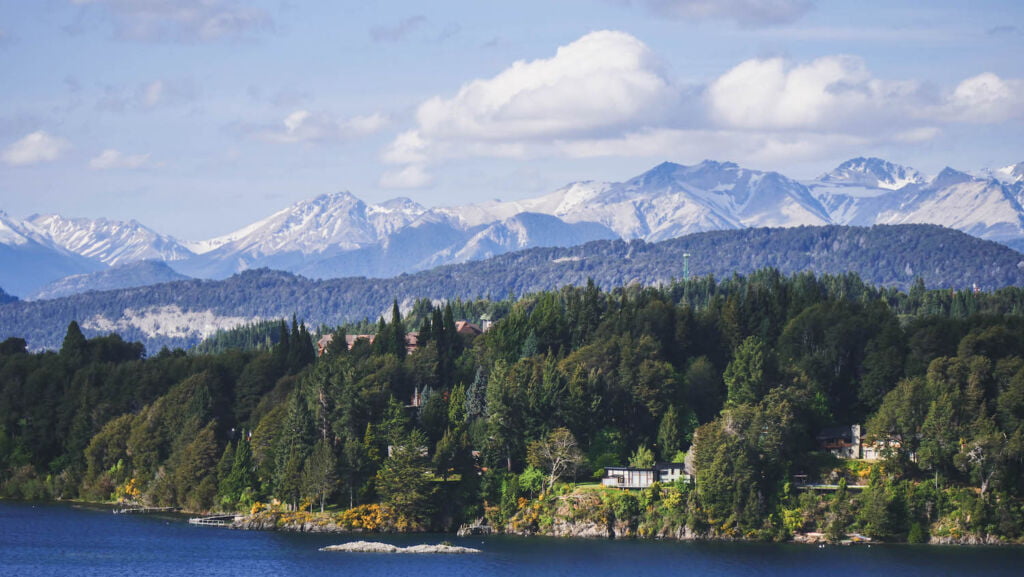 How to get to Bariloche
Getting to Bariloche by Plane
If you're flying to Bariloche, you'll arrive at Aeropuerto Internacional Teniente Luis Candelaria (BRC), locally known as Bariloche Airport.
Most flights to Bariloche arrive from Buenos Aires from either Aeroparque (the airport in Buenos Aires) or Ezeiza (the airport in the outskirts of Buenos Aires). There is a high flight frequency between Buenos Aires and Bariloche with multiple flights per hour including flights with the national airline and various low-cost carriers.
You can also get direct flights from a few other major Argentine cities, though frequency varies throughout the year.
Flight times to Bariloche
Buenos Aires (EZE) to Bariloche (BRC) – 2 hours 20 minutes
Buenos Aires (AER) to Bariloche (BRC) – 2 hours 10 minutes
Cordoba (COR) to Bariloche (BRC) – 2 hours 15 minutes
Mendoza (MDZ) to Bariloche (BRC) – 1 hour 45 minutes
Rosario (ROS) to Bariloche (BRC) – 2 hours 15 minutes
El Calafate (FTE) to Bariloche (BRC) – 1 hour 45 minutes
Airlines that fly to Bariloche
Aerolineas Argentinas
FlyBondi
JetSmart
Andes Lineas Aéreas
Renting a car at Bariloche Airport
Once you land in Bariloche, you can pick up a rental car at the airport, though it is advised you reserve a vehicle ahead of time.
This is an especially good idea if you're planning a northern Patagonia road trip and will be hitting up some of the neighbouring mountain towns like San Martin de Los Andes, Villa La Angostura, Esquel and El Bolson, just to name a few.
At the airport, you'll find the following providers:
Hertz
Localiza
Avis
Europcar
Alamo
Sixt
Fit
Atua
It is a 15-kilometre drive from Bariloche Airport to Bariloche and it takes about 25 minutes to get there.
TIP: If you are not renting a car, you can get from the airport to the city by hopping in a taxi or remis, or for an even more budget-friendly option, you can take Bus #72 which is a 42-minute journey.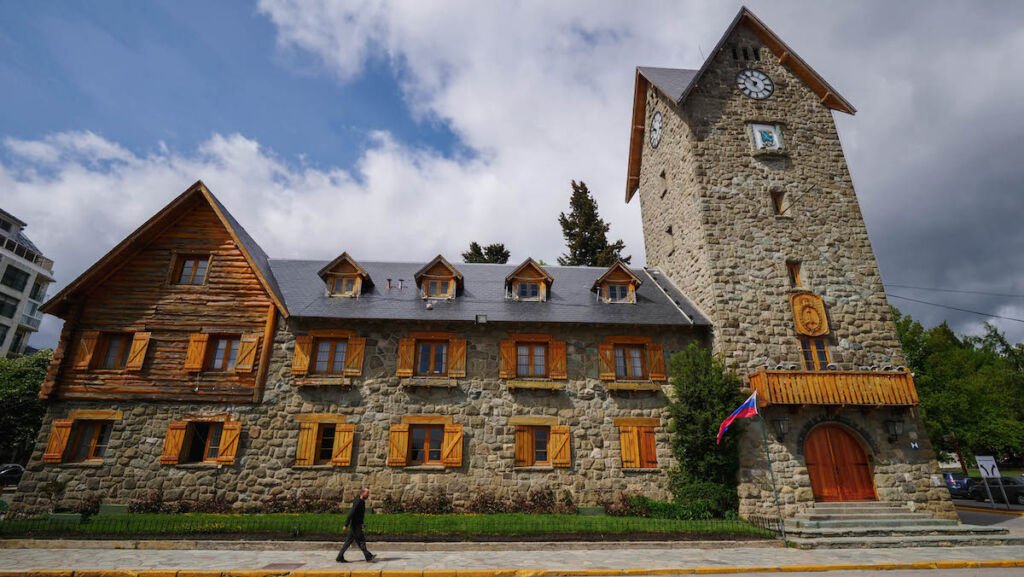 Getting to Bariloche by Bus
Bariloche is very well connected with the rest of the country with bus links to most major cities. The distances are long, but most journeys are overnight which makes the trip feel shorter and more bearable.
For a more comfortable journey, choose your seat category wisely! Bus seat categories aboard Argentine buses include Cama Suite reclining at 180 degrees, Cama Ejecutivo reclining at 160 degrees, and Semi Cama reclining at 120 degrees.
Sometimes it's worth paying a few extra pesos for more comfort, especially if you're undertaking a long overnight bus journey.
What bus companies go to Bariloche
Buenos Aires to Bariloche – Via TAC, Via Bariloche, Chevallier
Mendoza to Bariloche – Tramat, CATA
Cordoba to Bariloche – Via TAC
Esquel to Bariloche – Via TAC, Marga Taqsa
Comodoro Rivadavia to Bariloche – Via TAC
El Calafate to Bariloche – Marga Taqsa
Bus travel is a great way to get around Patagonia, especially if you want to explore a wide range of destinations. If you have the time, you can travel from Ushuaia to Bariloche by bus. Yes, it's a multi-day journey, but you can break it up into smaller segments and see the length of Patagonia in the process.
TIP: The further south you travel in Patagonia, the more remote it gets. This means less bus frequency between destinations, especially if you are travelling off-season. Because not every destination offers daily departures, you'll want to book your transportation before you reserve your accommodations!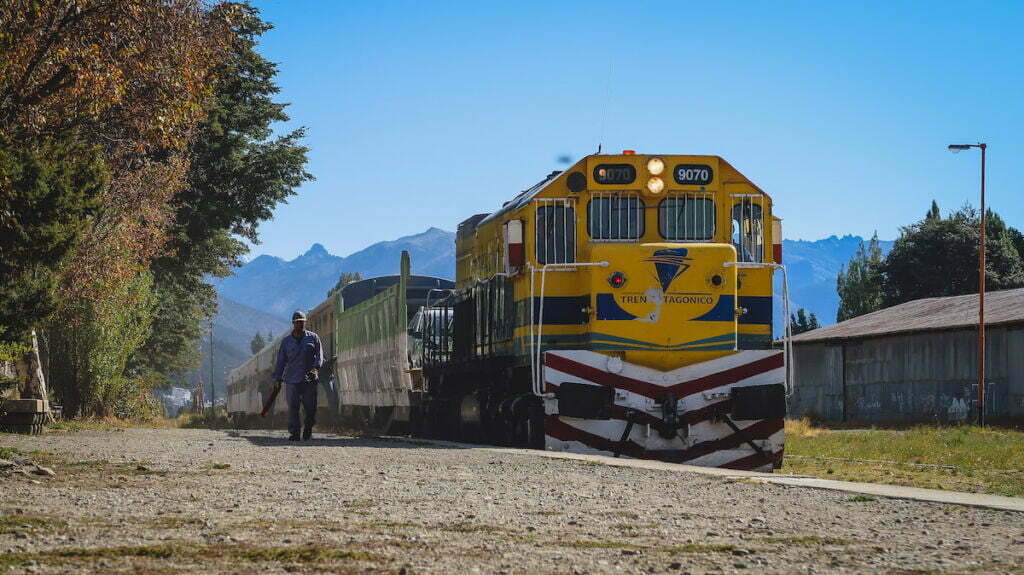 Getting to Bariloche by Train
Another way to get to Bariloche is by train, though the schedule is limited and therefore requires some advance planning.
Tren Patagónico is the train that runs between Viedma and Bariloche. This is an 800+ kilometres journey from the shores of the Atlantic Ocean to the foot of the Andes Mountains and it's a great way to soak in the beauty of the Patagonian steppe.
The Tren Patagónico typically runs from Viedma to Bariloche on Fridays, departing Viedma at 18:00 and arriving in Bariloche at 12:28 the following day.
It then runs from Bariloche to Viedma on Sundays, departing Bariloche at 17:00 and arriving in Viedma at 11:34 the following day.
Since the train to Bariloche only runs once a week, you need to arrange your travel dates accordingly. You can check the schedule and book tickets on Tren Patagónico's official website (Spanish only).
Tip: The Trén Patagónico is not to be confused with the Old Patagonian Express. These are two different trains: the former crosses the width of Argentina, and the latter is a sightseeing narrow gauge steam train that runs three different segments in Patagonia, the most popular one being in Esquel.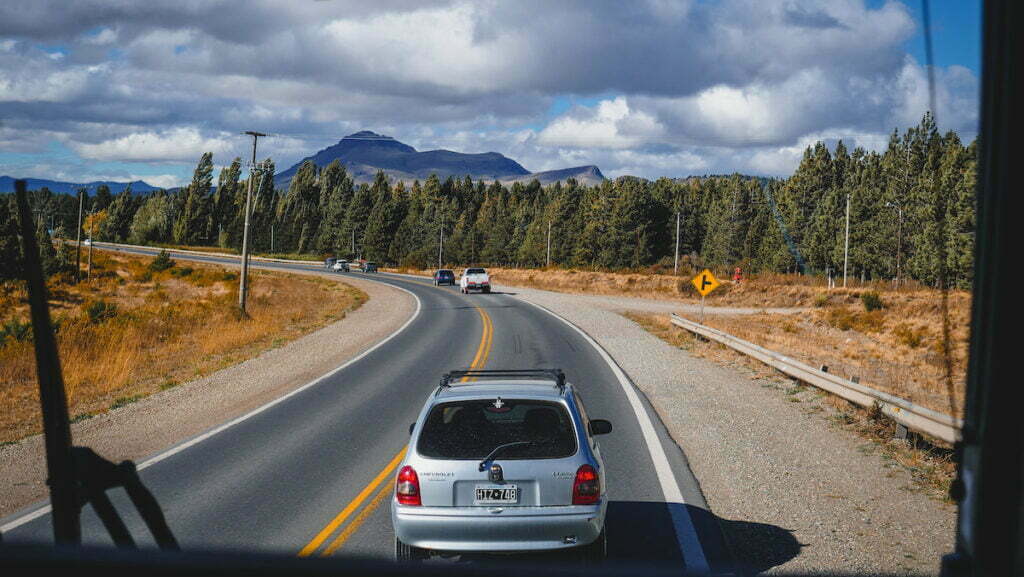 Getting to Bariloche by Car
Can I drive from Buenos Aires to Bariloche?
Technically, you can, but it is a 1,578-kilometre journey that takes about 18 hours to complete and that's with no major traffic incidents along the way.
People do drive to Bariloche from Buenos Aires regularly, but if you decide to do so, you may want to consider breaking up the journey into 2 or 3 days worth of driving to make the long distances a bit more bearable.
Bariloche sits right along National Route 40 or Ruta 40, the longest route in South America stretching 5,194 kilometres from La Quiaca, Jujuy in the north to Cabo Vírgenes, Santa Cruz in the south. That means if you're doing an epic cross-country road trip, you'll hit Bariloche during your journey.
TIP: Fuel up at the gas station when you see one because once you start driving across the Pampas and the Patagonian steppe, you can travel long distances before you see any signs of civilization. 
Read our Bariloche articles to start planning your trip:
Things to do in Bariloche, Argentina