Did you know Patagonia is home to the Arrayanes Forest which is said to have inspired Disney's Bambi?
That's right! Set on a peninsula that juts out from the town of Villa La Angostura, is a forest locally known as Bosque de Arrayanes.
This forest is home to the famous arrayán tree which has a flakey cinnamon-coloured bark with cream patches. The unique thing about this tree is that it always feels cool to the touch because its bark is so thin that you can feel the sap flowing within!
The main part of the Arrayanes Forest is found on the tip of the Quetrihué Peninsula on the shore of Nahuel Huapi Lake. Fun fact: the name Quetrihué means 'where the Arrayanes are' in the Mapuche language.
Most of the trees in the Arrayanes Forest are around 300 years old, though there are some specimens over 650 years of age.
Los Arrayanes National Park is an iconic destination in northern Patagonia and it's best done as a full-day trip that includes a boat tour to the peninsula, a visit to the Arrayanes Forest and then a 12-kilometre hike back to Villa La Angostura.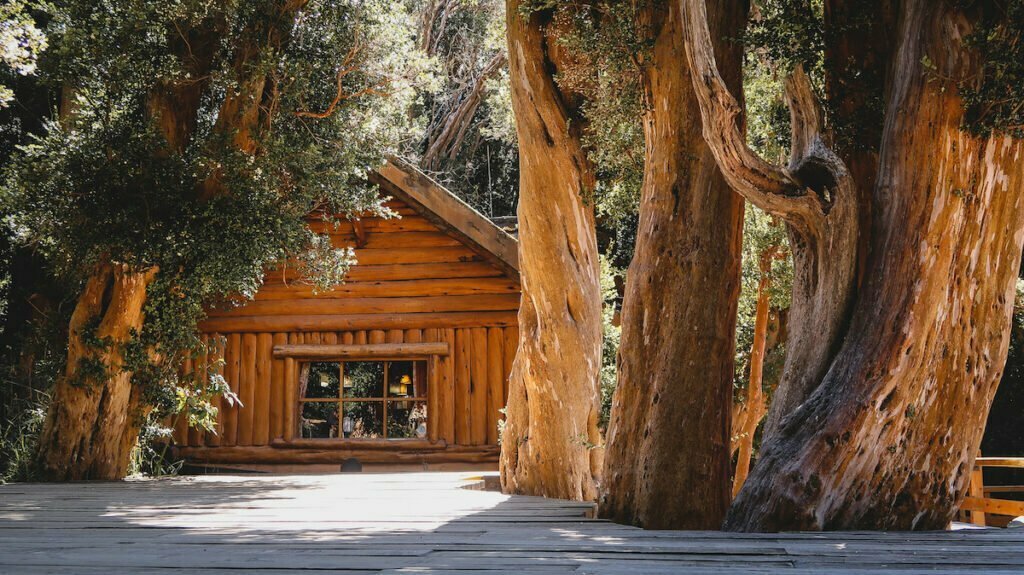 How to visit the Arrayanes Forest
You can visit the Arrayanes Forest from the town of Villa La Angostura or from the neighbouring city of Bariloche.
From Bariloche, it's a 1 hour and 30-minute drive to the port which is located in Bahía Mansa. Meanwhile, from Villa La Angostura, it's a short 7-minute drive to the port, which you can reach by taxi or bus.
Once you arrive at the pier Muelle Modesta Victoria, it's time to choose your boat! And there are numerous options ranging from catamarans to motorboats to sailboats.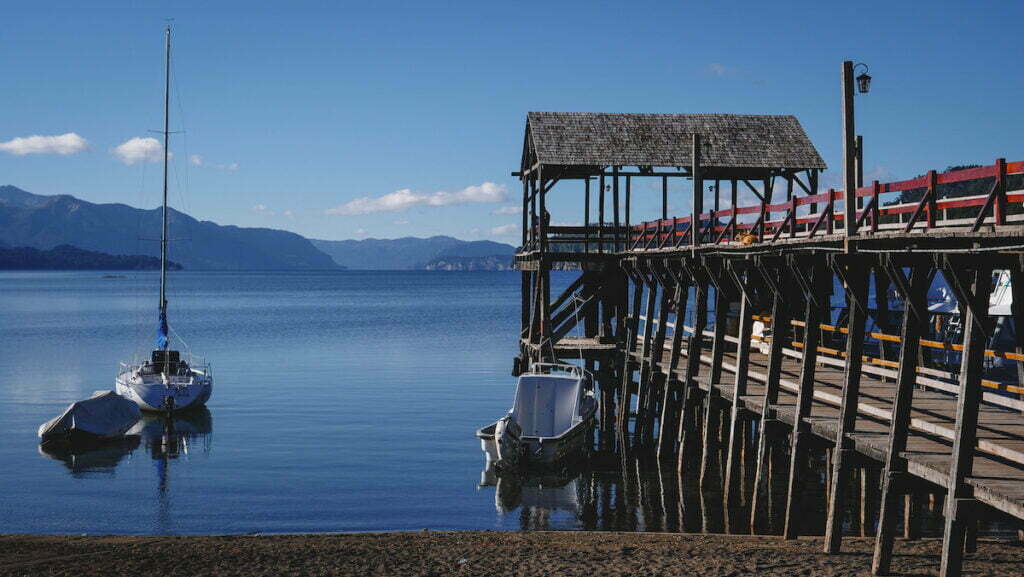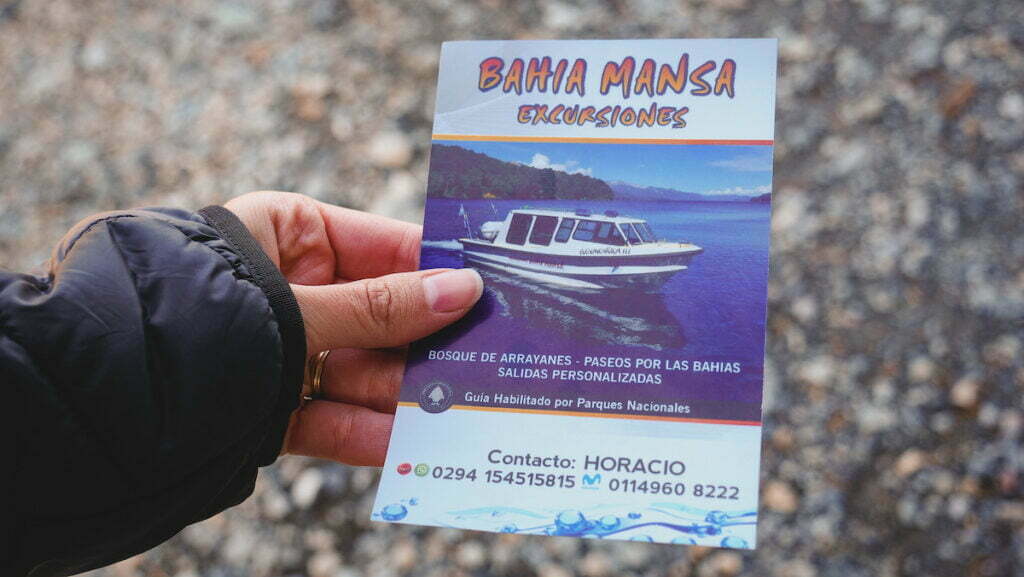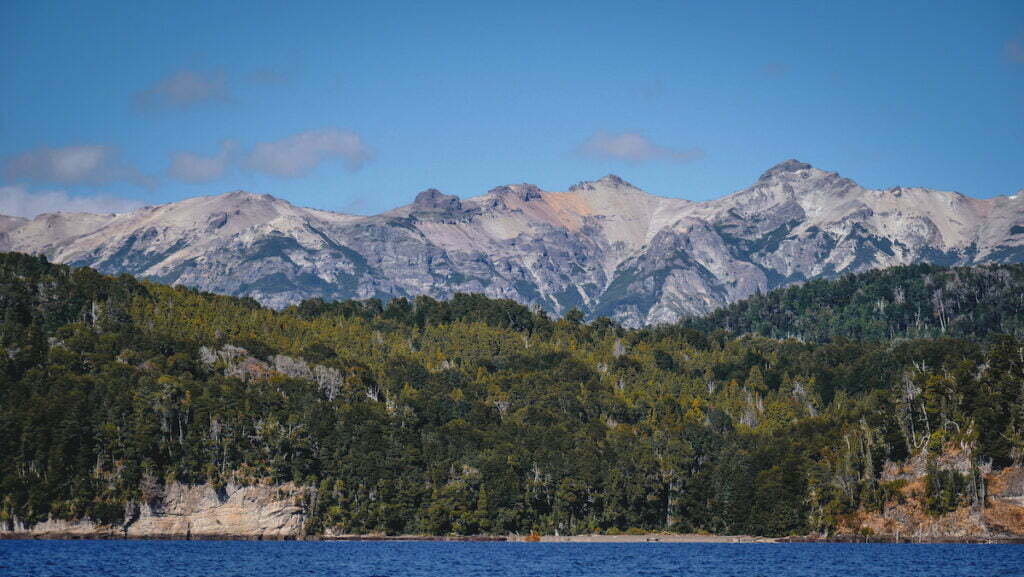 We went with Bahia Mansa Excursiones on a motorboat, so it was a small group size and the captain also shared lots of information and fun facts on the journey over to the Arrayanes Forest.
Catamarán Futaleufú is another popular option if you prefer a larger vessel.
The boat journey takes 30 minutes and you are treated to views of forested mountains while the boat zips through the lake and the fresh Patagonian breeze whips through your hair.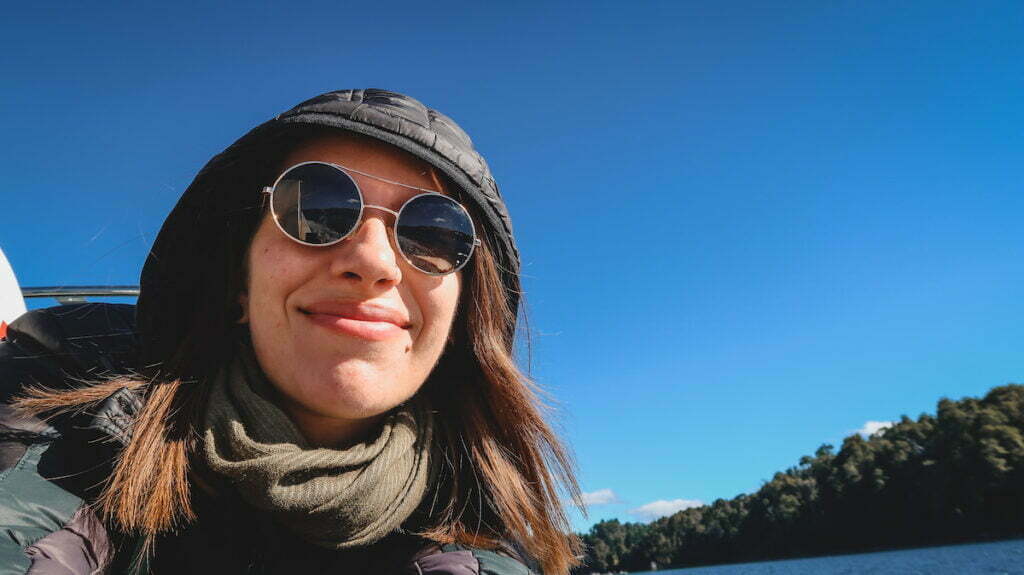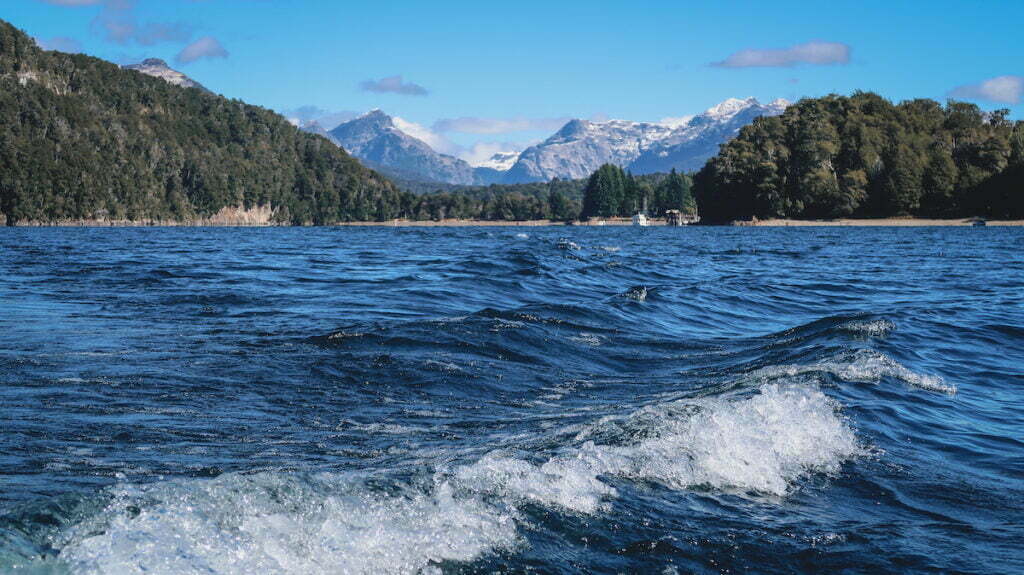 You also have to pay the admission fee to Los Arrayanes National Park before boarding. We paid the equivalent of $8 USD per person as international visitors.
Tip: You can visit the Arrayanes Forest from Bariloche as part of another lake excursion that covers Isla Victoria and the Arrayanes Forest. This is a completely different route but you do get 45 minutes in the forest if that works better with your travel itinerary. 
Walk the Arrayanes Forest Boardwalk
If you're visiting as part of a guided tour, as soon as you disembark on the peninsula, you'll do a guided walk along part of the Arrayanes Forest boardwalk.
This is called the Circuito Principal and it's an 800-metre boardwalk that goes through the Arrayanes Forest and takes about 30 minutes to complete.
There are a few stairs, but it is considered low difficulty.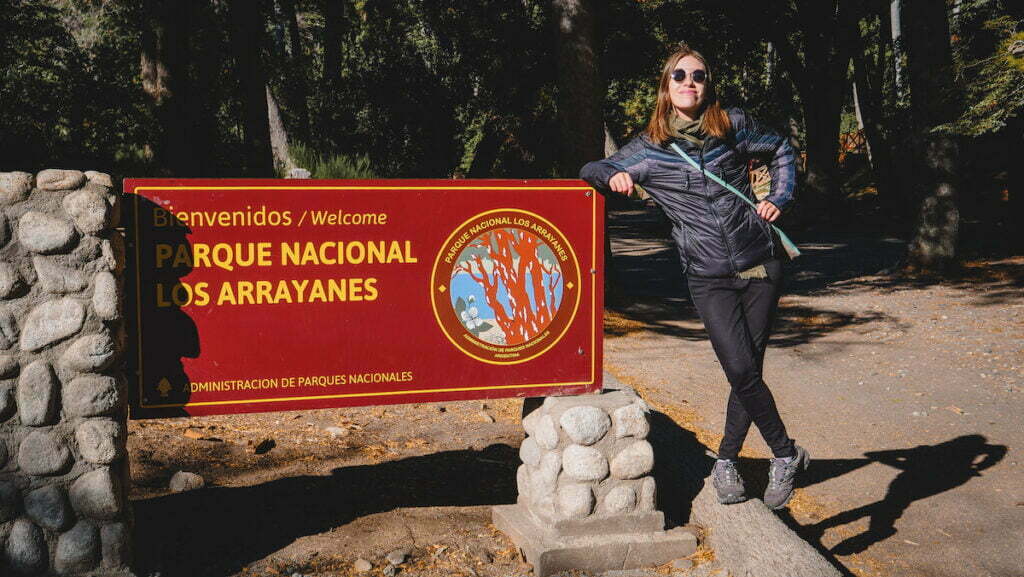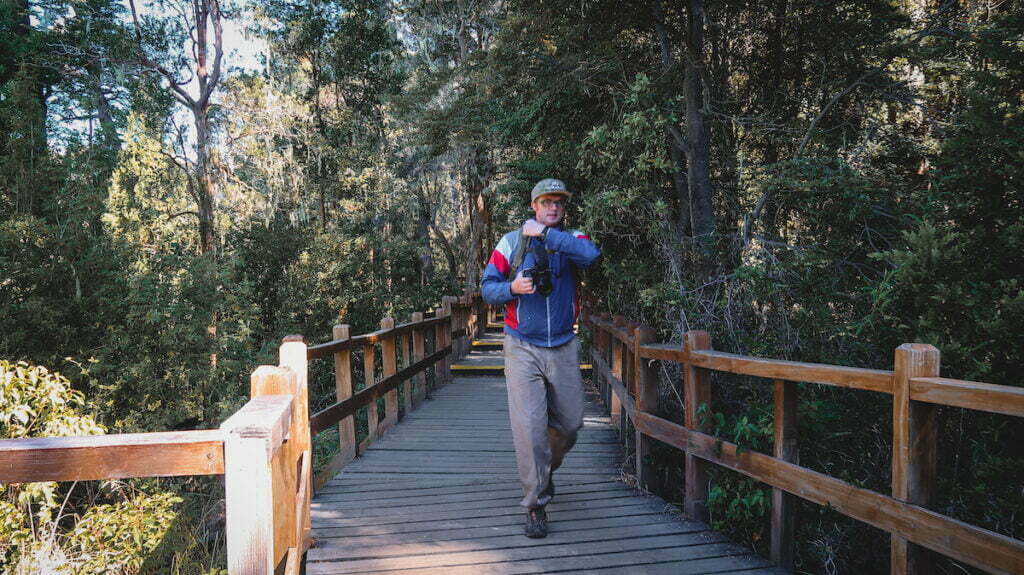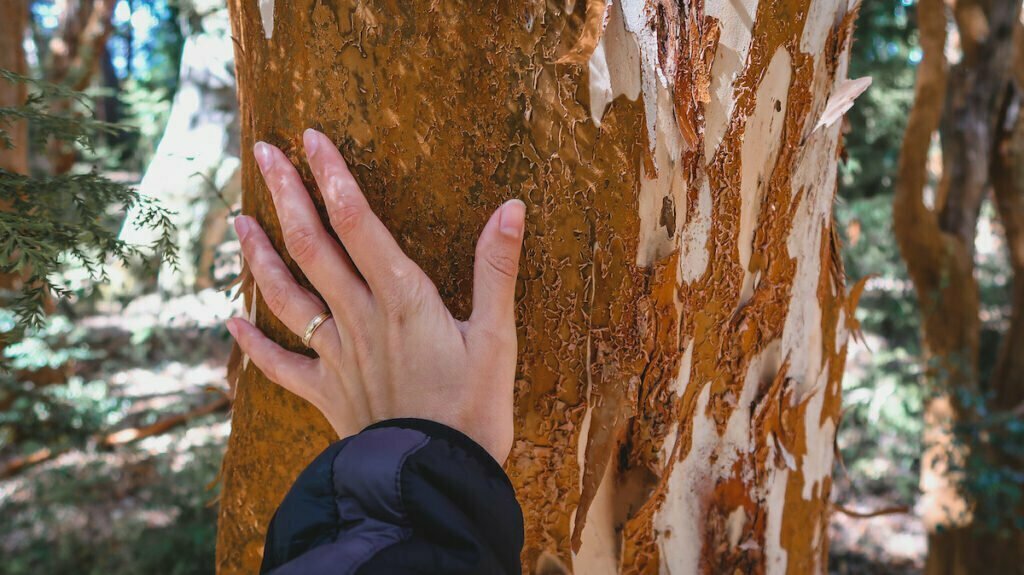 It can get a little bit crowded on the boardwalk during high season when several boats arrive at the same time, but since it's a brief visit for most, the crowds disperse fairly quickly.
So, if you're planning to hike back to Villa La Angostura and you don't mind waiting a bit for the excursions to leave, you can have the whole Arrayanes Forest to yourself.
Arrayanes Forest and Walt Disney?
The Arrayanes Forest is said to have inspired Disney's 1942 film Bambi.
Walt Disney travelled extensively across Argentina in 1941 just one year before the film's release, so there's good reason to believe this is true.
Plus, Disney also incorporated many gaucho elements from this trip into some of his other works like Saludos Amigos (1942) and The Three Caballeros (1944).
It's worth noting that this was not his only visit to Argentina as he would return again for more inspiration.
Visit the Arrayanes Tea House
The Arrayanes Forest Tea House is another must-visit spot on the peninsula. It's only 100 meters from the pier, so just follow the signs that read Casa de Té.
This cozy log cabin dates back to 1933 and it is locally known as 'la casita de Bambi' or 'Bambi's House'.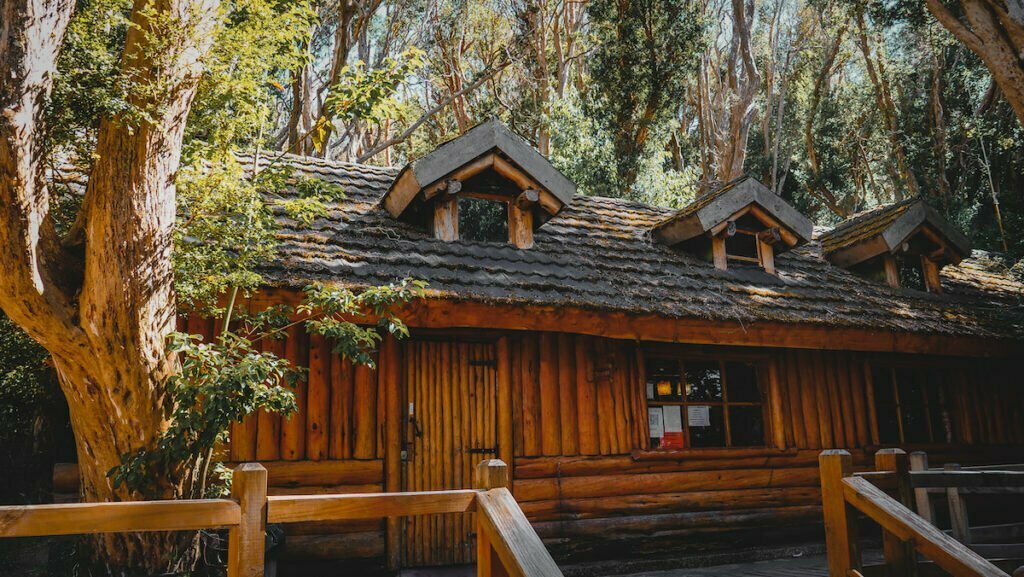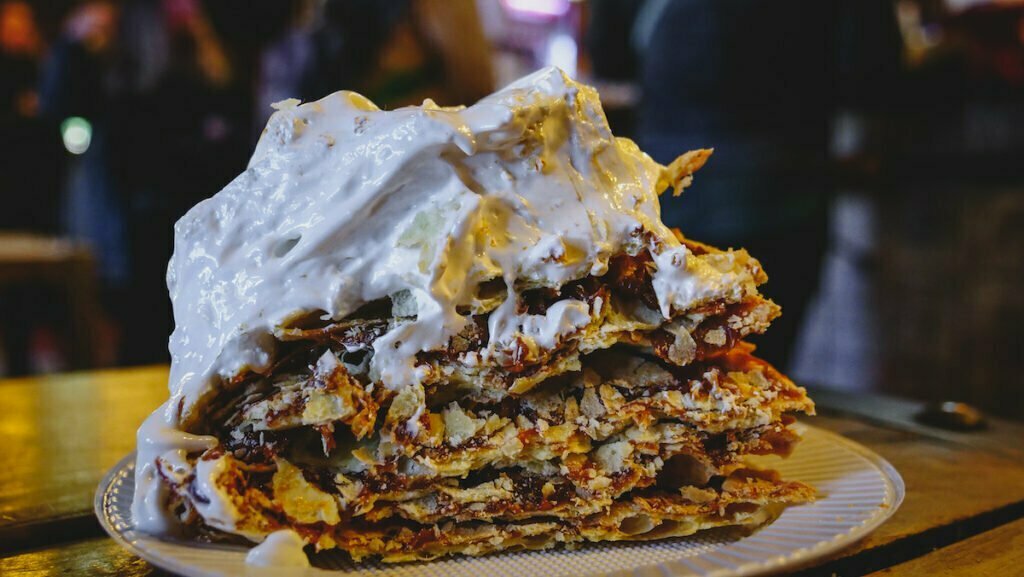 Luckily, the tea house was open on the day we visited, so we got to enjoy a nice lunch of ham and cheese sandwiches, lemon meringue pie, Rogel cake (a traditional Argentine dessert consisting of thin flakey layers filled with dulce de leche and topped with meringue), and raspberry tea. We paid $16 USD for our lunch.
The interior of the Arrayanes tea house is very cozy and rustic with long tables and benches where guests can intermingle. They also have a wood-burning stove in one corner, so it's a nice place to warm up and enjoy a bite, especially if you're planning to hike back across the peninsula.
Tip: It's hard to tell whether the tea house will be open or not – though your chances are far better during high season! That being said, it's not a bad idea to bring some snacks. There are numerous shops back near the port before you board the boat, where you can buy things like sandwiches, pizzas, chips, and chocolate bars. 
Hike across Los Arrayanes National Park
If you're a hiker and you want to enjoy the natural beauty of Patagonia, then you should consider hiking the length of Los Arrayanes National Park.
The 12-kilometre trail runs from the Arrayanes Forest on the tip of the Quetrihué Peninsula to the port of Villa La Angostura.
The journey takes 3 hours to complete and goes past two lagoons: Laguna Patagua and Laguna Hua Huan.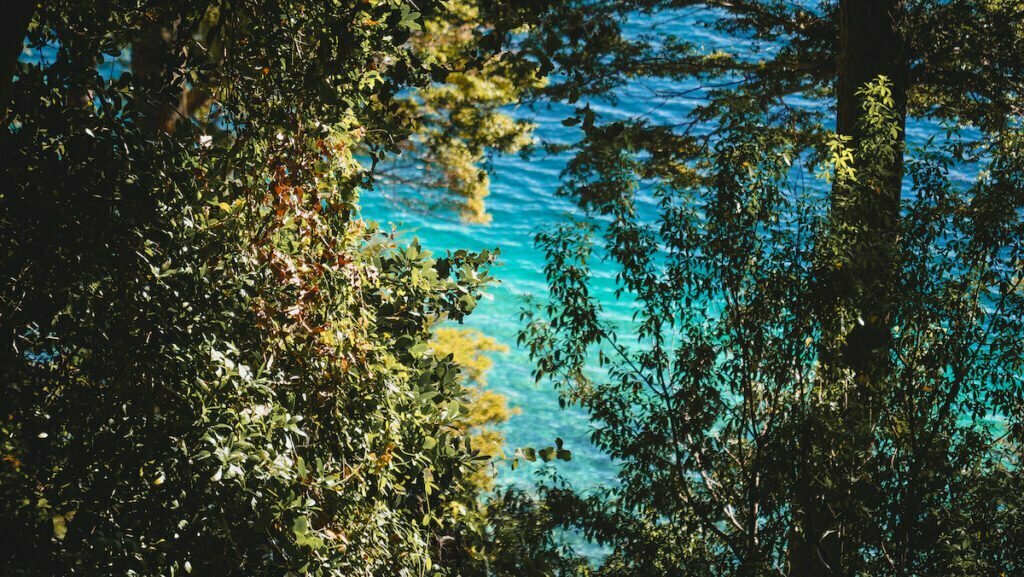 Once you get off the boardwalk and onto the trail, the path is well-marked and it's a very straightforward hike. Most of the trail is flat, though you do encounter a few steeper parts towards the end.
One of the highlights was reaching the panoramic point at the end of the hike, which offers beautiful views of the forested mountains, the snowy peaks, and the waters of Bahía Mansa which range from turquoise to cerulean.
We were really glad we opted to do the hike, and we were also surprised there weren't more people doing so! It's worth adding to your list of destinations to visit in Patagonia.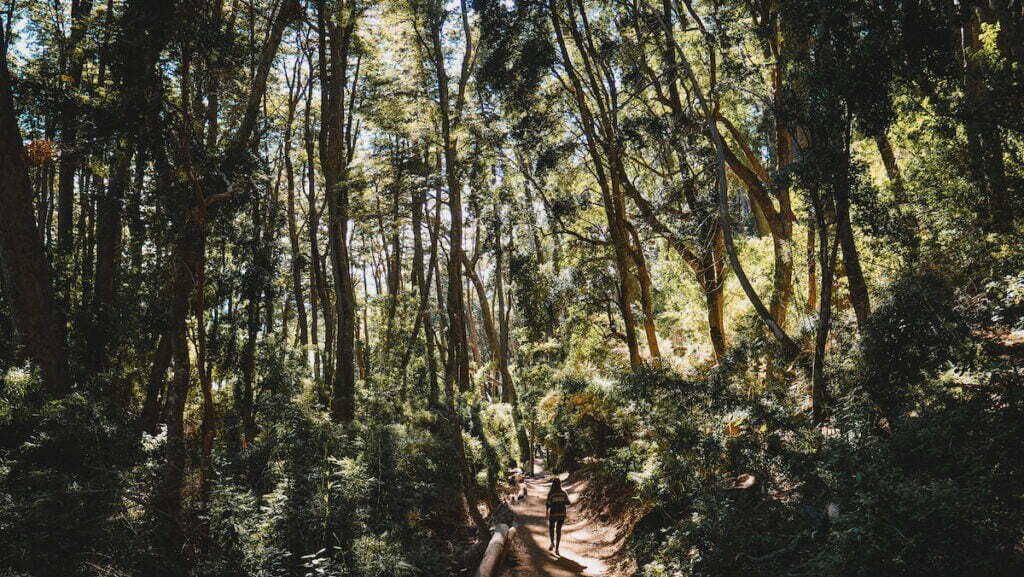 If you're not an avid hiker, then of course, you can take the boat back to Villa La Angostura – just make sure you pay for a round trip journey.
You also have the option of doing a mountain biking tour – we noticed quite a few cyclists on the trail. Be prepared for a ride on relatively uneven terrain with plenty of knobby roots on the path and some fallen tree logs.
The Los Arrayanes hiking trail ends back in the port between Bahía Mansa and Bahía Brava, where you can easily find a taxi and get back into town. Otherwise, if your legs can handle it, it's another 3.6-kilometres to Villa La Angostura!
Lastly, if you're looking for other fun day trips in the area, don't miss out on the Road of the Seven Lakes, a scenic 107-kilometre drive that stretches between the towns of Villa La Angostura and San Martín de los Andes. It's considered one of the most beautiful drives in all of Argentina.