Are you looking for ideas of things to do in San Martin de Los Andes during your visit to Patagonia? Well, we've got you covered!
This mountain town sits on the edge of Lake Lácar and is surrounded by forested mountains in all directions, meaning it's a great place to enjoy outdoor activities – hiking, biking, kayaking, you name it!
San Martin de Los Andes is also the gateway to Lanín National Park, which is home to an extinct volcano, lakes galore, and an abundance of wildlife.
This is a popular stop on the itinerary for anyone travelling across Northern Patagonia for good reason, so we're going to show you what you can get up to.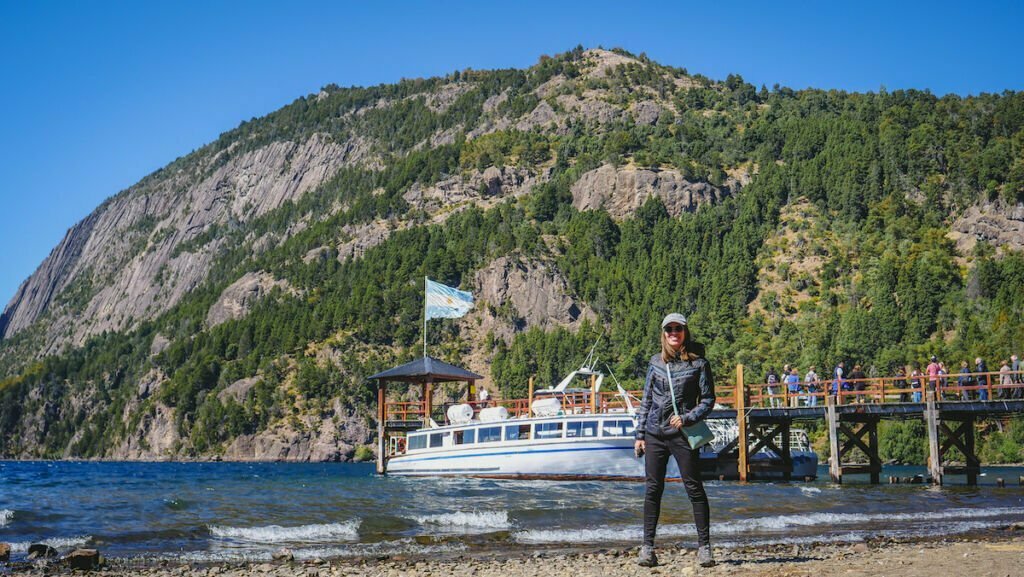 Things to do in San Martin de Los Andes
Go on a Boat Trip of Lake Lácar
The main thing to do in San Martin de Los Andes is to go on a boat tour of Lake Lácar because that's how you'll hit up several of the attractions in the area.
Tours depart from the Lake Lácar waterfront in the west end of town and cruise across the 25-kilometre lake making multiple stops along the way.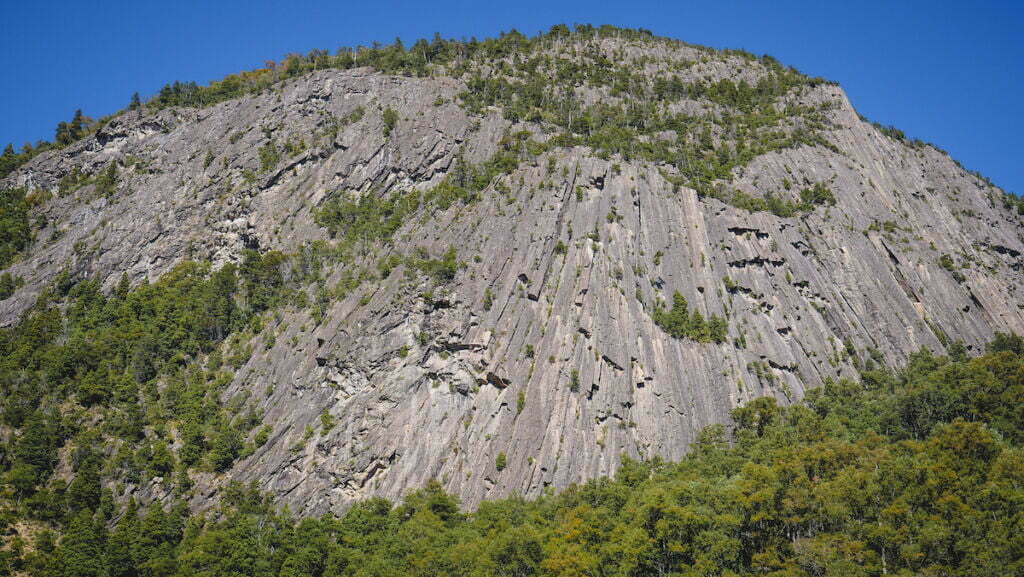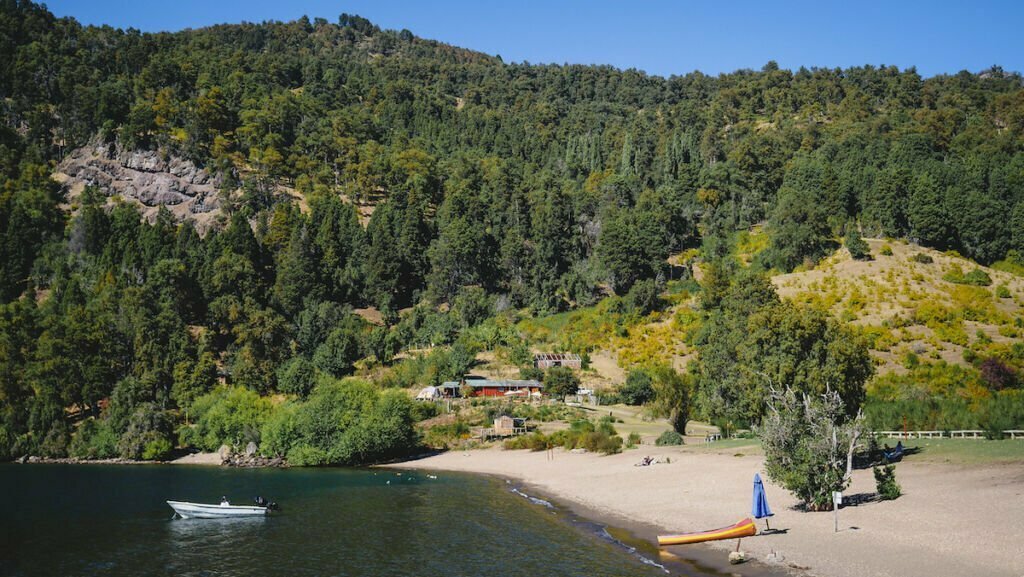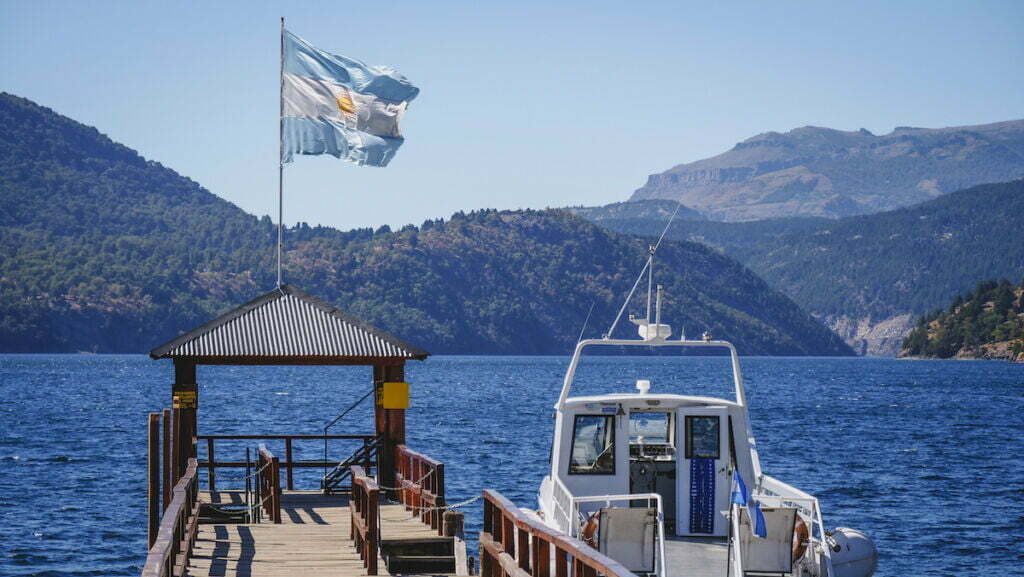 Quila Quina Beach
The first stop on the boat tour is Quila Quina Beach. The boat is your best option for reaching this beach as the alternative is a very winding 18-kilometre drive on unpaved roads.
A lot people like to pack a picnic, catch the earliest boat, and spend the day enjoying the beach before grabbing the last boat back to town.
Since we opted to do the complete boat tour, our time in Quila Quina was brief, but we had enough time to grab lunch by the pier and go on a short hike in the area before hopping back on the boat to continue the journey.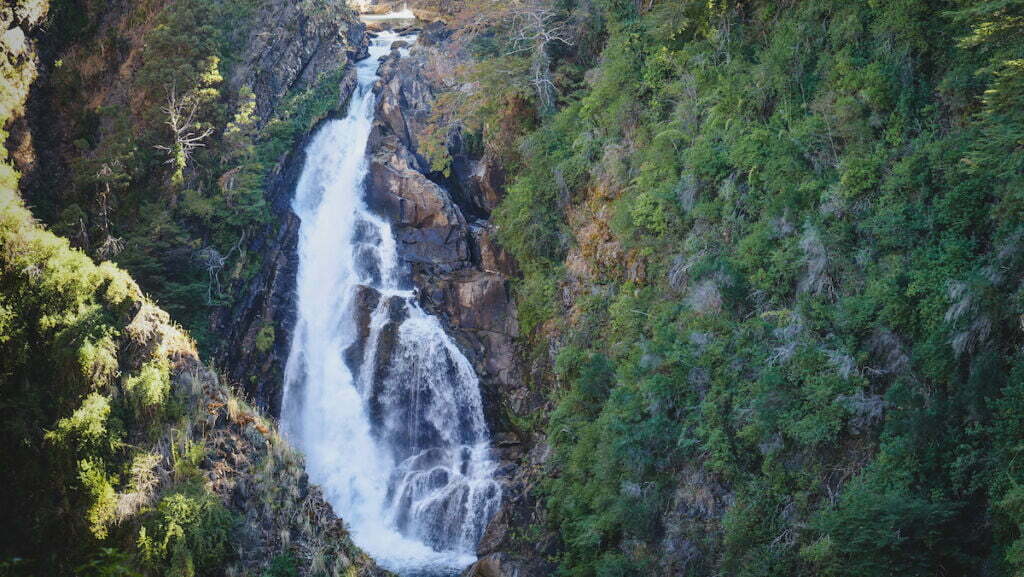 Chachin Waterfall
Next, we travelled westwards until we reached the end of Lake Lácar and crossed a very narrow and shallow opening that connects it to Lake Nonthue.
Here we disembarked and went on a hike through the Valdivian forest in search of the Chachin Waterfall.
The trail isn't very long; 2.1 kilometres round trip and it takes about 45 minutes to complete.
At the end, we were rewarded with a beautiful forest waterfall with an emerald pool at its base.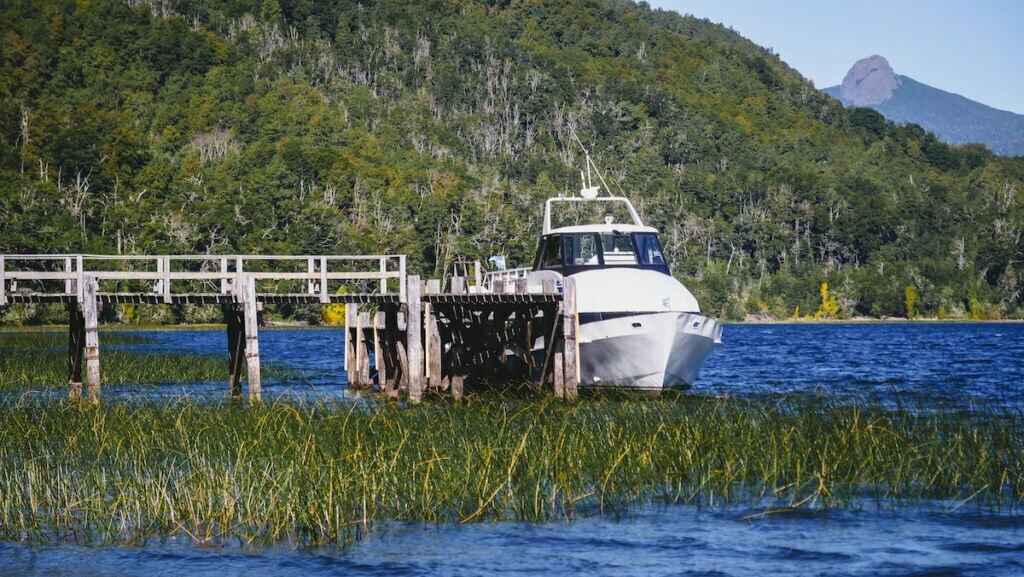 Hua Hum
After hiking back down from the waterfall, we got back on the boat and continued to Hua Hum.
Hua Hum is the Argentina-Chile border pass and it's the lowest pass over the mountain range at about 640 meters above sea level.
Since we weren't hiking across the border, we stopped at Hostería Hua Hum to enjoy an afternoon snack. They have an onsite tea house that serves all sorts of cakes and pastries.
We again had a bit of free time to enjoy a wander along the lake and soak in the scenery, before boarding the boat again for our final stop.
Santa Teresita Island
Our final stop was the Island of Santa Teresita, which is home to a small chapel by the same name.
This small wooden chapel is where the early pioneers used to come to celebrate their weddings.
It was a short hike from the pier through a forest of Arrayan trees – similar to Bosque de Arrayanes in Villa La Angostura though on a much smaller scale and with younger trees.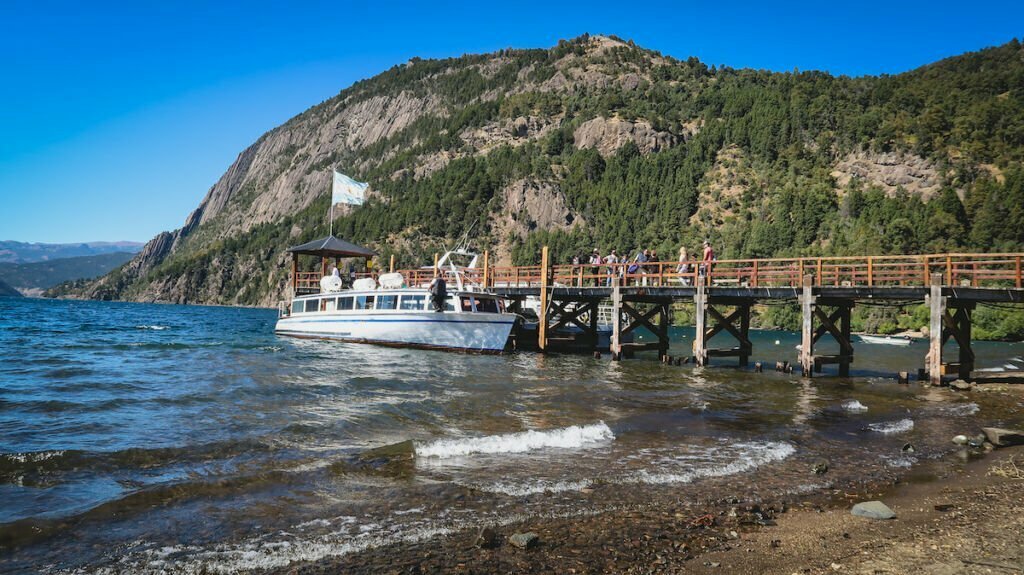 And that concluded our boat trip of Lake Lácar. As you can see, we covered a lot of attractions in one day!
These are places you can reach by car if you're willing to drive on some rather rugged roads, but the boat trip is so pleasant and it makes the sightseeing so easy, that I really would recommend this option above others.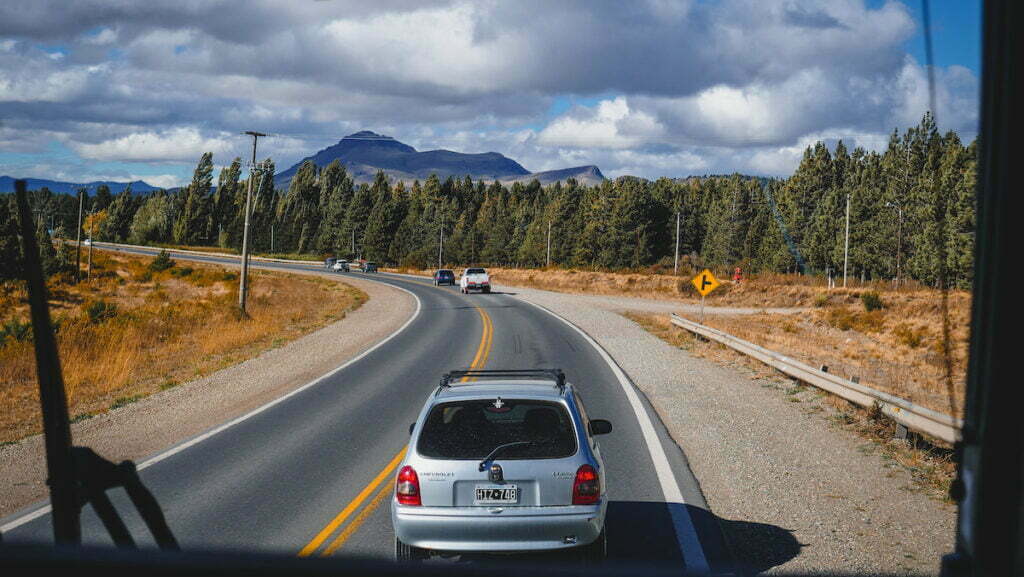 Drive the Road of the Seven Lakes
San Martin de Los Andes is the starting or ending point of the Road of the Seven Lakes, depending on which way you drive it.
This 107-kilometre drive stretches between the towns of San Martin de Los Andes and Villa La Angostura and is considered one of the most scenic drives in all of Argentina.
The route crosses two national parks, Lanín National Park and Nahuel Huapi National Park. Plus, as the name suggests, it also goes past seven lakes which include: Lake Machónico, Lake Escondido, Lake Correntoso, Lake Espejo, Lake Lácar, Lake Falkner, and Lake Villarino.
But that's not all, along the drive there are panoramic viewpoints, waterfalls, hikes, and mountains! So even though the distance isn't quite that long, it can turn into a full day activity of leisurely driving and making stops along the way.
The Road of the Seven Lakes is something that can be done independently if you feel comfortable renting a car in Argentina, or you can join a full-day tour that includes transportation and a local guide. We opted for the latter.
This particular tour departs from San Martin de Los Andes and brings you back at the end of the day.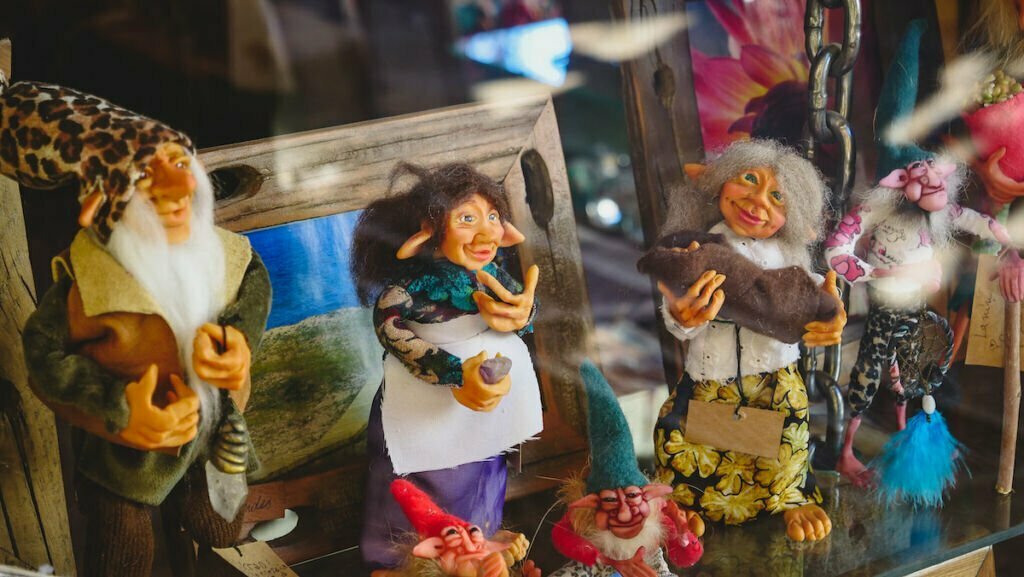 Shop at the Artesanal Fair
San Martin de Los Andes is well known for its artesanal fair, Feria de los Artesanos, which takes place on the west side of Plaza San Martin.
This is a great place to stock up on some Patagonian souvenirs like a mate and bombilla (the gourd and metal straw used for drinking mate).
You can also buy knives used for cutting meat at an asado (traditional Argentine BBQ).
Plus, there are all sorts of leather goods, hand-knitted items, artesanal chocolates, honey and jams, and so much more.
The fair's hours of operation really vary throughout the year, but if you happen to visit in the summertime during high season, the artesanal fair takes place daily from 6:00pm-11:00pm.
Hike the Trails Around Town
One of the main things to do in San Martin de Los Andes is to hike the trails in and around town.
Because the town sits in a valley in between two mountain ranges, the hiking opportunities are endless.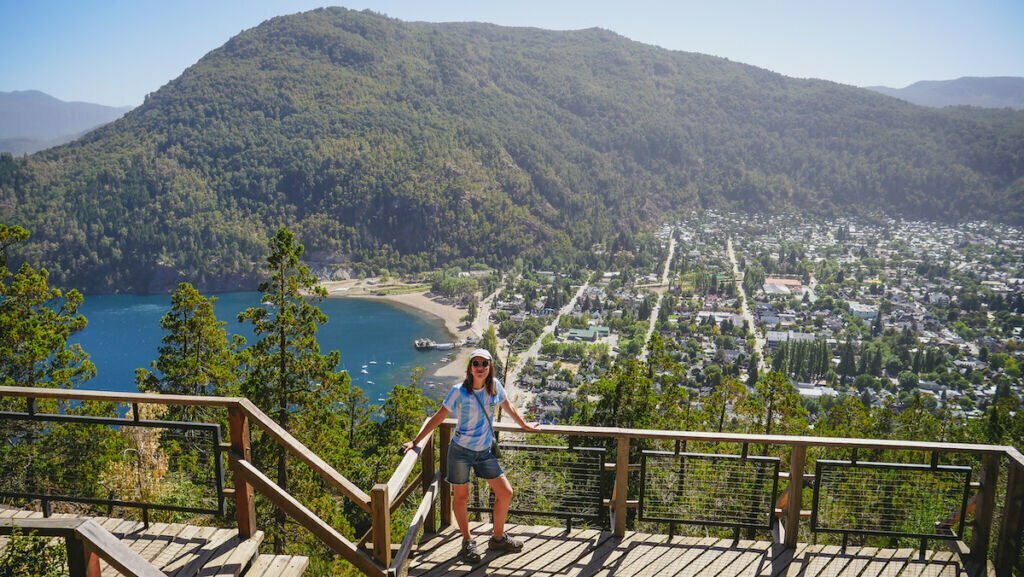 Some of the easier hikes departing from town include:
Mirador Arrayán: lake and town views from the south side, plus it leads to a tea house will tell you all about in the food section! (2.6 kms, 30 mins)
Mirador Bandurrias: moderate hike offering views of Lake Lácar (4.0 kms, 1 h 30 mins)
You van view more trails in and around San Martin de Los Andes here.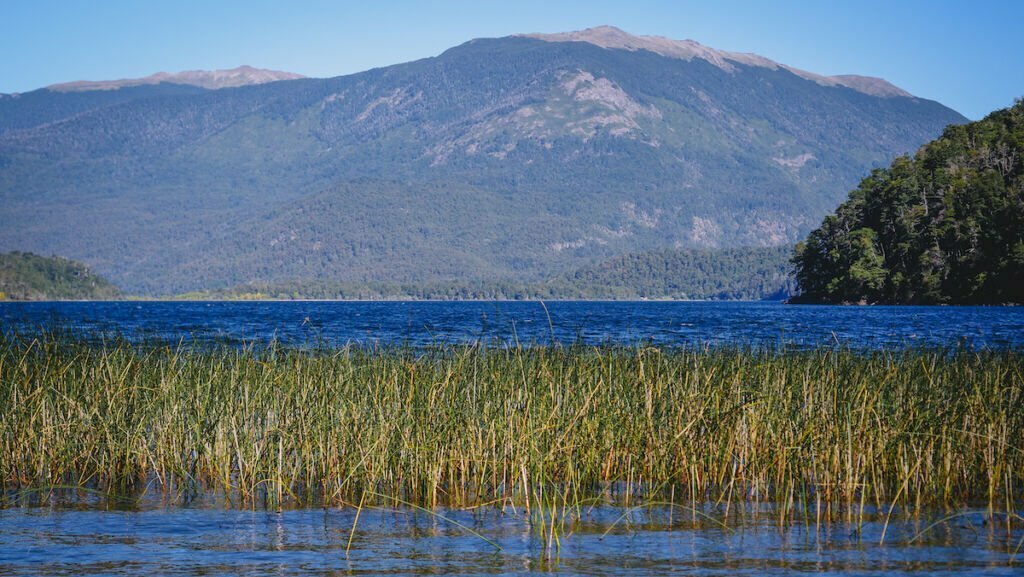 Visit Lanín National Park
Lanín National Park is located 66 kilometres north of San Martin de Los Andes and it's a 1 hour and 12 minute drive.
It was founded in 1937 and is the third-largest national park in Argentina boasting Patagonian forests, Patagonian steppe, and the high Andes mountain range.
As for wildlife, Lanín National Park is home to pumas, foxes, condors, and monito del monte – the only native marsupial present in all of Argentina and Chile.
However, the park is perhaps best known for being home to the Lanín Volcano which rises 3,776 meters above sea level.
The cone-shaped volcano actually straddles the Argentine-Chilean border and therefore forms part of two national parks, Lanín in Argentina and Villarrica in Chile.
If you are not an avid hiker, you can visit the park as part of a day trip from San Martin de Los Andes.
This tour goes through Junin de los Andes, stops at Lago Huechulafquen which is an emerald glacial lake, visits Lanín Volcano from the southern base, takes you to the Mapuche community of Cañicul, and also tours Lago Paimun before returning to town.
If you are an avid hiker, you may want to check out some of the various hiking trails in Lanín National Park. Note that climbing the volcano is a multi-day route that does require some training!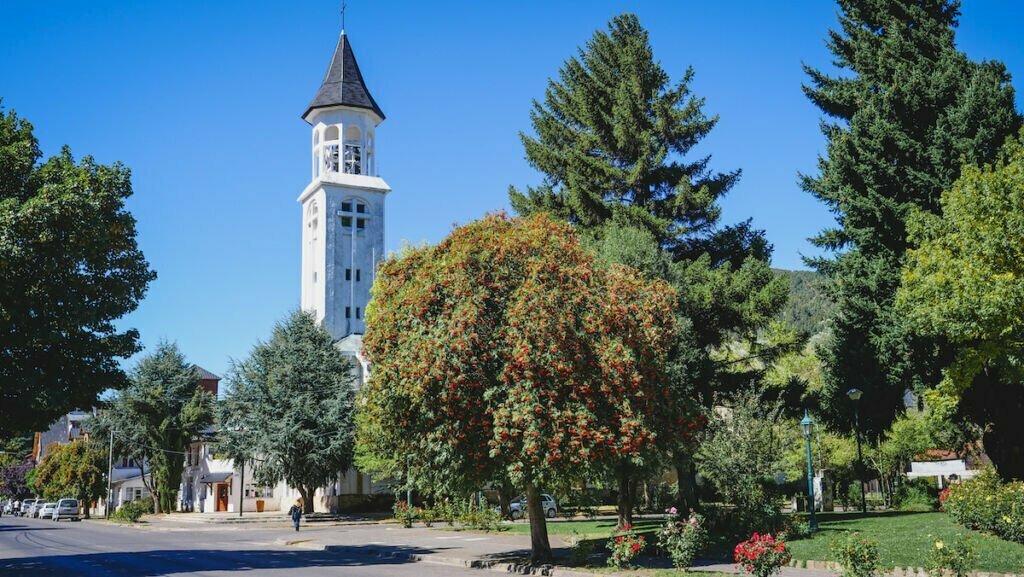 Sample the Artesanal Chocolates
For anyone with a sweet tooth, another thing to do in San Martin de Los Andes is to sample the artesanal chocolates.
And you really won't have any trouble finding them because there are chocolate shops all along the main street, sometimes several per block and even across from each other.
A few to get you started include:
Pasta Negra Chocolates
The Old Village
Artesanales Familia Greco
Regionales Antulauquen
Mamusia
What kind of chocolate flavours can you expect to find?
There's milk chocolate, sea salt and caramel, coffee, almonds, walnuts, grated coconut, raisins and dried fruits, cashews, cocoa nibs and so much more!
These also make a great souvenir to take back home with you, so grab a few for family and friends.
Eating in San Martin de Los Andes
We sure worked up an appetite in between all the hiking and sightseeing, so we tried plenty of restaurants along the way.
Here are a few of the places we enjoyed: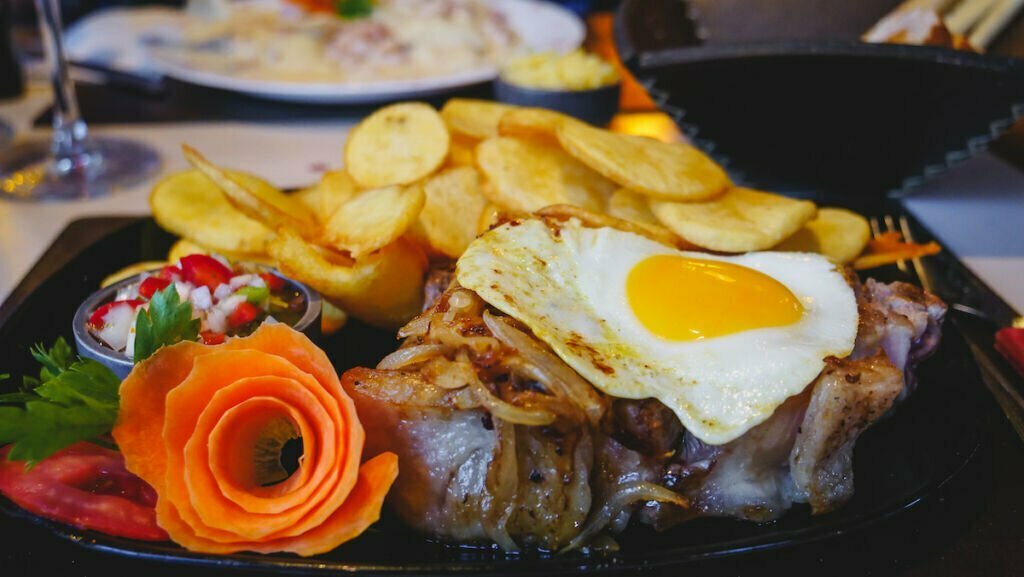 Tío Paco
For a classic, hearty Argentine meal, we ate at Tío Paco.
Here we ordered the bife de chorizo a lo pobre, which is the 'Striploin steak poor style'. Now there is nothing poor or lean about this meal. You basically have a nice, big juicy steak topped with caramelized onions and a fried egg, plus a side of potatoes. Talk about a filling meal.
We also ordered the ravioli stuffed with ricotta served in a cream sauce with chicken, ham and walnuts. It was delicious!
We paired the meal with a bottle of Malbec wine – an Argentine staple a the dinner table.
And for dessert we got cheesecake with forest berries and a cup of coffee. Did we need it? No. Did we enjoy it? Yes.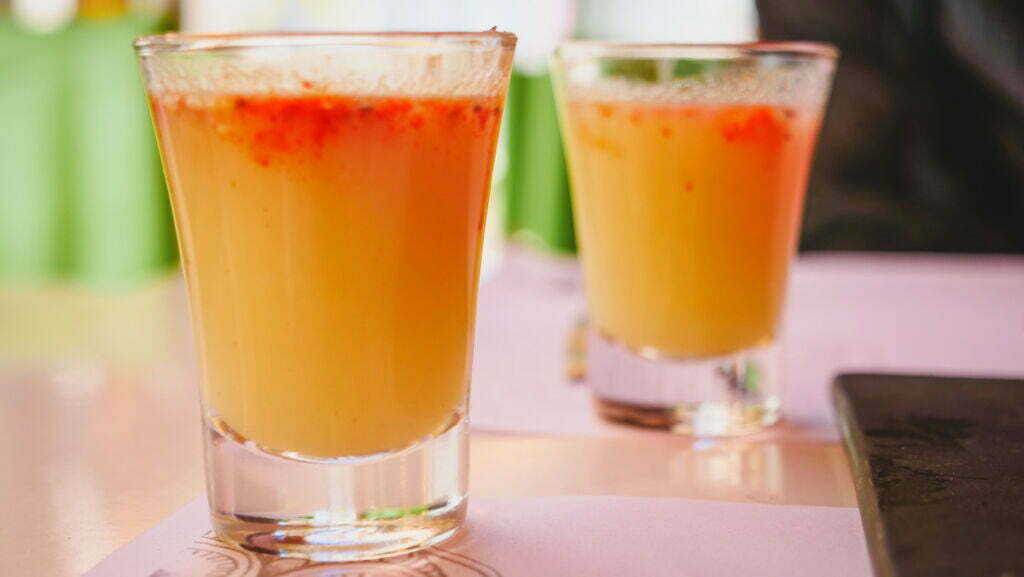 Zen Tea
If you've consumed your fill of parrilla, pizza and pasta and you're craving some lighter dishes and perhaps even healthier meals, Zen Tea is the place to go.
Don't let the name confuse you – this isn't a tea house!
Zen Tea offers a wide variety of health-conscious dishes, but what surprised me most was that everything was delicious, innovative and bursting with flavour.
Before our mains even came out, the restaurant served us complimentary breadsticks with a carrot dip, curry powder and sesame seeds. That was followed by a hot potato-ginger-onion soup served in shot glasses. Again, they fed us all of this before we even got our meal!
Next came the barley bowl with shrimp in a soy-based sauce with grilled zucchini and eggplant, plus shredded red cabbage on top. It was everything I had been missing. 
We also tried their hot wrap with salmon, cream cheese and pumpkin, which came with a side of roasted potatoes. 
Who knew eating at a health restaurant could be so tasty? But seriously, if you've been travelling in Argentina for a while and you're craving a change from the local diet, this is a nice place to consider.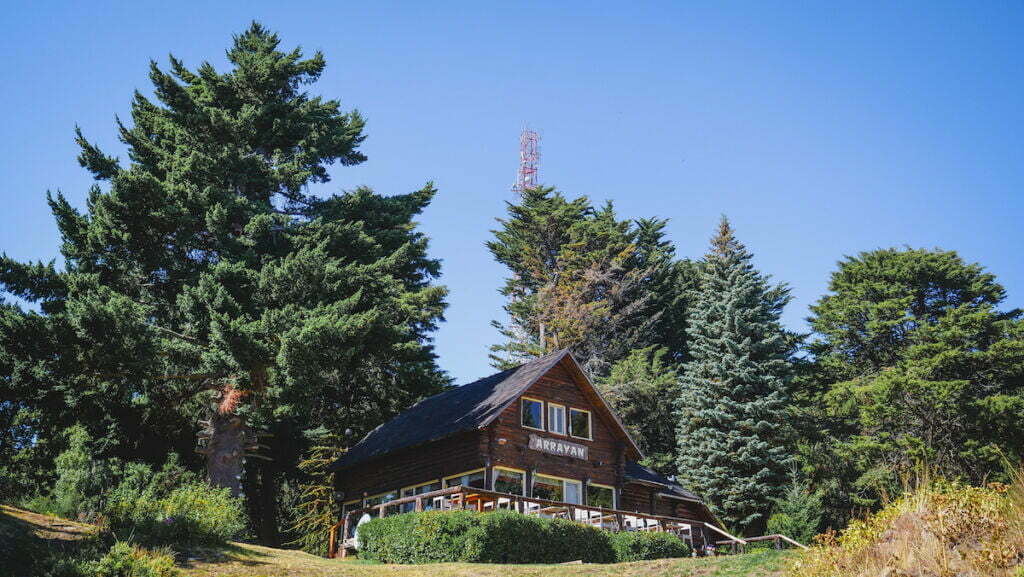 Casa de Té Arrayan
Visiting the Arrayan Tea House is an experience in and of itself.
For starters, it's a nice walk up from town which offers various vantage points along the way. Once you reach the top, you are rewarded with views of Lake Lácar and the town of San Martin de Los Andes below.
Here we enjoyed a three-tiered tea featuring sandwiches, scones, cakes, muffins, and more.
This is a place where you'll want to come hungry because the portions are quite generous.
If you can't finish it all, fret not because they will pack it up for you.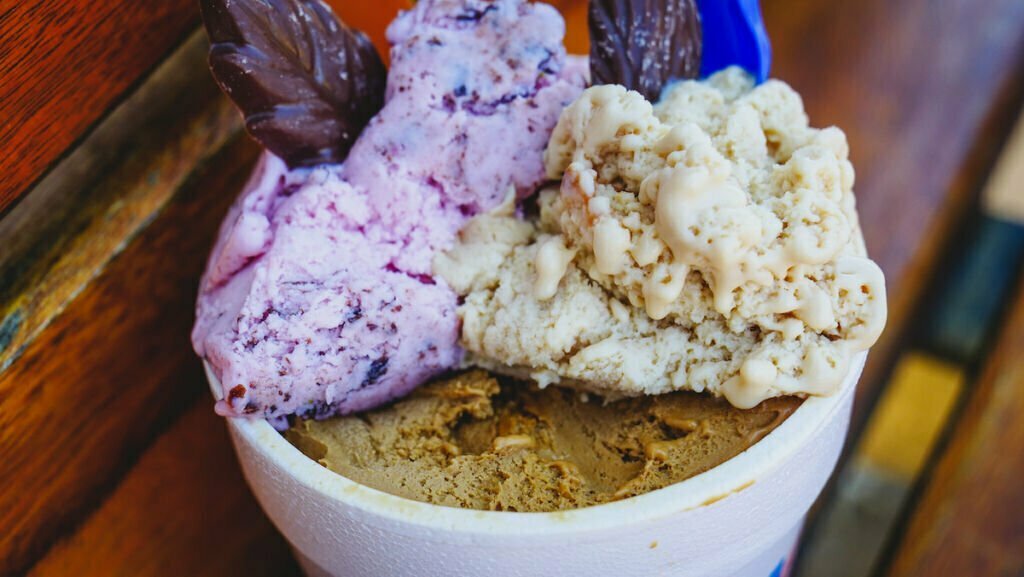 Helados Mamusia
Mamusia makes artesanal ice cream and chocolates, and while they have a shop in town, we got dessert from their food truck which parks by the lake's edge. The perfect place to enjoy a sweet treat.
We got a tub of ice cream to share and chose three different flavours: dulce de leche, Bailey's ice cream, and strawberry with chocolate (there were real chunks of strawberry in there!)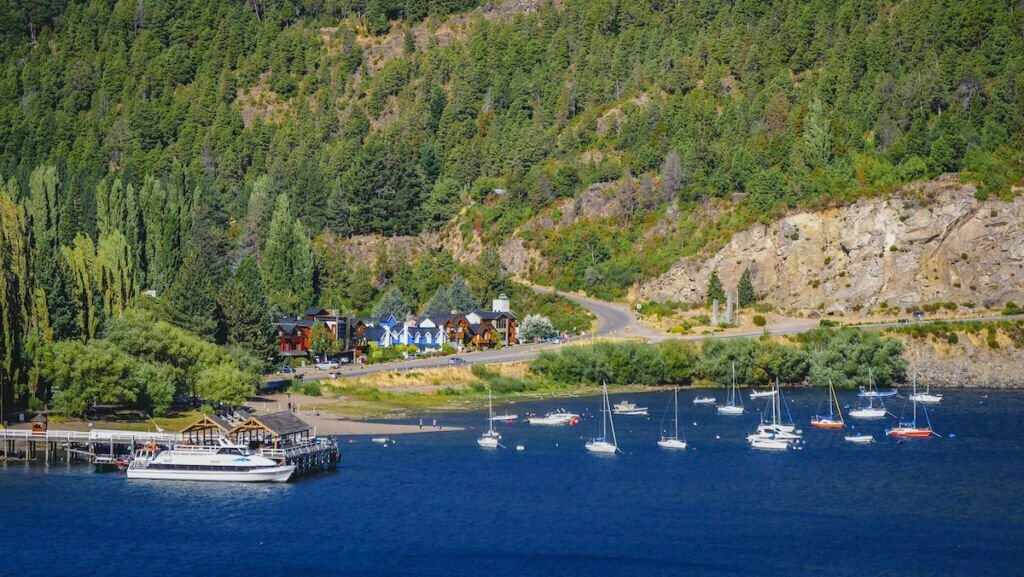 Staying in San Martin de Los Andes
When it comes to accommodations, San Martin de Los Andes offers a nice mix of cottages, self-catering apartments and lodges.
Here are a few to consider:
Del Sauco Apart & Spa – alpine-style accommodations overlooking the mountains featuring a heated pool
Puerto Lácar Lodge SMARG – lakeside apartments with a cozy log cabin feel in the centre of town
Cabañas Las Pampas – self-catering cottages with wood interiors offering 1, 2 or 3-bedrooms