If you're looking for things to do in Trevelin during your visit, you've come to the right place!
This rugged mountain town sits on the shores of the Percy River, is surrounded by epic mountains, boasts multiple vineyards, is within driving distance to a beautiful national park, and transforms into a fairy tale when the tulip fields bloom in the springtime.
Despite all it has to offer, Trevelin is still quite undiscovered by international tourists. However, if you enjoy venturing off the beaten path and exploring lesser-known destinations, Trevelin is one of those places in Patagonia worth adding to your list.
The following is our Trevelin travel guide, so get ready to take some notes for your visit.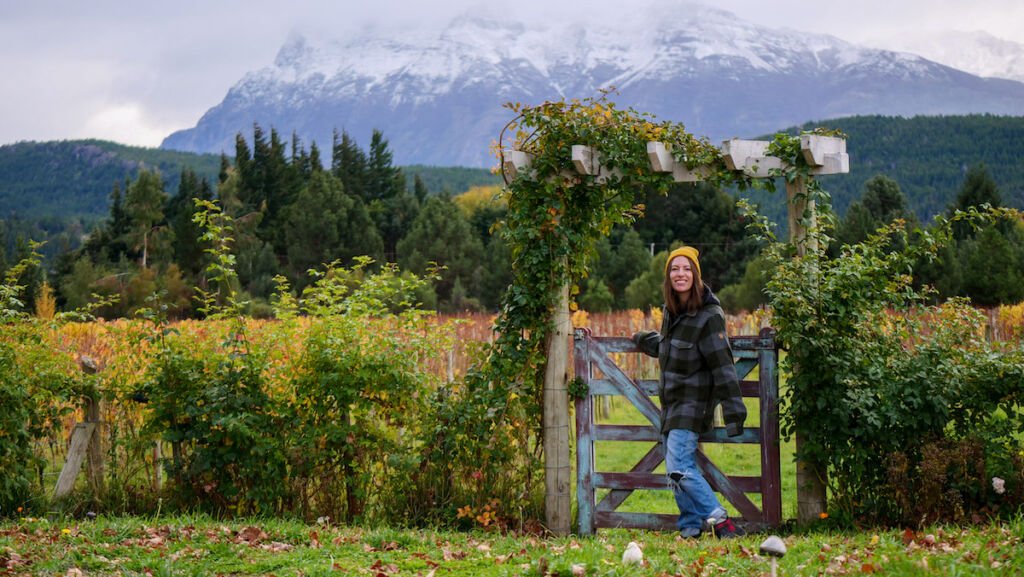 History of Trevelin
In 1865, a group of Welsh immigrants embarked on a journey from Wales to Patagonia, seeking religious freedom and better economic opportunities.
Led by Michael D. Jones, a Welsh nationalist and preacher, they arrived in the Chubut River Valley in Argentina, where they established several settlements, including the town of Trevelin, which translates to 'mill town' in Welsh.
The Welsh settlers faced numerous challenges upon their arrival, including the harsh and unfamiliar Patagonian landscape and climate, and they only made it through those early years thanks to help of the Tehuelche people who taught them how to hunt and survive in this new climate.
Over the years, the Welsh settlers in Trevelin managed to cultivate the fertile lands, engage in sheep farming, and build a thriving community. They also constructed traditional Welsh-style houses and chapels, which can still be seen in the town today, adding to its unique charm and cultural heritage.
The descendants of the Welsh settlers in Trevelin are proud of their heritage and continue to honor their roots through various cultural events and festivals.
The town's legacy stands as a testament to the resilience and determination of the Welsh immigrants who ventured across the Atlantic Ocean to build a new life in the remote Patagonian wilderness.
Things to do in Trevelin
There are plenty of things to do in Trevelin, both within the town and in its vicinity. Here are some ideas to get you started: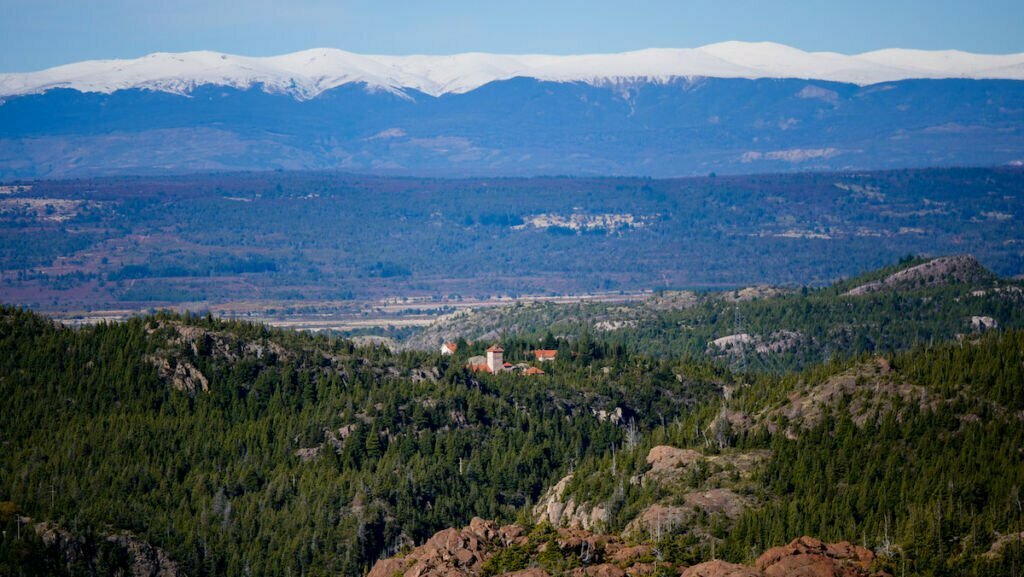 Los Alerces National Park
Los Alerces National Park has various access points that allow you to explore different areas of the park.
You can access from El Bolson in the north, Esquel in the east, while Trevelin gives you access to the southern sector, which is home to the Futaleufú Hydroelectric Complex.
We decided to visit the park on a half-day trip and these are the places we were able to cover:
Cascada de los Tambores: short trail that leads to a waterfall.
Mirador de los Pozones: lookout point where you have turquoise pools along the river – this is a popular swimming spot in the summer.
Presa Futaleufú: a snaking road leads up to the dam where you can drive across and enjoy spectacular views of the surrounding mountains.
Bahía de Troncos: this is the 'bay of the logs' referring to the trees from the forest that was flooded during the creation of the dam.
Chimenea de Equilibrio: this chimney stands 62 meters high, has a 30 metre diameter, and it's job is to regulate the water pressure. This stop also offers views of the abandoned hotel that once housed the foreign workers who helped build the hydroelectric complex.
Tip: If you're renting a car you can do this trip independently. Alternatively, you can hire a remís (private car and driver) to take you on a tour of the park, which is what we did.
This is not a guided tour, but the driver will stop at all the scenic points and give you time to go on little hikes and take photos.
If you speak some basic Spanish, you can approach one of the remís booths in town and inquire about this half-day outing.
Winery Visit
Patagonia has an emerging wine region, and Trevelin alone has 3 different vineyards you can visit: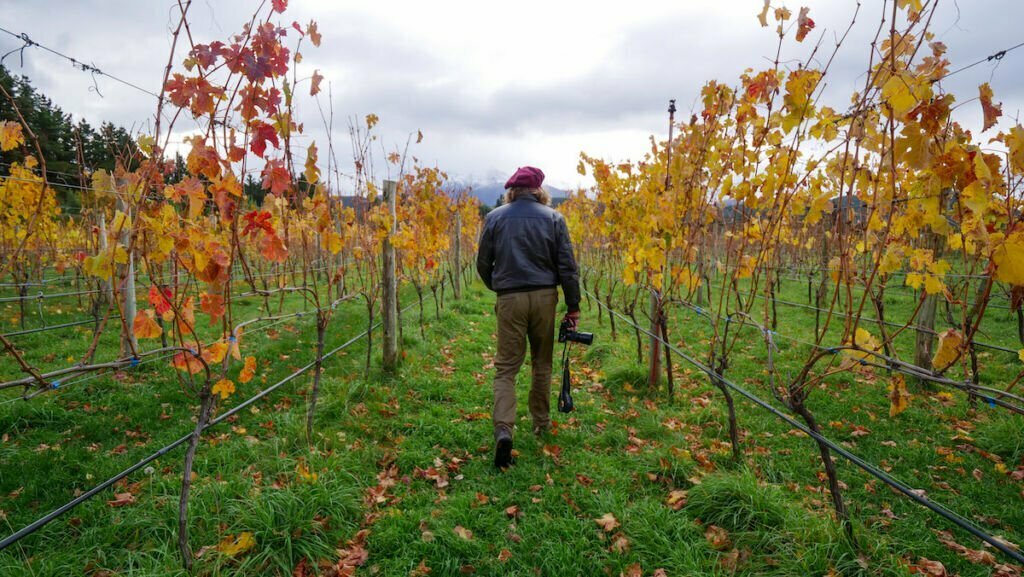 We only had time to visit one vineyard and we went to Casa Yagüe, so we'll share that experience.
For starters, this vineyard is in a beautiful setting surrounded by snow-capped mountains, thick forests, and rows upon rows of vines.
Casa Yagüe is the second southernmost vineyard in the world – it's quite impressive that they can produce wine at these latitudes! – and it's just 12 kilometres from the border with Chile, meaning it's closer to Chile than it is to the town of Trevelin.
We signed up to have lunch and do the guided vineyard tour, and we loved the order of things – food and drink first, then tour the property!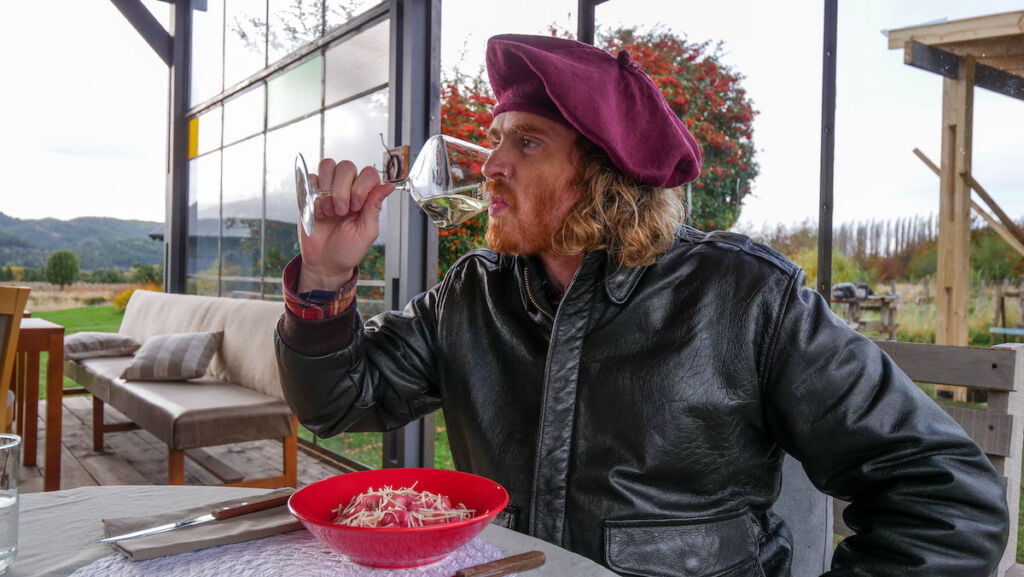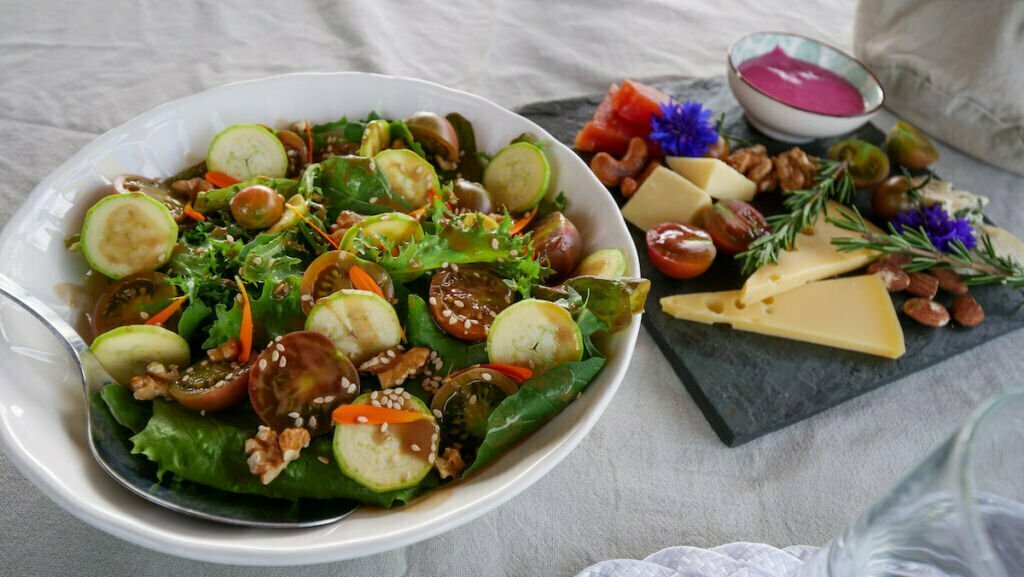 For lunch, we enjoyed a delicious cheese plater with fruits and nuts. That was followed by a delicious fresh salad with local, seasonal veggies grown right in their garden. The main course was a homemade gnocchi with a beetroot sauce.
All of this was paired with complimentary wines!
And lastly, we had pancakes with dulce de leche for dessert.
Tip: It's best to make a reservation if you want to dine at the winery, especially if you're visiting during high season as seating is limited. You can either call or send a message through Whatsapp and they're good about messaging back the same day. 
View this post on Instagram
Nant Fach Mill
Another popular attraction in Trevelin, or rather its outskirts, is Molino Nant Fach.
This mill is an exact replica of the flour mills that existed in Trevelin from the late 19th century up until the mid 20th century.
In fact, this mill was built by Mervyn Evans, one of the direct descendants of Trevelin's early Welsh settlers.
The mill itself looks like something out of a fairy tale. It's a picturesque log construction complete with a waterwheel and a sparkling stream that can be crossed via a cute footbridge.
Guided tours are offered and it's a great opportunity to learn about Patagonia's Welsh heritage.
Tip: It's best to check the mill's hours of operation at the Visitor Centre in Trevelin's town square since this changes month to month.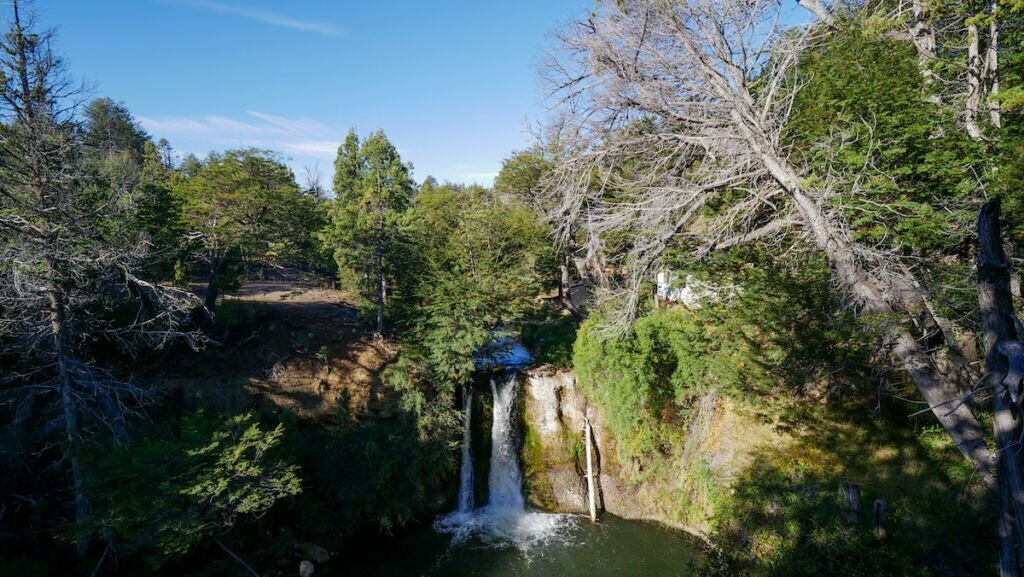 Nant y Fall Waterfalls
The Nant y Fall Waterfalls are located just south of Trevelin off of Route 259.
It's then a 4-kilometre drive from the turn off until you reach the trailhead, where you pay a small admission fee.
The whole circuit is about a 500-metre walk along a well-marked trail that leads to a couple of different lookout points where you can view the different waterfalls including La Petisa meaning 'the short one', Las Mellizas meaning 'the twins', and El Salto Grande or 'the big jump'.
There's also a small shop at the entrance just as soon as you cross the bridge where you can buy cold drinks, sandwiches, cookies, scones, and other snacks.
This place is located quite close to the Nant Fach Mill, so you can hit up both attractions if you're in the area.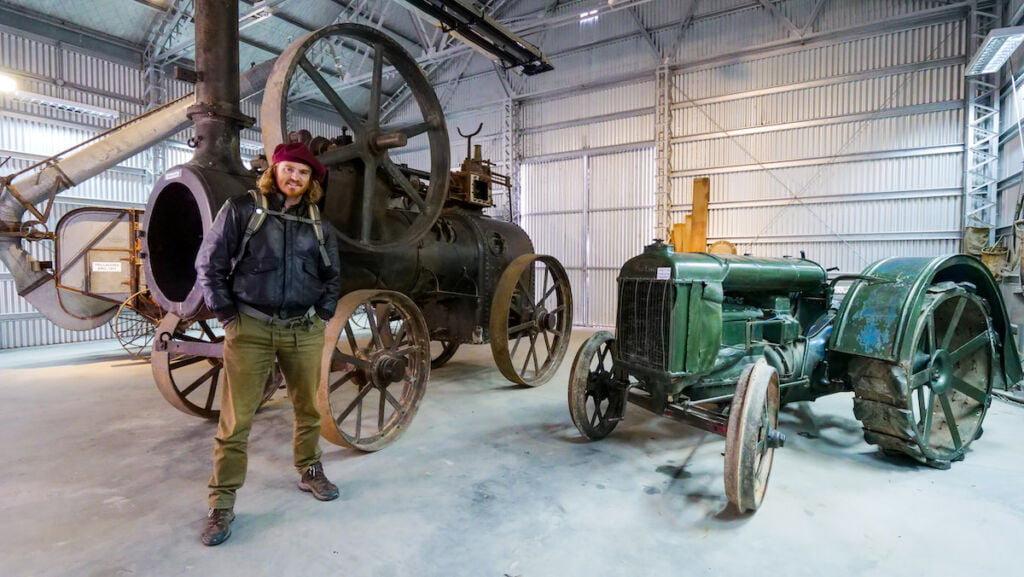 Andean Mill Museum
If you want to dive into Patagonia's Welsh history, I would recommend visiting the Museo Regional Trevelin Molino Andes.
They have the list of passengers who arrived from Wales aboard the Mimosa in 1865, photos of the early settlers, and all sorts of farming equipment and homeware goods that would have been used by the newly arrived in their new home.
Tip: This is a great attraction for a rainy day and you can combine it with Welsh afternoon tea on the same day.
View this post on Instagram
Tulipanes Patagonia
This next attraction is a seasonal one, but if you happen to be travelling in Patagonia in the springtime, then you can't miss visiting the tulip fields!
Tulipanes Patagonia is located in the outskirts of town just south of Trevelin and during peak bloom, it draws visitors from all over the country.
They organize all sorts of cool events during this brief month-long window; you can enjoy the views of the tulip fields from a hot air balloon, you can fly over in a small plane, or you can even attend a moonlit dinner in the fields.
If your trip happens to coincide with these dates, it's a sight you cannot miss!
Tip: MerakiSur runs an excursion to see the tulip fields from Esquel during the month of October. If you miss that, they also run an excursion to see the peonies in bloom at a neighbouring plantation starting in mid-November. The fresh blooms last about a month.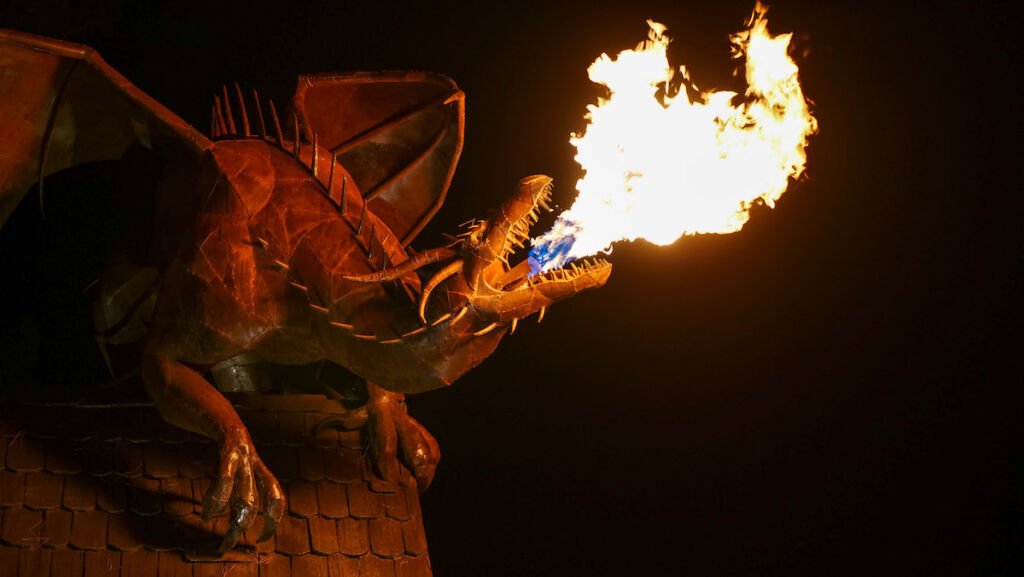 Welsh Fire-breathing Dragon
One of the unique things to do in Trevelin is to wait for the fire breathing dragon to wake up!
That's right! Seated atop the town's tourism office on the north end of the plaza is a red dragon who comes to life twice a day, and breathes three fiery puffs.
It's a bit of a blink and you miss it experience, so have your camera ready to go.
The schedule is posted to the left of the tourism office just under the dragon, so check the times because they change throughout the year.
Shop at El Caballo
There's a shop located on the northwest end of the central plaza called El Caballo and it's a great place to pick up some traditional argentine souvenirs.
They have all sorts of leather goods ranging from belts to boots, sombreros to boinas, ponchos to wool sweaters, and knives to mates.
It's a really cool store and the staff are really helpful, speak English, and can help you find what you need.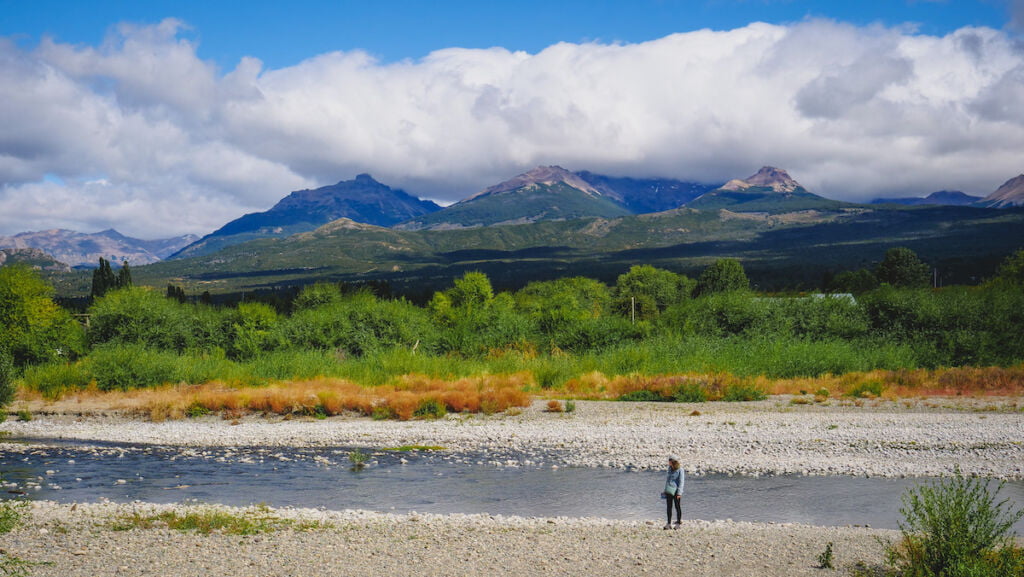 Where to Stay in Trevelin
Casa de Piedra – here you'll find centrally-located alpine-style accommodations featuring a main guesthouse and cottages, plus a buffet breakfast.
La Estancia – they offer log and stone cabins in a quiet neighbourhood just a few blocks from the centre of town.
Ladera de Nant y Fall – this is a holiday home in the outskirts of town, right across from the tulip fields and a vineyard, and just down the road from the hike to the Nant y Fall waterfalls. Keep in mind you would need a rental car since its not walking distance to town.
Where to Eat in Trevelin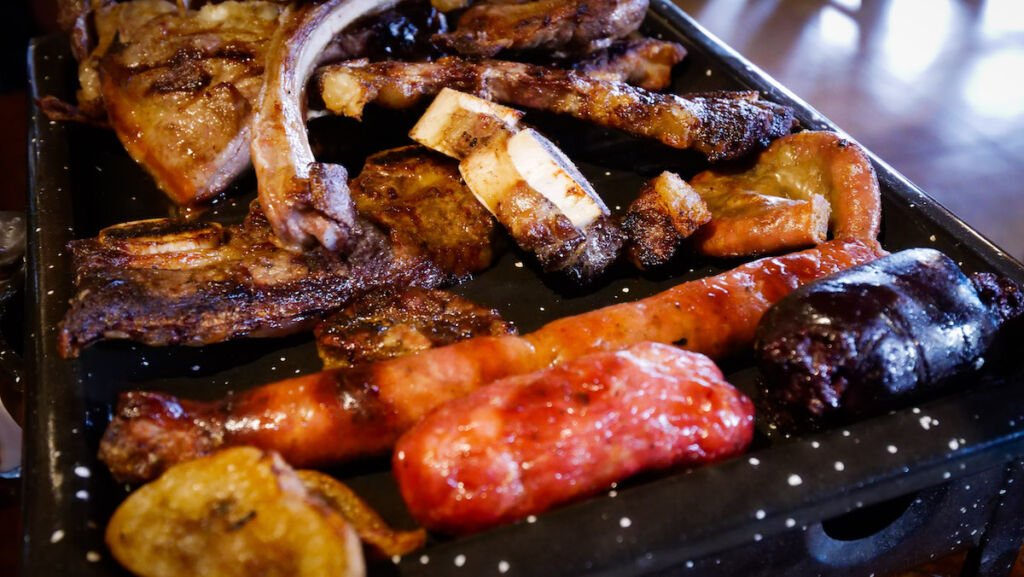 Los Troncos
Los Troncos is a traditional parrilla restaurant, so the focus here is grilled meats.
If you order the parrillada para uno or 'BBQ for one', you'll get an assortment of classic cuts of meats, including chorizo (sausage), morcilla (blood sausage), bife (steak), asado de tira (short ribs), chinchulín (small intestine), and more.
They'll bring a small grill to your table with the meat still sizzling, that way the meat stays warm while you dine.
Pair that with a salad and a bottle of Malbec, and you've got yourself a traditional Argentine barbecue!
Address: Avenida San Martín 214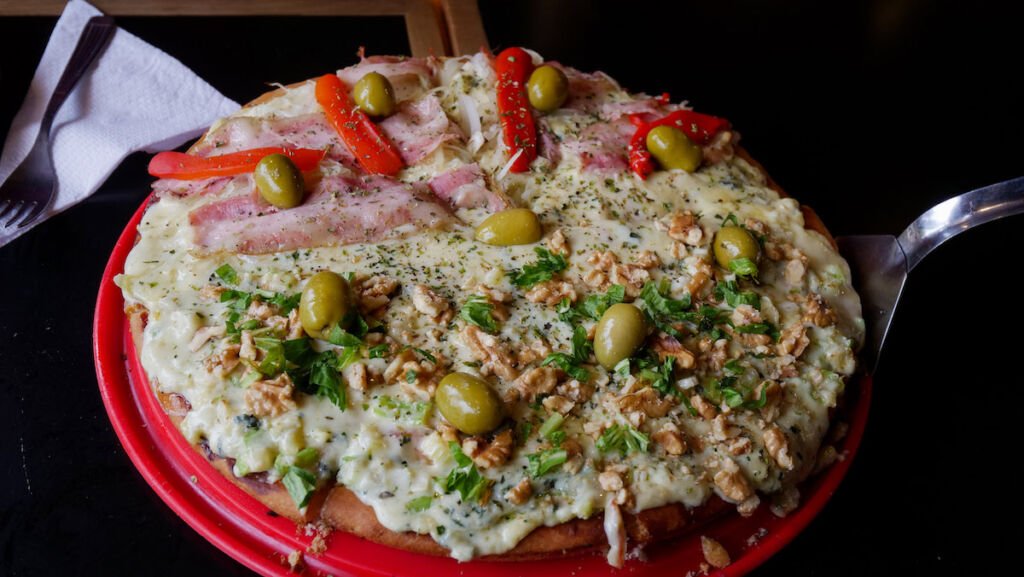 El Refugio
If you're craving pizza, you need to eat at El Regufio. This pizzeria is located on the northwest corner of the central plaza in a cozy log cabin-style building, complete with a fireplace.
We tried a really interesting pizza with blue cheese, walnuts and celery, which sounds really odd, but we quite enjoyed the mix of flavours and textures.
For something a bit more classic, you can't go wrong ordering their Napolitana with mozzarella, tomato slice, garlic and oregano.
Address: Avenida Fortin Refugio across from the plaza
De la Cabaña
This place does take out food, so it's a nice option if you want to get a meal to enjoy at your cottage.
It's buffet style, so you just grab a box, fill it up with what you want, have it weighed and pay.
They usually have a mix of chicken, beef, pizza, pasta, salads, and a couple of vegetarian options like stuffed pumpkin, roasted squash, eggplant and more.
They also have a couple of tables outdoors on the sidewalk, so you can eat there if the weather is nice.
Address: Perito Moreno 215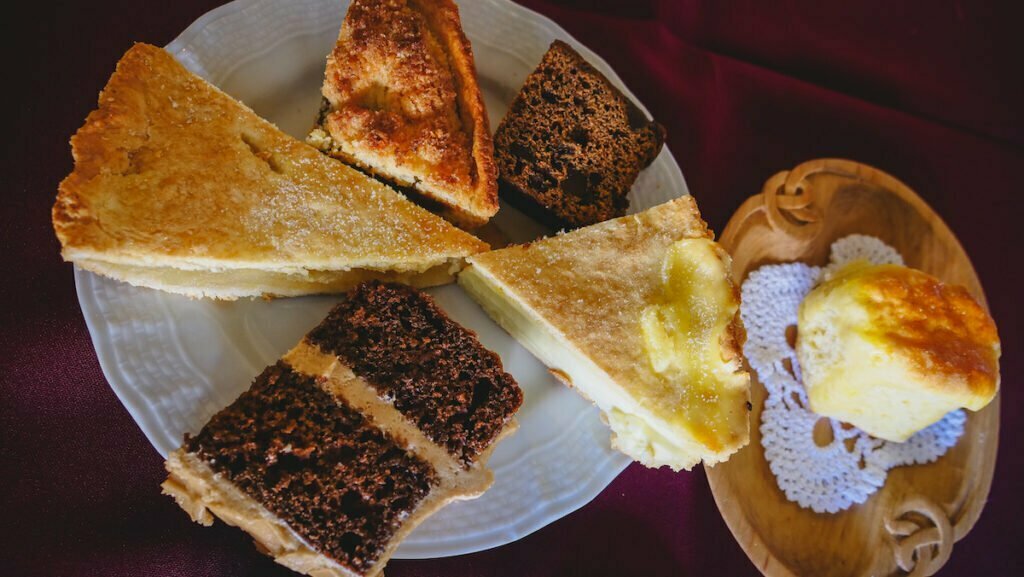 Nain Maggie
Nain Maggie translates to 'Grandma Margaret' in Welsh and it's named after the matriarch who first opened the teahouse in 1975 in order to share the Welsh flavours of her ancestors.
The specialize in Welsh cake or bara brith, which is served in the tea house but can also be purchased to take away.
Their afternoon tea is copious with homemade bread, butter, jams, cheeses, scones, and an assortment of freshly baked cakes.
Definitely skip lunch and make this your main meal.
Address: Perito Moreno 179
Casa de Té La Mutisia
This is another alternative for a Welsh afternoon tea in Trevelin.
You can expect a similar menu featuring scones, Welsh cake, and a few other baked items, with the addition of grilled sandwiches.
This place feels slightly fancier than the previous tea house, and it also has a mini museum on site with displays of items that belonged to the early Welsh settlers.
Address: Avenida San Martín 170
Day Trips from Trevelin
There are a variety of day trips from Trevelin ranging from half an hour to two hours away, and one is even across the border in neighbouring Chile!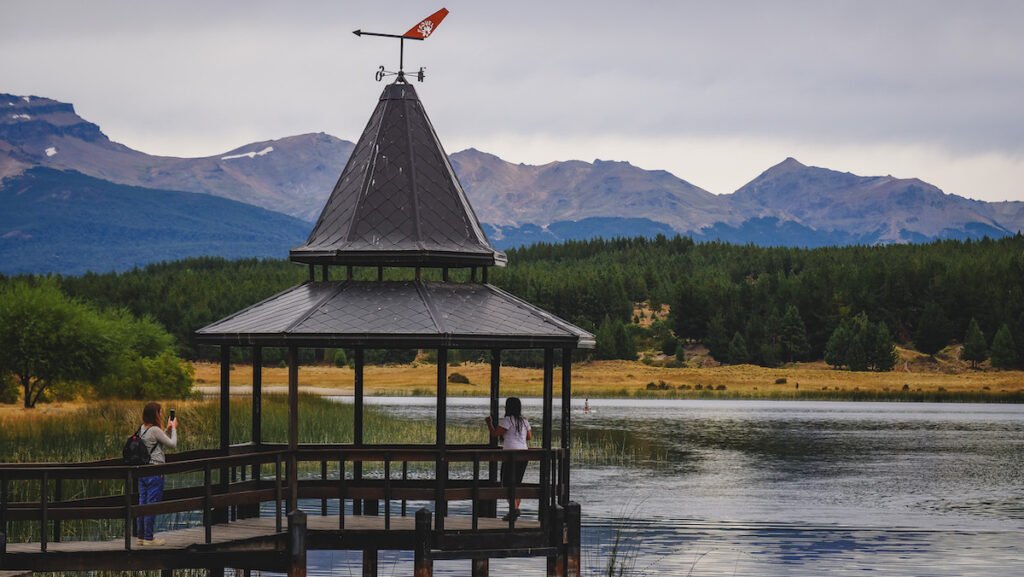 Esquel
Driving time: 28 minutes
There are plenty of things to do in Esquel and you could easily spend a few days there, but if one day is all you have, you can visit on a day trip from Trevelin.
Some activities not to miss include riding the Old Patagonian Express, kayaking on Laguna La Zeta, biking to Laguna Willmanco, and hiking up Cerro La Cruz for panoramic views of the town.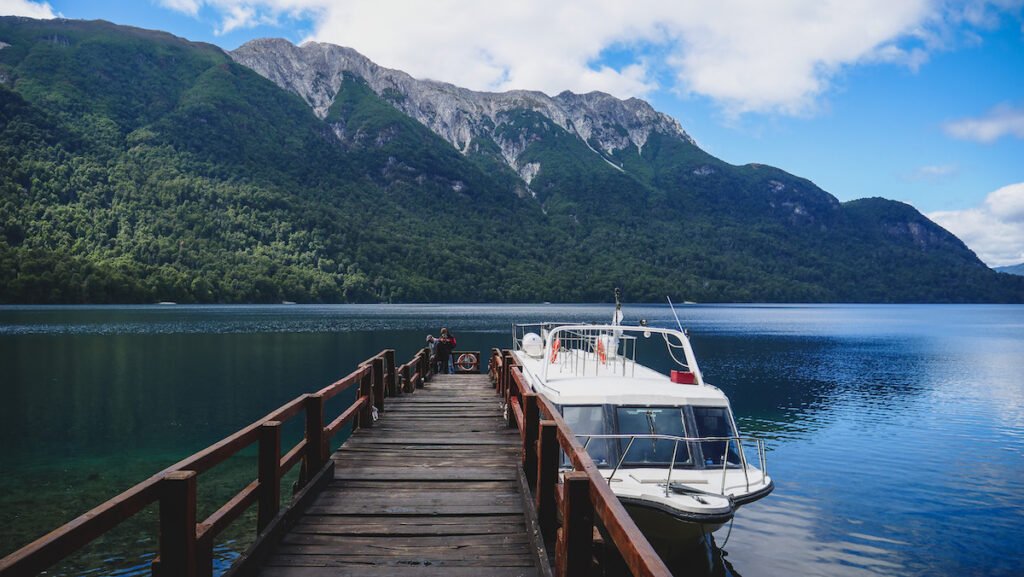 Los Alerces National Park
Driving time: 1 hour 15 minutes
I've already mentioned you can visit the southern sector of Los Alerces National Park from Trevelin, however, the area around Pasarela Río Arrayanes (accessed via Esquel) is really nice.
You can book a guided tour that departs from Puerto Chucao, cruises up Lake Menendez, and then disembarks in Puerto Sagrario where you can hike through Valdivian forest and see a 2,700 year old tree!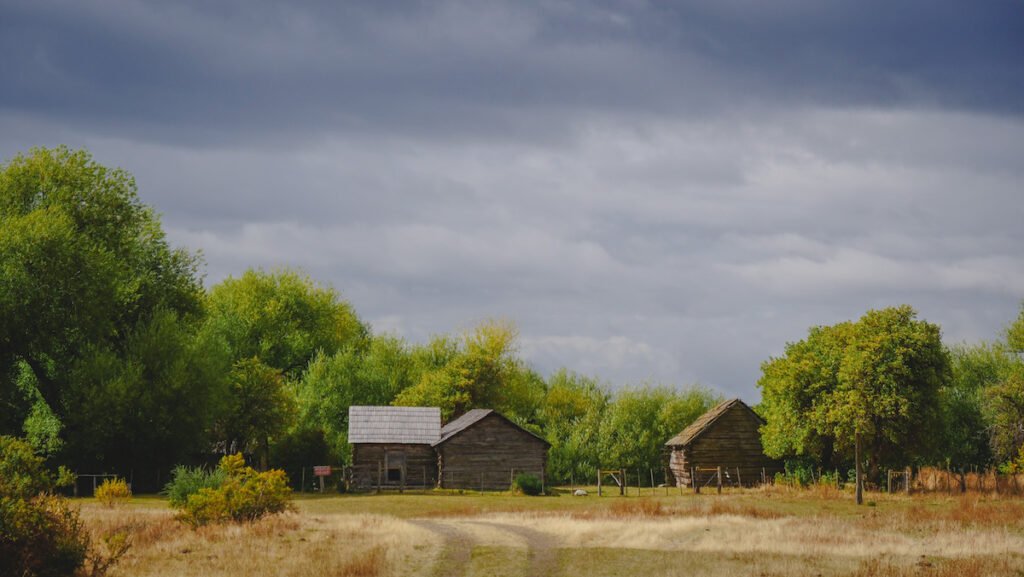 Cholila
Driving time: 2 hours
The main draw to Cholila is to visit the famous ranch once inhabited by Butch Cassidy, Etta Place and the Sundance Kid.
This wild gang of former bank and train robbers ended up hiding out in Patagonia, and their former ranch still stands today.
There's an interesting museum of sorts showcasing all thing Butch Cassidy and the Wild Gang, and it's a quirky stop in this remote corner of Patagonia.
Futaleufú, Chile
Driving time: 1 hour (may take longer with border crossing)
If you're up to visit another country, you can cross the border into neighbouring Chile!
This small frontier town is located just 10 kilometres from the international border and it has a slowly burgeoning tourism scene where travellers can enjoy hiking, fishing, mountain biking, trekking and canyoning.
Just don't forget to bring your passport if you decide to go on this day trip!
If Trevelin sounds like your kind of place, you might also enjoy our El Bolson travel guide and Villa La Angostura travel guide. These are two charming mountain towns worth adding to your northern Patagonia travel plans.