Today we're going to be sharing some of the best places to visit in Patagonia, Argentina. So get ready to take some notes as we help you plan your upcoming trip to Patagonia!
Patagonia is a vast region at the bottom of the South American continent spreading out 1,043,076 km2 across both Argentina and Chile. It's an incredibly diverse geographic area featuring the Andes Mountains, glaciers, lakes and forests, as well as steppe, desert and coastline.
For the purposes of this article, we're going to focus on some of the best places to visit in Argentine Patagonia, seeing as this website is all about travel in Argentina!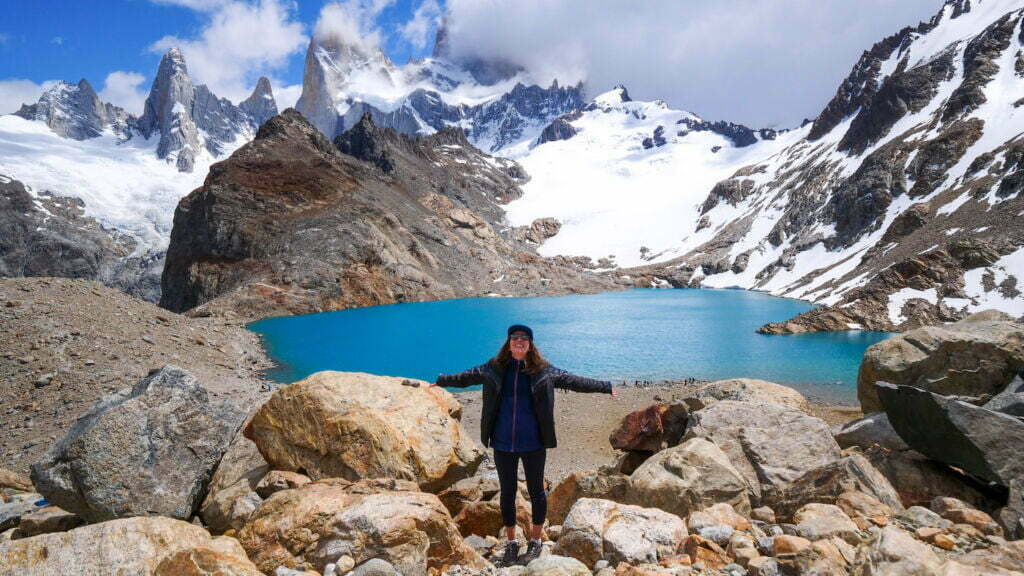 So what are the best places to visit in Patagonia, Argentina?
Well, that depends on the type of traveller you are and what you're hoping to see and do on your trip.
Are you looking for the best places to see glaciers in Patagonia? The best places to go trekking in Patagonia? The best places to view wildlife in Patagonia?
Thankfully, there's all that and more! We'll be covering 15 destinations including a mix of mountain towns, seaside villages, and even cities that span Northern Patagonia, Coastal Patagonia, and Southern Patagonia. 
Best Patagonia Tours
We'll be covering some of the best places to visit in Patagonia shortly, however, if you prefer to explore Patagonia as part of a guided tour as opposed to independently, that's certainly possible.
Here are some of the best selling guided tours in Patagonia. Each of these focus on different regions of Patagonia – some include stops in northern Patagonia, others focus on trekking in southern Patagonia, and some depart from Ushuaia and venture on to Antarctica, South Georgia, and the Falkland Islands.
If your travel time is limited and you prefer a more hands off approach where every detail of the trip is already taken care of, these tours are worth considering.
Best Places to Visit in Patagonia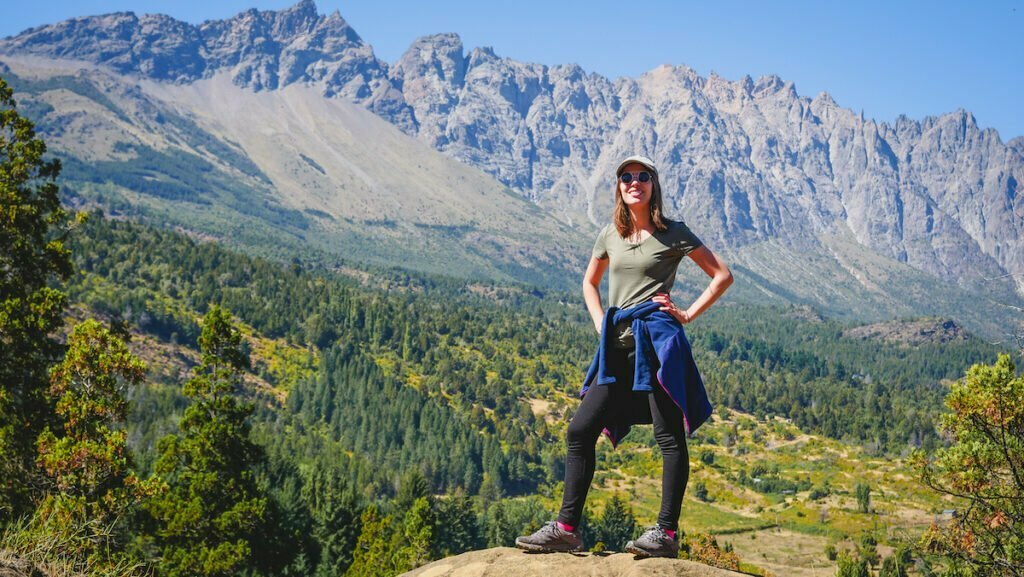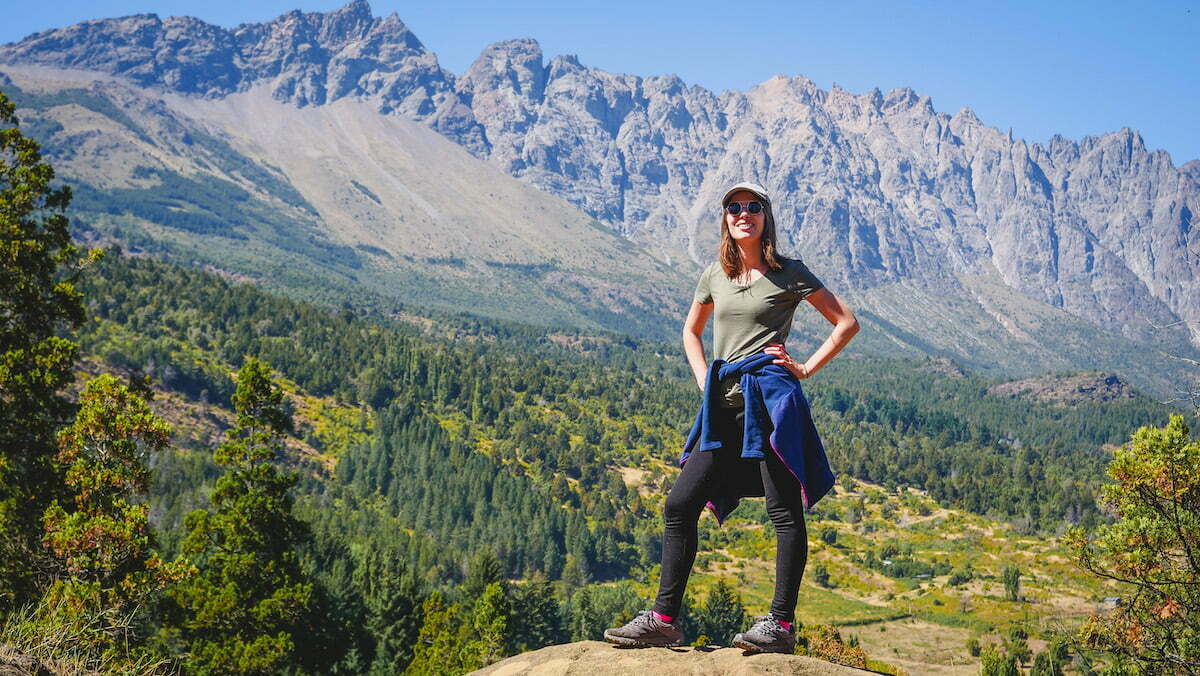 El Bolsón
Best place in Patagonia for hiking and epic mountain views.
El Bolsón is one of the best places to visit in Patagonia for hiking and nature. This hippie mountain town offers trails for hikers of all levels, and there's always a reward at the end, be it an epic mountain view or a pristine river to swim in.
The town sits in a valley between two mountain ranges and it truly is one of the most beautiful places in Patagonia.
Even though this is the best-known town in the Comarca Andina it's still Patagonia off-the-beaten-path.
Best activities in El Bolsón
Visit the Sculpture Forest
One of the main attractions in El Bolsón is the Sculpture Forest, locally known as Bosque Tallado.
The sculpture forest is situated on Cerro Piltriquitrón and the art project came about after a series of fires burnt down part of the mountainside.
Local artist Marcelo López saw the opportunity to create something beautiful out of tragedy and invited a series of artist to create sculptures using the burnt and fallen trees.
This project began in 1998 and is ongoing with artists being invited every few years to add new works to the Sculpture Forest.
Tackle the hiking trails
El Bolsón is a haven for hiking enthusiasts, offering a plethora of scenic trails and stunning landscapes to explore.
The region is known for its lush forests, crystal-clear rivers, and majestic mountain views, making it an ideal destination for nature lovers and adventure seekers.
Trails range in length and level of difficulty. A few to consider include Cerro Amigo, Cascada Escondida, Cabeza del Indio, Cajón del Azul, and Cerro Piltriquitrón.
Shop at the Hippie Fair
The Hippie Fair, better known as Feria Artesanal, takes places on Plaza Pagano 4 times a week on Tuesday, Thursday, Saturday and Sunday.
This is a great place to do your souvenir shopping with 200 stalls to browse. You can find everything from ceramics and tapestries to homemade jams and natural cosmetics.
Plus, there are also food trucks on site where you can try Argentine street food like empanadas and choripán.
Drive over to Lago Puelo
As far as day trips from El Bolsón go, Lago Puelo is one of the easiest ones you can do!
Lago Puelo is technically in a different province, but it's only a 30 minute drive across the border.
The lake sits in Lago Puelo National Park, which is home to Valdivian forest, mountain peaks, and hiking trails – including one that reaches the Chilean border.
Sample the ice cream flavours at Jauja
Argentines love their ice cream and you'll find that ice cream shops abound, even in mountain towns.
We treated ourselves to a daily ice cream since we were doing plenty of hiking, and we were big fans of the flavour offerings at Jauja.
Some of their more unique Patagonian ice cream flavours include raspberries with goat's milk, dulce de leche with walnuts, and Andean chocolate. These use local ingredients and are pretty inventive.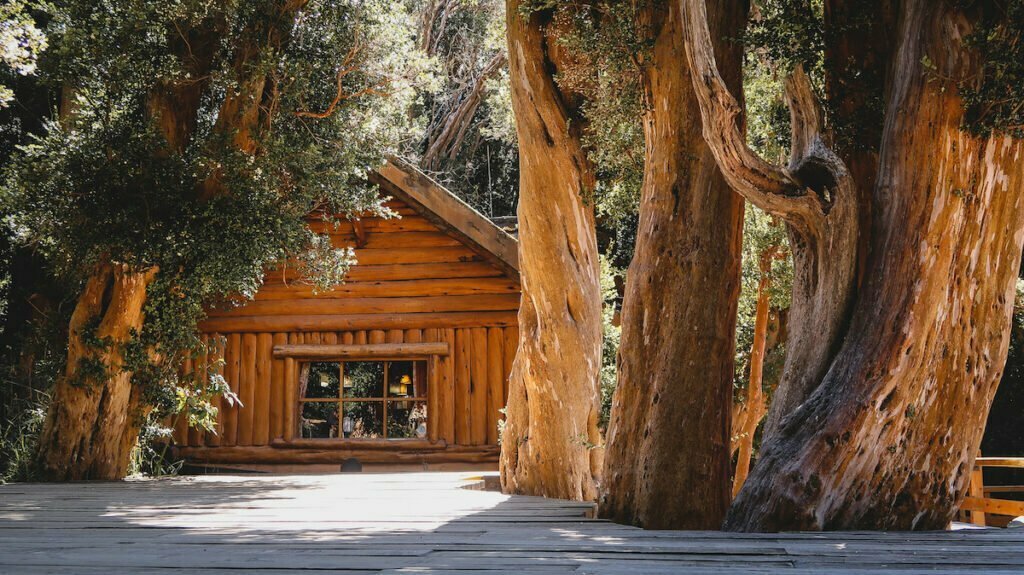 Villa La Angostura
Best place in Patagonia for high end resorts by the lake.
Villa La Angostura is a high-end resort town located on the shores of Nahuel Huapi Lake in the Province of Neuquén.
The town's Swiss-style architecture features plenty of wooden chalets and log cabins which add to the allure of the town.
Plus, you have pristine forests, crystal-clear lakes, and snow-capped peaks creating a breathtaking backdrop that complements the town's cozy and inviting feel.
It's an idyllic destination that attracts tourists year-round.
Best activities in Villa La Angostura
Arrayanes Forest
The main attraction in Villa La Angostura is the magical Arrayanes Forest, which is located on the Quetrihué Peninsula that juts out into Nahuel Huapi Lake just south of town.
What makes the forest special are the arrayán trees known for their cinnamon-coloured bark which feels cool to the touch. This is because the tree's bark is so thin that you can feel the sap flowing inside the tree.
Most of the trees in the forest are around 300 years old, though there are a few specimens that date back 650 years.
Hike the Quetrihué Peninsula
After visiting the Arrayanes Forest you have two options: get back on the boat or hike across the peninsula.
The hike is 12-kilometre long and takes about 3 hours to complete.
Visit the two bays
Villa La Angostura is a town of two bays. You have Bahía Mansa, meaning 'calm bay', and Bahía Brava, meaning 'wild bay'.
The two bays are just a 5-minute walk from each other, so it's easy to visit both.
Bahía Mansa is where most boat excursions depart from and where you have that beautiful two-level wooden pier you see in photos, and Bahía Brava has a nice crescent beach, where you can enjoy a stroll and catch the sunset.
Drive the Route of the Seven Lakes
Villa La Angostura is best known as the starting point (or ending point, depending on which direction you drive it!) of the Route of the Seven Lakes.
This is a very picturesque 107-kilometre drive that runs between the towns of Villa La Angostura and San Martín de Los Andes.
The route goes through two national parks, Lanín National Park and Nahuel Huapi National Park, and as the names suggests, it also goes past seven lakes.
This drive is best done as a one-day road trip with stops at all the lakes, waterfalls, and scenic points along the way.
Eat in a cuckoo house cafe
Cucu Schulz is a cafe built to look like a cuckoo clock and inside the walls are covered in even more cuckoo clocks, which is really fun when the clocks strikes the hour.
My favourite thing to order at Cucu Schulz is their ricotta cake. You may also want to try their in house specialty, the Cucu Shulz cake, which consists of a chocolate cake with semisweet chocolate mousse, chantilly cream, a chocolate glaze and caramelized almonds.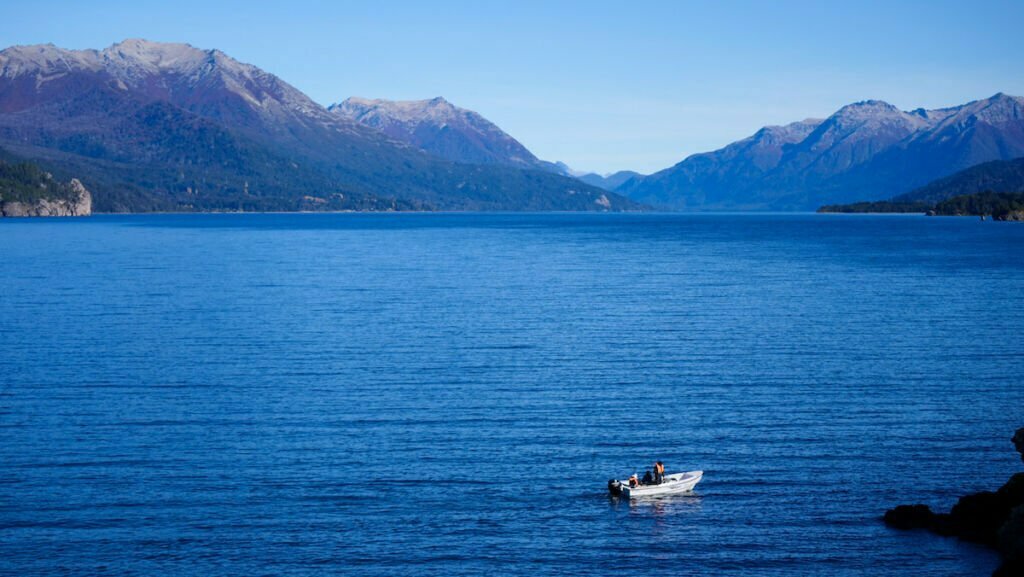 Villa Traful
Best place in Patagonia for a quiet lakeside escape.
Villa Traful is a picturesque village located on the southern shore of Lake Traful surrounded by the Andes Mountains.
The village is known for its breathtaking natural beauty, making it a popular destination for nature lovers and outdoor enthusiasts.
Getting to Villa Traful involves travelling down rugged gravel roads, but pristine nature and tranquility is the reward.
Best activities in Villa Traful
Hike to the waterfalls
There are two different waterfalls you can visit in Villa Traful; one is Cascada del Arroyo Coa Co which is a 40-minute loop, and the other is Cascada del Arroyo Blanco which is a 60-minute loop.
Both are considered relatively easy hikes.
Visit the submerged forest
Villa Traful boasts a rather unique attraction and that is the Submerged Forest, where around 60 cypress trees rise from the waters of Lago Traful.
These trees were once on the hillside but became submerged due to a landslide in the 1960s. The crystal-clear waters allow visitors to see the trunks and branches of these submerged trees.
The Submerged Forest can be explored by boat, with excursions departing from the south side of the lake and heading to the forest on the north side.
Go scuba diving
For a more immersive experience, Buceo VLA offers scuba diving excursions to witness the Submerged Forest in all its glory.
Scuba diving in Patagonia does mean cooler temperatures, so you'll wear a 7mm neoprene diving suit.
Try Argentina's most famous alfajores
What is an alfajor, you ask?
An alfajor is a sweet confection consisting of two soft cookies typically filled with dulce de leche, which is a creamy caramel-like spread made from condensed milk. The alfajor can also be coated in white, milk or dark chocolate.
It just so happens that the award-winning alfajores from Del Montañés originate in Villa Traful, so you need to try them if you make it all the way there!
Enjoy Lago Traful
Of course, aside from boating and scuba diving, you can also enjoy some beach time on the shores of Lake Traful.
Plus, if you're looking for something a bit more active, you can rent kayaks or stand up paddle boards and spend the day out on the water.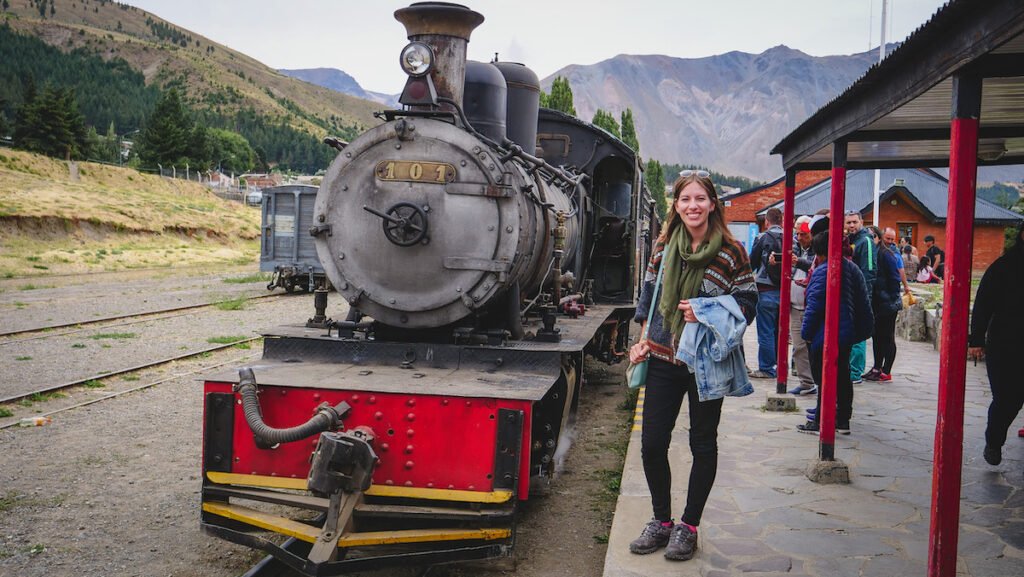 Esquel
Best place in Patagonia for train travel and epic day trips.
Esquel is a town set at the foot of the Andes Mountains and it's location makes it a convenient base for exploring the nearby national park as well as some easy day trips.
There are plenty of things to do in Esquel and right now we're going to cover some of the highlights.
Best activities in Esquel
Ride the Old Patagonian Express
The main thing to do in Esquel is to ride the Old Patagonian Express train!
Locally known as La Trochita, this train was made famous by Paul Theroux's 1979 novel The Old Patagonian Express in which he recounted his train journey from his hometown in Massachusetts all the way down to Argentina.
While the railway tracks of the Old Patagonian Express once stretched out across 402 kilometres, today only three short segments of the route can be travelled by tourists.
The most popular segment departs from Esquel to Nahuel Pan. This is a half day activity where you can travel across the Patagonian steppe, and upon arriving in Nahuel Pan, you can visit an artesanal market, tour the Museum of Patagonian Culture, and enjoy some Argentine street food in the form of a choripán (sausage on a bun)!
Los Alerces National Park
A popular day trip from Esquel is to Los Alerces National Park, one of the most beautiful national parks in Patagonia.
The park is made up of interconnected lakes and rivers that weave their way through Valdivian forest.
Some of the highlights include riding a boat across waters that shift from emerald to turquoise, seeing hanging glaciers, and visiting the Grandfather Alerce which is 2,700 years old!
Yes, this park is home to the second-longest living tree species in the world – the alerce which gives the park its name!
Piedra Parada
For a change of scenery and a taste of the Patagonian steppe, you can consider a day trip to Piedra Parada.
This natural protected area is home to a towering monolith that rises 210 metres from the Chubut Valley. The rock's origins are volcanic and once upon a time this area would have been the caldera of an ancient mega volcano.
You can also visit the nearby Vulture's Canyon, which is a really nice area for hiking and rock climbing.
The canyon's walls rise some 150 meters on either side, and along the way you can see small refuges in the rock that would have been used by the pre-Tehuelches and Tehuelches who inhabited this area in a seasonal manner up to 5000 years ago.
Skiing in La Hoya
If you happen to be visiting Esquel in the wintertime and you're down for some skiing or snowboarding, you'll want to make your way up to La Hoya.
This is the main ski centre in the area and it's just a 30-minute drive north of town.
You can rent gear, book passes, or sign up for ski and snowboarding lessons directly on their website.
Hike the local trails
Last but not least, Esquel offers plenty of local hiking opportunities.
Laguna La Zeta leads to a lagoon where you can go kayaking or horseback riding. It takes about 1 hour to hike up from the centre of town.
Cerro La Cruz offers beautiful views of Esquel surrounded by mountains. It's a steep hike, but there are lookouts along the way. It takes about 1.5 hours to reach the top, and there are two different access points via Barrio Baden in the east or Barrio Ceferino on the west.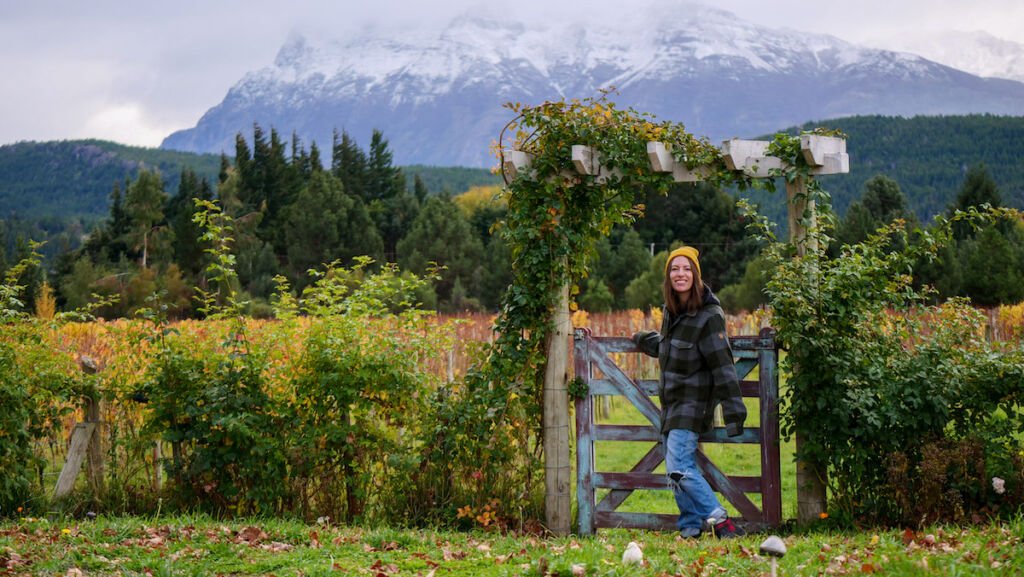 Trevelin
Best place in Patagonia for wineries and Welsh history.
Trevelin is a small mountain town situated in a picturesque valley surrounded by the Andes Mountains. It's name translates to 'mill town' in Welsh reflecting its heritage.
Trevelin is known for its access to Los Alerces National Park, fly fishing opportunities, multiple wineries, and its tulip fields in the springtime.
Best activities in Trevelin
Visit the wineries
Did you know there are vineyards and wineries in Patagonia?
It does take a special type of grape to thrive in this climate, but more and more we're seeing wine makers take on the challenge of producing wine in this part of the world.
Some of the wineries you can visit in Trevelin include Viñas del Nant y Fall, Contra Corriente, and Casa Yagüe.
White wines do well at this latitude, so you can expect to find Chardonnay, Riesling and Gewürztraminer. As far as red grapes, it's all about the Pinot Noir.
Stay at a fishing lodge
Another thing to do in Trevelin is to stay at a fishing lodge. This area is considered one of the best places in Patagonia for fly-fishing with many fishing enthusiasts making the long trek from Europe and North America.
The Futaleufú River just west of Trevelin is a particularly popular spot and it's known as the 'river of a hundred rivers' thanks to its many branches that flow away from the main river only to rejoin again.
There are all sorts of fishing programs that include a mix of floating and wading in search of Brown, Rainbow and Brook Trout.
Learn about Welsh culture
The Welsh immigrants first arrived on Argentine shores in 1865 and they slowly planted roots across Patagonia.
One such community was Trevelin, where they managed to cultivate the fertile lands, engage in sheep farming, and build a thriving community.
They also built traditional Welsh-style houses and chapels, which can still be seen in the town today.
The Andean Mill Museum is worth a visit to learn more about their history, plus there are Welsh tea houses where you can enjoy some traditional Welsh cake.
Visit Nant Fach Mill
Just 17 kilometres outside of Trevelin, you'll find the Nant Fach Mill which is a replica of the flour mills that were used in the late nineteenth century.
The name Nant Fach means 'small creek' in Welsh, and the mill acts as a museum displaying lots of agricultural machinery.
There's also an indoor component to the museum showcasing tools, furniture, crockery and musical instruments that were brought over from Wales by the early settlers.
Futaleufú Hydroelectric Complex
Trevelin is the access point to the southern part of Los Alerces National Park where you can visit the Futaleufú Dam.
The dam was built between 1971 and 1976 with the goal of providing electricity to an aluminum plant in the coastal city of Puerto Madryn. 
There are also plenty of hiking trails to enjoy within the park, which leads to rivers, waterfalls and lookout points.
You can get more ideas of things to do in Trevelin here.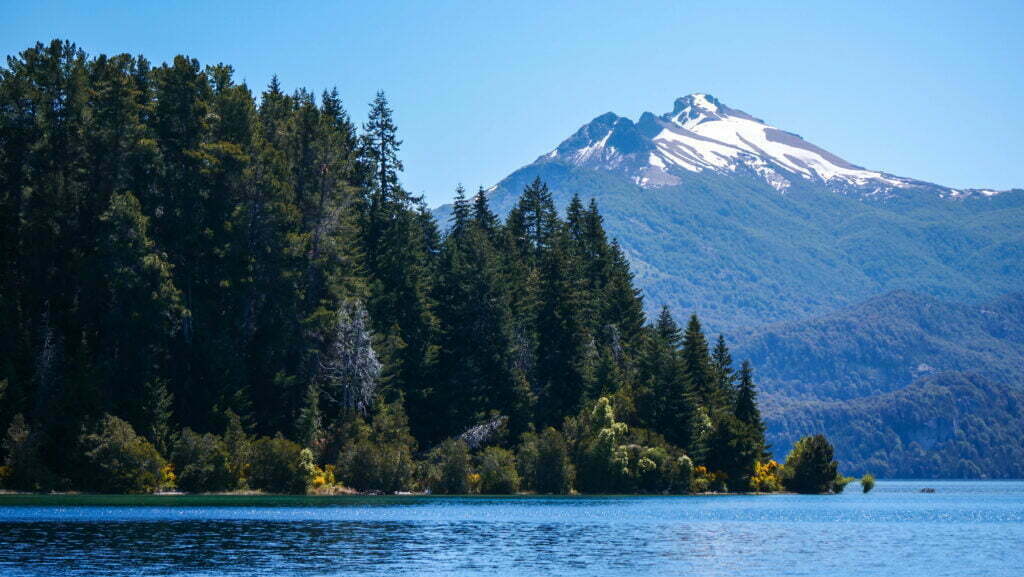 Bariloche
Best place in Patagonia for chill city vibes and light adventure.
If you're a city person but you still want to get a taste of Patagonia without doing anything too strenuous (like a multi-day hike!), then Bariloche might be the place for you!
Formally known as San Carlos the Bariloche, this city has an incredible craft beer scene, is renowned for its artisanal ice creams and chocolates, plus it offers plenty of light adventures so you can still enjoy the beauty of the outdoors.
This is one of the best places to visit in Patagonia for chill city vibes surrounded with epic mountain scenery.
Best activities in Bariloche
Boat tour of Isla Victoria
The boat tour to Isla Victoria and the Arrayanes Forest is one of the most popular excursions in Bariloche.
The tour departs from Puerto Pañuelo and travels on Lago Nahuel Huapi until you reach the Arrayanes Forest. This is the forest believed to have inspired Disney's Bambi.
The boat tour then continues towards Isla Victoria, where you disembark once more and can either join a guided hike or explore the island at your leisure.
There's a beautiful beach called Playa del Toro, as well as hiking trails, and you can also see some small cave paintings.
Explore the craft beer scene
You could spend two weeks in Bariloche and visit a different brewery every day. There are so many to choose from and they all offer something different.
Cerveza Patagonia is a classic stop on the Circuito Chico at Km 24.7 for anyone visiting Bariloche. Their brewery has the best views you could ask for – lakes and snowcapped mountains as far as they eye can see. Come for the beers, stay for the views!
Cervecería Gilbert is a rustic brewpub that serves some great beers paired with traditional dishes like wild boar, trout and lentil stew.
You can also check out Cervecería Manush for craft beer and gourmet burgers.
This is but a mere sampling of what's available in Bariloche's beer scene!
Stay at the Llao Llao Hotel
If you want to centre your trip to Bariloche around rest and relaxation in an unbeatable setting, then you need to stay at the Llao Llao Hotel.
This is considered one of the leading hotels in the world and it's easy to see why.
Its location is unparalleled; the Llao Llao Hotel sits on 15 hectares of land between two lakes – Lago Moreno and Lago Nahuel Huapi. It is framed by the mountain peaks of Cerro Tronador and Cerro Lopez, and it was built in a unique style that drew inspiration from alpine construction and Canadian log cabins.
The hotel features a golf course, marina, infinity pool, spa, fitness centre, and numerous restaurants.
Drive the Circuito Chico
Another must-do activity in Bariloche is to drive the Circuito Chico. This is a scenic drive that follows the lakeshore of Lago Nahuel Huapi heading north, and then loops around various lakes before circling back towards Bariloche.
Along the route, there are numerous lookout points where you can pull over and enjoy the views. Plus, there are microbreweries, restaurants, cafes, hiking trails, kayak rentals and more.
The drive can typically be done in half a day, including stops for food and photos.
Try artisanal ice cream and chocolates
If you have a sweet tooth, you'll enjoy all the artesanal chocolate and ice cream offerings in Patagonia.
Rapa Nui is known for its 'Franui' – we're talking Patagonian raspberries dipped in white chocolate and then milk chocolate. They are delicious! Their main location features a cafe, ice cream shop and ice skating rink.
You have to try the dulce de leche ice cream when in Argentina! The closest thing I can compare it to is caramel, but it's an experience in and of itself.
Another great option is Mamushka. This is a nice place to go for a sweet breakfast or afternoon tea (known as merienda in Argentina). Aside from selling chocolates, they have a nice cafe that serves all sorts of cakes and elaborate sweets.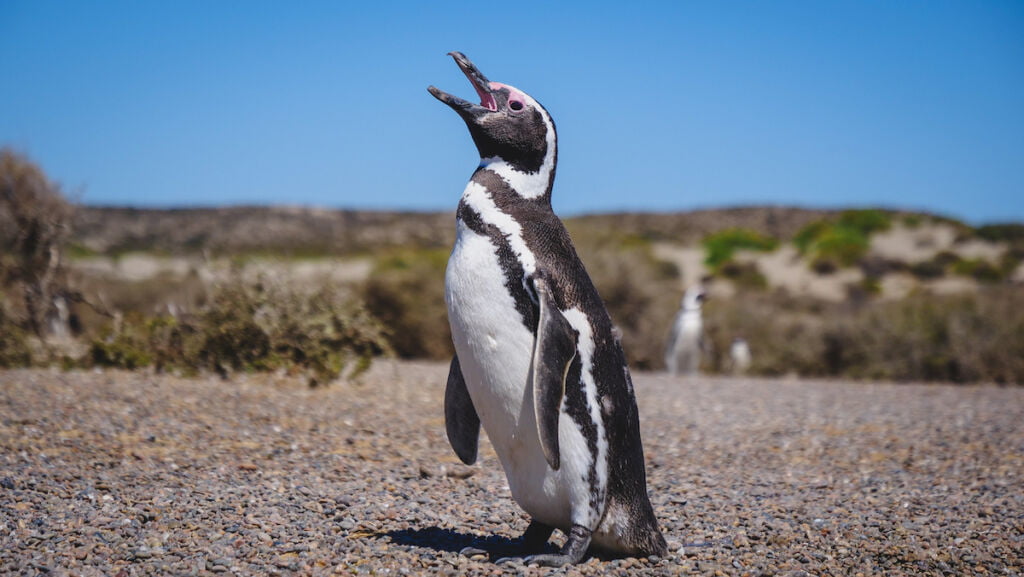 Península Valdés
Best place in Patagonia for wildlife viewing opportunities.
Península Valdés is one of the best places to visit in coastal Patagonia if you want to see wildlife.
The peninsula is home to Magellanic penguins, sea lions, elephant seals, Southern right whales, dolphins, guanacos, rheas, maras and so much more!
It is also an important nature reserve that is listed as a UNESCO World Heritage Site, so if you want to experience the best of coastal Patagonia, Península Valdés should be at the top of your list.
Best activities in Península Valdés
Lunch at an estancia
A nice activity to enjoy on Península Valdés, is lunch at Estancia San Lorenzo.
This traditional Patagonian sheep ranch raises Australian merino sheep for wool production, and depending on the time of year you visit, you can witness a variety of activities related to sheep farming like marking, shearing, and herding the sheep with the help of dogs.
The restaurant is set in the old shearing barn and it serves Patagonian-style dishes in a rustic setting.
Estancia San Lorenzo also happens to be home to the largest Magellanic penguin rookery in the world, which brings us to our next point.
Visit the largest penguin rookery
Estancia San Lorenzo Nature Reserve is located within the Peninsula Valdés Protected Natural Area and can be visited on a day trip from Puerto Madryn.
With an estimate 600,000 penguins per season, it is the largest known continental colony of Magellanic penguin.
Estancia San Lorenzo opens its doors to visitors every year from September 7 to March 31. The opening hours are from 10:00 am to 6:00 pm with guided tours of the rookery offered 4 times per day.
See a geographical accident
On the eastern shore of Península Valdés, you'll find Caleta Valdés which is best described as a 'geographic accident'.
The caleta is a long, narrow body of water that has been naturally closed off by a strip of land, with only a small opening connecting it to the sea. It stretches 35 kilometres in length.
This is a good spot to see Magellanic penguins, and depending on the time of year, it also draws elephant seals.
Look for wildlife at Punta Delgada
Another place to visit on the peninsula is Punta Delgada, a beach with steep sandy cliffs that offers some great wildlife viewing opportunities.
Punta Delgada sees a high concentration of elephant seals during mating and moulting season (this is when the seals shed their hair and the upper layer of their skin).
And if you happen to be in the area around lunch time, you can stop at the Punta Delgada Lighthouse. This former post office and military building is now a sheep farm, hotel and restaurant.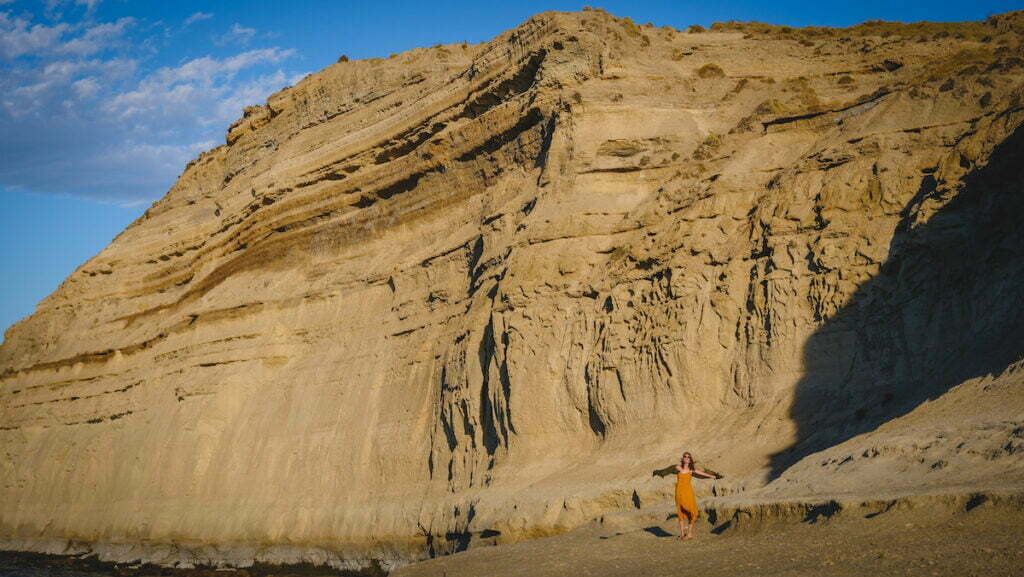 Puerto Pirámides
Best place in Patagonia for a hippie beach town getaway.
Puerto Pirámides is the only town on Península Valdés and aside from the wildlife viewing opportunities that draw visitors to the peninsula, many choose to come specifically for the town's hippie feel and the beach.
Puerto Pirámides is known for its colourful buildings and murals, eco hotels are the accommodation of choice, and people walk around barefoot.
Best activities in Puerto Pirámides
Go on a boat tour
Puerto Pirámides is the departure point for boat tours around the Golfo Nuevo.
Depending on the time of year, you can enjoy whale-watching tours, or watch the sea lions basking in the sunshine along the cliffs in Punta Pirámides.
These tours are also a great opportunity to see all sorts of sea birds – especially cormorants who are there by the thousands!
Hike the cliffs for sunrise
For a spectacular sunrise you won't soon forget, hike up to the cliffs just east of town. There's a trail that leads up from the port area just behind where the campervans park.
It's steep but it's a relatively short stretch and once you reach the top you can look out over the Golfo Nuevo, and if you're lucky, you might even spot a whale.
Look for fossils
Another thing to do in Puerto Pirámides is to look for fossils!
If you were to travel back in time millions of years ago, the cliffs you see today would have been the ocean floor. And as the cliffs slowly erode away, marine fossils are revealed.
Fossilized oysters, scallops and sea urchins are quite common, though you can also find shark teeth and fossilized remains of birds and marine mammals.
The coastline just west of town is a good area to see fossils, but remember that removing any is strictly prohibited.
Enjoy the seafood
What do you do when you're staying in a coastal beach town?
You enjoy the seafood, of course!
Our favourite restaurant in town was La Covacha Resto Mar. They have a variety of seafood pastas to choose from, plus scallops gratin, clam chowder, sautéed prawns, calamari, and there's always an experimental dish of the day if your tastebuds are feeling adventurous.
Stay at an eco hotel
Because the town of Puerto Pirámides is located in the Península Valdés Natural Protected Area, there are certain regulations as to what can and cannot be built here.
These restrictions have given rise to eco hotels with a focus on sustainability and being environmentally friendly.
We stayed at Océano Patagonia Wild Coast Residence, which is a beachfront property that uses a geo-thermal heating and cooling system. They also have a water recycling system since this is a desert climate. Plus, they have panels for renewable solar energy.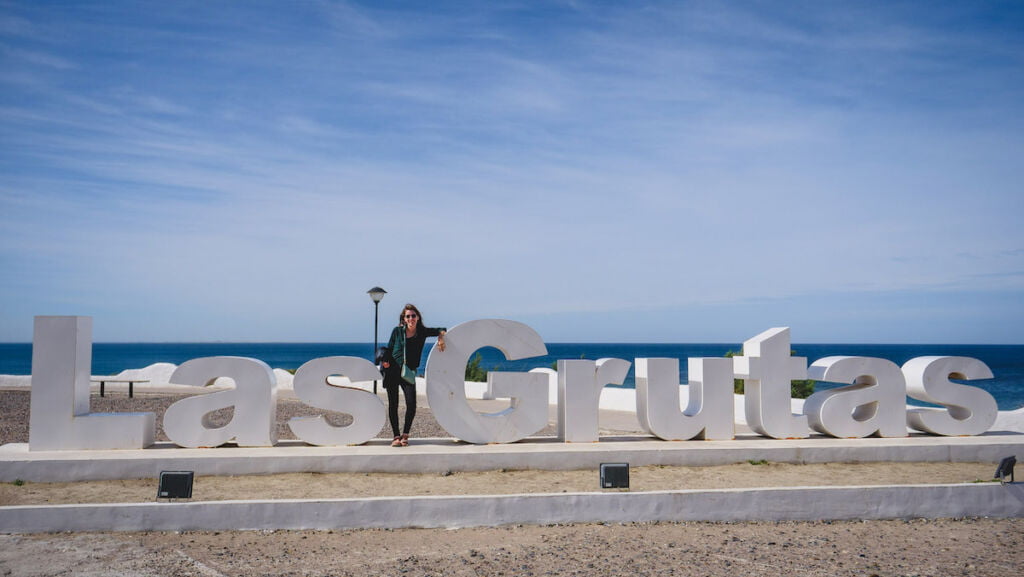 Las Grutas
Best place in Patagonia for a seaside vacation.
Las Grutas is a resort town located on the Gulf of San Matias on the Patagonian coastline and it is renowned for its beaches and sea caves, which make it a popular summer destination for those seeking a coastal escape.
A large part of the town is painted white making it feel slightly reminiscent of a greek island. The streets are lined with hotels, seafood restaurants, ice cream parlours, and lots of souvenir shops.
This is a destination you'll want to visit during the summer months, because it is seasonal and shuts down at the end of summer.
Best activities in Las Grutas
Enjoy the beaches and sea caves
The best thing to do in Las Grutas is to enjoy some beach time and visit the sea caves.
The sea caves of Las Grutas are ancient geological formations created by the constant erosion of the cliffs by the sea waves. Over time, the water carved out hollow spaces into the rocky cliffs. They caves are quite small and shallow, but it's still a lot of fun to explore the cliffside.
Go snorkelling or scuba diving
If you're feeling a bit more adventurous, two popular activities to enjoy in Las Grutas are snorkelling and scuba diving.
The clear and calm waters of the Gulf of San Matias create the perfect conditions for these activities, making Las Grutas a sought-after destination by both beginners and experienced divers.
Scuba diving operators in Las Grutas offer guided tours and excursions to the best dive sites, ensuring a safe and enjoyable experience for divers of all skill levels.
Eat at Del Azul
Seafood is the thing to eat when visiting the coastal town of Las Grutas and one restaurant worth seeking out is Del Azul.
You can enjoy dishes like mixed ceviche, seafood paella, battered prawns, shrimp tagliatelle, and even sushi!
This is a restaurant that we were happy to return to time and time again, and it comes highly recommended.
Go on 4×4 safari
Another fun activity in the outskirts of Las Grutas is a 4×4 expedition to the salt flats which is typically combined with a campfire meal.
Salinas de Gualicho are the largest salt flats in Argentina, the second largest in South America, and the third largest in the world.
These salt flats also have the second-lowest elevation in South America dropping down to -72 metres below sea level. The city of Buenos Aires could fit in this depression more than two times!
Whale watching
In recent years, Las Grutas has introduced whale watching as a tourist activity, taking advantage of the increasing presence of these majestic creatures in the San Matías Gulf.
Each year, Southern right whales return to the Patagonian coasts to breed and nurse their young, seeking warmer waters. While solitary whales are occasionally spotted in the fall, the main spectacle occurs from mid-August to October.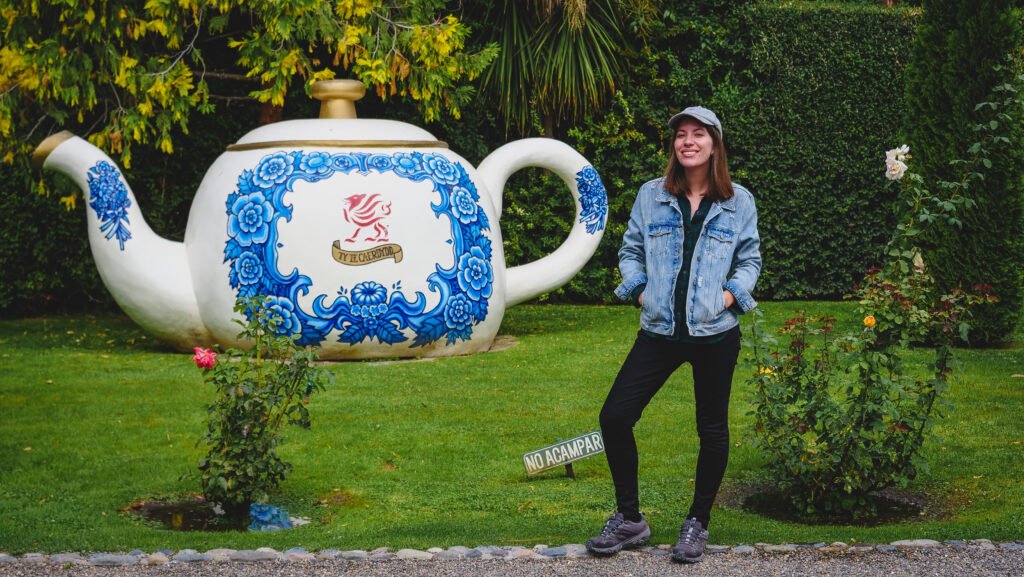 Gaiman
Best place in Patagonia for Welsh culture.
As you'll soon discover on this website, there are no shortage of Welsh towns to visit in Patagonia!
Gaiman may just be the most famous of them all; this is the one Diana Princess of Wales visited during her tour of Argentina.
This town is one of the best places to visit in Patagonia to learn about Welsh immigration and enjoy a Welsh afternoon tea.
Best activities in Gaiman
Have Welsh afternoon tea
There are numerous Welsh tea houses to visit in Gaiman, however, the best known is Ty Te Caerdydd since this is the one Lady Diana visited during her trip to Argentina in 1995.
However, no matter which tea house you choose, you can expect to find some bara brith or Welsh cake on the menu.
My one tip is to skip lunch and go hungry, because afternoon tea is quite bountiful with sandwiches, scones, cakes and more.
Quintas Narlú
Quintas Narlú is a beautiful farm located in the outskirts of Gaiman on Ruta 7.
They have a shop on site where you can pick up fresh fruits, berries, jams, honey, liqueurs and other souvenirs.
We picked up a few items and afterwards the owner let us wander around the farm and the apple orchard where we enjoyed a picnic.
Visit the local museums
Even though Gaiman is a small place, you could probably spend a good part of the day museum hopping and visiting the historic buildings scattered across town.
You have the Regional History Museum, which is set in the old train station and displays some of the items that were brought over by the early Welsh settlers.
Then you have the Tehuelche-Mapuche Museum, formerly known as the Gaiman Anthropological Museum, housed in one of the first two-story buildings in Gaiman. This one focuses on the friendship between the Tehuelches and the Welsh, and how the former helped the newcomers survive in a new and hostile climate.
You can also tour the first stone house to be built in Gaiman dating back 1874. This was the home of David D. Roberts and his wife Jemima Jones, who became the first Welsh settlers of Gaiman.
Central Chubut Railway Tunnel
Another attraction in Gaiman is the old train tunnel which was part of the Central Chubut Railway.
This was the first railway in Patagonia and it helped cut down travel times since this journey was previously done on horseback.
Inside the tunnel there are audiovisual displays that share the history of the railway in Spanish, English and Welsh.
Riverside walk along the Chubut River
Another nice thing to do in Gaiman is to walk along the shores of the Chubut River, which crosses the Province of Chubut.
The river is lined with weeping willows and there's a nice riverside path you can follow across town.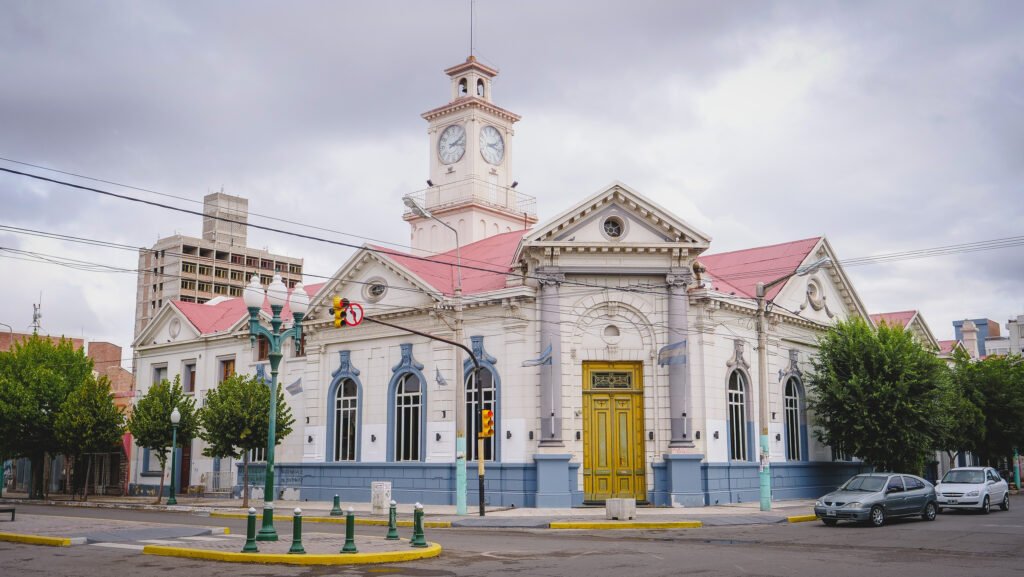 Trelew
Best place in Patagonia for the dinosaur lovers.
Trelew is another city with Welsh roots and its name translates to 'town of Lewis' reflecting its Welsh origins.
But aside from Welsh culture, Trelew is a destination that also offers an extensive collection of dinosaur fossils from across Patagonia, it has links to Butch Cassidy and the Sundance Kid, and it's also the gateway to a petrified forest, and natural areas where you can visit a vast colony of Magellanic penguins.
Best activities in Trelew
See dinosaurs
The Egidio Feruglio Paleontological Museum is one of the most important and renowned paleontological museums in South America.
Named after the Italian-Argentine paleontologist Egidio Feruglio, the museum is dedicated to preserving and showcasing the rich paleontological heritage of Patagonia.
The museum's extensive collection contains a vast array of fossils, including dinosaur remains, prehistoric creatures, and ancient plant specimens.
Aside from the museum, you can also visit the biggest dinosaur sculpture in the world! It's located in the outskirts of town directly across from Trelew Airport.
Have lunch at Hotel Touring Club
Trelew's Hotel Touring Club has a storied history, having welcomed numerous famous guests, including the renowned writer and aviator Antoine de Saint Exupéry, known for his masterpiece The Little Prince.
Interestingly, the hotel also played host to a notorious gang of bank and train robbers, including the infamous Butch Cassidy, the Sundance Kid, and Ethel Place. Fleeing from US law enforcement, they sought refuge in this remote corner of Patagonia before venturing towards the Andes.
Learn about the Welsh settlers
The Regional Museum Pueblo de Luis is housed in the historic former railway station, which dates back to 1889. Within its walls, the museum narrates the history of the Welsh immigrants who embarked on a journey across the Atlantic Ocean, eventually settling in the valley along the Chubut River.
The museum is divided into different rooms, each offering a unique perspective on the region's history. The journey commences with exhibits dedicated to the Mapuches and the Tehuelches who lived in these lands, followed by the early exploration of the area between 1520 and 1865, and then the arrival of Welsh immigrants.
Take a day trip to the petrified forest
There are quite a few days trips you can do from Trelew, one of them being to the Petrified Forest Florentino Ameghino.
The journey there is just under 2 hours and you'll come face to face with petrified logs that were once part of an extensive forest. These logs were then carried by rivers to the sea coast of that time, and date back to around 60 million years ago.
Visit the nearby penguins
Not too far from Trelew, you also have some great birdwatching opportunities.
Nearby Punta Tombo is home to one of the largest colonies of Magellanic penguins in the world, making it a popular destination for wildlife enthusiasts.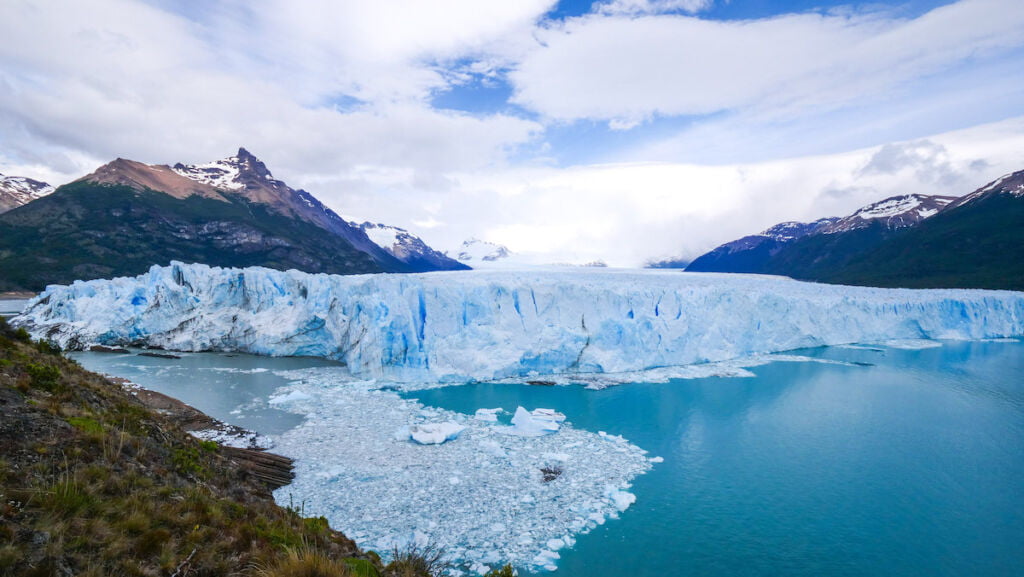 El Calafate
Best place in Patagonia to see glaciers.
El Calafate acts as a gateway to Los Glaciares National Park, renowned for its glaciers, including the magnificent Perito Moreno Glacier.
This colossal ice mass, with its dramatic icefalls and striking blue hues, is a true marvel of nature and draws travellers from around the globe.
The glaciers are the stars of the show, but there's plenty of fun to be had in El Calafate aside from that.
Best activities in El Calafate
Los Glaciares National Park
Los Glaciares National Park is home to one of the world's most stunning glacial landscapes and it encompasses 726,927 hectares making it the largest national park in the country.
The park owes its name to the numerous glaciers that cover roughly half the park, many of which are fed by the massive South Patagonian Ice Field.
Perhaps none is more famous than the Perito Moreno Glacier, which is constantly advancing, creating a mesmerizing spectacle as massive ice chunks calve into Lake Argentino.
The park has boardwalks and viewing decks where you can watch the magic unfold!
Go on a glacier boat tour
If you want to see a lot of glaciers up close and personal, it's worth splurging on tickets for the 'Glaciers Gourmet' tour which is a full-day boat excursion aboard María Turquesa.
You'll get to see the Upsala, Seco, Heim, Spegazzini and Perito Moreno glaciers. Overwheling beauty that can move you to tears is the only way to describe what you'll see!
It's an experience you won't soon forget, and it's worth doing even if you've already visited the park. You'll get a completely different perspective.
Visit the Glaciarium and ice bar
Glaciarium is a museum dedicated to the study and preservation of glaciers which is located in the outskirts of El Calafate.
As a region renowned for its breathtaking glaciers, the museum serves as an introduction to the fragile ecosystem of these ice giants. Inside Glaciarium, visitors can explore interactive exhibits and multimedia displays that offer valuable insights into glaciology, climate change, and the importance of preserving these natural wonders.
But the main draw is the museum's ice bar which is located at basement level. Here guests are given these hooded poncho jackets to stay warm while being served drinks in glasses made entirely of ice. Music blasts in the background so why not have a little dance?
It's a great activity for an extreme weather day when trekking isn't possible.
Spend the day at an estancia
Visiting a local estancia is part of the Patagonian travel experience and there are plenty of estancias to choose from.
One popular excursion is to Estancia Nibepo Aike which you can visit on a day trip or stay overnight.
This working estancia is located within Los Glaciares National Park and it's an opportunity to learn about life on a Patagonian ranch, go horseback riding, watch a sheep-shearing demonstration, and enjoy a traditional Argentine BBQ.
Go on a 4×4 tour
Another popular excursion from El Calafate is up to the Calafate Balconies.
This is a scenic drive in a 4×4 vehicle which goes up Mount Huyliche to a scenic lookout offering views of Lake Argentino and the Andes Mountains.
Once atop the balconies, you have the options of ziplining, going on a guided hike, or exploring further by 4×4.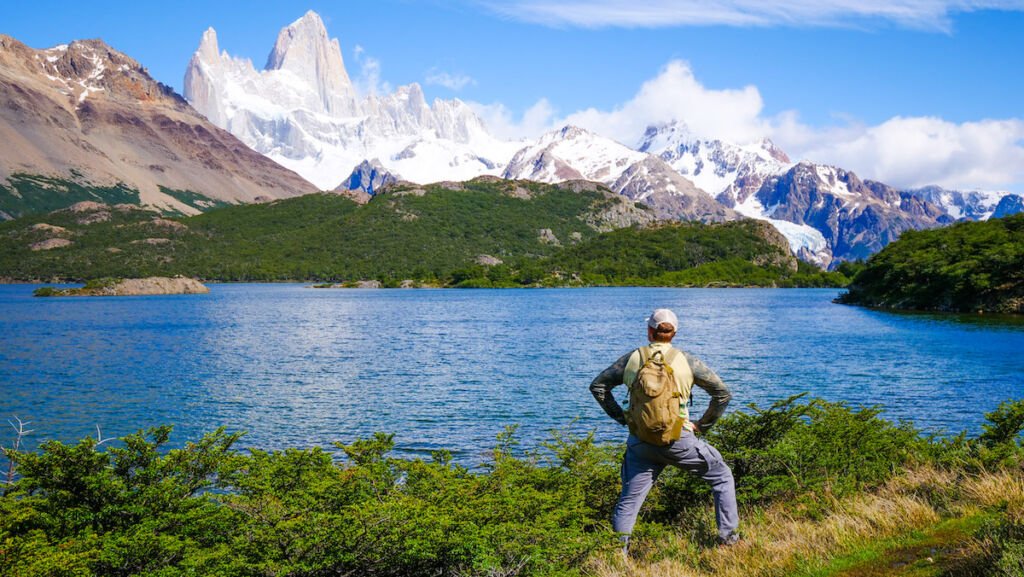 El Chaltén
Best place in Patagonia for trekking and epic mountain ranges.
El Chaltén is often referred to as the trekking capital of Argentina and it's an adventurer's playground.
Situated within Los Glaciares National Park, this picturesque town is surrounded by mountain peaks, glaciers, and pristine wilderness.
Of course, the real draw to El Chaltén lies in its abundant trails, ranging from easy walks to challenging mountain hikes.
You have the iconic trek to Cerro Fitz Roy with its distinctive granite spires, the epic route to Laguna de los Tres with its turquoise waters, and the trek to Cerro Torre with views of surrounding glaciers.
El Chaltén's raw, rugged beauty is what makes it one of the best places to visit in Patagonia.
Best activities in El Chaltén
Mirador de los Cóndores
If you're looking for an easy hike to ease into all the trekking in El Chaltén, Mirador de los Cóndores is a good place to start.
This easy hike leads up to a lookout point where not only do you get panoramic views of the town, but as the trail's name suggests, you can frequently spot condors flying overhead.
This trail connects with another hike called Mirador de las Águilas, where you guessed it, you can sometimes spot eagles.
Cerro Fitz Roy
Cerro Fitz Roy is a mountain with an elevation of 3,375 meters above sea level and it is known for its rugged and imposing granite peak, which is one of the most iconic landmarks in Patagonia.
You can view Cerro Fitz Roy from a few different points including Laguna Capri, or Laguna de los Tres if you're up for a more challenging and intense full-day hike.
Cerro Torre
Cerro Torre stands at an elevation of 3,128 meters above sea level and it's known for its challenging and technically demanding climbing routes, making it a coveted destination for experienced mountaineers.
Cerro Torre's distinctive spire-like summit is often shrouded in ice and clouds, adding to its magic.
You can view Cerro Torre by hiking to the lookout known as Mirador Cerro Torre, or you can continue further to Laguna Torre, which is the lagoon at the base of the mountain peak.
Rafting Río de las Vueltas
A popular activity for the thrill seeker visiting El Chaltén is a rafting excursion on the Río de las Vueltas, or River of the Turns.
This is a river of glacial origin that is born in Lago del Desierto and then flows into Lake Viedma.
The first part of the river is 6 kilometres of tranquil and meandering waters that allow you to enjoy the scenery and get comfortable with rafting.
The second section is where the river enters the canyon and there are 10 kilometres of rapids. This is where you get the heart-pumping adventure!
Hotel with a pool or spa
Because El Chaltén is a very active destination where you'll likely spend most of your days hiking, it's a nice idea to book a hotel with pool or a spa where you can unwind at the end of a busy day. Your muscles will thank you for the soak!
You may also need a full recovery day after tackling some of the longer and more challenging treks, so a comfortable and spacious hotel room is worth it.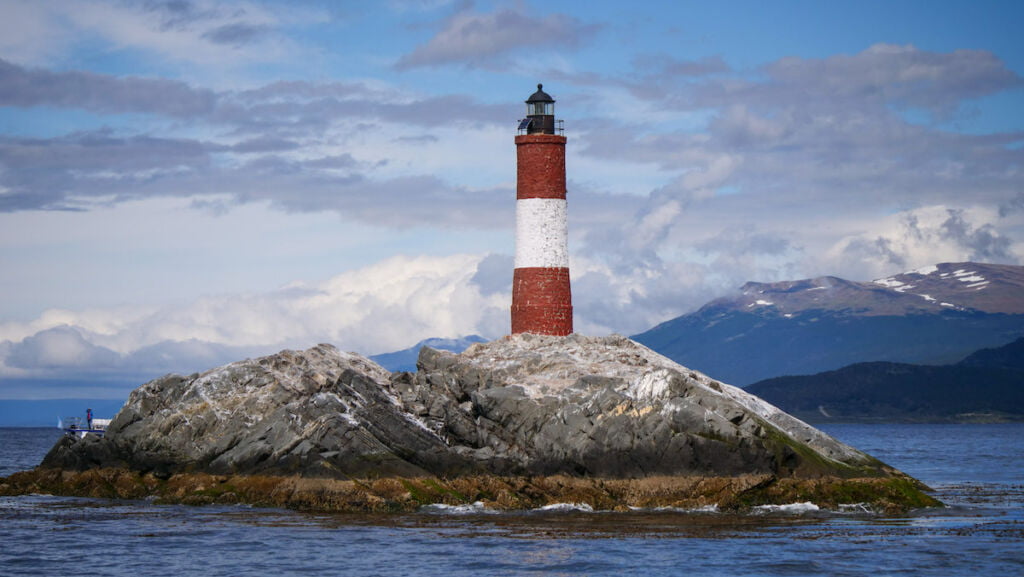 Ushuaia
Best place in Patagonia for a sense of accomplishment.
Reaching Ushuaia is a feat in and of itself! It's not every day you can say you've set foot on the southernmost city in the world.
Maybe you're wrapping up an epic trip across Patagonia, maybe you're about to board a cruise to Antarctica, or maybe you just wanted to go on some fun action-packed tours in Ushuaia to experience the city.
Ushuaia is one of the most epic places to visit in Patagonia simply because of the effort it takes to get there!
Best activities in Ushuaia
Train to the End of the World
The Southern Fuegian Railway, better known as the End of the World Train, is a steam railway located in Argentina's Tierra del Fuego province.
Originally built as a means to transport timber by the prisoners in the Ushuaia penal colony, the narrow gauge railway was initially known as the Train of Prisoners.
Today, it has been transformed into a heritage train, maintaining its status as the southernmost railway in the world.
For visitors to Ushuaia, this experience is a must-do activity, particularly for train enthusiasts, as it offers a unique glimpse into the region's history and the scenic beauty of Patagonia.
Tierra del Fuego National Park
Tierra del Fuego National Park is Argentina's southernmost park and it's made up of Andean forest, Magellanic forest and pre-Antarctic forest.
The park features a variety of trails that range from easy 1-kilometre loops to more challenging multi-day treks.
One thing is for sure, you'll be treated to epic landscapes and ever-changing weather which may include sunshine, drizzle, fog and snow, sometimes all in one day!
Beagle Channel Cruise
Another must-do activity when visiting Ushuaia is a cruise on the Beagle Channel, which separates Argentina's Isla Grande de Tierra del Fuego from Chile's Navarino Island.
The channel is named after the HMS Beagle, the ship on which the first survey of this area was conducted.
A Beagle Channel cruise is a great opportunity to view the local wildlife which includes sea lions, seals, Magellanic penguins, cormorants, and if you're lucky, even Peale's dolphins and minke whales.
Plus, you get to see the famous Les Eclaireurs Lighthouse, sometimes confused as the 'Lighthouse at the End of the World'.
Helicopter Flight
Another memorable activity you can enjoy in Ushuaia is a helicopter flight at the end of the world!
The most popular and budget-friendly option is a 7-minute flight over the city center, the Maritime Museum and former Prison of Ushuaia, as well as the Martial Glacier.
Longer flights will take you even further to the Emerald Lagoon, the Carbajal Valley, and Mount Olivia.
Sample local Fuegian cuisine
For all the foodies out there, when you reach Tierra del Fuego, the southernmost province in Argentina, you have to try the local Fuegian cuisine which combines food products from the forest, river and sea.
This destination is best known for King crab, known locally as centolla, which features in many restaurant menus. You can get in pastas, stews, or even served as the main dish.
Fuegian lamb is another food to try. It's typically cooked on the cross and makes an appearance in BBQ restaurants.
Lastly, keep an eye out for desserts featuring calafate berries which only grow in southern Patagonia.
You can get some ideas of where to stay in Ushuaia here.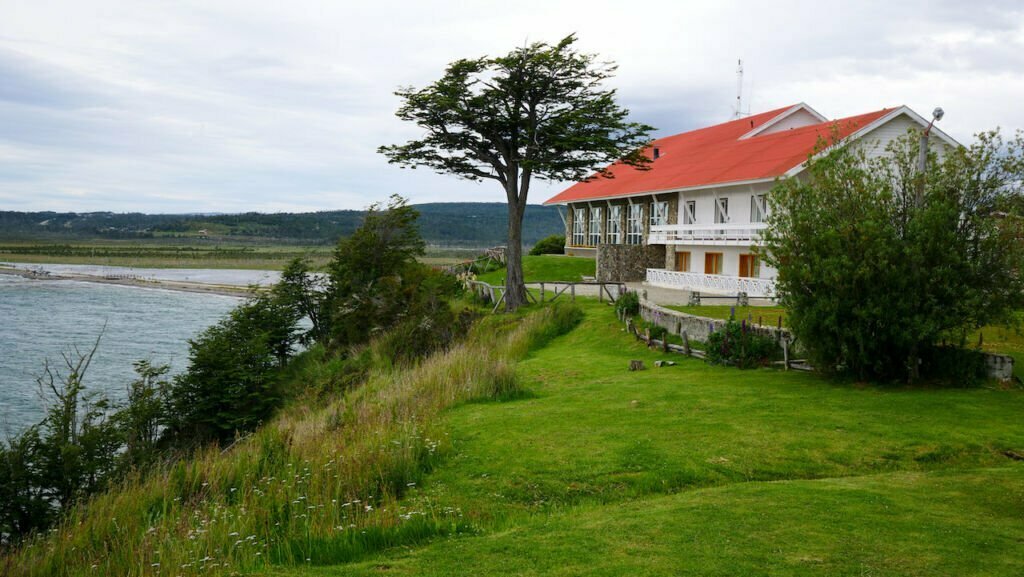 Tolhuin
Best place in Patagonia for unwinding at the end of the world.
Tolhuin is a tranquil lakeside town set on the shores of Lago Fagnano in the province of Tierra del Fuego, and it's a nice contrast after spending a few days in the southernmost city of Ushuaia.
This is one of the best places in Patagonia for those looking to go off-the-beaten-path – not only is Tolhuin at the bottom of the world, but you also have to cross the highest mountain pass across Argentina's National Route 3.
Getting there requires a bit of effort, but once you arrive, you can relax and soak in the tranquility of the place.
Best activities in Tolhuin
Book a lakeside cottage
Since one of the main draws to Tolhuin is rest and relaxation out in nature, you should consider booking some lakeside accommodations.
We really enjoyed Hostería Kaiken, a beautiful guesthouse set atop a cliff overlooking Lago Fagnano.
It's in the outskirts of town, but we enjoyed the lakeside strolls and the onsite restaurant had some fabulous gourmet meals.
Kayaking on Lago Fagnano
Lago Fagnano is a lake shared by both Argentina and Chile, and it's one of the main draws to Tolhuin.
The lake is of glacial origin and runs east to west stretching 98 kilometres in length, 72.5 km of which sit on the Argentine side of the border.
On a calm day, you can go kayaking on the lake, but just like anywhere in Patagonia, you never know what you're going to get. One day the waters could be as calm as a mirror and the next look like a tempestuous ocean!
Hiking
Laguna Negra Provincial Reserve is a nature reserve that sits on the northeast end of Lago Fagnano.
The hiking trail follows the lake's shoreline, crosses southern Fuegian forest, goes through peat bogs, and continues past the 'black lagoon' where it ends shortly thereafter.
This is one of the many hikes that visitors can enjoy in the area.
Bakery
If there's one place you need to eat at during your stay in Tolhuin, it's Panadería La Union.
This is a very famous bakery that is well-frequented by locals who use it as a gathering place, as well as travellers making the bus journey from Rio Gallegos to Ushuaia.
Not only can you get some delicious breads and pastries here, but they also sell empanadas and artesanal chocolate.
4×4 lakeside excursion
One of the most popular tours in the area is a full-day 4×4 adventure across the Garibaldi Pass, which is the highest point on Argentina's Ruta Nacional 3 and the only paved route across the Fuegian Andes.
From the pass, travellers get to admire the picturesque Lago Escondido, meaning 'hidden lake,' before embarking on an off-roading adventure along the lake's edge and through the forest, eventually reaching Lago Fagnano.
The tour concludes with a traditional Argentine asado, featuring choripán, bife de chorizo, salad, Malbec wine, and cheese.
While the actual town of Tolhuin isn't visited, this excursion offers a glimpse of the region's main attractions and a delightful taste of Argentine hospitality with a delicious meal.