If you want to experience Patagonia off-the-beaten-path, I would recommend looking at a collection of towns and villages sprinkled across a small region known as the Comarca Andina del Paralelo 42.
The Comarca Andina is best known for its rugged landscapes with majestic mountains, pristine lakes, and lush forests which draw domestic visitors but are yet undiscovered by international travellers.
This region sits between the provinces of Río Negro and Chubut and is home to some beautiful, underrated destinations that are best explored as part of a Northern Patagonia road trip.
Today, we are sharing 7 underrated places to visit in Patagonia!
Patagonia Off-The-Beaten-Path
What is the Comarca Andina del Paralelo 42?
The Comarca Andina del Paralelo 42, also known as the Andean Region of the 42nd Parallel, is a small geographical region in Northern Patagonia.
It is characterized by its location along the 42nd parallel south latitude, which runs through the Andes mountain range.
The Comarca Andina del Paralelo 42 encompasses several towns and villages, including El Bolsón, El Hoyo, Lago Puelo, Epuyén, El Maitén, El Manso and Cholila.
This Andean region is a popular destination for outdoor enthusiasts and nature lovers. It offers a wide range of activities such as hiking, trekking, fishing, and horseback riding, providing ample opportunities to soak in the tranquillity of the Patagonian wilderness.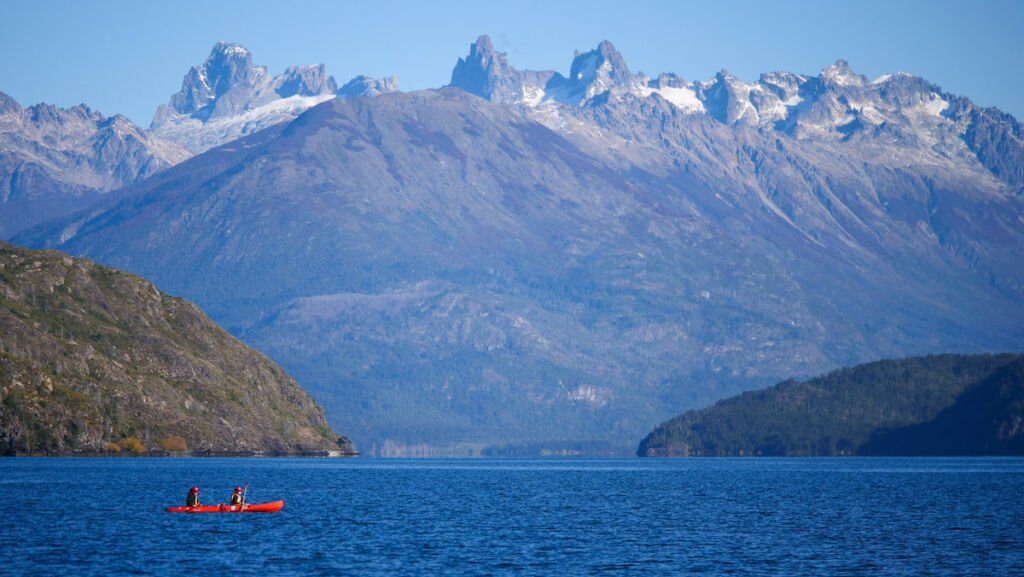 Lago Puelo
This scenic mountain town shares the same name as the local lake and the national park. It's a lakeside destination with plenty of hiking trails you can enjoy by day, and breweries where you can unwind by night.
Top attractions in Lago Puelo
Lago Puelo Boat Tour
If you only have time for one activity in Lago Puelo, it needs to be a boat tour through Lago Puelo National Park.
Nautica Puelo is the boat operator that runs tours of Lago Puelo. Their outings range from 40-minute sightseeing trips to longer 2 hour and 45 minute journeys which involve a little bit of hiking and take you to the border with Chile.
If you're pressed for time and only have one day in Lago Puelo, this is a great way to see the beauty of this national park.
Pasarela Río Azul
Pasarela Río Azul is the name of a hanging bridge in the northwest end of Lago Puelo that crosses the Río Azul and offers great hiking opportunities.
Once you cross the bridge, you will see signs that lead to Cascada Motoco Cardenas, a waterfall; and Mirador del Río Blanco, a lookout point where the Río Blanco which runs through a canyon.
During the summer months, you'll find snack stands selling chilled beverages, sandwiches, waffles, empanadas – basically easy to-go food that you can enjoy during your hike.
Hiking Trails
There are plenty of hiking trails in and around Lake Puelo for those wanting to hike Patagonia off-the-beaten-path.
On the east end of town, you can get on the trail known as Sendero de la Virgen which eventually breaks off in 4 different directions: Virgen del Currumahuida, La Cruz, Camino del Faldeo and Subida La Lidia a Puesto Maninga.
These are just some of the trails around town. Aside from the above, you also have the trail network within Lago Puelo National Park.
Where to stay in Lago Puelo
B&B Casapuelo – cosy bed and breakfast featuring mountain views and free bikes to get around town.
Huala Hosteria – guesthouse set in a large garden with fruit trees and lavender fields. They also serve up a large countryside breakfast.
Linaje Hotel Boutique & Relax – boutique mountainside accommodations set on a ranch with fruit orchards and a swimming pool. This place is located on the outskirts of town so a vehicle is a must!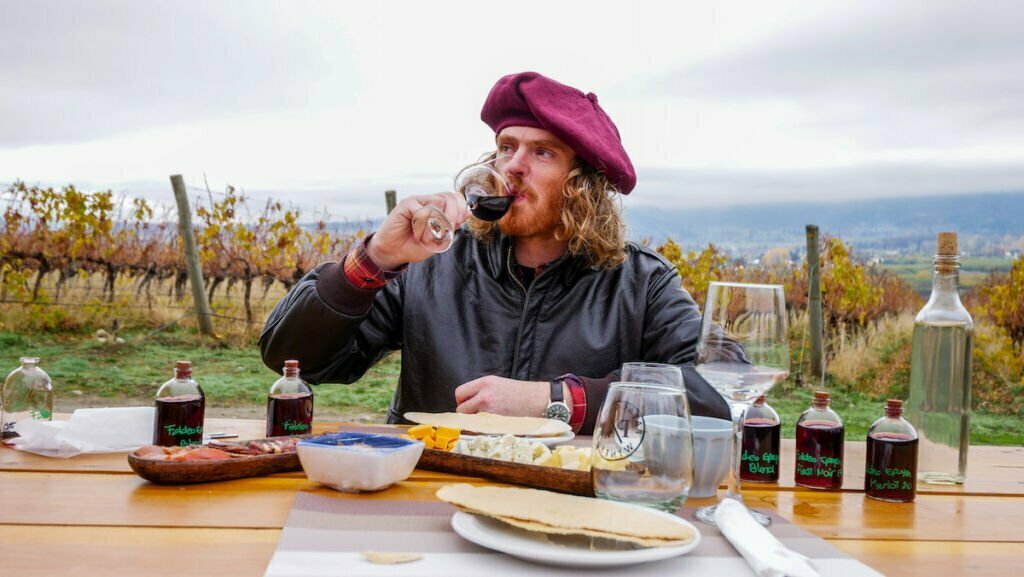 El Hoyo
For a taste of Patagonia off-the-beaten-path it's worth visiting El Hoyo, a small mountain community that's becoming known as an agrotourism destination thanks to all of its berry farms and vineyards. El Hoyo also offers some nice hiking opportunities and it is home to the largest labyrinth in South America.
Top attractions in El Hoyo
Vineyards and Wineries
Patagonia has a burgeoning wine scene and you can really see this in the town of El Hoyo.
Some vineyards and wineries to visit include:
Mamarelli Wines
Bodega y Viñedos Ayestarán Allard
Bodega y Viñedos Oriundo
Patagonian Wines
We visited Patagonian Wines and opted for a vineyard picnic and wine tasting which was a lot of fun!
Once we arrived at the vineyard, we were presented with a picnic basket that we chose to enjoy out on the picnic tables with views of the mountains, valleys, and surrounding vines.
We sampled 3 different wine varieties and enjoyed them with a charcuterie board featuring smoked trout, wild boar and an assortment of cheeses.
Afterwards, we went on a guided tour of the property and learned about their wine-making process.
View this post on Instagram
Berry Farms
El Hoyo is the 'National Capital of Fine Fruit' and it even hosts the National Fine Fruit Festival every year in January.
This makes it a fun agrotourism destination where you can spend time visiting farms, picking berries, and buying local jams.
LatitudSur Berries is one of the many places you can visit. They offer guided tours and you can walk through their fields of raspberry and blackberry bushes.
Laberinto Patagonia
Laberinto Patagonia is the largest labyrinth in South America!
Tucked away in a 5-hectare estate, this labyrinth has 2,200 metres worth of paths and it offers beautiful views of the whole valley.
It's a fun activity to enjoy and they also have an amazing tea house on site where you can try a delectable chocolate cake loaded with local berries.
Where to stay in El Hoyo
Hosteria El Hoyo – guesthouse with a beautiful garden, mountain views and an on-site restaurant.
Chacra El Monje – modern yet cosy two-bedroom cabin on the outskirts of town.
Cabañas del Sauce – one-bedroom cottage or two-bedroom bungalows with a swimming pool.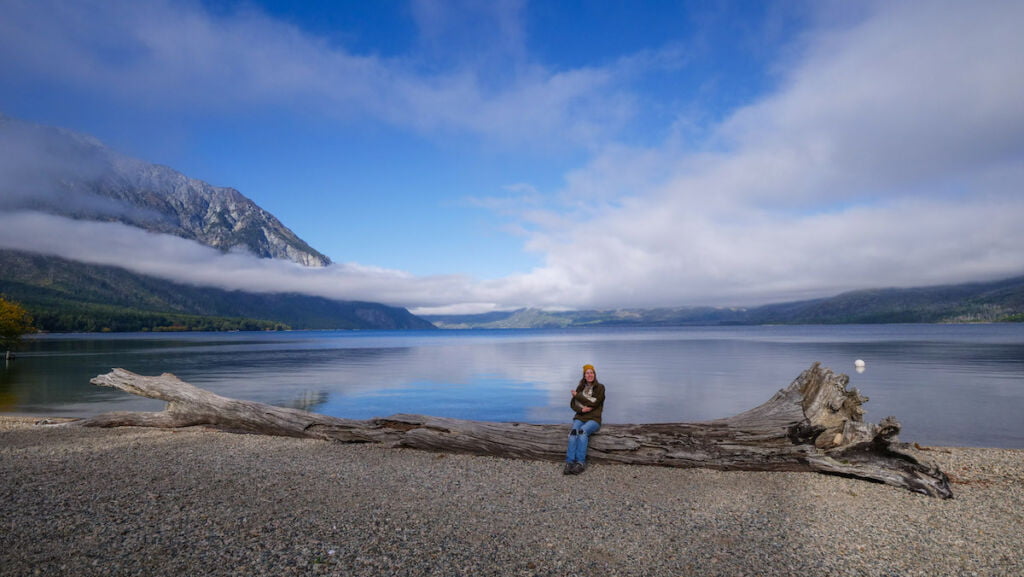 Epuyén
The small mountain village of Epuyén sits on the shores of Lake Epuyén, which is said to be one of the clearest lakes in Argentina with cool crystalline waters. The main attractions here centre around nature and the outdoors and it's very much an underrated place to visit in Patagonia.
Top attractions in Epuyén
Puerto Patriada
Puerto Patriada is the port on the northern tip of Lake Epuyén, which ironically is closer to El Hoyo than it is to Epuyén.
This is a nice place to spend the day; you can either pack a picnic or enjoy one of the many restaurants, cafes and ice cream shops that open their doors during the summer months.
Aside from that, you can also go kayaking, canoeing or stand-up paddle boarding.
There are also hiking trails to enjoy, one of which leads to a beautiful pebbly beach.
Epuyén Stupa
The Epuyén Stupa, also known as Samanthabadra, is the largest and southernmost stupa in Argentina.
This Buddhist monument sits atop a mountain where colourful flags flap in the wind and visitors can enjoy a quiet moment of meditation.
The stupa can be reached on foot; you can view the trail here.
Puerto Bonito Municipal Park
Puerto Bonito Municipal Park sits on the eastern shore of Lake Epuyén right next to the village of Epuyén.
There are a couple of beaches on this end of the lake as well, plus you can visit Centro Cultural Antu Quillen, where you can buy handicrafts made by various local artists.
They also host concerts and other cultural events throughout the year.
Where to stay in Epuyén
La Amarilla – one-bedroom apartment with patio and mountain views.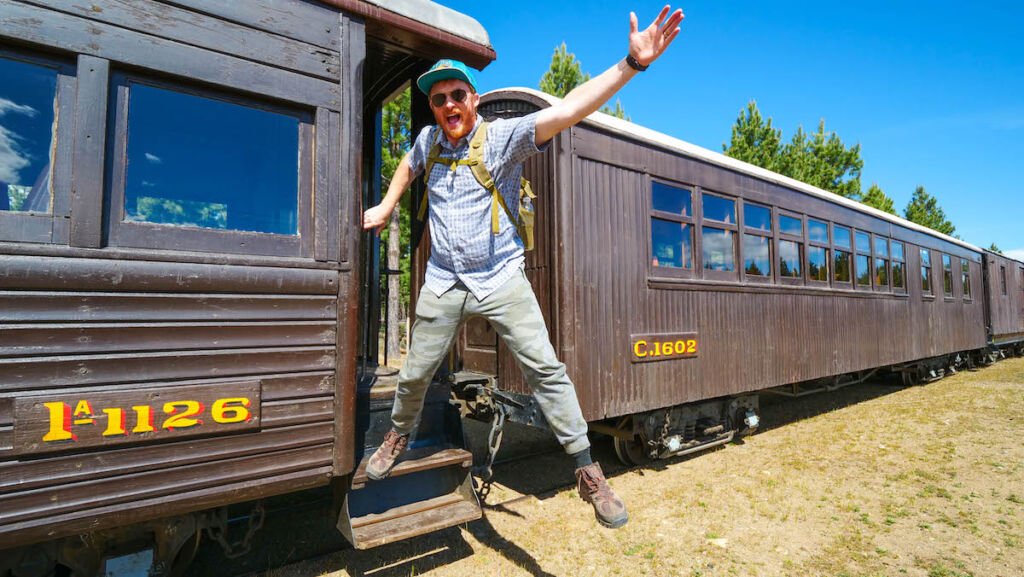 El Maitén
El Maitén is a small Patagonian town that sits on the shores of the Chubut River surrounded by farms. The town has strong links to the Old Patagonian Express since it was the intermediate point on the railroad tracks between the towns of Ingeniero Jacobacci and Esquel.
Top attractions in El Maitén
Old Patagonian Express
The top attraction in El Maitén is the famous Old Patagonian Express train, locally known as La Trochita.
The most famous route is the one that runs from Esquel to Nahuel Pan, however, if that's too far out of the way, you have the option of riding the lesser-known train from El Maitén to Desvío Bruno Thomaé.
This is a 26-kilometre journey across the Patagonian steppe offering mountain views on the horizon. This leg of the journey is a bit flatter than the Esquel-Nahuel Pan section, however, it's still an enjoyable experience.
You can also cross over to the dining car to enjoy a meal during your journey.
If you do the tour, it's worth arriving early in order to visit the Railway Museum and the Locomotive Repair Shop.
Where to stay in El Maitén
Accommodation options are very limited in El Maitén, so it might be best to stay in one of the neighbouring towns.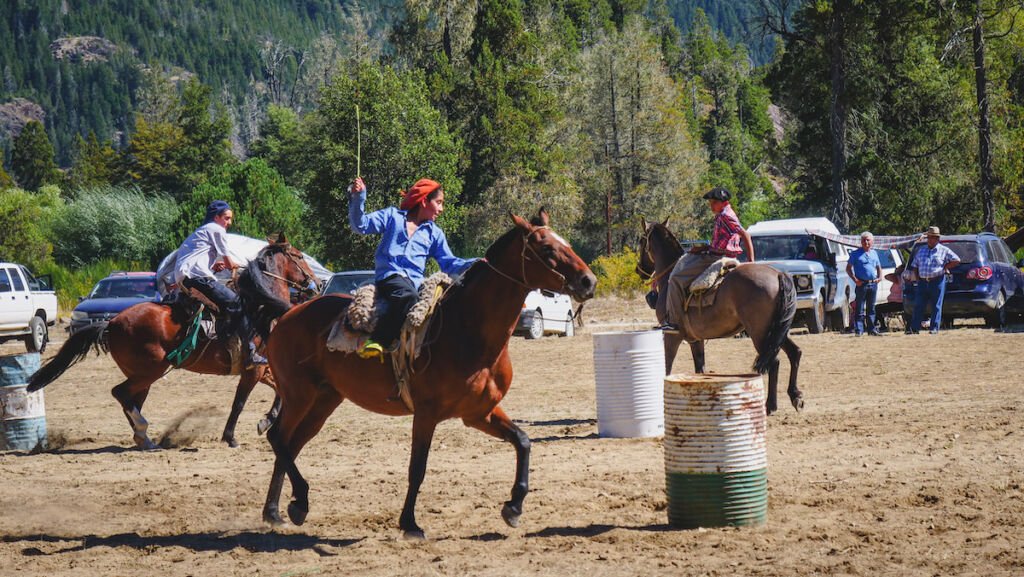 El Manso
El Manso is a small blink-and-you'll-miss-it rural destination quite close to the border with Chile. It's Patagonia off-the-beaten-path and a great place to disconnect and go off-grid. There isn't much here save for a handful of farms, but the river is spectacular and camping is the thing to do.
Top attractions in El Manso
Camping or Glamping
El Manso is best known as a camping destination with multiple campgrounds set up along the shores of the Río Manso.
These range from basic campsites where you can bring your own tent to more elaborate luxury glamping accommodations like those offered by Río Manso Camp.
This is a beautiful but remote destination quite close to the Argentine-Chilean border, so you'll want to bring everything you need with you to avoid driving back and forth to the nearest town.
View this post on Instagram
Rafting on Río Manso
Another popular activity in El Manso is river rafting on the Río Manso, whose name translates to 'Gentle River'.
But don't let the name fool you because Río Manso has class III & IV rapids.
If you're looking for something with less adrenaline, opt for the 'family float' which takes you on a leisurely float down a calmer part of the river.
River rafting in El Manso is an activity you can book with Río Manso Expediciones.
Fiesta Gaucha
Fiesta gaucha literally translates to 'gaucho party' and it's a festival that celebrates Patagonia's gaucho heritage and traditions.
These events typically draw a lot of people and it's an opportunity to watch horse races, cattle roping, bronc riding, not to mention the live music, traditional dances and asados (BBQs) that also take place.
The fiesta gaucha event is something that only happens a couple of times a year, but if you happen to be in the area at the right time, it's worth attending.
I would suggest checking out the El Manso Turismo Facebook Page for upcoming events.
Where to stay in El Manso
Accommodations in El Manso consist of campsites.
These include Camping La Pasarela del Manso, Camping Parador El Maitén, Camping La Estancia, Camping Tierraventura, Camping Río Manso, and Camping Los Aromos.
All of these campsites are right next to each other on the shores of Río Manso.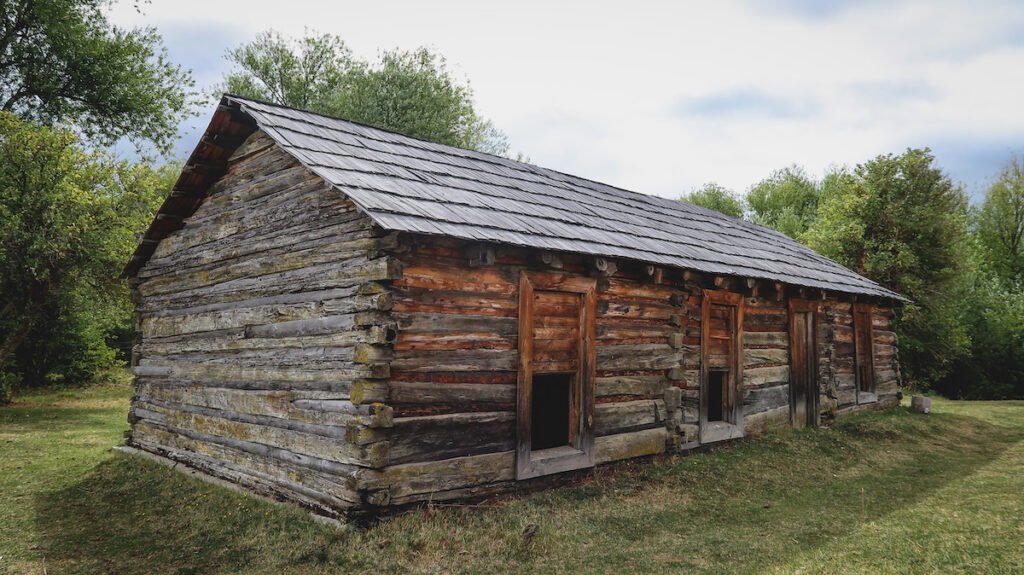 Cholila
Cholila is a small Andean town made up of four valleys and its name means 'beautiful valley' in the Mapuche language. This is a very green area surrounded by lakes and rivers, and it offers camping and cabins for those who want an off-the-beaten-path Patagonian holiday.
Top attractions in Cholila
Festival Nacional del Asado
Once a year thousands of people descend upon the small Patagonian town of Cholila to attend an event unlike any other: La Fiesta Nacional del Asado!
If there's one thing you need to understand about Argentina, it's that an asado (or barbecue) is an event that brings people together. It's not just about eating meat, but the sobremesa which is the tradition of spending time relaxing after a meal, chatting, and enjoying each other's company. This is why asados are usually a full-day event.
Now take this, add thousands of people attending the biggest party of the year with gauchos grilling thousands of kilos of meat. Plus add live music, folklore dancing, horse competitions, and you've got yourself quite the festival!
The National Asado Festival is a one-of-a-kind event with great energy, so if you're planning to travel to Patagonia during the month of February, you need to check it out!
Cholila Ranch
Cholila has become synonymous with Butch Cassidy and the Sundance Kid, but how did two American outlaws end up in Patagonia?
Well, after their criminal activities caught up with them in the American Wild West, they boarded a British steamer called the Herminius using fake identities and sailed to Buenos Aires, Argentina.
They eventually made their way south, passing through Trelew, and settling in Cholila. They were searching for a place in Patagonia off-the-beaten-path – a place where they could lose themselves, and they found it here.
In Cholila, they bought land, cattle, sheep and horses and lived in a four-room cabin.
Today, you can visit the Cholila Ranch and the museum which recounts the tale of the doomed outlaws.
Where to stay in Cholila
Piuke Mapu Patagonia Hostel – eco-friendly hostel with scenic views and parkland offering bunk and double rooms with shared bathroom, or a queen room with ensuite.
Cabaña Ollagua – sustainable 2-bedroom chalet on the outskirts of town with lake views.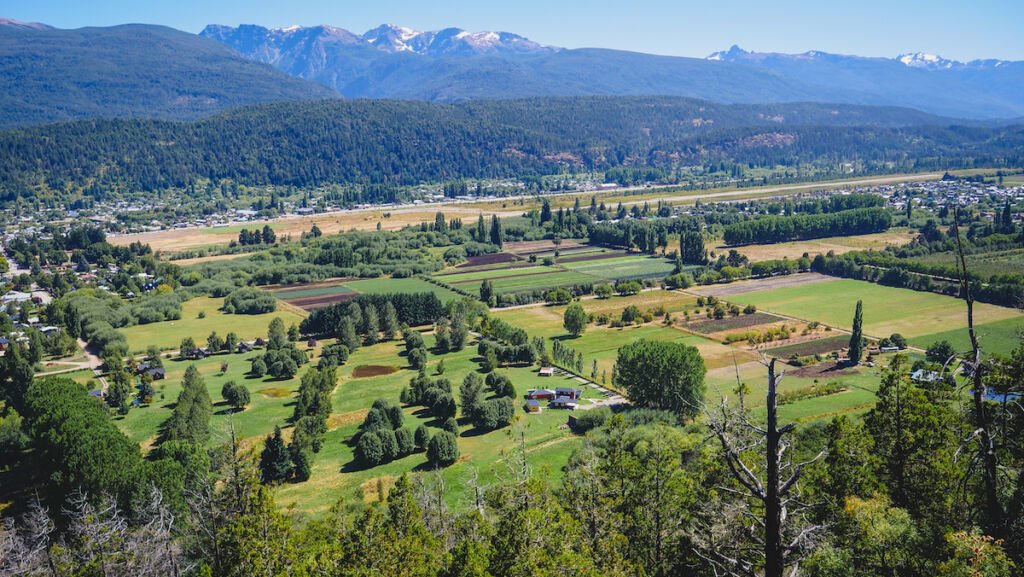 El Bolsón
El Bolsón is the best-known of these 7 underrated destinations in the Comarca Andina, however, it's still a well-kept secret when you compare it to the likes of Bariloche. This mountain town has the most epic mountain views and you can still experience Patagonia off-the-beaten-path via the many hiking trails, some of which lead to turquoise swimming holes.
Top attractions in El Bolsón
Sculpture Forest
The Sculpture Forest, or Bosque Tallado, is a major highlight in El Bolsón, located on Cerro Piltriquitrón.
The art project emerged after fires devastated part of the mountainside. Seizing the chance to turn tragedy into beauty, local artist Marcelo López invited fellow artists to create sculptures using burnt and fallen trees.
This inspiring initiative began in 1998 and continues to evolve, with new artists invited every few years to contribute to the ever-growing Sculpture Forest.
Local Hiking Trails
El Bolsón is a paradise for hiking enthusiasts, boasting numerous scenic trails and breathtaking landscapes to discover.
The area is famous for its lush forests, pristine rivers, and mountain panoramas, attracting nature lovers and adventure seekers alike. The trails vary in length and difficulty, offering options for all skill levels.
Among the notable trails are Cerro Amigo, Cascada Escondida, Cabeza del Indio, Cajón del Azul, and Cerro Piltriquitrón, each promising a rewarding and unforgettable hiking experience.
Feria Artesanal
El Bolson's Feria Artesanal is an outdoor hippie fair that takes place in Plaza Pagano on Tuesdays, Thursdays, Saturdays and Sundays.
It's one of El Bolsón's main attractions featuring over 200 vendors selling everything from leather goods and tapestries to honey and natural cosmetics.
You can also find food trucks on site where you can enjoy some classic Argentine foods like empanadas (a meat-filled pastry) and choripán (grilled sausage on a bun).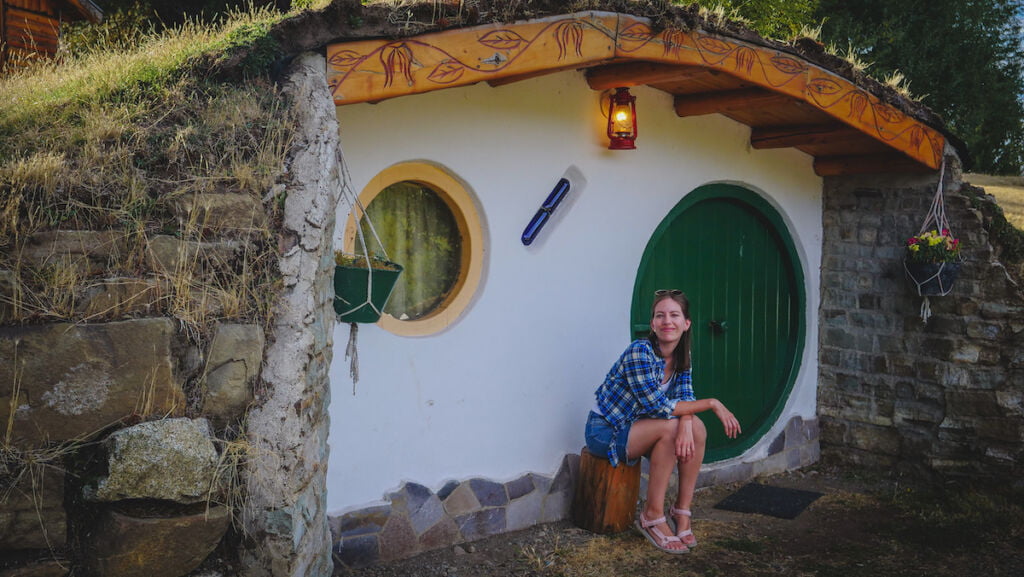 Where to stay in El Bolsón
La Aguada – boutique accommodations with a swimming pool, gardens and epic mountain views at the foot of Cerro Piltriquitrón.
Casas Chaura – artsy two-story cabins ideal for 2-5 guests just 6 blocks from the centre of town.
Camping La Cascada – campsite on the outskirts of town right next to a waterfall and the botanic gardens, featuring a mix of hobbit houses, tiny cabins, and campsites.
If you enjoyed this article about exploring Patagonia off-the-beaten-path, you may also enjoy this list of places to visit across Patagonia or you can browse all of our Patagonia blog posts for further travel inspiration.