Today we're sharing some of the best things to do in El Bolson, a hippie mountain town located in Northern Patagonia, Argentina.
El Bolson lies in a valley surrounded by jagged mountain ranges on either side, the local architecture features lots of log cabin-style buildings, and the town itself has a very easy-going and laid-back feel.
The main draw to El Bolson is its pristine nature, of course! There are hiking trails that meander up the rocky mountains, swimming holes with turquoise waters, and cascading waterfalls tucked away in the woodland. It's every outdoor lover's paradise!
This town is one of the most beautiful places in Patagonia and in this El Bolson travel guide, we're going to be sharing some of the highlights!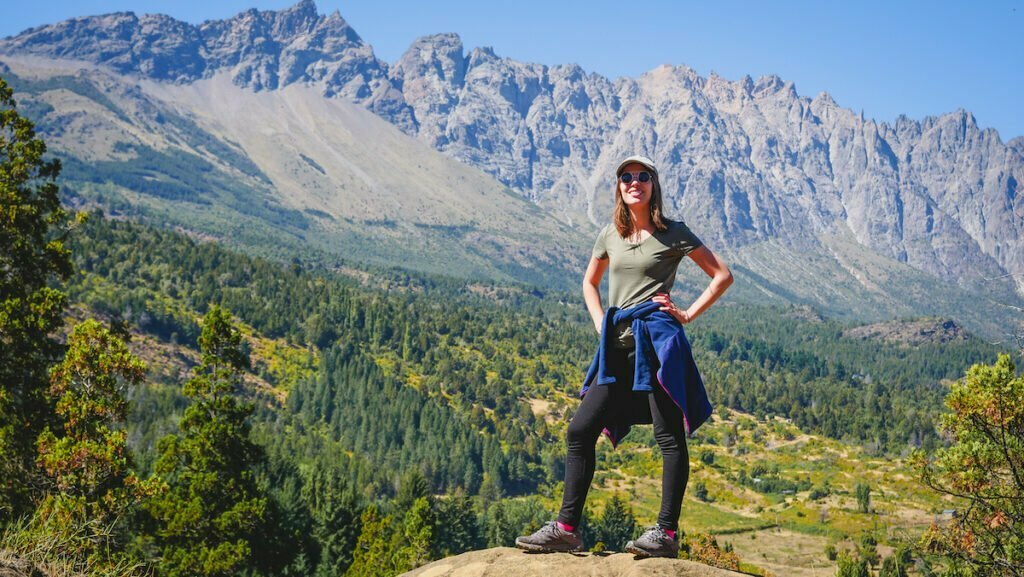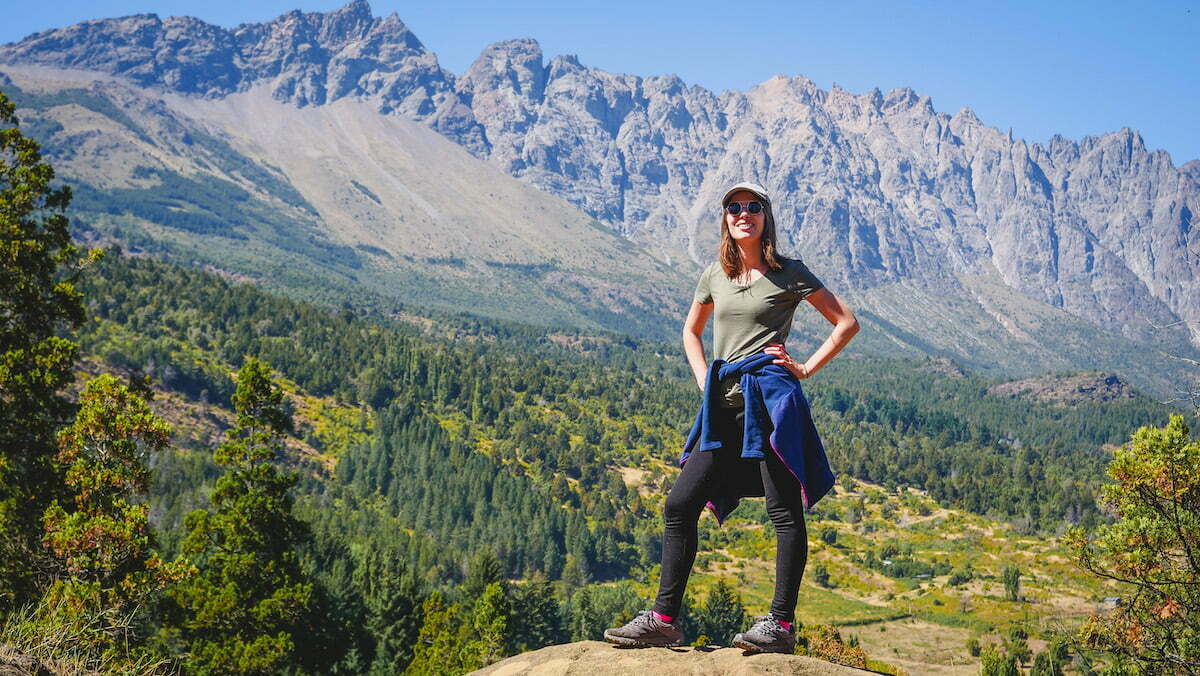 How to get to El Bolson
So, where is El Bolson?
El Bolson is located in the Province of Río Negro in Northern Patagonia.
The nearest airport is in the city of San Carlos de Bariloche, which is 2 hours or 138 kilometres north of El Bolson.
If you're planning a Northern Patagonia road trip, then renting a car is the best way to get to El Bolson and thoroughly explore the area.
Alternatively, there are buses that connect Bariloche with El Bolson, or Esquel with El Bolson if you're arriving from the south.
Via Bariloche has multiple departures per day and offers a good service.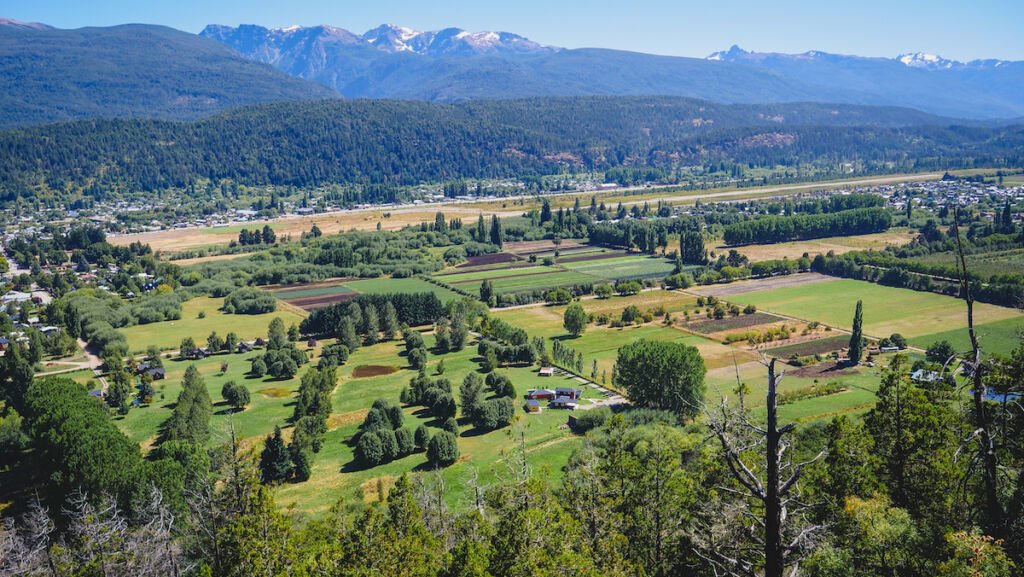 Is El Bolson worth visiting?
Absolutely! El Bolson is one of our favourite mountain towns in Patagonia and we think it's worth a spot on your Patagonia itinerary.
If you want to experience Patagonia off-the-beaten-path, enjoy spending time in nature, being surrounded by mountains, visiting craft breweries, and indulging your sweet tooth in artesanal ice creams and chocolates, then you're going to enjoy what El Bolson has to offer.
How long should you stay in El Bolson?
Ideally, you'd want to spend at least 3 days in El Bolson in order to cover the main attractions and enjoy some of the local hikes.
With 5-7 days you could add on some of the day trips which including a national park, neighbouring lakeside towns, and even a ride aboard a very famous train.
That being said, if you are pressed for time, there is a day tour to El Bolson from Bariloche, which also includes a visit to Lago Puelo National Park.
You'll only be able to cover a handful of attractions in the town with one day, but it'll give you a taste of El Bolson.
Things to do in El Bolson
There are lots of things to do in El Bolson and as you'd expect from a mountain town, most of these activities are outdoors.
That means epic mountain views all around!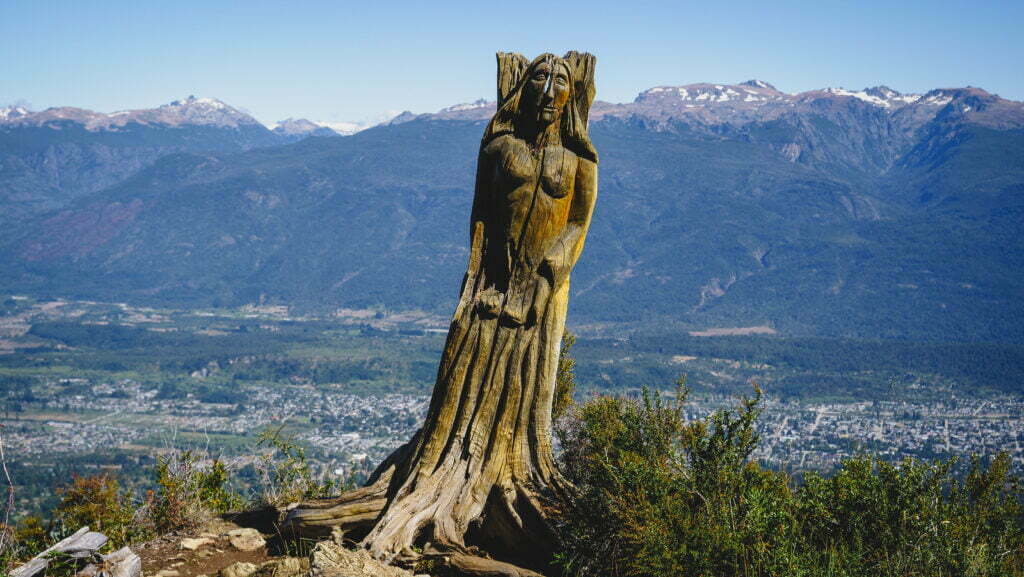 Bosque Tallado
One of the more unique attractions to visit in El Bolsón is the Carved Forest, also known as Bosque Tallado.
This sculpture forest is located on Cerro Piltriquitrón at 1,420 meters above sea level, and it came to be after a series of fires burnt down part of the mountainside.
Marcelo López, a local artist, came up with the idea of inviting fellow artists to come and use the burnt and fallen lenga trees as their canvas.
These sculpture-carving gatherings were organized in 1998, 1999, 2003, 2007, 2010, and 2014 adding new sculptures to the forest every few years.
Aside from the artwork, the Sculpture Forest is a beautiful hike that offers impressive views of the town of El Bolsón and the surrounding mountains!
Hippie Fair
El Bolsón is well known for its artesanal fair that sets up in Plaza Pagano every Tuesday, Thursday, Saturday and Sunday.
There are around 200 stalls selling ceramics, leather, tapestries, candles, honey, jams and even natural cosmetics.
Plus, we can't forget all the food trucks where you can sample empanadas, choripán, crêpes, hamburgers and more.
Monte Viejo Artesanías
This shop sells beautiful Argentine handicrafts and it's the ideal place to pick up some local souvenirs.
They have jewellery made by local artists, including the owner of the store himself.
You can also find mates and bombillas, gaucho hats, knit vests, ceramics, ponchos and wool sweaters.
The staff are also incredibly sweet and friendly, so it's a nice place to shop.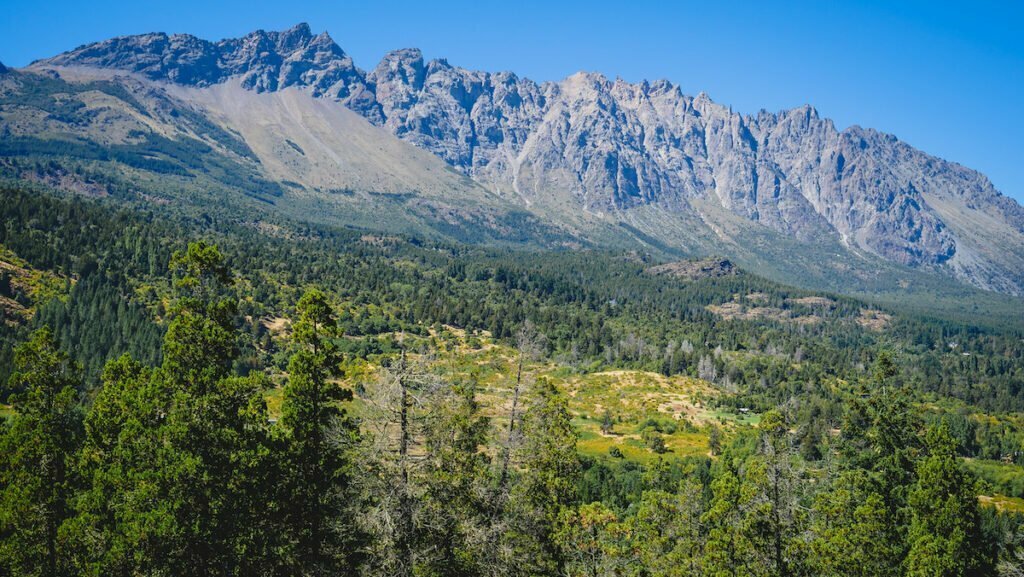 Hiking in El Bolsón
El Bolsón is a great hiking destination and there are numerous trails to choose from all ranging in length and level of difficulty. A few to consider include:
Cerro Amigo – This is an easy hike that leads to 3 different lookout points offering town and mountain views. (2 kms, 30 mins)
Cascada Escondida – The hidden waterfall is accessed via the Botanical Garden and it's a short and easy trail. (1,4 km, 25 mins)
Cerro Piltriquitrón – This is the most iconic mountain in El Bolson and its name means 'hanging from the clouds'. The hiking trails leads up to a mountain refuge where you can spend the night or at the very least enjoy a meal. Be warned, it is a steep hike! (9.3 kms, 5 h)
Cabeza del Indio – This hike leads to a lookout of the valley where you can see the Río Azul and there's also a rock that resembles a human head. (6.8 kms, 2 h 15 mins)
El Cajón del Azul – This hiking trail starts at the Wharton Farm and leads you to a forested river canyon with crystalline waters that range from turquoise to emerald. It's a popular summer destination to enjoy a swim, and the trail can also be done on horseback. (17.4 kms, 5 h 45 mins)
You can find a complete list of hiking trails in El Bolsón on the All Trails website.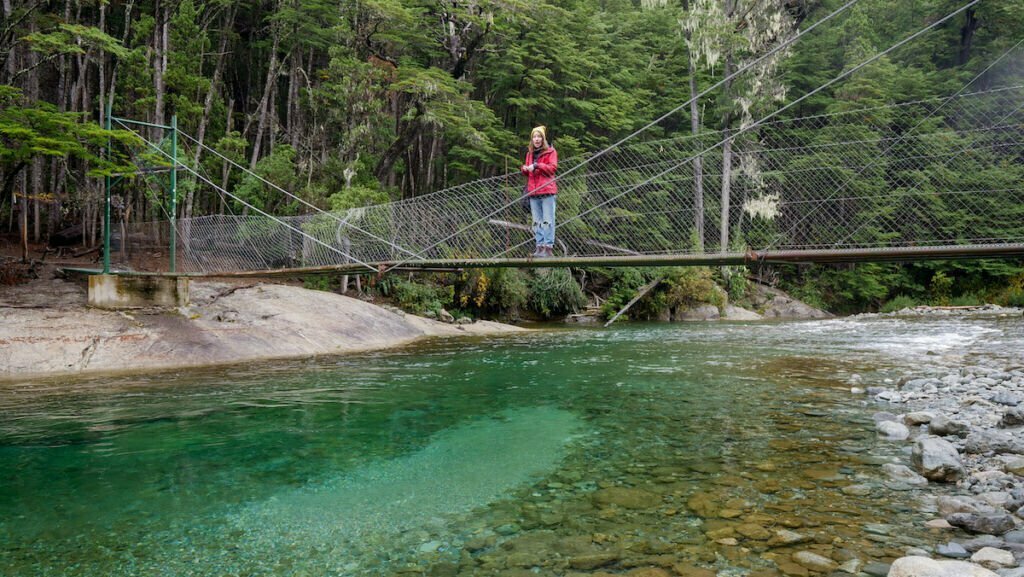 Day trips from El Bolson
There are so many fun day trips you can enjoy from El Bolsón – all of them featuring spectacular nature.
Also fun fact, the day trips listed below are all in the Province of Chubut! El Bolsón is located in the Province of Río Negro, but it is so close to the border with Chubut, that it's super easy to cross over and explore.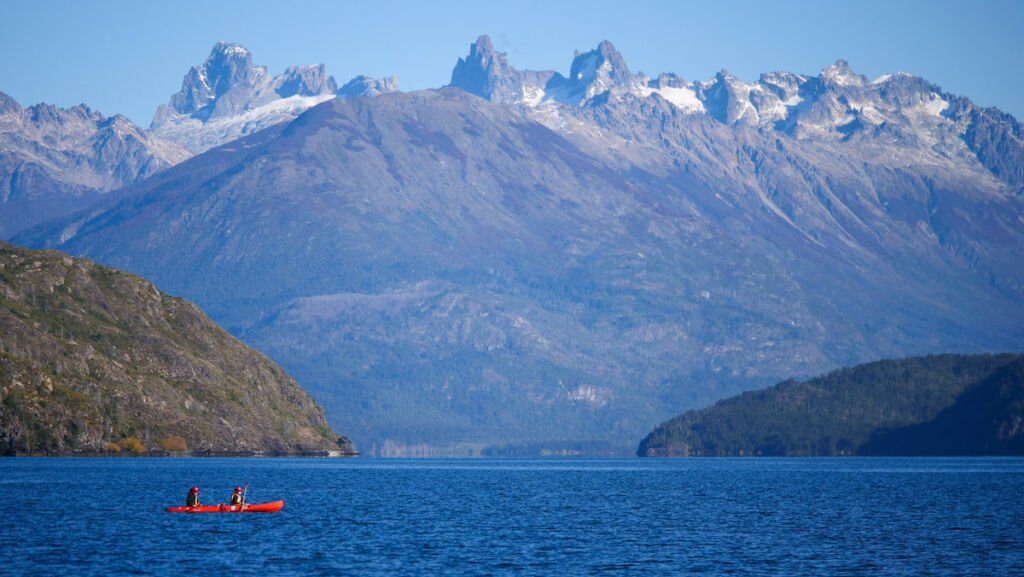 Lago Puelo
One of my personal favourite trips from El Bolsón is to Lago Puelo, which is located only 30 minutes south of town.
Lago Puelo is both a town and a national park. First you'll pass through town, and then you'll reach the park which is name after the lake.
This park offers lots of hiking trails with incredible lookout points where you can admire the beauty of Lake Puelo.
There are also boat tours that allow you to experience some of the park highlights and even hike to the Chilean border.
During the summer season, food trucks park close to the beach so you can enjoy a picnic with a view.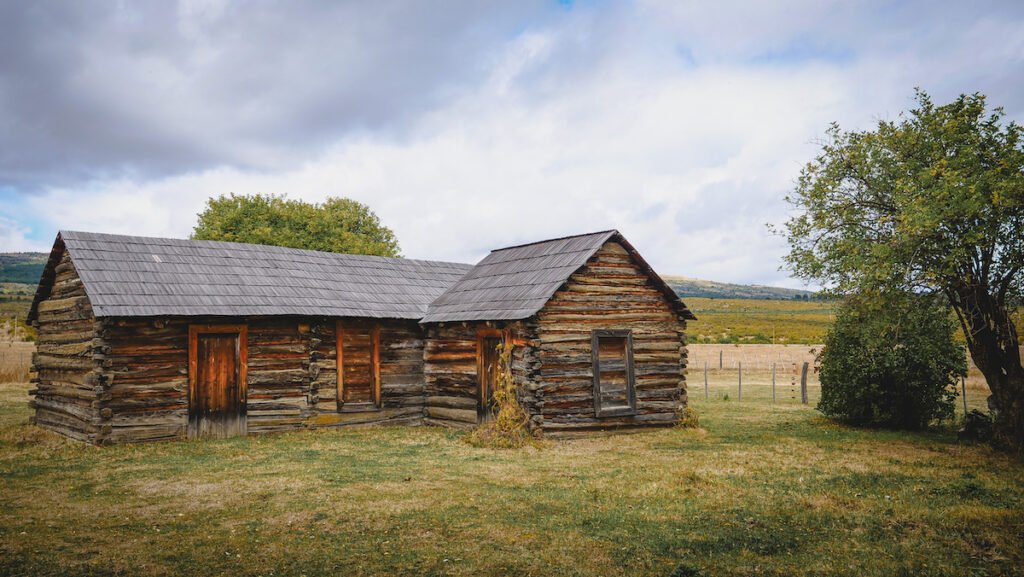 Cholila
Another easy day trip from El Bolsón is the Cholila Ranch that was once home to Butch Cassidy and the Sundance Kid.
These two outlaws earned themselves quite the reputation as bank and train robbers in the days of the American Wild West.
After law enforcement got a little too hot on their trail, they decided to escape to Patagonia.
Here they purchased land and bought cattle, however, they couldn't outrun their past. When the Pinkerton Detective Agency tracked them down, a local sheriff gave them the heads up so they could get out of dodge.
Butch Cassidy's Ranch is located just under 1 hour south of El Bolsón.
Getting there involves driving along National Route 40 and then turning west on Provincial Route 71. It's then on the right hand side just 10 kilometres outside the town of Cholila.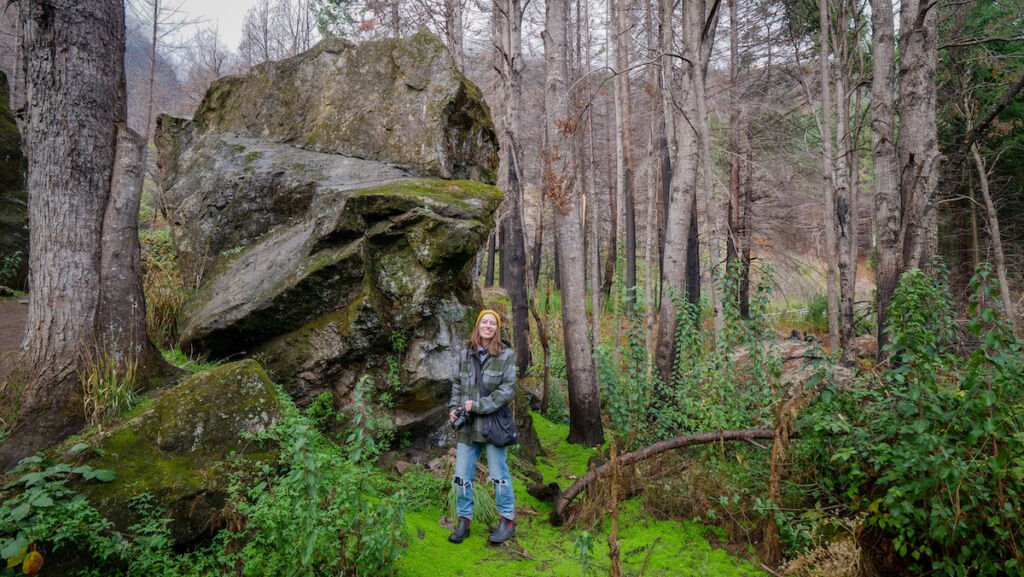 El Hoyo
Another day trip from El Bolsón to consider is El Hoyo.
This is only a 40-minute drive south of El Bolsón along National Route 40.
One of the main attractions in El Hoyo is Laberinto Patagonia, the largest labyrinth in South America! It sits on a 5-hectare estate and has 2,200 metres worth of paths. They also have a wonderful tea house on site with the most scrumptious cakes.
If wineries are more your thing, you'll be glad to hear that El Hoyo has a growing wine scene. A few to visit include Patagonian Wines, Bodega y Viñedos Ayestarán, and Allard Mammarelli Wines.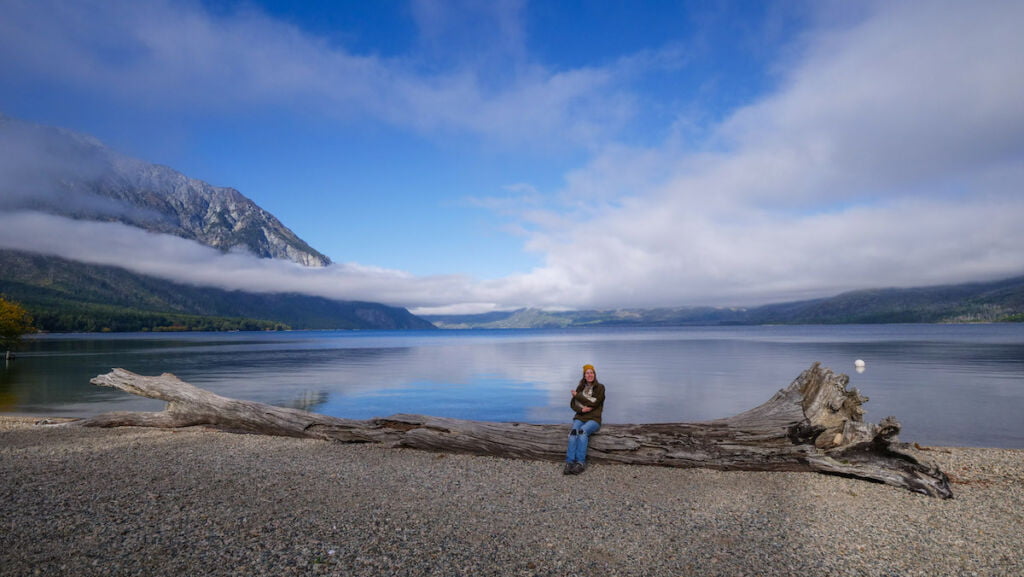 Epuyén
Another relatively short and easy day trip from El Bolsón is to Epuyén, just a 40-minute drive south of El Bolsón.
This town is best known for Lago Epuyen, a lake of glacial origins with crystalline blue waters that look out of this world.
People come to a point on the lake known as Puerto Patriada to enjoy a lakeside picnic with a bit of hiking, or even some kayaking.
Epuyén also has a buddhist stuppa, which with the surrounding mountain peaks, will make you feel like you've been transported to Nepal.
Plus it has a brewery and restaurants, so you won't go thirsty or hungry.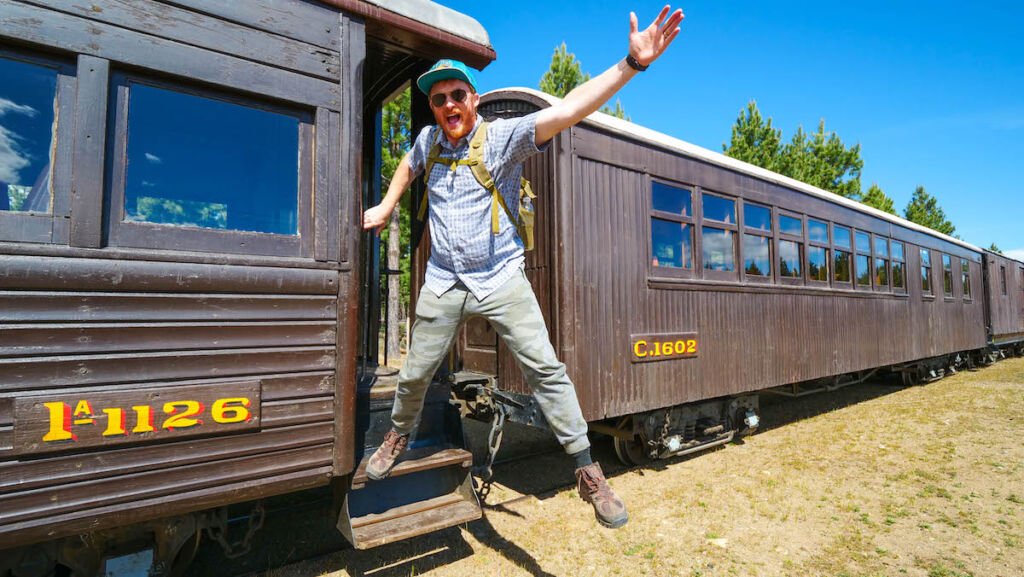 El Maitén
El Maitén is a popular day trip from El Bolsón for those wanting to ride aboard the Old Patagonian Express.
While the most famous train route is the one that runs from Esquel to Nahuel Pan, there is another segment that runs from El Maitén to Desvío Bruno Thomaé.
This is a 26 kilometre train journey across the Patagonian steppe.
It's also worth arriving at the train station early in order to visit the Railway Museum and tour the Locomotive Repair Shop.
You can reserve this excursion at Grado 42, a tour agency that's located right in the centre of town on Avenida San Martín.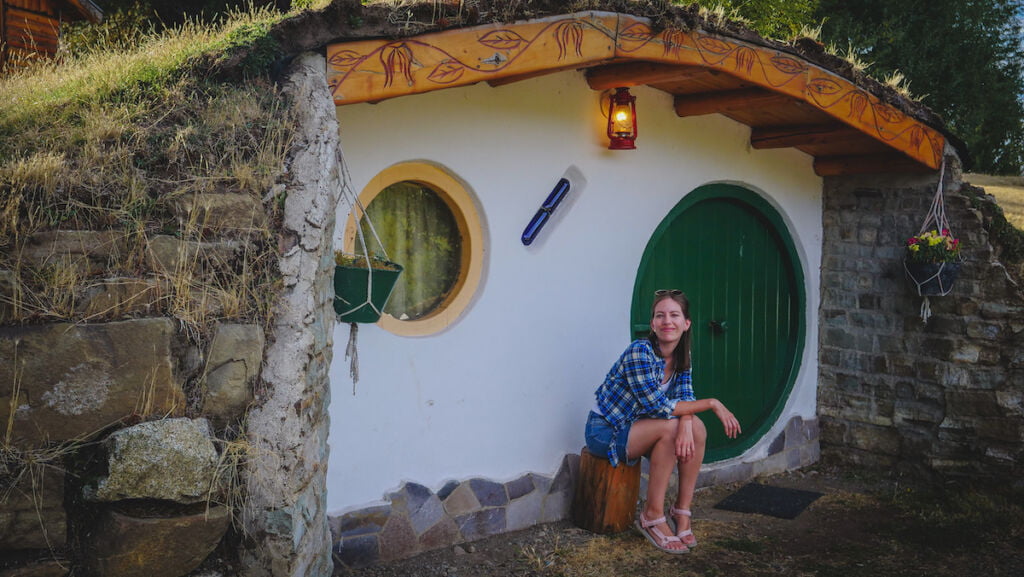 Where to stay in El Bolson
El Bolson is no longer the quiet, sleepy, hippie mountain town it once was.
In fact, it draws its fair share of travellers during the summer months when the town's population dramatically soares!
That also means there's no shortage of accommodations, whether you're looking for log cabins or a guesthouse, a campsite or a hobbit home, you can find it all here!
La Aguada – high-end accommodations with mountain views, swimming pool and garden, all at the foot of Cerro Piltriquitrón.
Casas Chaura – artsy two-story cabins that can fit 2-5 people, located just 6 blocks from the centre of town.
Camping La Cascada – cool campsite in the outskirts of town next to the botanic garden and waterfall, featuring hobbit homes, tiny cabins, as well as campsites.
Where to eat in El Bolson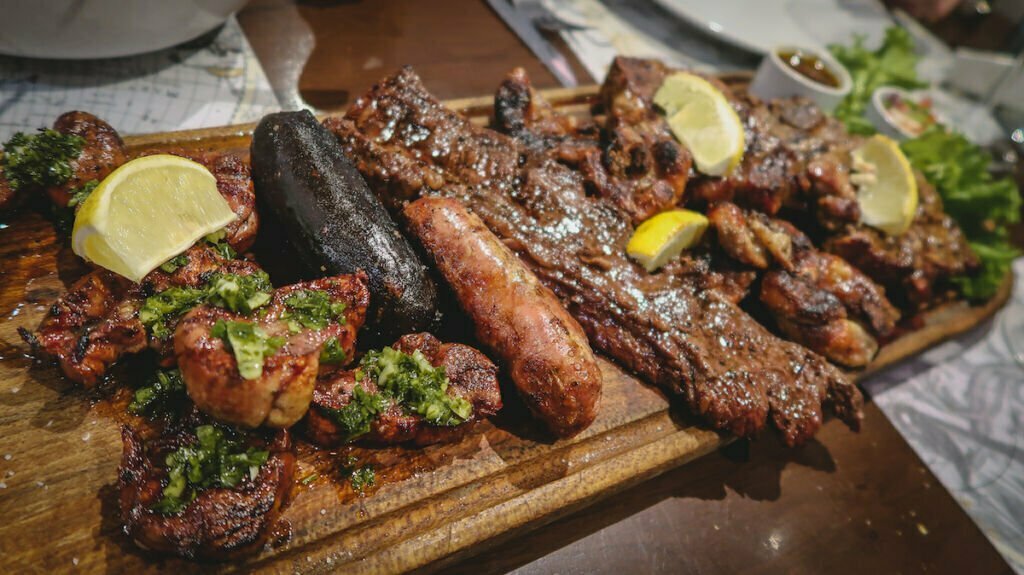 A Gusto
If you're travelling in Argentina and you're not vegetarian, you'll want to try the local cuisine, namely asado or parrillada. These names refer to an assortment of cuts of meat cooked on the grill over coals.
A Gusto in El Bolson does grilled meats very, very well!
Try their tablas de carne or meat platters to share. The tabla criolla features some classic cuts like rib eye steak, sirloin steak, pork sausage and blood sausage.
Either make a reservation or show up as soon as they open at 7pm – no Argentine would dine at this gringo hour, so you're almost guaranteed to get a table!
Address: Dorrego 539
Los Lúpulos
This restaurants does amazing pizzas and the best part is that they let you mix and match, so you can choose two different styles on one pizza.
The 'Los Lúpulos Pizza' with tomato sauce, mozzarella, sun-dried tomatoes, basil, Patagonian cheeses and olives was one of our favourites.
Address: Avenida San Martín 2740
El Tablón
This place specializes in pizzas and empanadas. We only tried the empanadas, but they were so good that we came back for more!
A few fillings to try include pancetta y ciruela (bacon and plum), carne cortada a cuchilla (cubed meat with a juicy sauce), and roquefort (blue cheese).
You can dine indoors or on the patio, but they also do take-out in case you're craving a quiet evening and just want to eat back at your place.
Address: Avenida San Martín 2467
Awka Cervecería
Next up, there's Awka Cervecería, a local craft brewery in El Bolson.
What do you feel like drinking? Golden, Kolsh, American IPA, Honey, Oatmeal, Barleywine? They've got it all!
Pair that with a juicy hamburger and a side of loaded potatoes with melted cheddar cheese, bacon and spring onions, and you've got yourself a great meal.
Grab a seat in the outdoor patio, enjoy the music, and soak in the magic of a cool Patagonian evening.
Address: Perito Moreno and Dorrego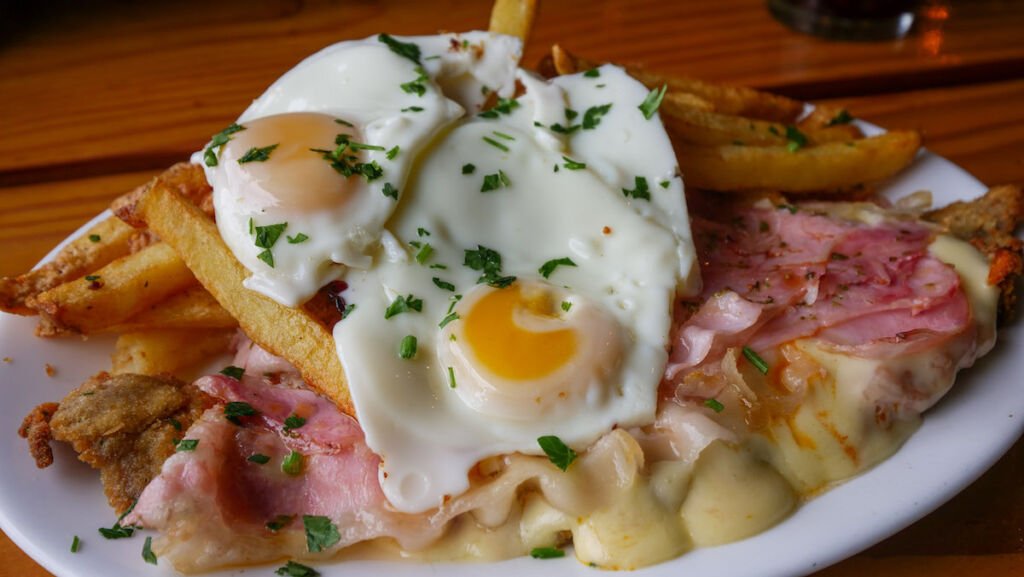 Patio Cervecero
This is a popular gathering place in El Bolson to have a few craft beers. They have blonds, reds, stouts, IPAs, honey and even raspberry beers on tap.
You can find a lot of classic Argentine dishes on the menu like milanesa al caballo, a breaded veal cutlet served with ham, cheese, and two fried eggs on top and a mountain of French fries on the side.
Frankfurters with chucrut, and Goulash with Spätzle are a few of their popular dishes.
Basically, hearty and filling food that pairs well with beer!
They offer outdoor seating on a patio as well as indoor seating.
Address: Avenida San Martin and Padre Feliciano
Helados Jauja
Patagonia is known for its artesanal ice creams, and in El Bolson, Helados Jauja is the place to go!
With flavours like Andean chocolate with walnuts, dulce de leche with brownies, and calafate berries with sheep's milk, there's plenty of temptation!
While Jauja has several locations across Patagonia, in El Bolson they also have an onsite cafe where you can enjoy more than just ice cream.
Their menu features sandwiches, pizzas, pastas, cakes, smoothies and a variety of teas and coffees.
Address: Avenida San Martín 2867
Café Paseo de las Flores
Café Paseo de Las Flores looks like something straight out of the shire. It seriously would not look out of place if a hobbit wandered out the front door.
The cafe set in a beautiful secret garden surrounded by all sorts of potted plants, cacti and blooms.
They only open in the afternoons, but it's the ideal place for an afternoon coffee or tea with a nice slice of cake.
In fact, they have a very fancy coffee menu featuring all sorts of concoctions. Want to add Fernet to your coffee? How about some Irish whisky? Or some rum for a more tropical feel? You can get as creative as you like!
Address: Azcuénaga 430