Los Alerces National Park is one of the most epic day trips you can do from Esquel!
Located in the Andes mountains in the majestic Province of Chubut, Los Alerces National Park is made up of a chain of interconnected rivers and lakes that weave their way through ancient forests.
Highlights include a boat ride on waters that shift from emerald to turquoise, seeing glaciers hanging from the mountain tops, and coming face to face with the second-longest living tree species in the world – the alerce which earns the park its name!
Los Alerces National Park is the kind of place that takes your breath away with its natural beauty, and it's definitely worth a spot on your northern Patagonia travel itinerary.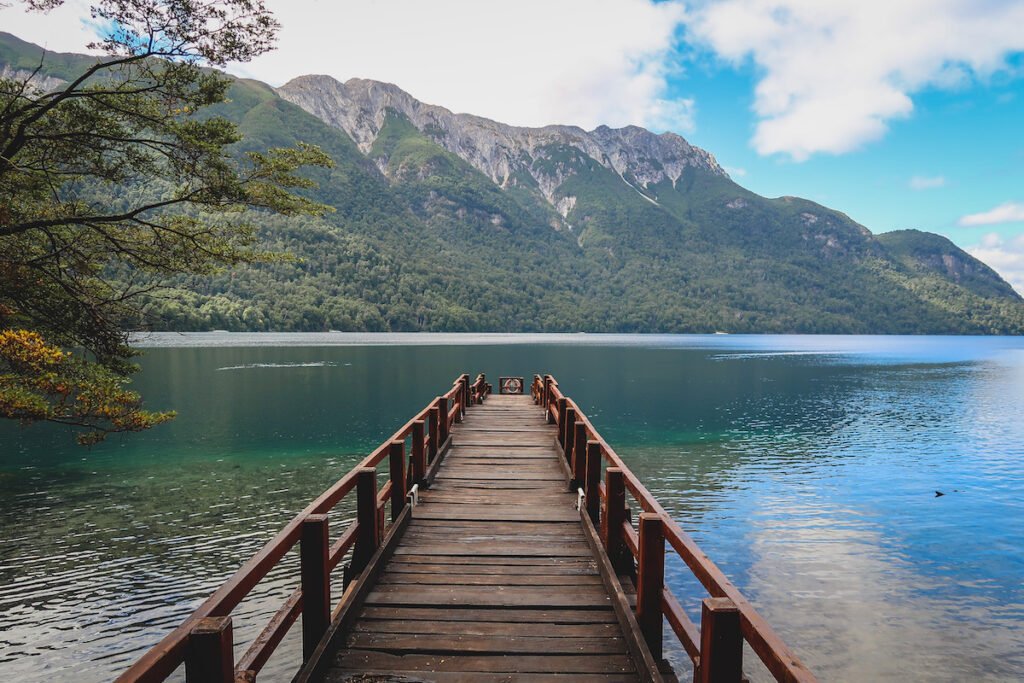 Getting to Los Alerces National Park
By car
If you want to explore Los Alerces National Park at your own pace, the best way to do so is by renting a car. This can be done in Esquel, which is the biggest town in proximity to the park.
You'll want to take Ruta Nacional 259 heading north, and then turn right on Ruta Provincial 71 to continue heading north towards the park.
From Esquel, it is 30 minutes until you reach the boundaries of the park, however, you'll have to drive 1 hour and 30 minutes to reach the centre of the park (the area around Pasarela Rio Arrayanes), which is the starting point for many tours and activities.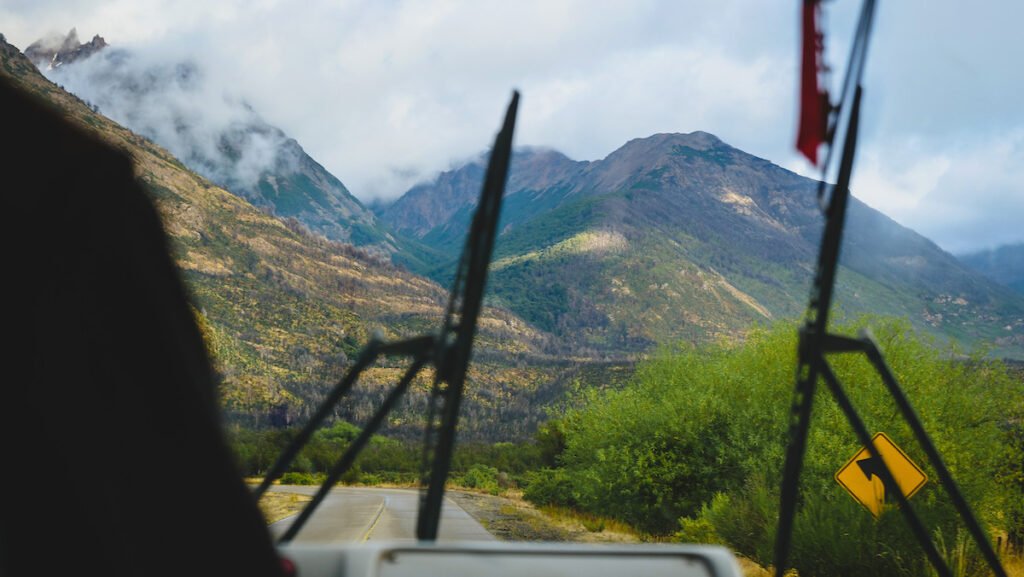 By bus
You can also take a bus from Esquel to Los Alerces National Park. However, since we were visiting during low season, there was only one daily bus with Transportes Esquel leaving in the early morning and returning in the evening.
We made sure to arrive at the bus terminal 1 hour ahead of departure to make sure we could get seats on the bus since you can't reserve tickets ahead of time and once they're gone, they're gone.
It's also imperative that you buy return tickets so that the bus driver will save you a seat on the journey back. There were some people who only paid for a one-way fare, and then the bus was full on the way back! The only options were hitchhike, try to get a taxi, or spend the night.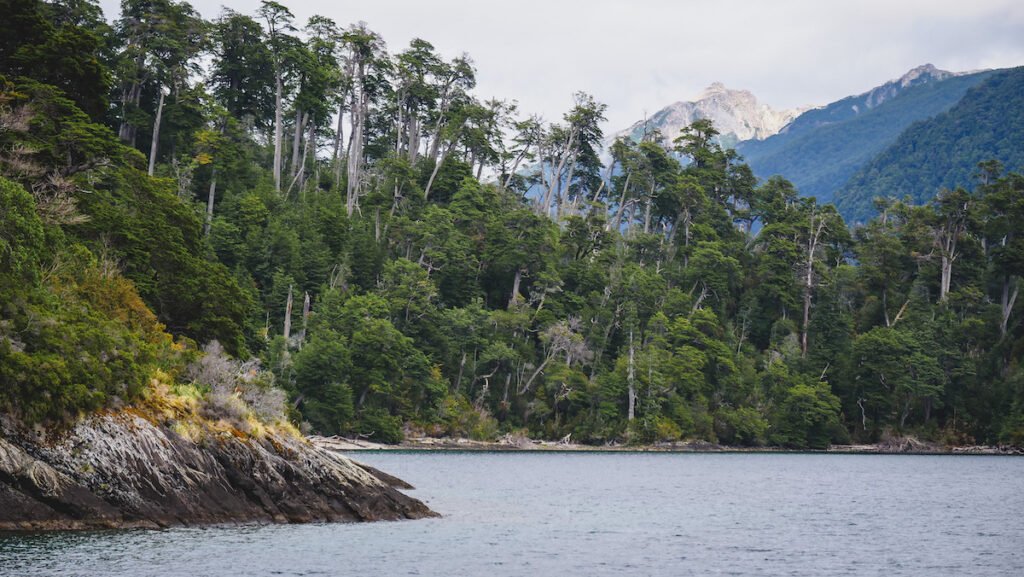 Tours to Los Alerces National Park
A guided tour is a great way to experience Los Alerces National Park and thankfully there are plenty of options to choose from depending on your interests.
The thing to keep in mind is that certain tours may offer transportation from Esquel, while others require that you make your own way to the park. So make sure you know how you're getting there before you book your excursion!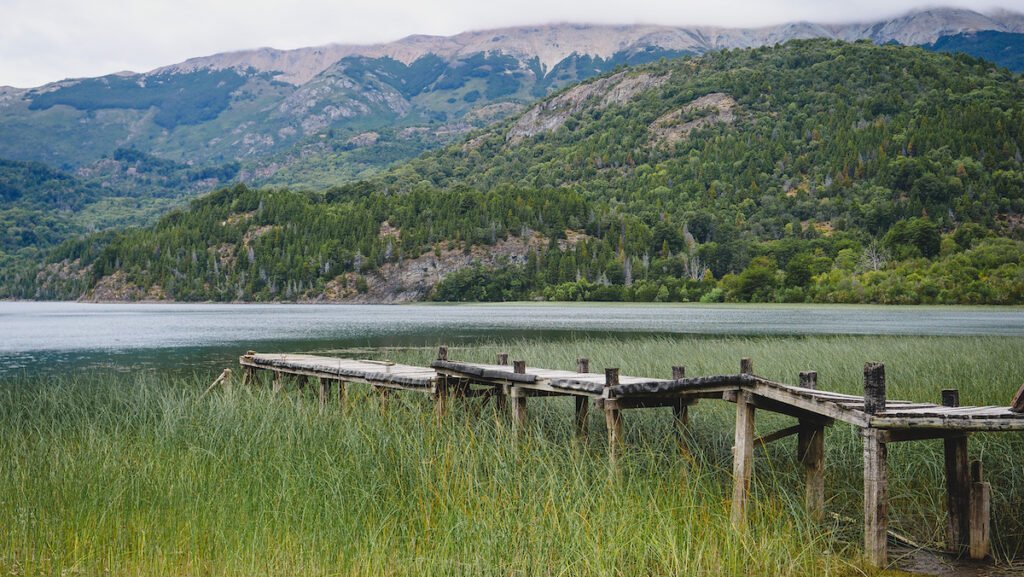 Our visit to Los Alerces National Park
Out of all the excursion available at Los Alerces National Park, we opted for the one that included a boat ride on Lake Menendez followed by a hike to visit the oldest-known alerce tree in the park, so that's the experience we will be sharing.
Hike to Puerto Chucao
Since the particular tour we chose didn't include a transfer, we asked our bus driver to drop us off at Pasarela Rio Arrayanes. From this point, we had a 20-minute walk ahead of us to reach Puerto Chucao where our tour was departing from.
The walk was beautiful! First we went over a suspension bridge that crosses the Arrayanes River, where we got to see the most incredible gem-coloured waters that went from teal to turquoise to emerald.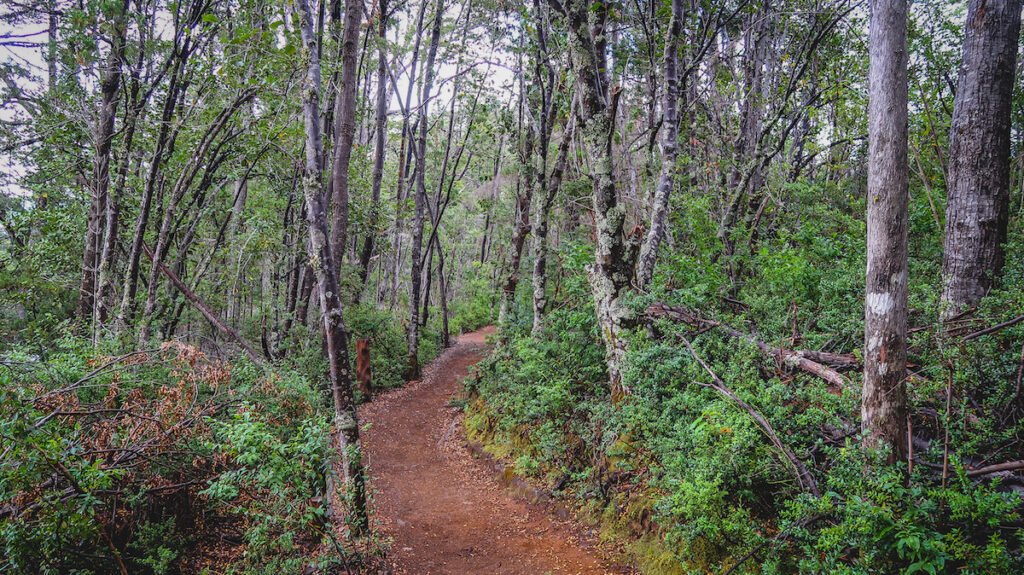 If was such a scenic walk, the kind that tempts you to stop for a photo every ten steps, but we had to keep the pace in order to make it to the starting point of our tour.
We eventually reached Puerto Chucao (with time to spare!), and this is where we met our guide and boarded the boat.
Boat tour of Lake Menendez
Much like the walk over to the port, the scenery on the boat tour was incredible! There were forested mountains everywhere we looked and we even got to see the Torrecillas Glacier (you can trek up to the glacier but that's a different excursion offered by Glaxiar).
We had ideal weather that day so we were able to go out on the boat's top deck and enjoy the views.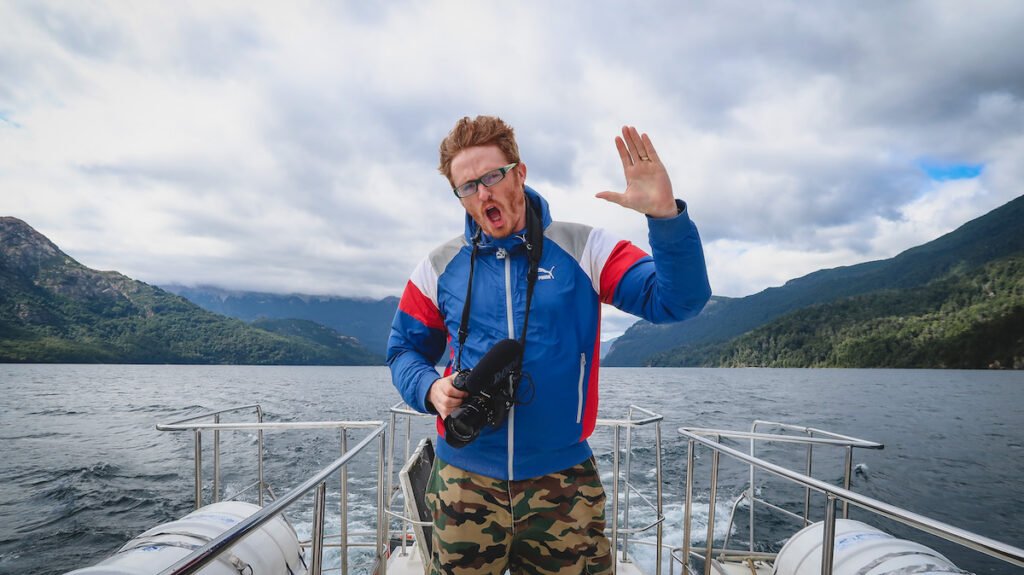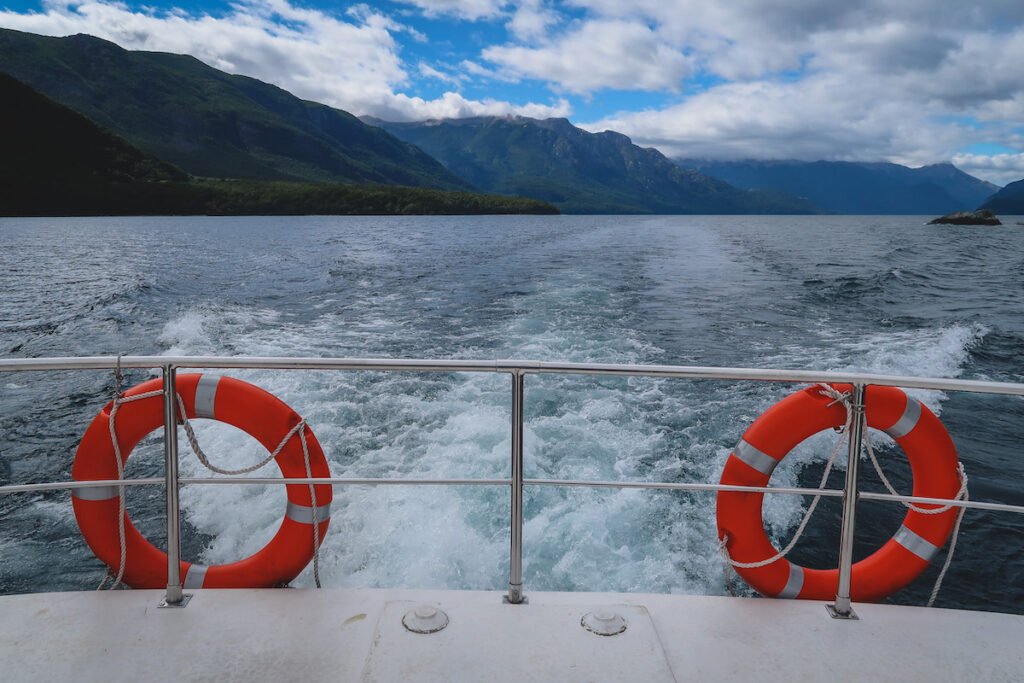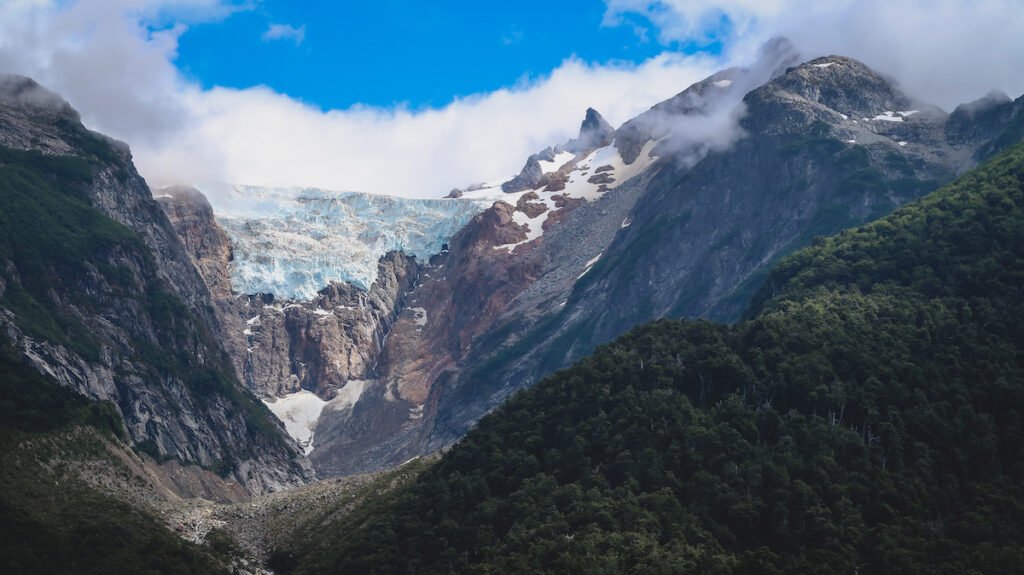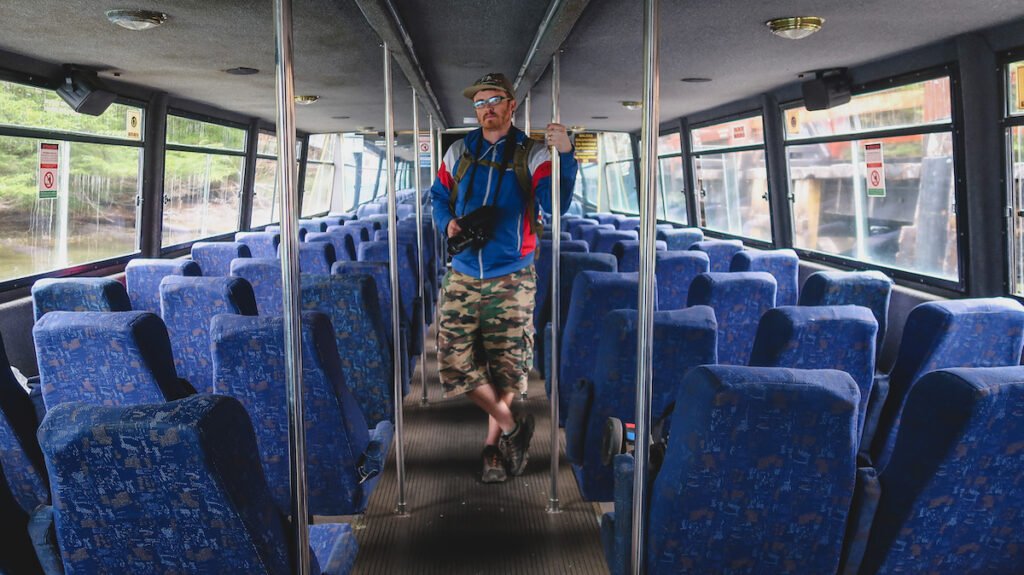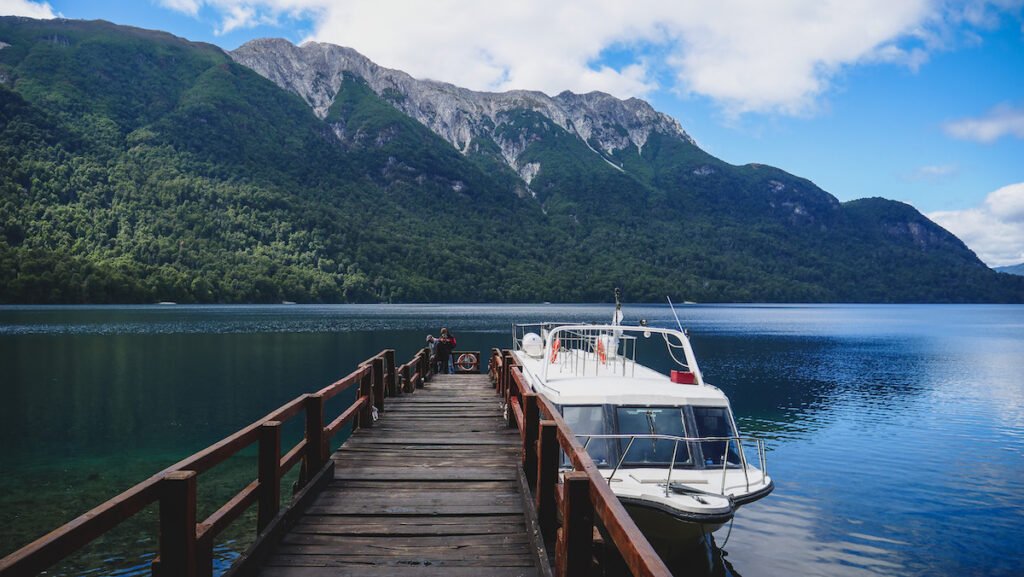 We cruised the full length of Lake Menendez soaking in the views until we reached the tip of the north arm. The journey was about an hour and a half in length, and then we disembarked in Puerto Sagrario for the next part of the tour: hiking to the millenary alerce trees!
Seeing millenary alerce trees
The main draw to Los Alerces National Park is the alerce forest. The alerce tree is known as lahuán meaning 'grandfather' in the Mapuche language, or Fitzroya cupressoides.
It grows in the Valdivian temperate rain forests below the higher elevations of the Andes in both Argentina and Chile.
These trees can grow from sea level up to 1,500 meters above sea level, and though they are slow-growth trees, they can reach heights of 40-60 meters though some 70 metre trees have also been documented.
An interesting fact about the alerce tree is that it only grows between 0.6 to 1.6 millimetre per year, so they are able to tell a tree's age based on its width.
These trees are one of the longest living species in the world; in this park you have one that is 2,700 years old and over in Chile there are some over 3,600 years old.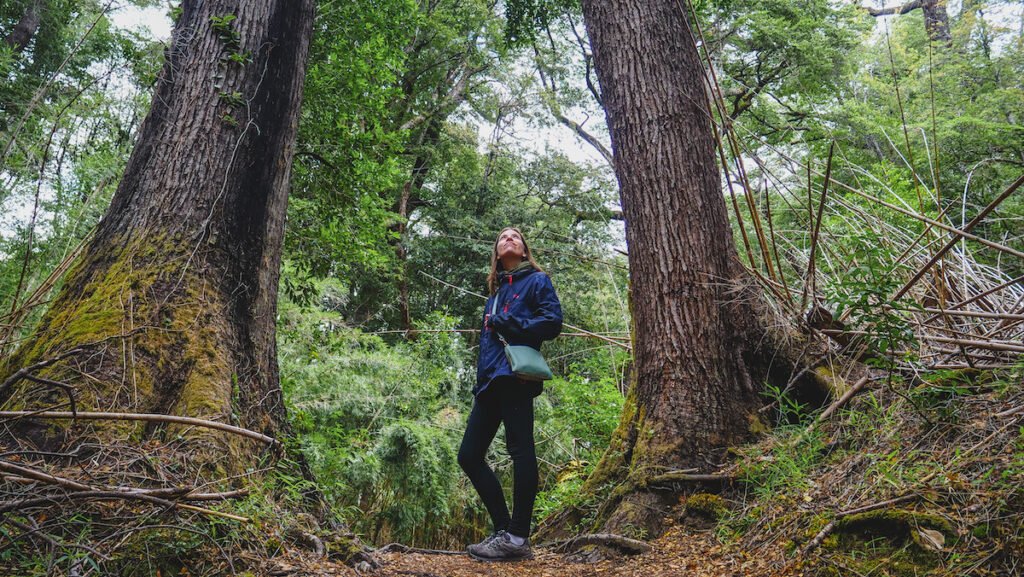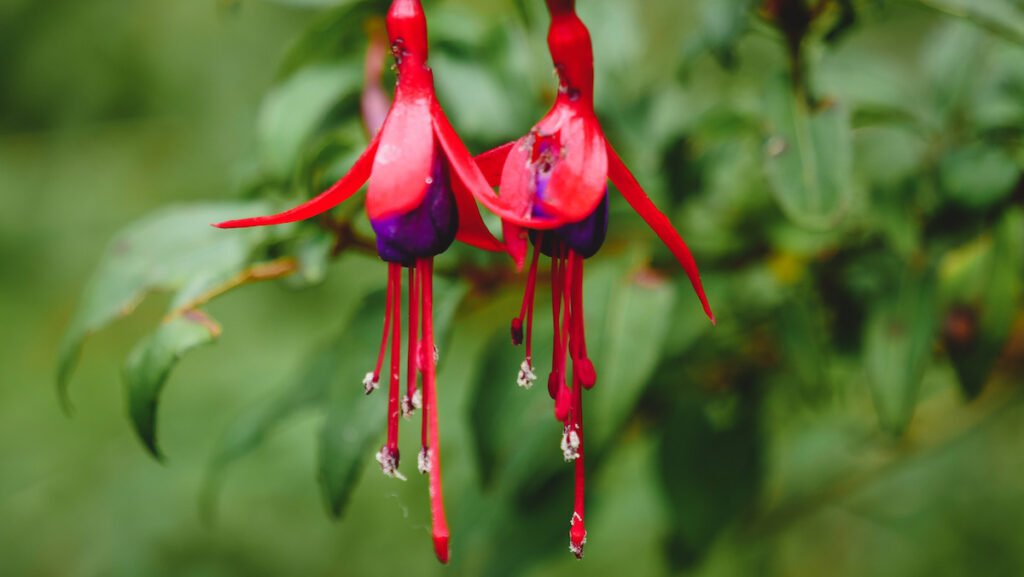 From the port, we embarked on a 2.2-kilometre hike and gained an altitude of 70 metres over the course of the walk.
The hike was a mix of forest trail and boardwalks with some steps in the sections with more uneven terrain. It was a loop, so we ended at the same spot where we began – in front of the Grandfather Alerce.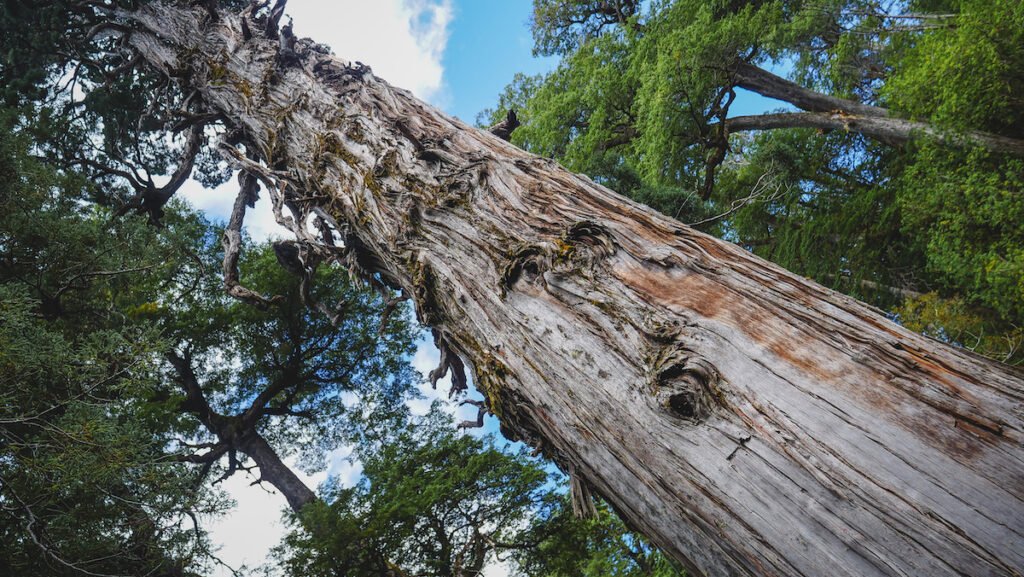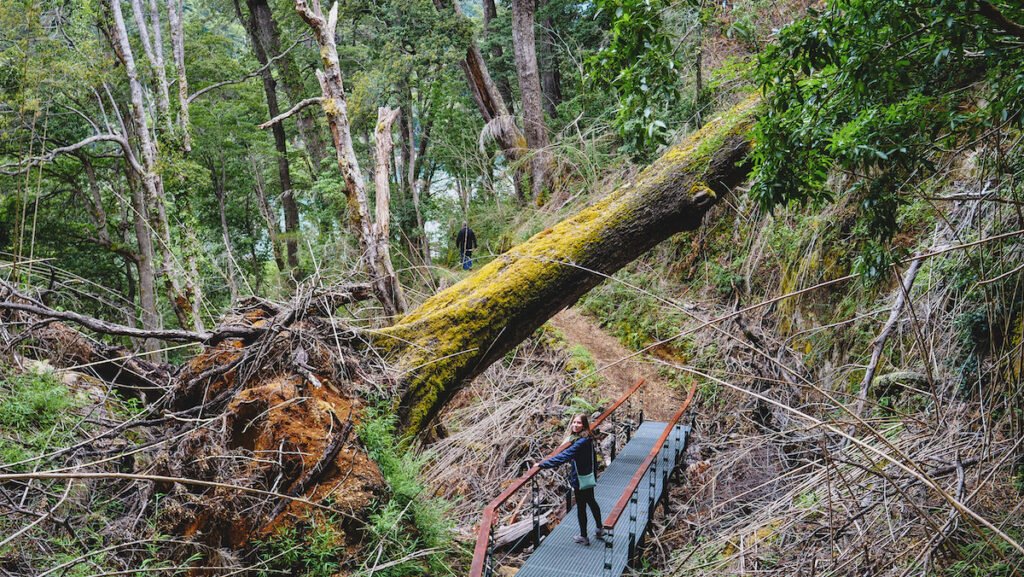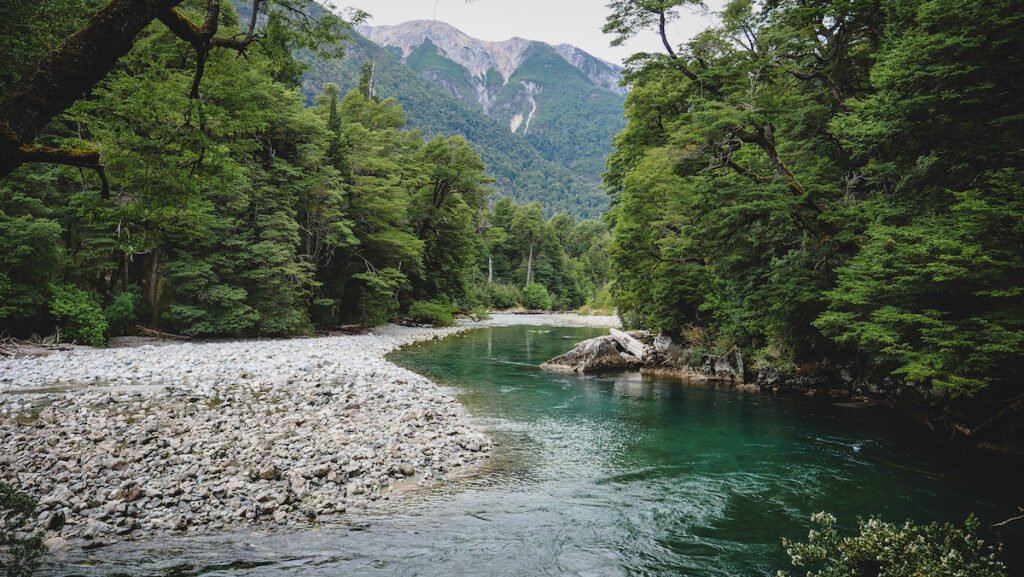 We then returned back to Puerto Chucao. We still had two and a half hours before we needed to catch our bus, so we set out to explore a bit more of the park.
We hiked to Lago Verde on our way to the meeting point where we waited for our bus back to Esquel!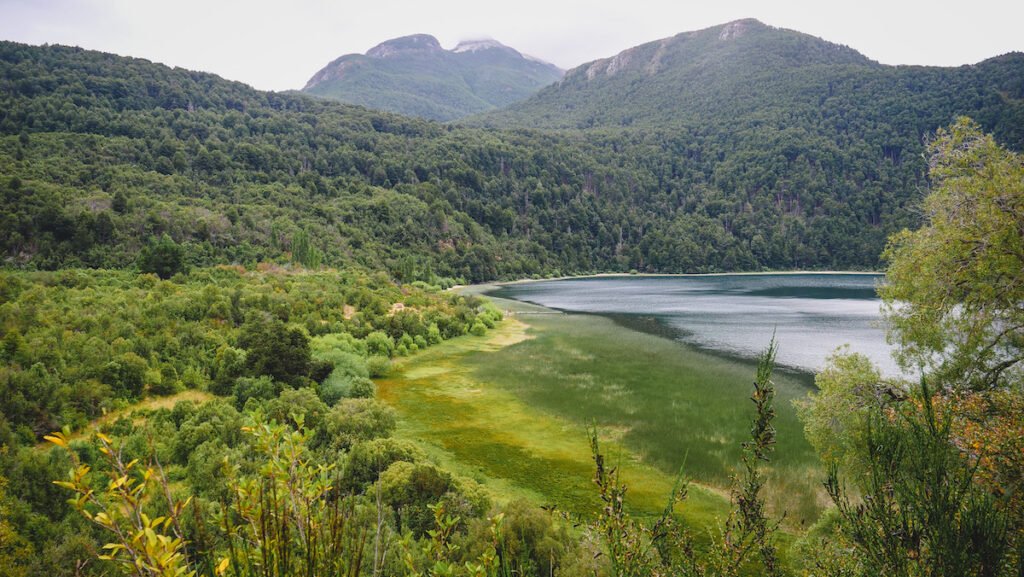 Is visiting Los Alerces worth it?
Yes, 100%!
This was one of our favourite day trips from Esquel, and in fact, we enjoyed the park so much that we have since revisited on other trips to Patagonia.
This park can also be accessed from the north end via El Bolsón, so we've seen quite a bit of the park since our first visit.
That being said, this excursion combining a boat tour of Lake Menendez and a hike to see the millenary trees remains our favourite way to experience the park.
It's one of the must see places in Patagonia and well worth the journey.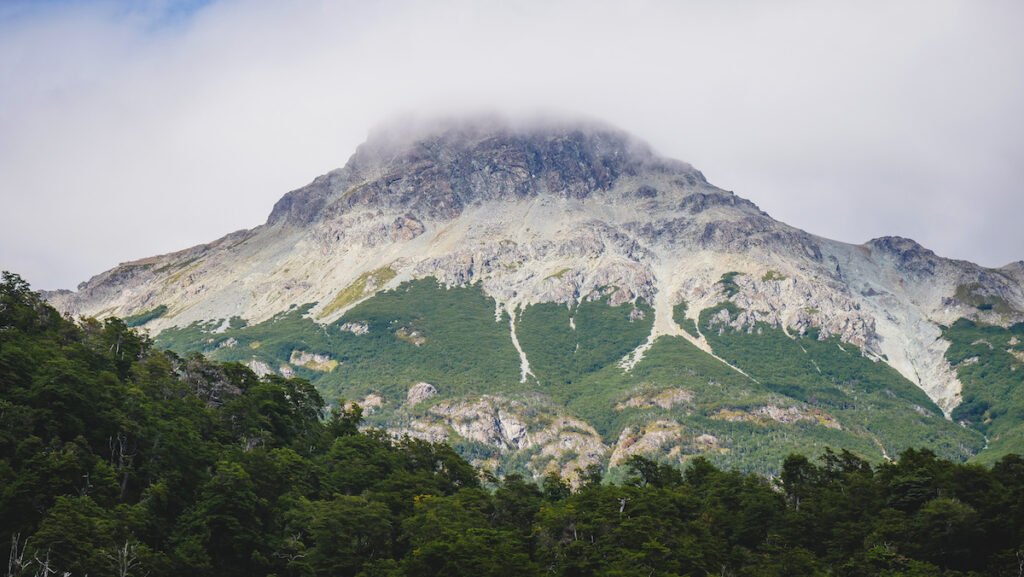 The ancient alerce forest cannot be reached on foot, so this tour is the only way to see them up close. Plus since the group size is limited, it feels a lot more intimate.
Once you board the boat it's just you and your small group and it feels like you have the whole Valdivian forest to yourself!
So if you find yourself travelling in northern Patagonia, yes, make time for Los Alerces. You won't be disappointed.
And if you're sticking around Esquel for a few days, don't miss out on trips to the Welsh town of Trevelin, a train ride aboard the Old Patagonian Express, the strange standing rock at Piedra Parada, Butch Cassidy's ranch in Cholila and the small towns and villages of the Comarca Andina.
The Province of Chubut has a lot to offer!