The charming resort town of Villa La Angostura sits on the shores of Nahuel Huapi Lake in the Province of Neuquén, and it's a destination worth adding to your northern Patagonia travel plans!
Villa La Angostura is surrounded by crystalline lakes, dense forests and rugged mountains, plus its streets are lined with rose bushes which explains why it's nicknamed 'the Garden of Patagonia'.
The town itself has a very rustic yet cozy alpine feel with most of the constructions resembling log cabins. Walking its streets feels like something straight out of a woodland fairy tale, but that's just the magic of Villa La Angostura for you.
This is one of the best spots in Patagonia if you're looking for a lakeside holiday and rugged mountains!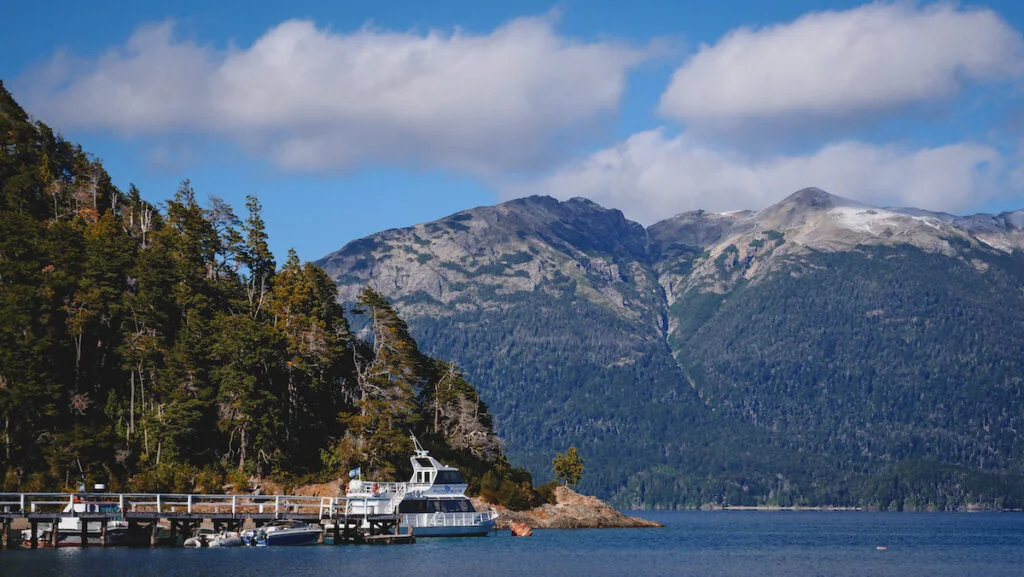 How to get to Villa La Angostura
First things first, how do you get to Villa La Angostura?
The best way to get to Villa La Angostura is via Bariloche. Bariloche is the gateway to northern Patagonia offering daily inbound flights from all over Argentina, so this is where you'll most likely fly into.
Once you arrive in Bariloche, you can rent a car and do the 1 hour and 20-minute drive to Villa La Angostura along Ruta 40 – a very picturesque 79-kilometre journey along the highway that crosses the length of Argentina from north to south.
Alternatively, you can catch a bus from the Bariloche Bus Terminal. The main bus companies that operate that route are Via Bariloche and Albus.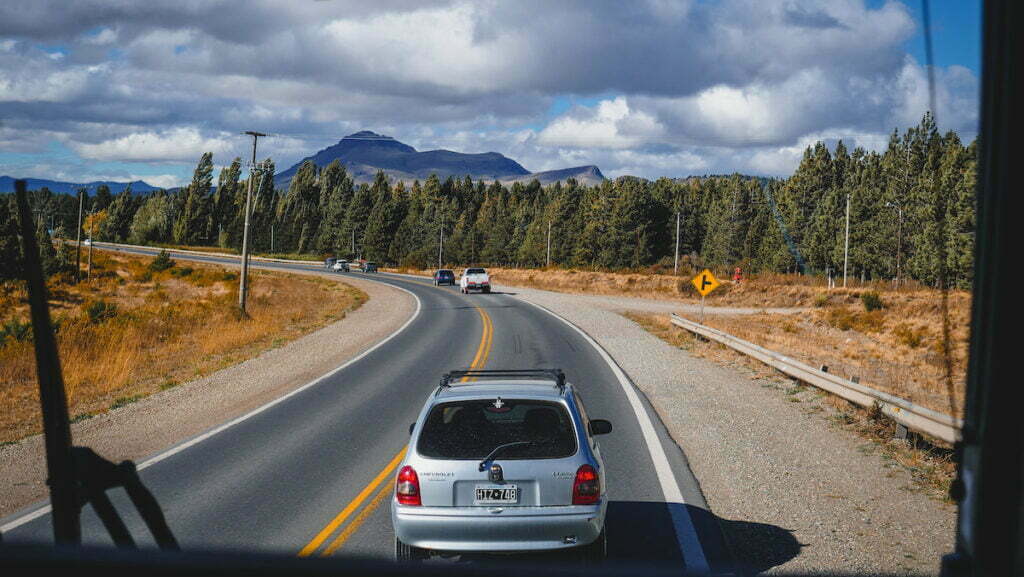 How many days in Villa La Angostura?
Whether you're visiting Villa La Angostura for a day or staying for week, there are no shortage of things to do.
Some people choose to visit Villa La Angostura as a day trip from Bariloche while others will linger for a week of sunshine and lakeside relaxation.
How long you stay is really up to you, however, our recommendation would be to plan for 3-4 days.
You can spend 2 of those days doing the main day trips (Arrayanes Forest and Route of the Seven Lakes) and spent the other 2 days sightseeing around town and soaking in nature.
Things to do in Villa La Angostura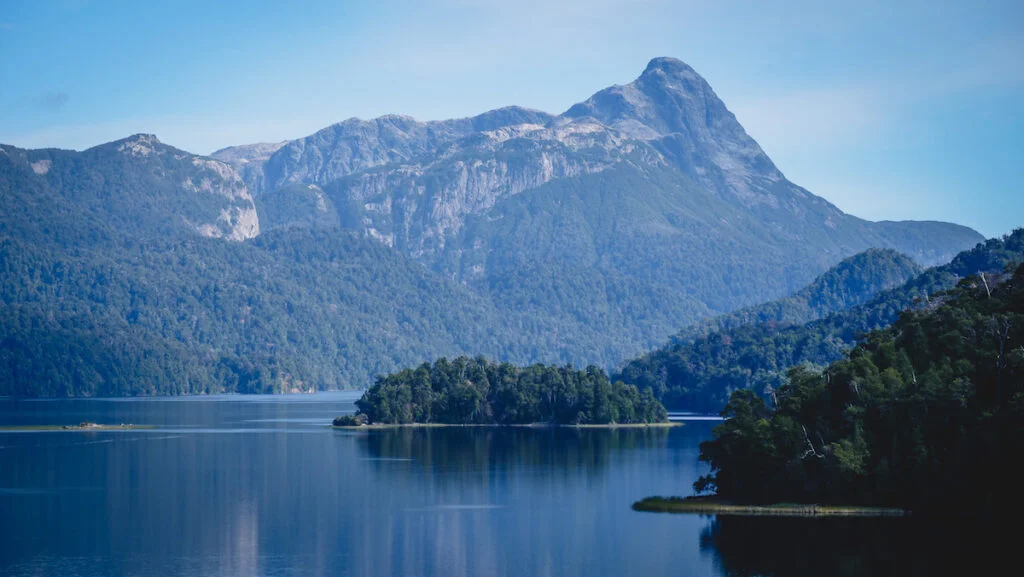 Drive the Road of the Seven Lakes
One of the must-do day trips from Villa La Angostura is to drive the Road of the Seven Lakes, also known as La Ruta de Los Siete Lagos in Spanish.
This is a scenic 107-kilometre drive that stretches from the town of Villa La Angostura in the south to the town of San Martín de Los Andes in the north. The route runs along a stretch of National Route 40, which is the highway that crosses the full length of Argentina from north to south. In other words, it's epic!
It's a beautiful journey that goes past snow-capped mountains, dense forests and pristine lakes. Plus, it crosses two national parks: Lanín National Park and Nahuel Huapi National Park.
Driving the Route of the Seven Lakes is something that can be done in one day, independently by renting a car or by joining a guided tour. 
Like the name of the drive suggests, there are seven main lakes along this route: Lake Machónico, Lake Escondido, Lake Correntoso, Lake Espejo, Lake Lácar, Lake Falkner, and Lake Villarino.
If you were to drive the Route of the Seven Lakes without making a single stop along the way, it would take just under 2 hours, however, it's best done as a full day trip with plenty of stops along the way.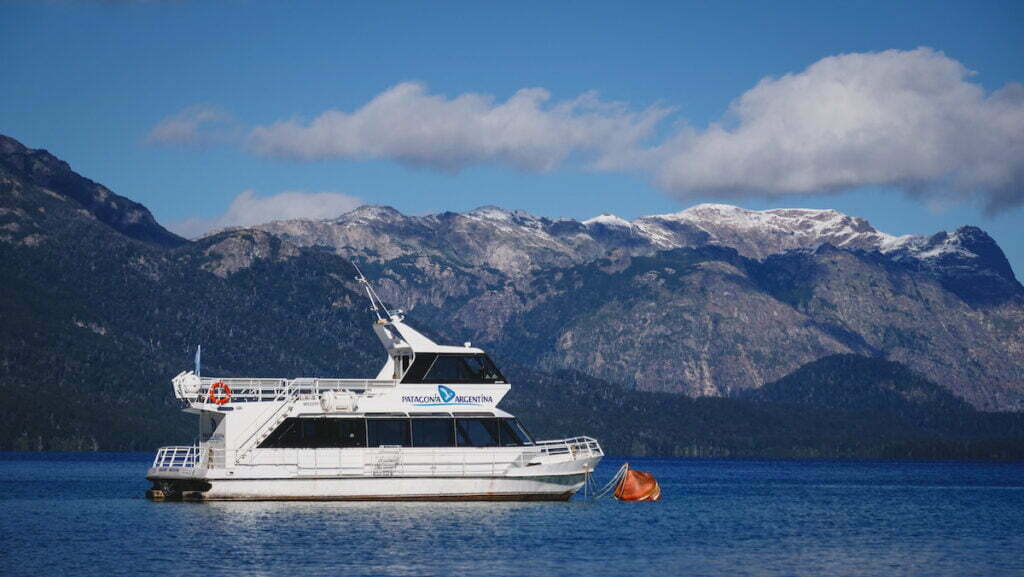 Tour Nahuel Huapi Lake by boat
There are quite a few different options when it comes to boat trips on Lago Nahuel Huapi. You can sightsee by catamaran, sailboat, or even rent your own boat!
Patagonia Sailing offers sail boat tours that range from 1 to 6 hours depending on what you want to see.
Then you have Catamarán Futaleufú, a popular option for those wanting to do a catamaran tour to the Arrayanes Forest.
And if you prefer something more active, there are half-day kayaking tours of Nahuel Huapi Lake where you get to explore rock walls, islands and beaches.
The choice is yours!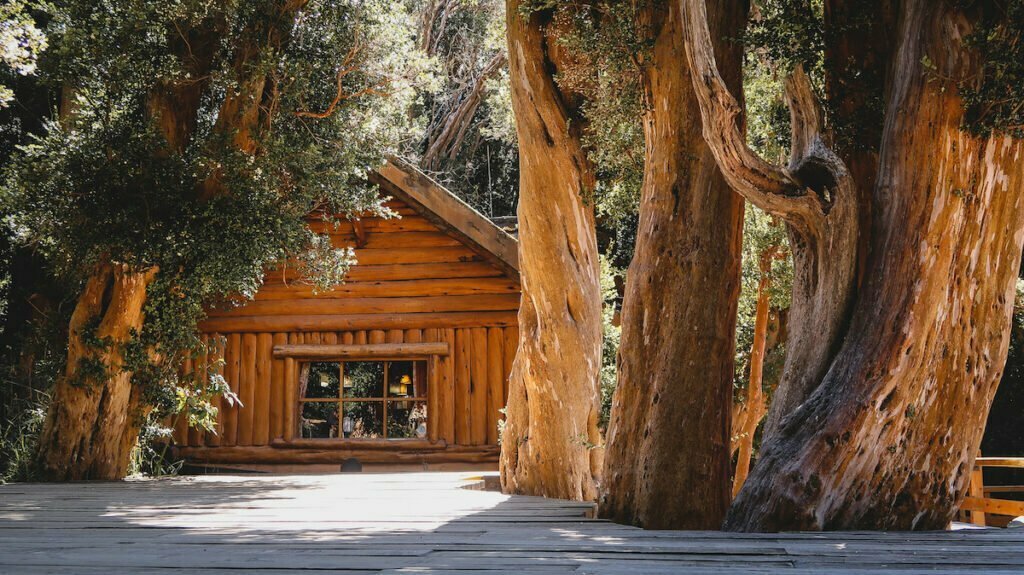 Visit the magical Arrayanes Forest
One of the main things to do in Villa La Angostura is to visit the Arrayanes Forest that is believed to have inspired Disney's Bambi.
What's so special about this forest, you ask?
Well, this is where you'll find the arrayán tree which is easily recognized by its cinnamon-coloured bark.
One unusual thing about this tree is that it always feel cool to the touch. This is because its bark is so thin that you can feel the sap inside.
The main part of the Arrayanes Forest sits on the tip of the Quetrihué Peninsula in Los Arrayanes National Park. Most of the trees in that section of the forest are over 300 years old, though there are a few exemplars that have been standing for over 650 years!
You can reach the Arrayanes Forest by boat or on foot, and I would suggest doing both!
You can take a boat there, learn all about the forest's history on the journey over, and then hike the 12 kilometres back into Villa La Angostura!
The walk back takes about 3 hours to complete and it's a nice way to enjoy the Patagonian scenery.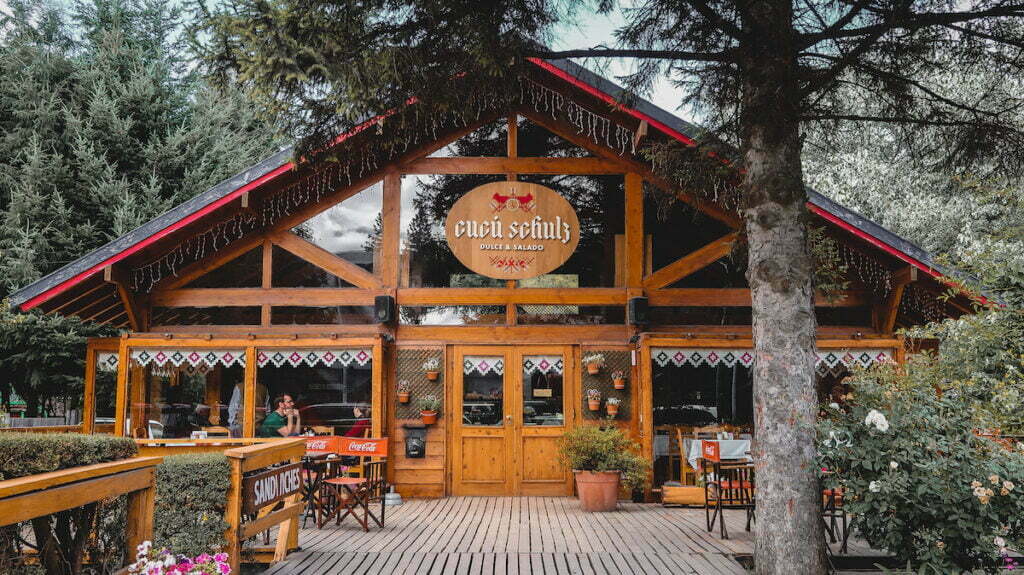 Have tea and cake at Cucú Schulz
Our favourite cafe in Villa La Angostura is shaped like a cuckoo clock and its walls are covered in cuckoo clocks. That place is Cucú Shulz!
The Cucú Schulz cake – their very own creation – features a chocolate cake base with semisweet chocolate mousse, chantilly cream, a chocolate glaze and caramelized almonds.
Aside from that, you can order brownie cake, apple pie, cheesecake with wild berries, and my personal favourite, ricotta cake.
They also serve grilled sandwiches, waffles, muffins, alfajores, and don't get me started on their fancy coffees.
We discovered this place right at the start of our visit and went back multiple times!
The cafe is located on Avenida Arrayanes, which is the main thoroughfare in Villa La Angostura. It is open from 9am to 9pm so it's the perfect spot for breakfast, afternoon tea, or a sweet bite any time of day!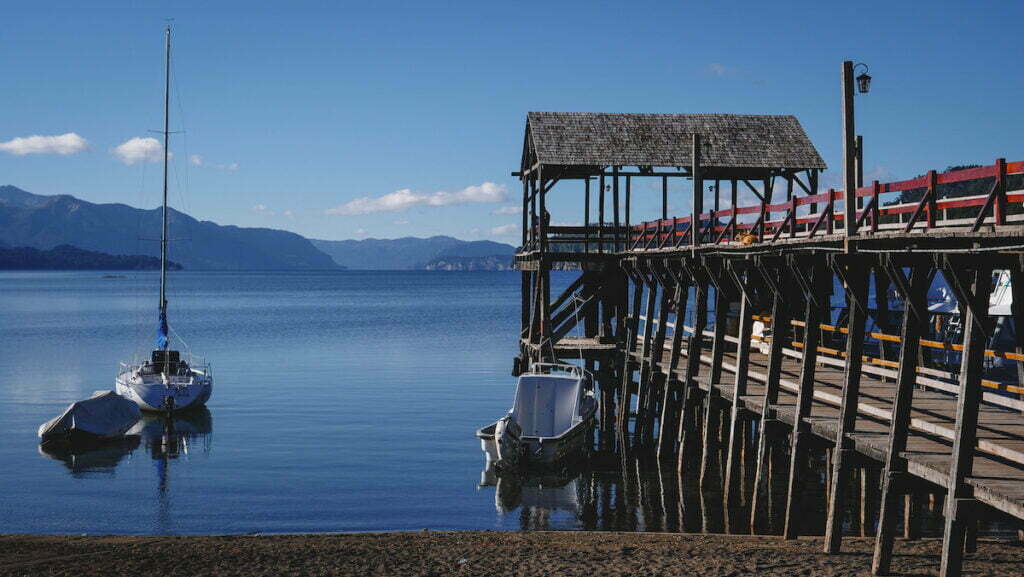 Bahía Mansa & Bahía Brava
Villa La Angostura is a town with two bays: Bahía Mansa, meaning 'calm bay', and Bahía Brava, meaning 'wild bay'.
The two bays are divided by the Quetrihué Peninsula and they are just a 5-minute walk from each other, so you can easily visit them both and see how they live up to their names.
Both bays have their own sandy beaches and they're particularly popular at sunset.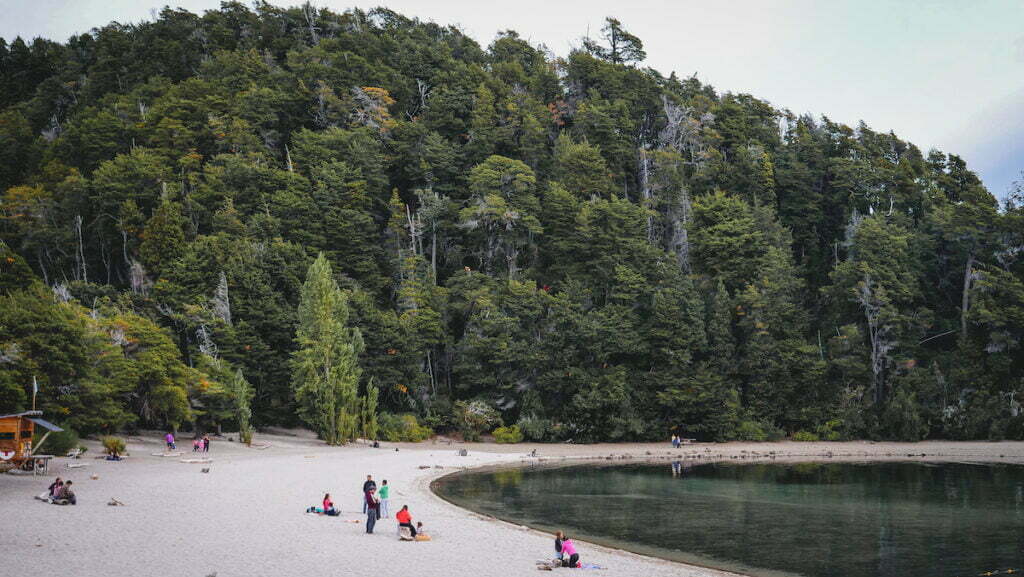 Visit the lagoons and go birdwatching
If you're looking for a bit nature, but you don't necessarily want to go too far or do anything too strenuous, you can visit the two lagoons in town.
Laguna Calafate is more of a birdwatching spot with bird hides where you can enjoy the local wildlife. They even have posters inside the hides with the names and images of the various birds you can expect to see.
Laguna Verde, on the other hand, is a nice place to go for a walk. The trail is called Sendero de las Lumas and it runs through the forest and follows the lagoon's shore. It's a super peaceful spot and we only saw a handful of locals the whole time we were there.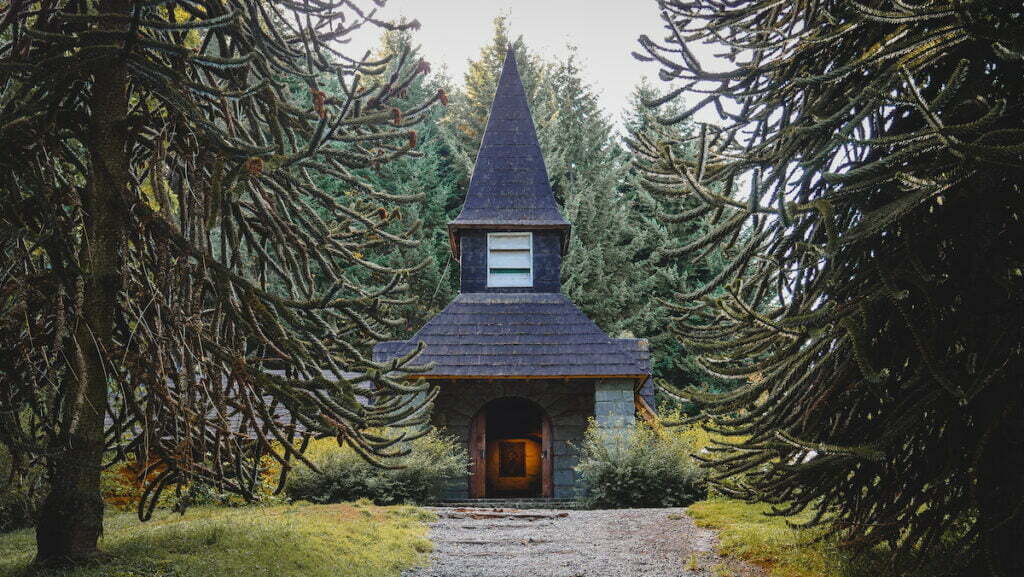 Visit the European-inspired chapel
Another important attraction in Villa La Angostura is the chapel known as Capilla de la Virgen de la Asunción, which dates back to 1936.
The chapel was designed by renowned Argentine architect Alejandro Bustillo, perhaps best known as the man behind the iconic Llao Llao Hotel.
Bustillo was inspired by northern European architecture when building this chapel; it features a mix of wooden logs, stone walls, black roof tiles, stained glass windows and rustic wooden beams in the interior.
The chapel is set in a forested area, so it does feel like a taste of Europe, even if it's hard to pinpoint exactly where!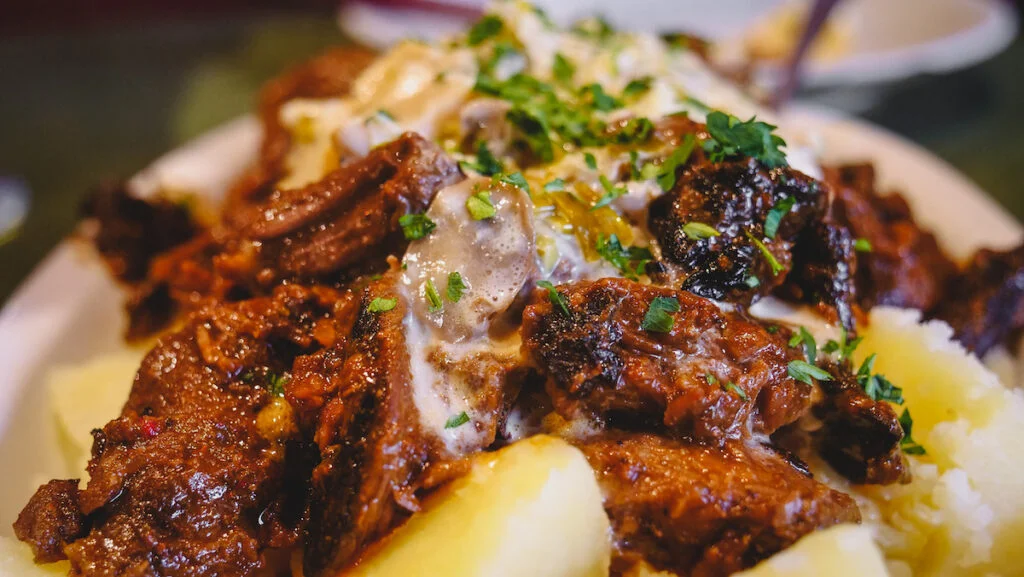 Sample the delicious Patagonian Cuisine
It's no secret that El Esquiador is our favourite restaurant in Villa La Angostura and we went back there again and again to sample great part of their menu.
One of the dishes they are best known for is the Ciervo a la Cazadora which is a hunter's stew with deer. It is served on top of boiled potatoes and the meat is super tender – no knives required. If you want to try a classic regional dish, this is it.
Trucha, Spanish for trout, is another item that makes an appearance on many Patagonian restaurant menus. We tried the trout done two different ways: with brown butter and capers, and  'Esquiador style' with cheese and a cream of mushrooms. Both were exquisite!
Pair that with a mixed potato and pumpkin puree, or a side of noisette potatoes and you've got magic on a plate.
For dessert, you cannot go wrong with the Flan Casero, a homemade custard dessert with a generous dollop of dulce de leche.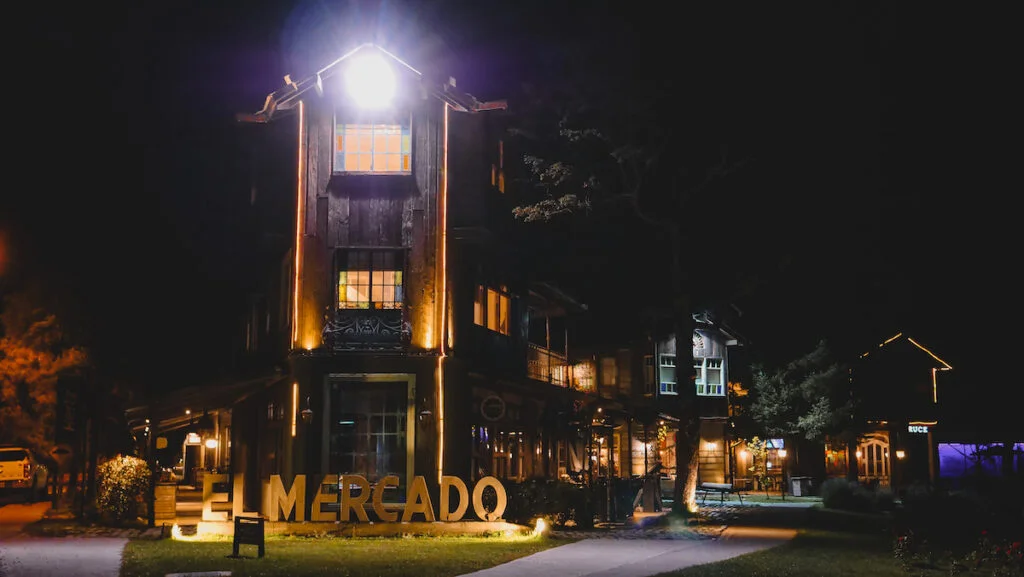 Hang out at El Mercado
El Mercado is a multi-use space in Villa La Angostura meant to capture the magic of the community's early days when the market was a gathering place.
The space is home to a craft brewery, a tapas bar, a pizzeria, and a few cafes.
It's a nice spot that mainly draws people in the evenings.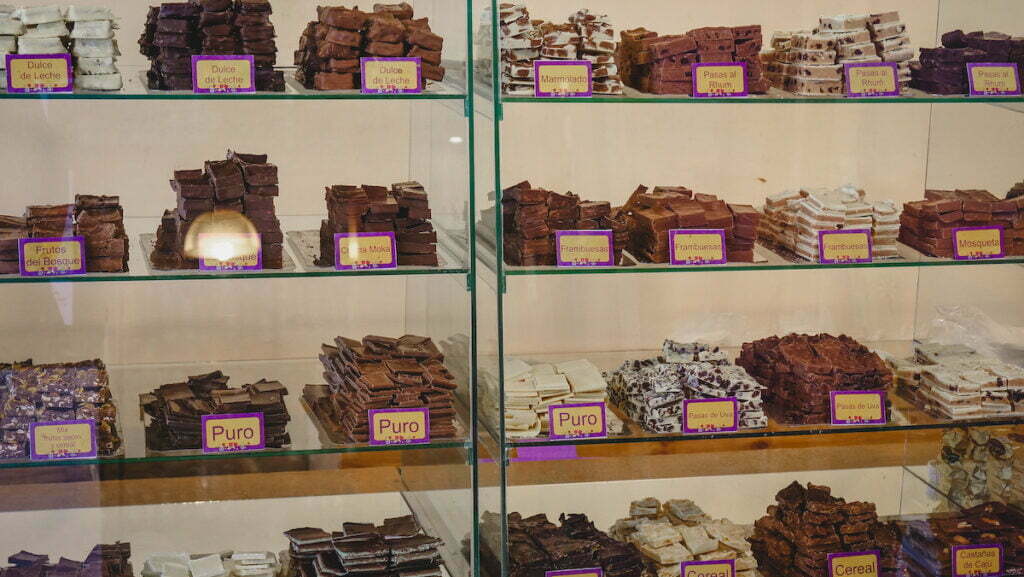 Try all the Patagonian chocolate
Patagonia is renowned for its artesanal chocolate and in Villa La Angostura you have multiple shops to choose from!
A few to consider include:
Benroth
Bosque Chocolate
Mamuschka
Chocolates del Turista
Tante Frida
La Campiña del Sur
Punto Chocolate
Amazonia Chocolateria
Ñuke Lemu
There are so many different flavours to sample and you really will want to try them all!
I would suggest ordering an assorted bag and paying by the weight so you can try all the unique flavours and discover which ones you like best.
Some of our personal favourites were the dark chocolate with mint cream, the milk chocolate with raspberry cream and anything filled with dulce de leche!
As a bonus, a lot of the chocolate shops in town double as ice cream shops, so your sweet tooth is in for a treat.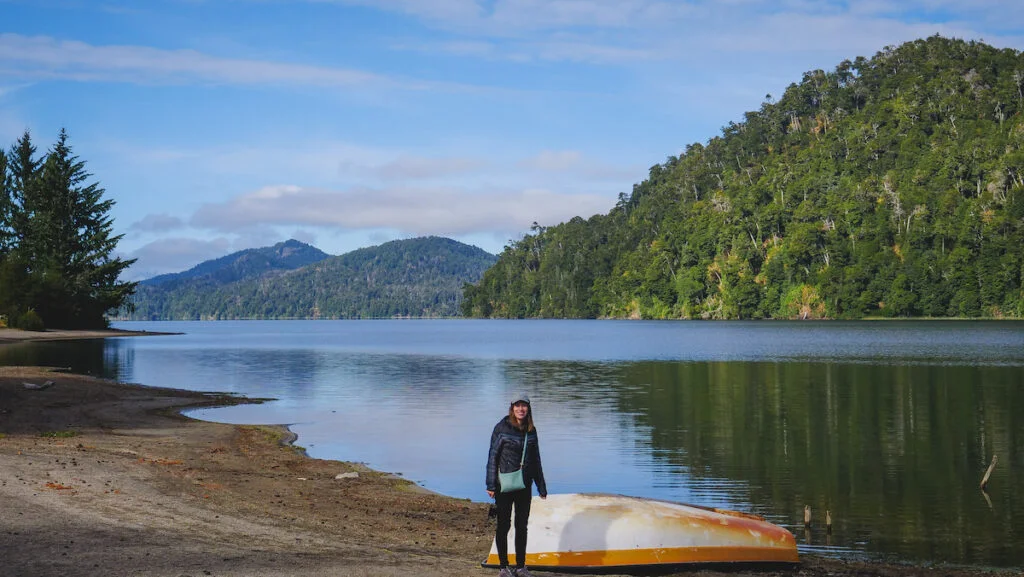 See the Correntoso Lake and River
One of the natural attractions in Villa La Angostura is the Correntoso Lake and River.
Correntoso Lake is set within Nahuel Huapi National Park and it flows towards Nahuel Huapi Lake via the Correntoso River.
Correntoso River is considered one of the shortest rivers in the world – it can be anywhere between 200 to 300 meters depending on the water levels – and it's a super popular destination for fly fishing. Trout abounds especially where the river meets Nahuel Huapi Lake.
Two bridges cross the Correntoso River, one is for vehicles but there is also a smaller pedestrian bridge where visitors can enjoy the beauty of the lake and river.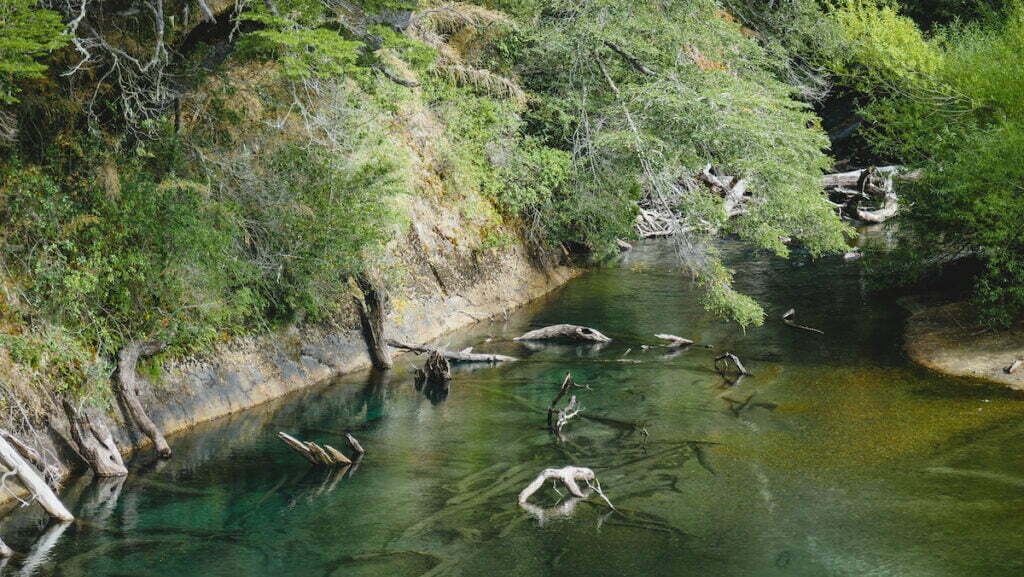 Go Fly Fishing
Fly fishing is huge in Patagonia, especially when it comes to fishing for trout!
Whether you're a beginner looking to try fly fishing for the first time, or someone with more experience, local guides will take you wading in some of the best rivers as you search for rainbow trout and brown trout.
Aside from fishing, this is a good opportunity to spot local wildlife like condors, foxes and guanacos.
Cordillera Fly offers year-round trout fishing excursions.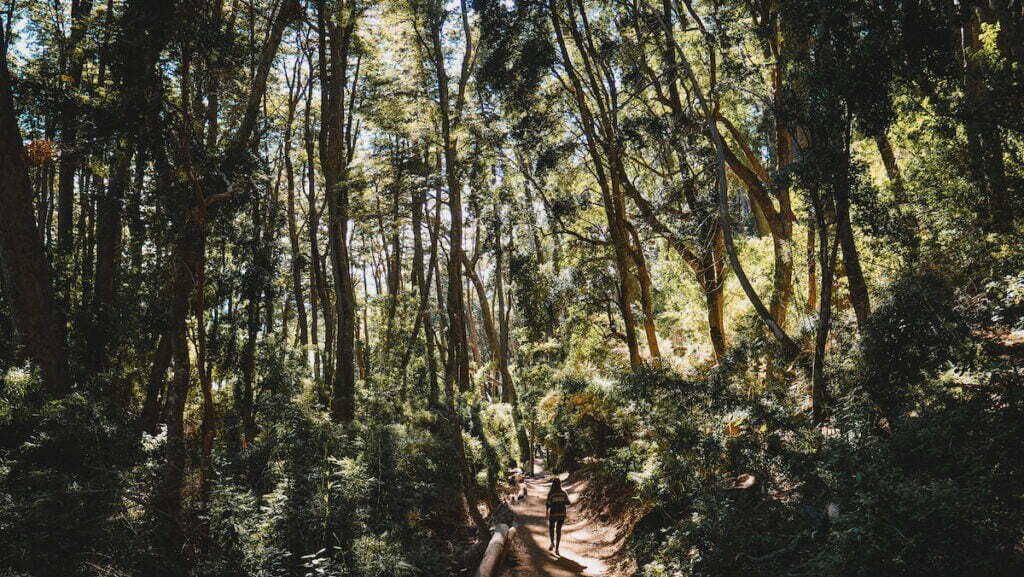 Hike to lakes and waterfalls
There are lots of hiking opportunities in and around Villa La Angostura.
Whether you're looking for an easy 1-kilometre loop in the Arrayanes Forest, or something more challenging like the 15.4-kilometre trek to the summit of Cerro Belvedere, there are plenty of options to explore.
All Trails has a great list of treks you can enjoy in Villa La Angostura that include hikes to rivers, waterfalls, lakes, lagoons and mountain peaks.
Do keep in mind that you need to sign in with the park ranger for some of these trails so they know when to expect you back.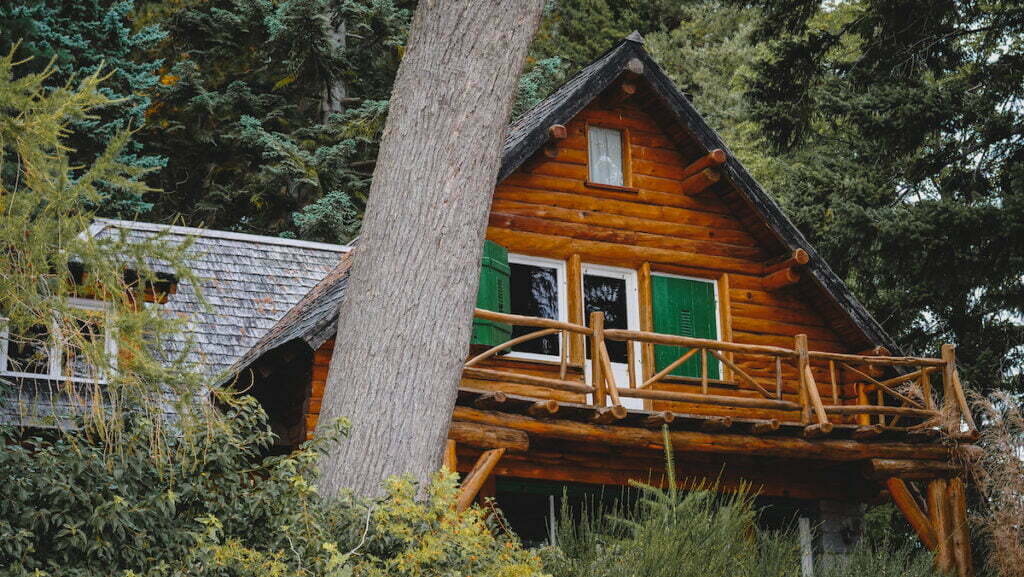 Where to stay in Villa La Angostura
As a resort town, Villa La Angostura offers a myriad of accommodations ranging from log cabins to lakeside resorts, and there really is something for every budget.
There are a few different areas to choose from. If you want to be right in the centre of town, book something in Villa La Angostura. If you'd rather be close to the lake opt for Puerto Angostura which is just south of town. And if you want more of a resort feel, choose something in Puerto Manzano, though you'll want a car since this is more in the outskirts.
Correntoso Lake & River Hotel – 4* hotel set on the Correntoso Lake with unparalleled mountain views, plus a pool, spa and wellness centre
Alma Andina Hosteria – 3* guest house with mountain views and a cozy alpine feel within walking distance of the town centre
Hostería Epulen – 2* inn with lake views and rooms that feel like you're staying in a log cabin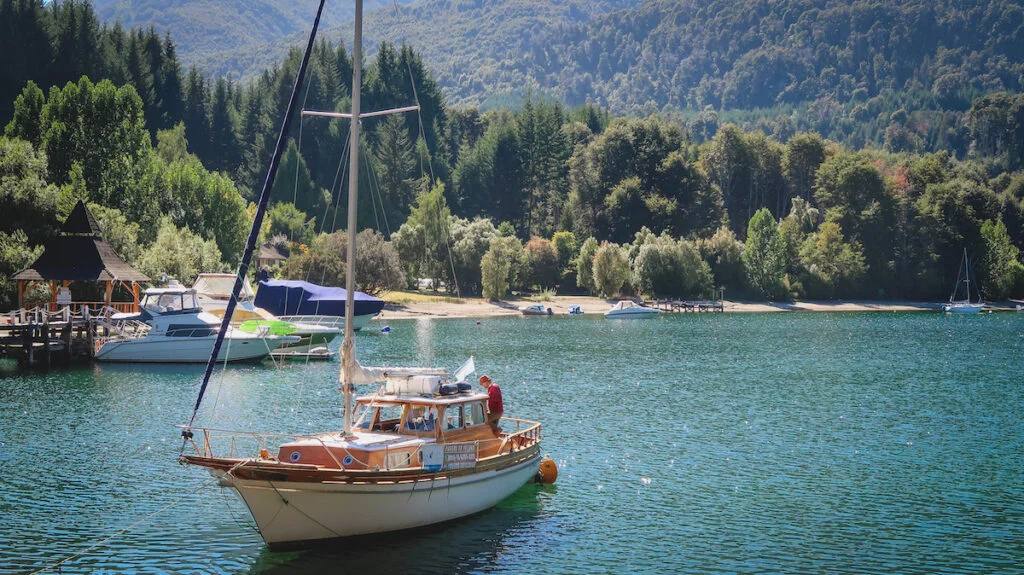 Best time to visit Villa La Angostura
When's the best time to visit Villa La Angostura, you ask?
Villa La Angostura is a destination that can be visited year round depending on the activities you want to enjoy.
December, January and February are the summer months so that's the perfect time to enjoy boating, swimming and other water activities.
March, April and May are the autumn months which bring changing foliage set against evergreens.
June, July and August are the winter months and that means skiing in nearby Cerro Bayo.
September, October and November are the spring months and a great opportunity to see the town in bloom.
Villa La Angostura is a dream anytime of year!