Did you know you can visit a Welsh town in Patagonia?
Set along the shores of the Chubut River in the Province of Chubut, you'll find the town of Gaiman.
The town was founded by David D. Roberts in 1874 and like much of the surrounding valley, it was settled by Welsh immigrants.
In many ways, Gaiman is considered the heart of the Welsh colony in Patagonia.
Yes, you have the communities of Rawson, Trelew, Dolavon, Las Plumas, Paso de Indios and Trevelin as you cross the province from the Atlantic to the Andes. However, nowhere is Welsh culture better preserved than in Gaiman!
In fact, to this day, Gaiman celebrates the Eisteddfod, a Welsh festival where locals compete in poetry, music, dance, drama and art – in both Welsh and Spanish.
In this blog post, we're going to talk about the history of Welsh immigration to Argentina, plus we'll share some things to do in Gaiman, and info on where to find Welsh afternoon tea during your visit.
If you're planning to travel coastal Patagonia, this is one destination you won't want to miss!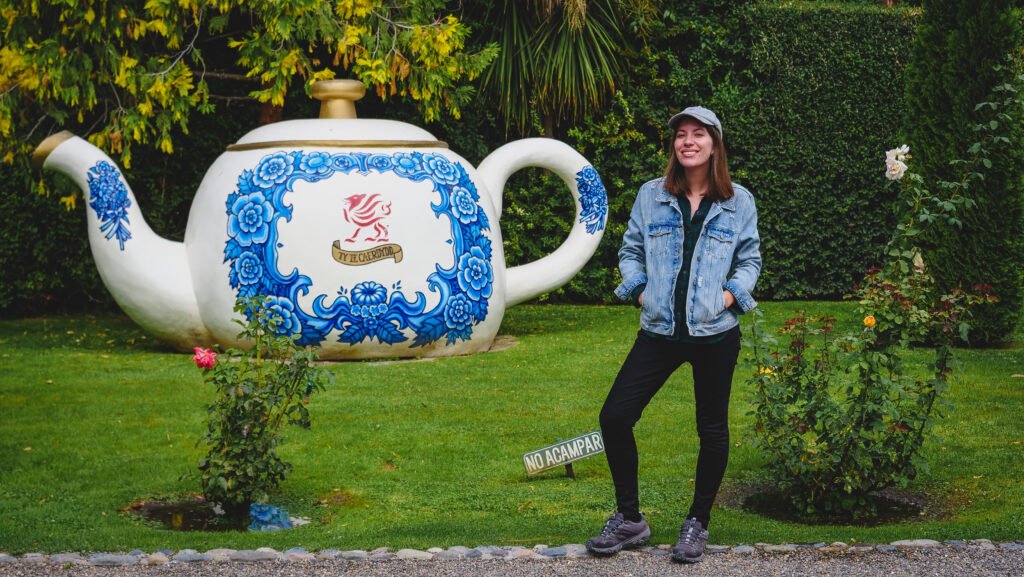 History of a Welsh Town in Patagonia
So, how did Patagonia become home to a thriving Welsh community?
In 1865, a ship known as the Mimosa landed on Patagonia's shores (in what is now known as Puerto Madryn) carrying the first Welsh emigrants to South America.
It was July 28, so the middle of winter in Argentina, and the new arrivals found themselves in a climate that was completely different from what they'd known back home. Gone where the lush green fields of Wales; here they were met with the arid landscapes of the Patagonian steppe.
What would cause people to cross an ocean and start a new life someplace so unknown?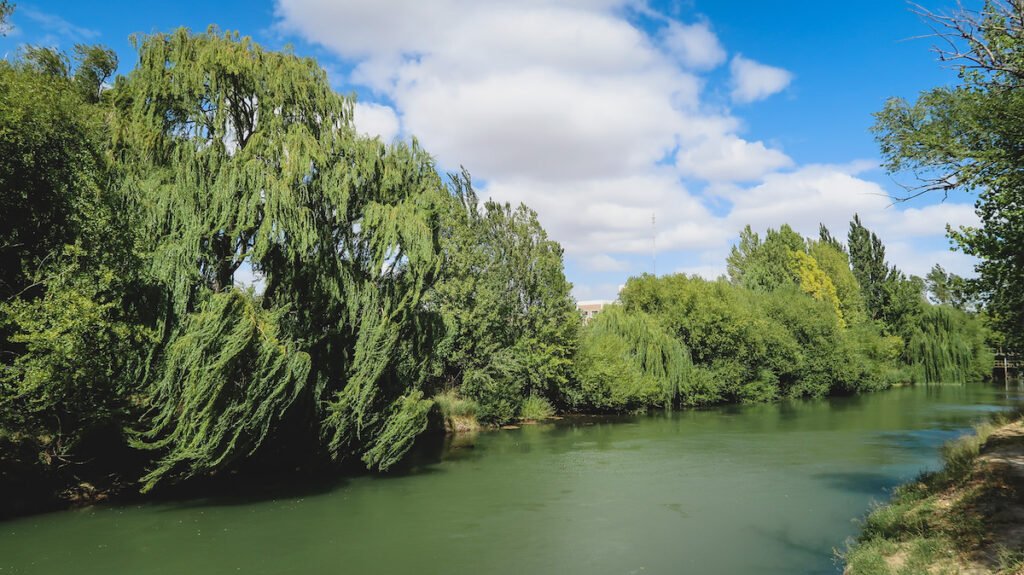 At the time, the Welsh were experiencing persecution under the British Empire. Their language, culture, religion and way of life was being threatened, and as life grew more difficult, the idea of forming a Wales beyond Wales began to take form.
The first Welsh settlements formed along the coast, first in caves, and then slowly moved inland into the valley. The Welsh survived those early years thanks to help of the Tehuelche people who taught them how to hunt and survive in this new climate.
Overtime, the Welsh settlers moved westwards across the Province of Chubut, settling the valley along the Chubut River and venturing as far as Esquel and Trevelin at the foot of the Andes Mountains. And that's why today there are so many Welsh towns in Patagonia.
This is just a very brief overview of Welsh immigration to Argentina, but I would recommend this article if you're interested in the history.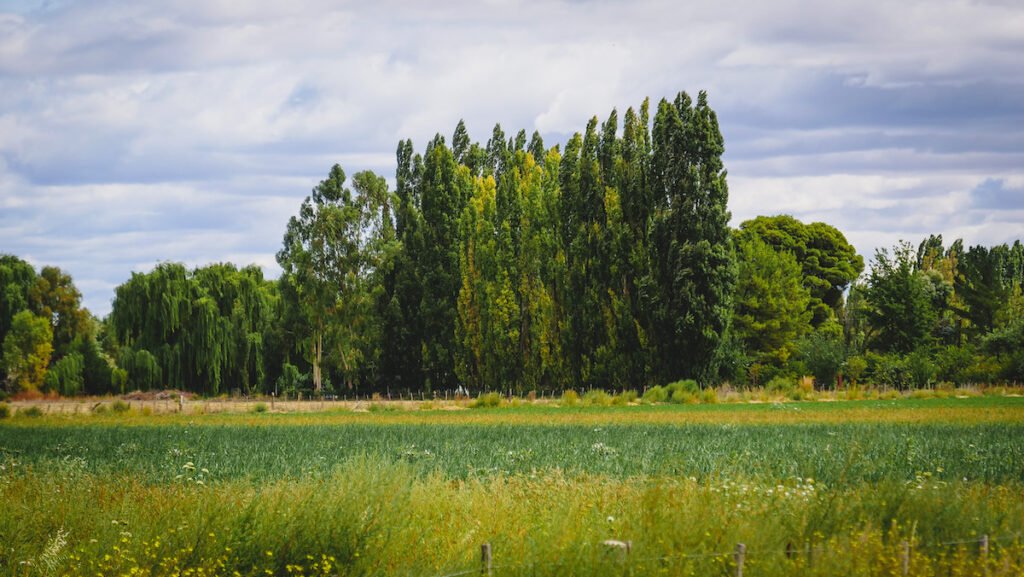 How to get to Gaiman
The easiest way to visit Gaiman is by renting a car and driving into town at your leisure. It's a 15-minute drive from Trelew, or a 1-hour ride if you're coming from Puerto Madryn.
Alternatively, you can catch a bus from the Trelew Bus Terminal. There are two possible routes, one that takes the highway and another that takes a parallel country road. Either way, you can expect the journey to Gaiman to take anywhere between 20-45 minutes depending on the route and the number of stops the bus makes!
From Puerto Madryn, the bus takes about 1 hour and 10 minutes.
If you'd rather join a guided tour to Gaiman that's another option. This Welsh colonies tour departs from Puerto Madryn and includes a stop in Trelew, and this slightly longer tour includes an additional stop in Punta Tombo to see penguins.
Welsh Tea Houses in Gaiman
The main thing to do in Gaiman is to visit one of the town's many tea houses for Welsh afternoon tea. My suggestion is to skip lunch and go hungry because there will be a lot of food!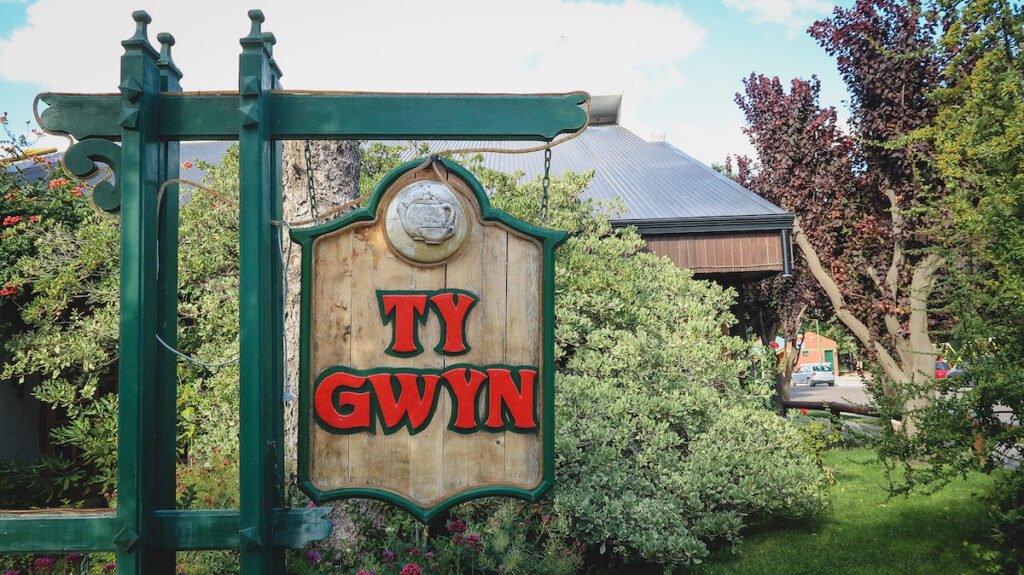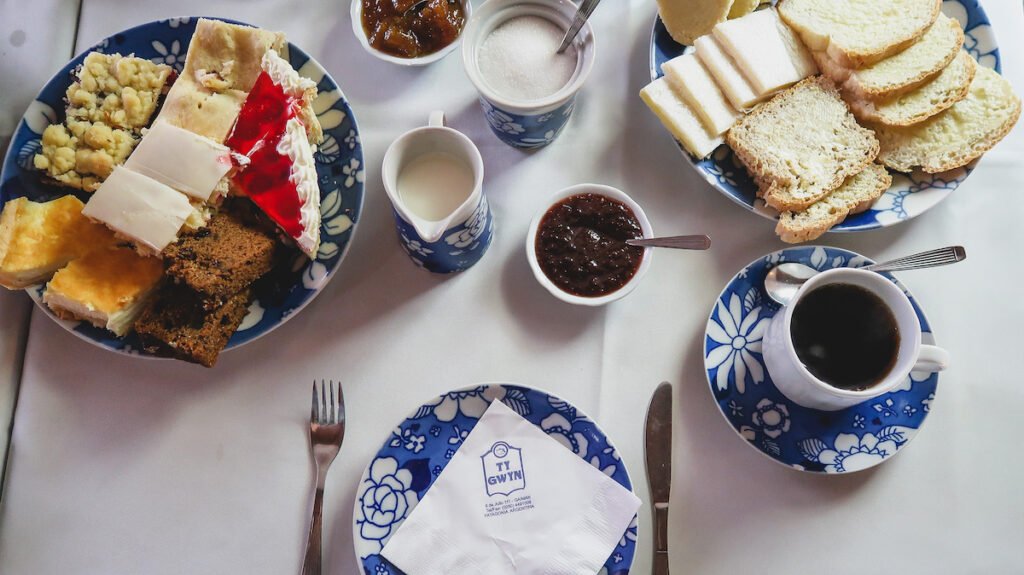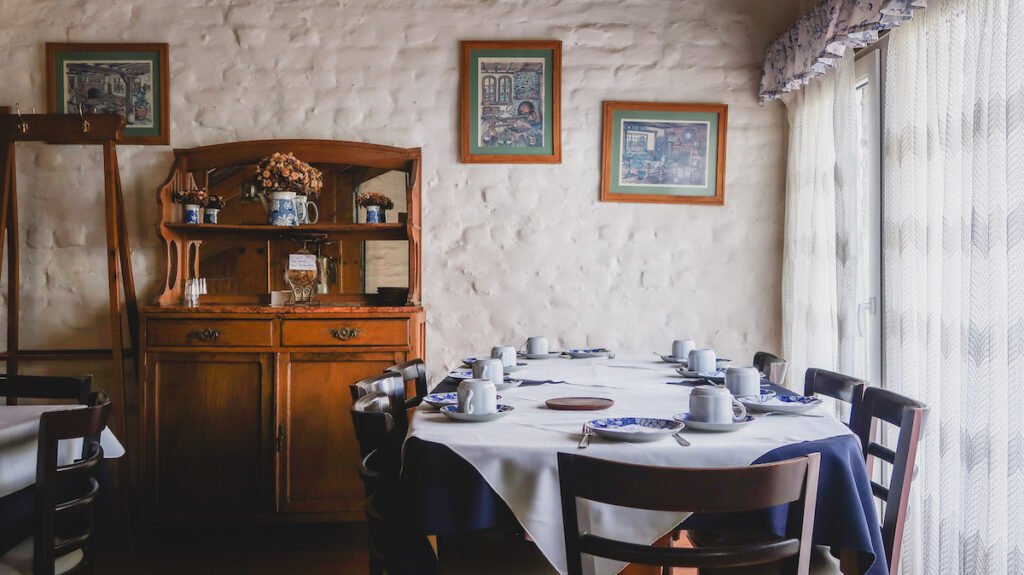 List of tea houses in Gaiman:
Ty Te Caerdydd
Ty Gwyn
Plas y Coed
Te House Gaiman
Ty Cymraeg
Casa de Té Nain Glenys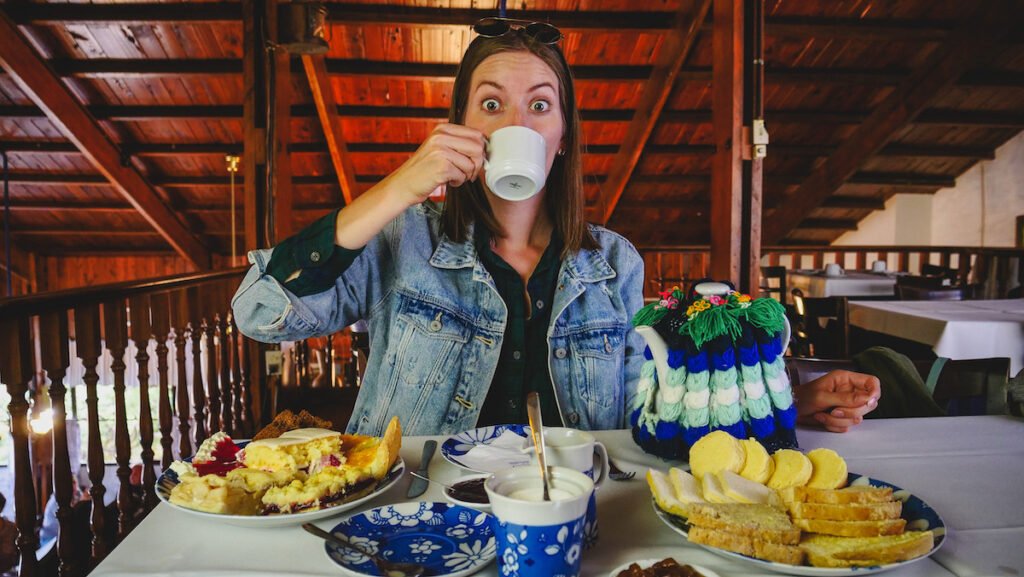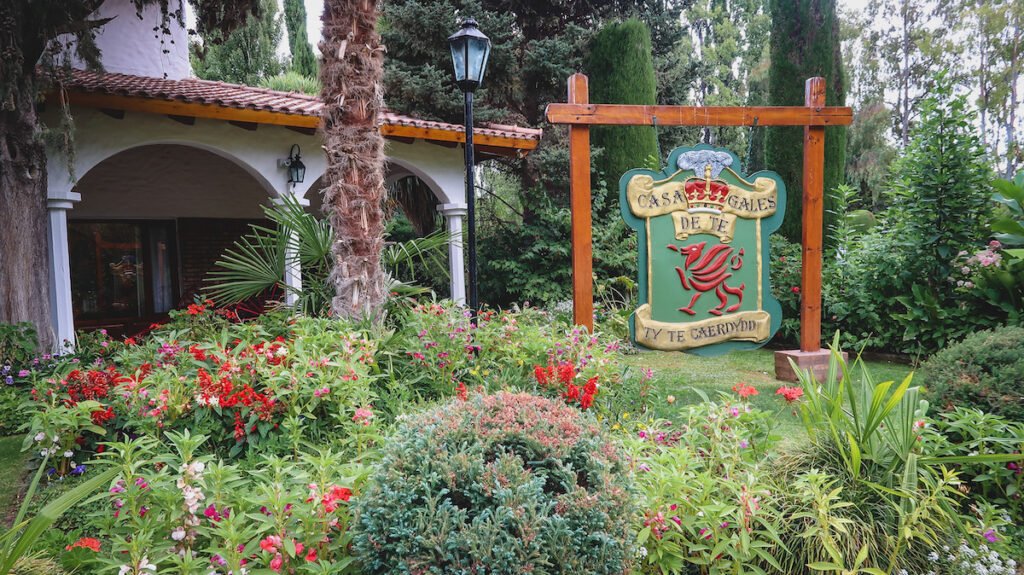 The most famous tea house is Ty Te Caerdydd as it hosted Lady Diana during her visit to Argentina in 1995. That being said, you can expect a similar menu at all these tea houses, included Bara brith known as torta galesa in Spanish or 'Welsh cake' in Patagonia.
Places to Visit in Gaiman
There are lots of places to visit in Gaiman ranging from orchards and tea houses, to historic homes and museums! In fact, if you want to learn more about the history of this Welsh town in Patagonia, you won't want to miss the numerous museums sprinkled across town.
Quintas Narlú
My favourite place to visit in Gaiman was actually in the outskirts of town, so I'll start there.
Quintas Narlú is a beautiful farm that welcomes visitors. We first walked into their shop which features all sorts of homemade jams, freshly picked berries, Welsh Bara brith cake, honey, dry lavender bundles, plus all sorts of souvenirs.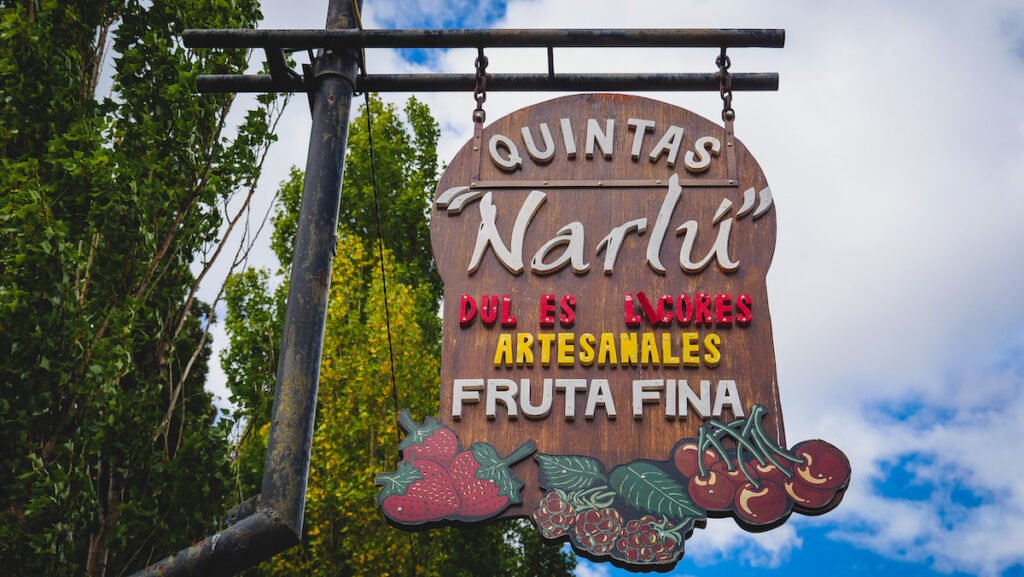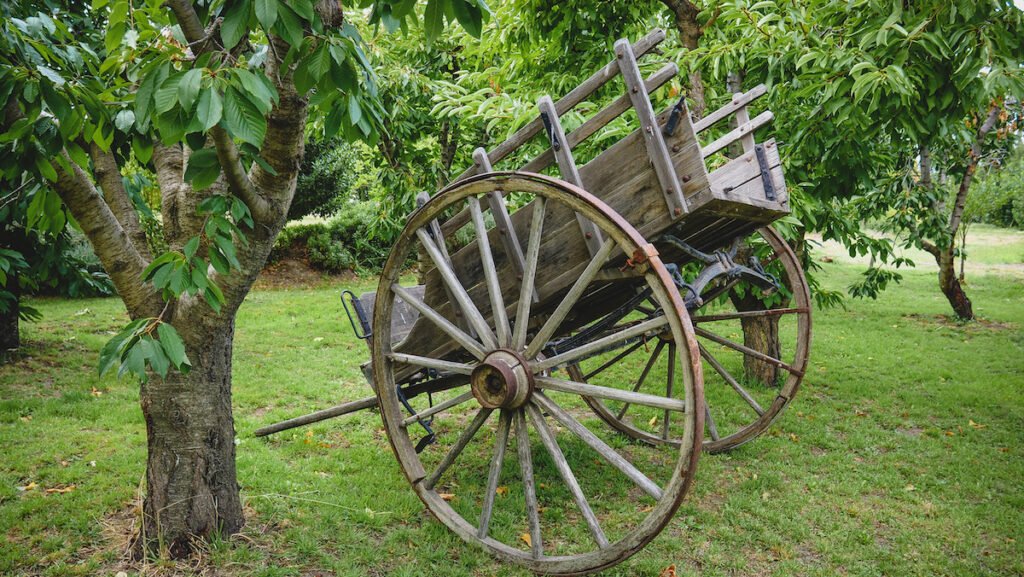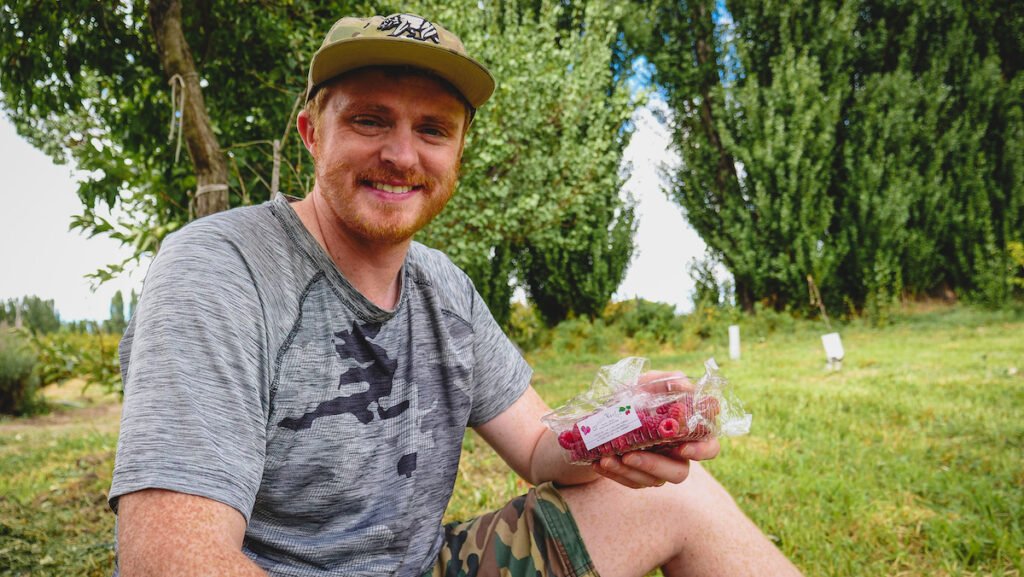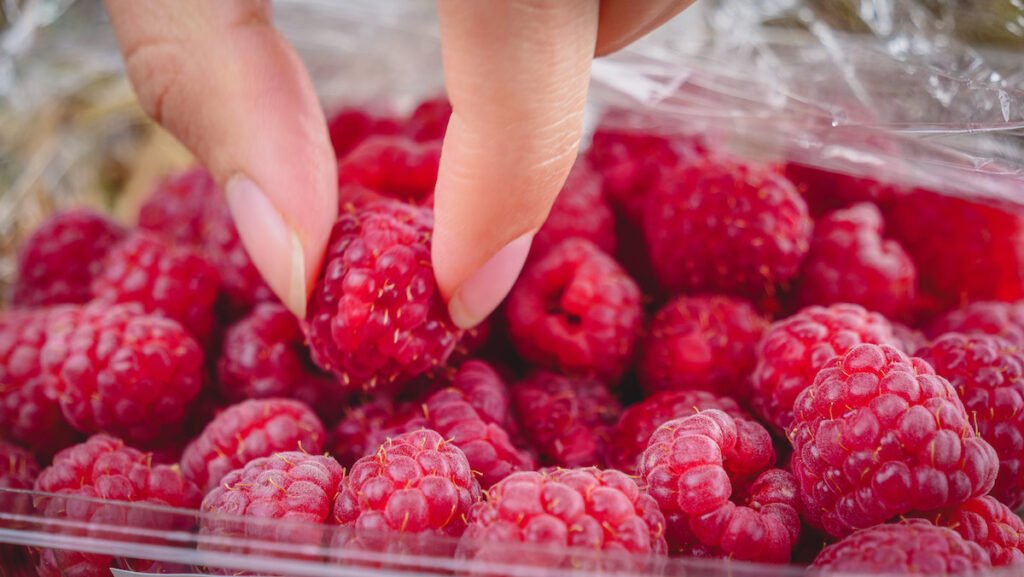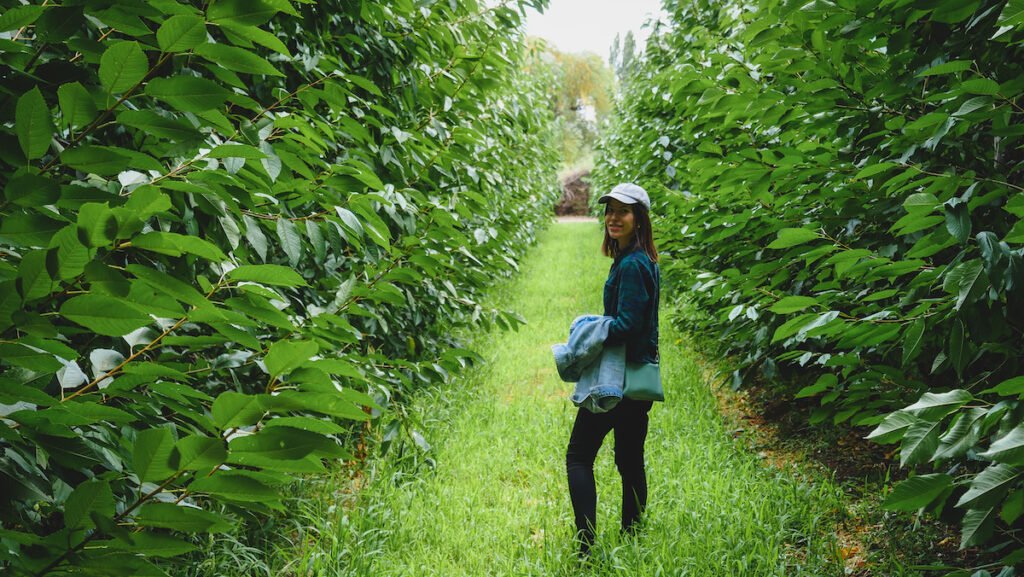 We purchased some cake and berries and then the owner told us we could also have a look around the farm, so we ended up having a picnic in the apple orchard.
It's a beautiful spot where you're surrounded by nature. Well worth the visit if you're spending the day in Gaiman!
Central Chubut Railway Tunnel
One of Gaiman's main tourist attractions is the old train tunnel that was part of the Central Chubut Railway. The railway operated between the valley of the Chubut River and the port city of Puerto Madryn. It was in operation from 1888 (making it the first railway in Patagonia!) to 1961. It also helped cut down travel time since this journey was previously something that had to be done on horseback.
The train tunnel was built to extend the train tracks from Gaiman to Dolavon while bypassing the centre of town.
The curved tunnel is 282 metres in length and it is one of the last remnants of the railway. Inside the tunnel, you'll find audiovisual displays that share the history of the railway in Spanish, English and Welsh.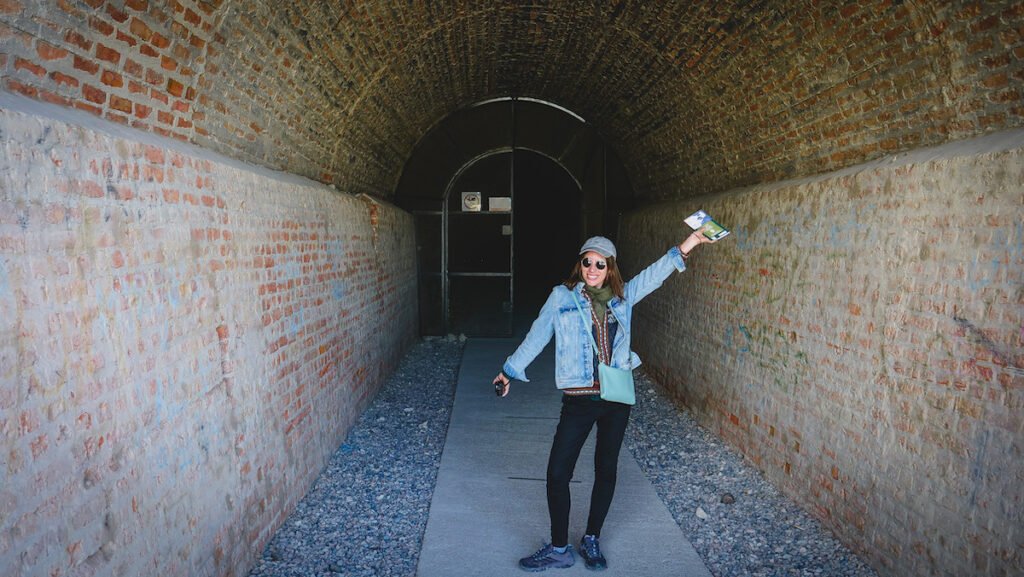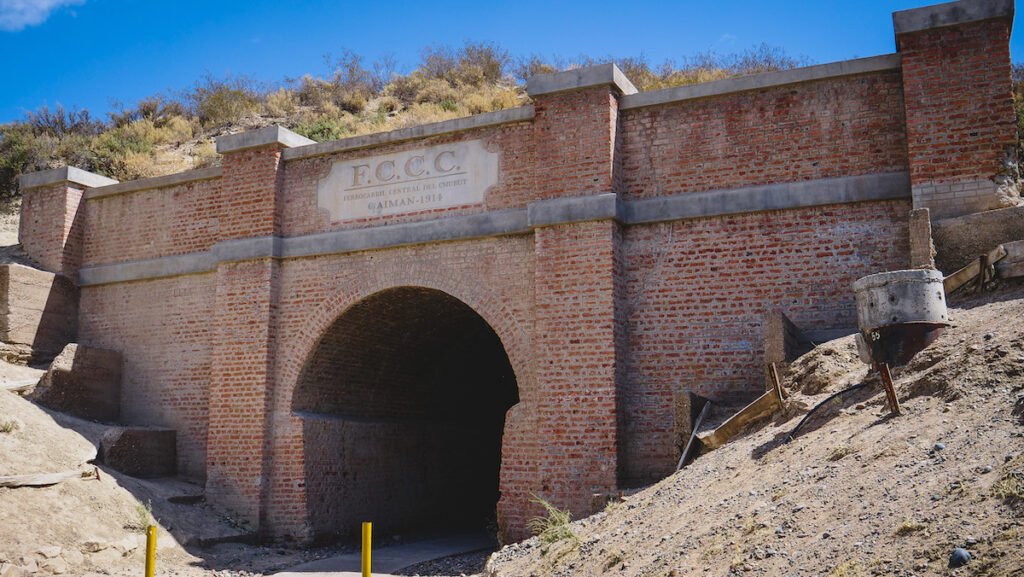 I'm going to be honest, as a woman, I probably wouldn't venture into this tunnel on my own. It's one way in and the same way out, and it's not well illuminated at all – there were sections where I had to use the flashlight on my phone to see where I was even stepping. Because the tunnel is curved, you also can't see what's at the end or if there's anyone there, so maybe go in with another person or a group.
Regional History Museum
Another place to visit in Gaiman for those wanting to learn a little bit more about the town's origins is the Regional History Museum, also known as the Museo Histórico Regional de Gaiman. Just be sure to check the schedule before visiting since at the time of writing this, the museum only opens one day a week!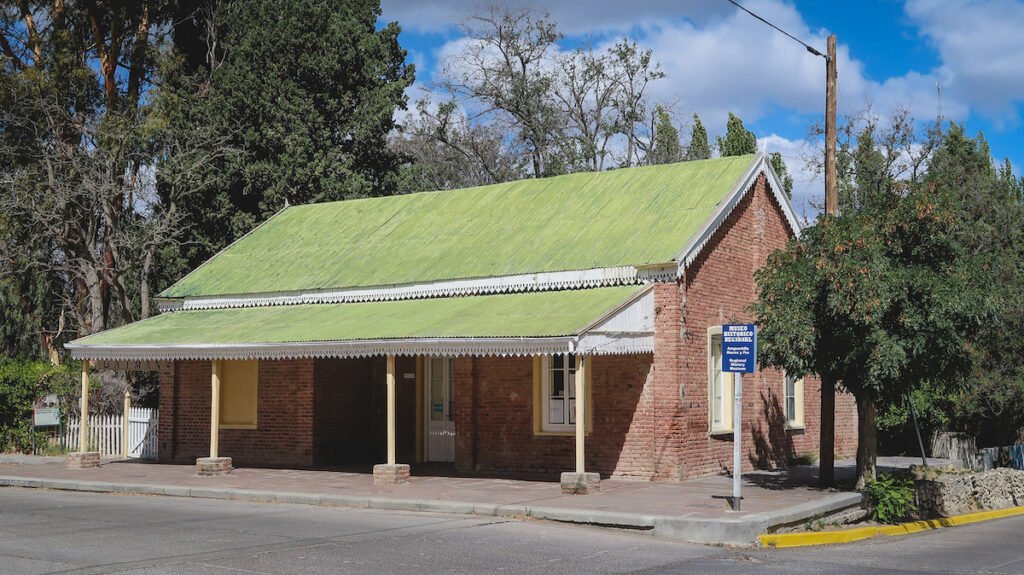 The Regional History Museum is set in the former train station and it displays a variety of items that were brought over by the early Welsh settlers.
There are rooms with furniture and crockery, others with farming equipment, and another section that focuses on the Eisteddfod – a Welsh cultural festival with a strong focus on singing, reciting poetry and dancing.
Gaiman holds the Eisteddfod in September and the competitions are in both Spanish and Welsh.
Tehuelche-Mapuche Museum
The Tehuelche-Mapuche Museum, formerly known as the Gaiman Anthropological Museum, is set in one of the first two-story buildings in Gaiman, which dates back to 1910.
This is a great museum to visit to gain a better understanding of the original peoples (the Tehuelches and the Mapuches) who lived in this area prior to the arrival of the Spanish and later the Welsh.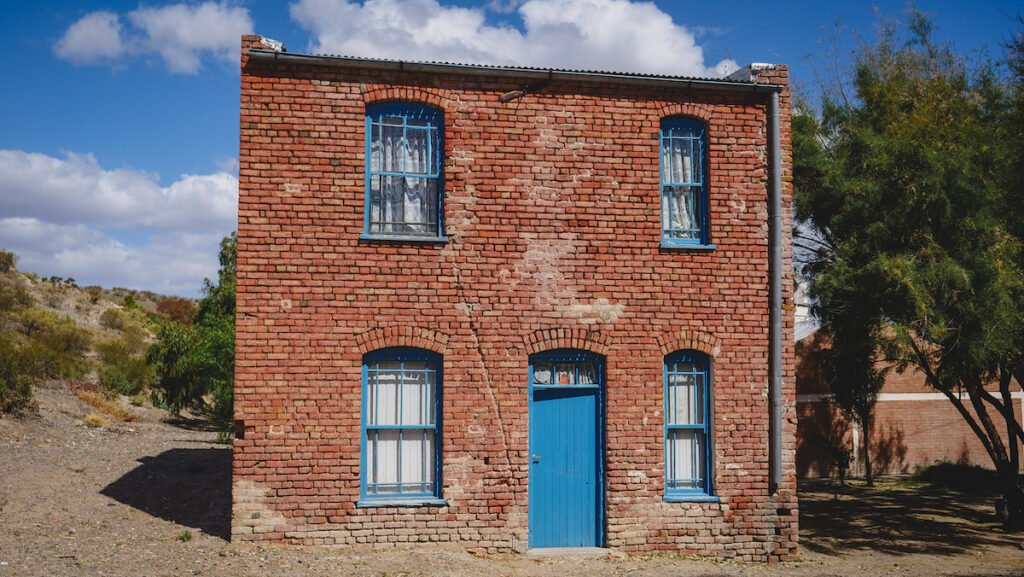 The museum also looks at the friendship that emerged between the Tehuelches and the Welsh, and how they helped the newcomers survive in a new and hostile climate that was very different to the one they'd left behind.
Guided tours are done in Spanish, so it does help to know the language in order to get the most out of the visit!
First House in Gaiman
Additionally, you can tour the first house to be built in Gaiman by the Welsh settlers.
This first house was built of stone in 1874. In it lived David D. Roberts and his wife Jemima Jones, who became the first settlers of Gaiman.
The house would've originally had a reed and mud roof, though today's there's a metal one.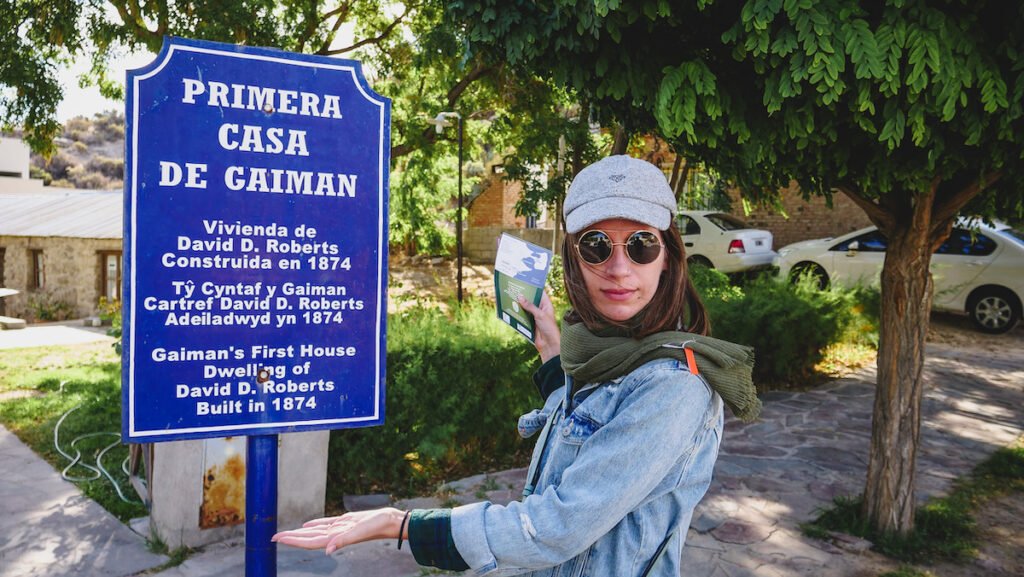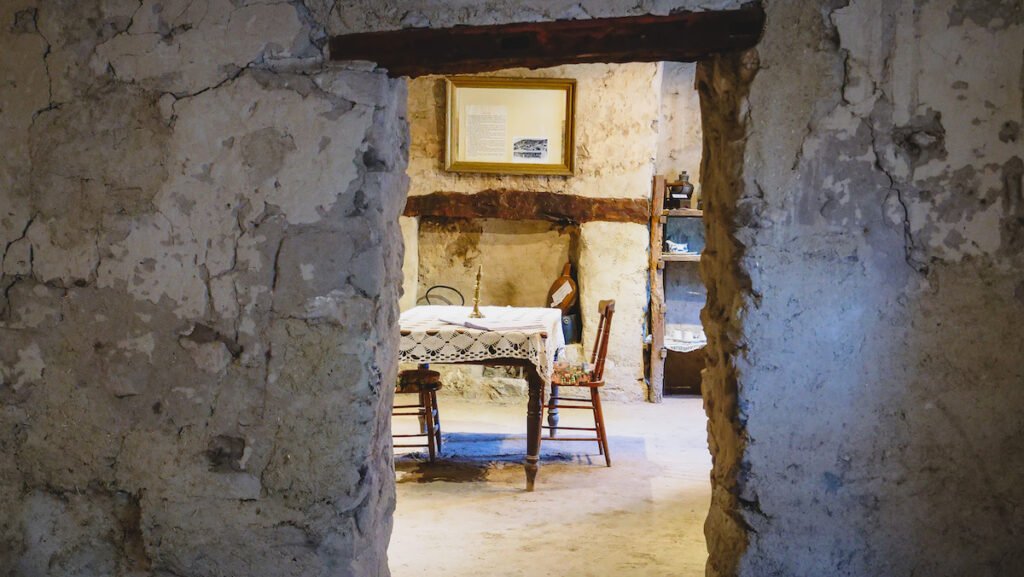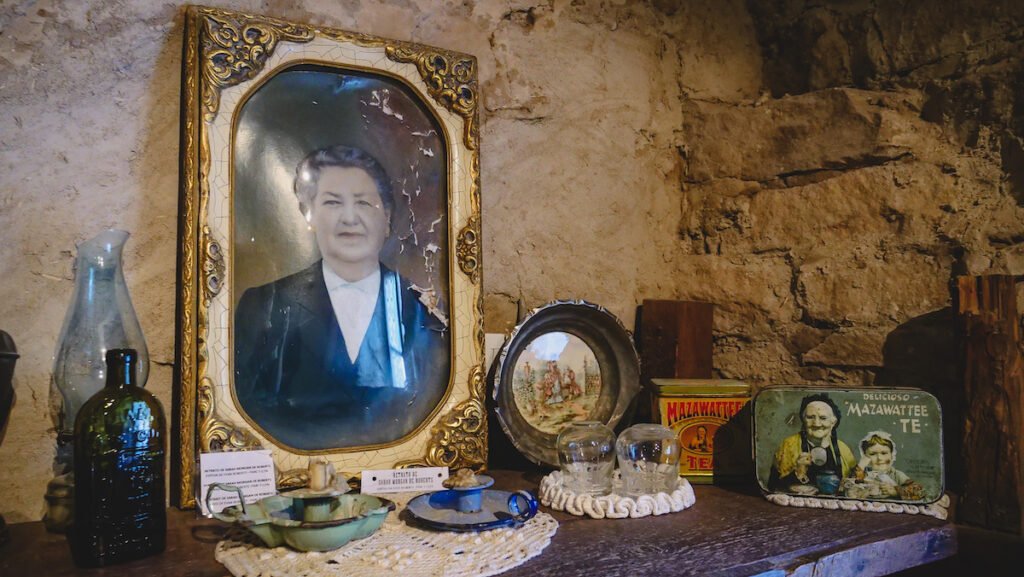 Inside you can see some of the furnishings and special items this couple would have brought over from Wales, and you can also get an idea of what life would've been like in the early days of this rural Patagonian community.
Visiting this house is done as a guided tour. The young gentleman who gave us our tour spoke Spanish, English and was also studying Welsh.
Gaiman Panoramic Point
If you're up for a fairly short and easy hike, you can head up to the Gaiman Panoramic Point. There's a sculpture up top called The Shape of Silence, plus you get panoramic views of this little Welsh town in Patagonia.
Where to eat in Gaiman
If you're planning to spend the whole day in Gaiman, or if you're planning to stay for a few days, you'll want more than just afternoon tea! Here are a few restaurants to consider across town:
Gwalia Lân Resto – This cozy restaurant serves a mix of homemade pasta and Welsh-inspired dishes.
Na Petko – This restaurant serves up classic Argentine fare in a tranquil setting next to the river.
Cactus Cervecería – This spot serves up beer, pizzas and snack platters you can share with friends.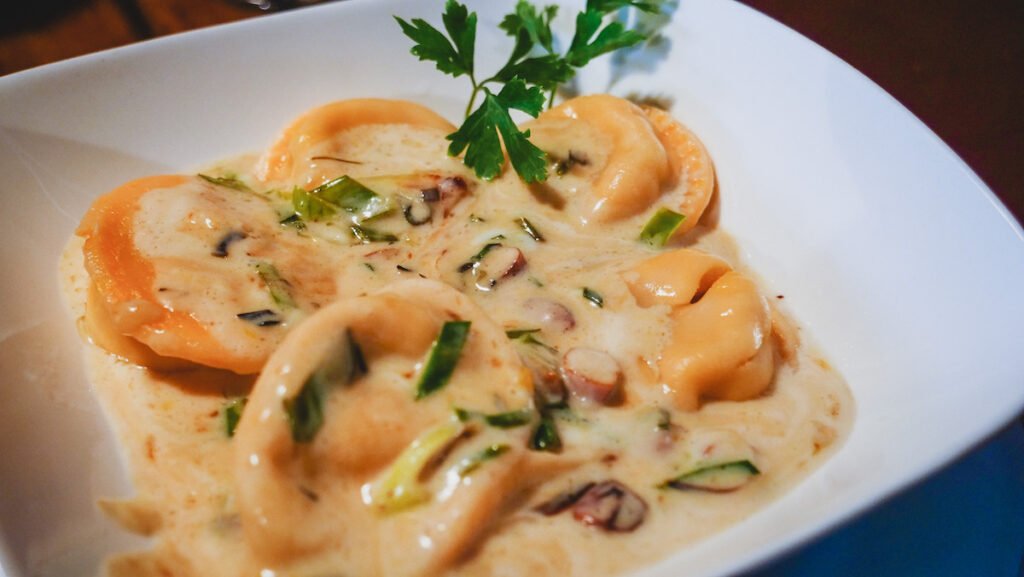 Where to stay in Gaiman
Gaiman is a small town and since most people visit on a day trip, accommodations are few and far between. That being said, there are a few guesthouses for those wanting to spend the night in this Welsh town in Patagonia.
Posada los Mimbres – This is a 3-star hotel located 4 km from the historic district. It offers beautiful gardens, a swimming pool, free bicycles to get around, and a restaurant that serves home cooked meals.
Hostería Gwesty Plas y Coed – This place offers private rooms in a Welsh-style house in the historic centre of Gaiman.
Alternatively, you can look for accommodations in nearby Trelew. The two communities are 17 kilometres apart, so if you'd rather stay in a city with a few more options, that's something to consider.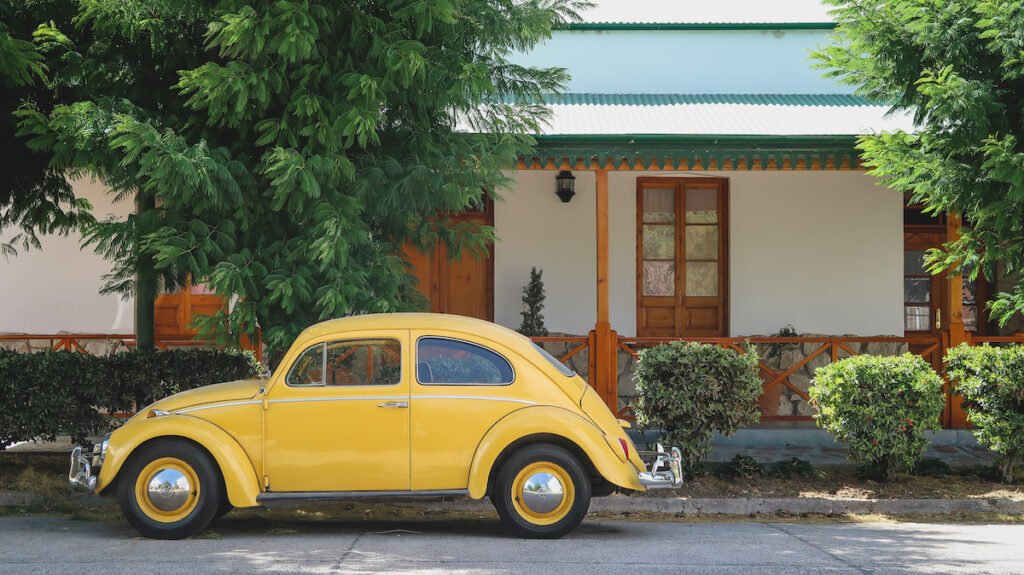 That's our guide to visiting Gaiman, a charming Welsh town in Patagonia, Argentina!
If you're already going to be travelling in this part of the Province of Chubut, this town is certainly worth a visit.
Hopefully, this blog post has given you a few ideas of things to do in Gaiman and now, you should have no trouble finding a tea house where to enjoy Welsh afternoon tea!