What are some things to do in Trelew and why should you visit?
Trelew is a city situated along the eastern part of the Province of Chubut in Argentina. Its name translates to 'town of Lewis' in honour of Welsh founder Lewis Jones. Yes, this is one of many towns in Patagonia founded by Welsh immigrants!
Trelew was founded in 1886 shortly after works for a railway line between the Chubut Valley and the port city of Puerto Madryn were approved in 1884. This became known as the end of the railway line right in the heart of the Welsh settlement. But we'll get to Welsh history later.
For now, if you're wanting to go off the beaten track in coastal Patagonia, we want to share a few reasons why you should consider visiting Trelew! Aside from Welsh culture, this city also boasts some of the biggest dinosaurs on the planet, it is home to a hotel with links to Butch Cassidy and the Sundance Kid, plus it's a jumping-off point for day trips to a petrified forest, a geo park and a whole slew of Welsh communities in the area.
This destination doesn't receive a huge number of international visitors, so it feels like a bit of a diamond in the rough. The attractions are few but they are quirky, and if you come with an open mind you're bound to have a good time!
So if this sounds like your kind of destination, read on for some ideas of things to do in Trelew, Argentina: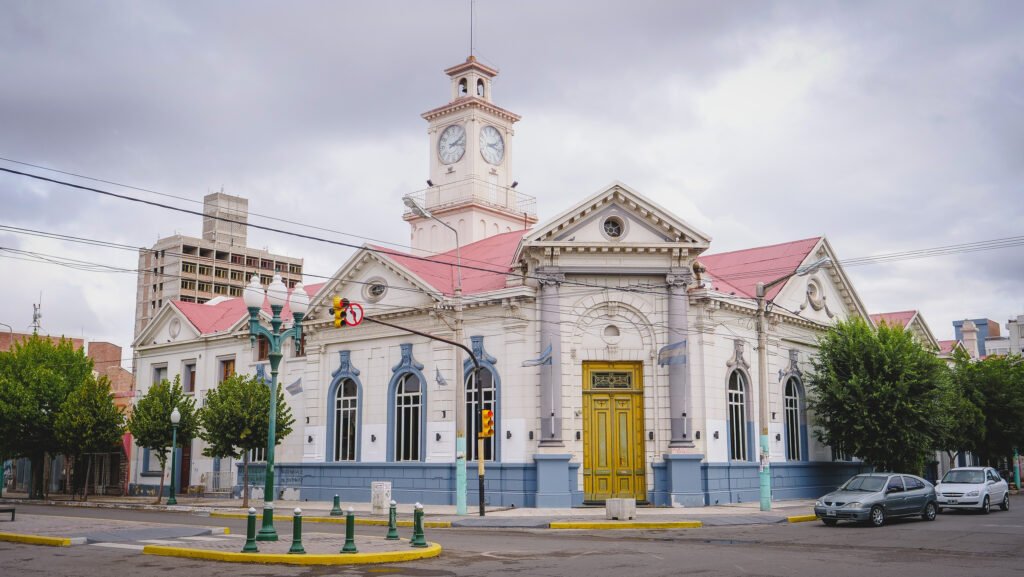 Things to do in Trelew
Egidio Feruglio Paleontological Museum
If you want to see dinosaurs, Trelew needs to be on your list of places to go in Patagonia.
The museum visit begins in a gallery that focuses on the first human settlements of the area about ten thousand years ago, and it then jumps back in time to the Mesozoic era when dinosaurs roamed these lands.
There are over 30 dinosaurs on display at the Egidio Feruglio Paleontological Museum and you can even see some dinosaur eggs. However, no dinosaur is more famous than the Patagotitan Mayorum – the largest dinosaur in the world!
This titanosaur was discovered in early 2013 and it measures more than 8 metres in height, 40 metres in length, and is estimated to have weighed around 74 tons.
If you have time, the museum screens a dinosaur documentary narrated by David Attenborough and it plays a few times a day.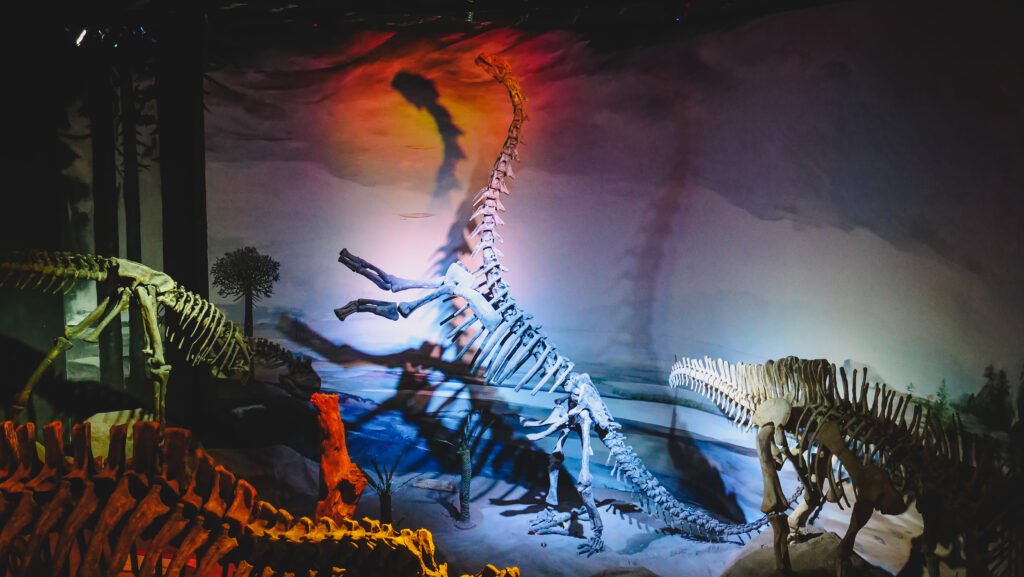 Biggest Dinosaur in the World Sculpture
If you're still wanting to see more dinosaurs, you won't want to miss the sculpture of the biggest dinosaur in the world in the outskirts of Trelew.
Head north on Ruta 3 just a few minutes outside of town, and you'll spot the Patagotitan Mayorum on the left hand side.
It's located directly across from Trelew Airport and it's massive, so you really can't miss it!
It's a short drive, so if you don't have a car, you can always take a taxi and ask the driver to wait for you while you snap a few photos.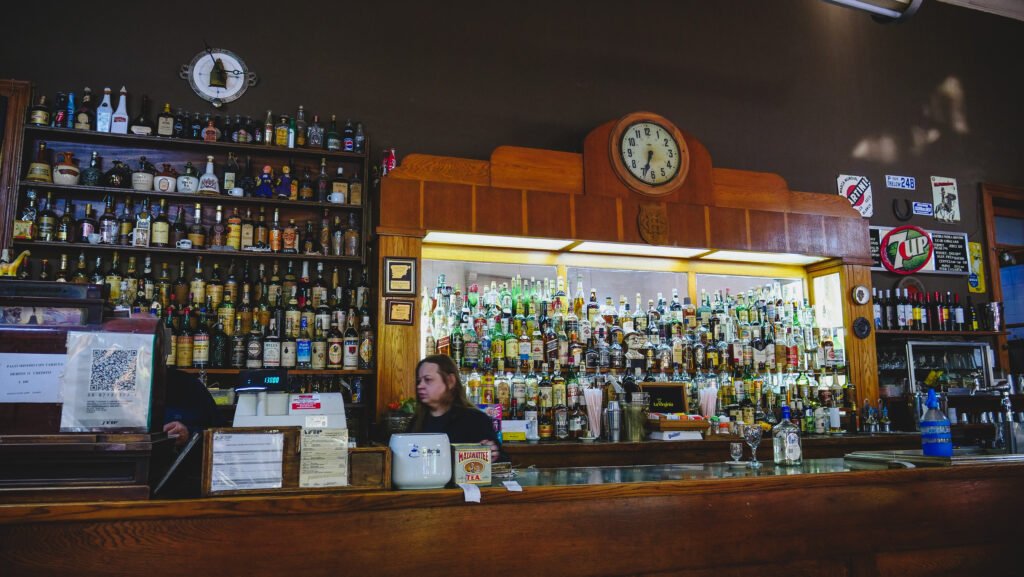 Hotel Touring Club
Trelew's Hotel Touring Club is known to have hosted many famous guests including writer and aviator Antoine de Saint Exupéry of The Little Prince. He was a frequent guest in the 1930s and today there's a plaque that commemorates his stays.
It also hosted an infamous gang of bank and train robbers. Do the names Butch Cassidy, Sundance Kid and Ethel Place ring a bell?
They were on the run from US law enforcement and ended up in this remote corner of Patagonia. They bought land, set up a ranch in Cholila, and would come to Trelew for business. (You can still visit the Butch Cassidy Ranch if you make it to northwestern Chubut.)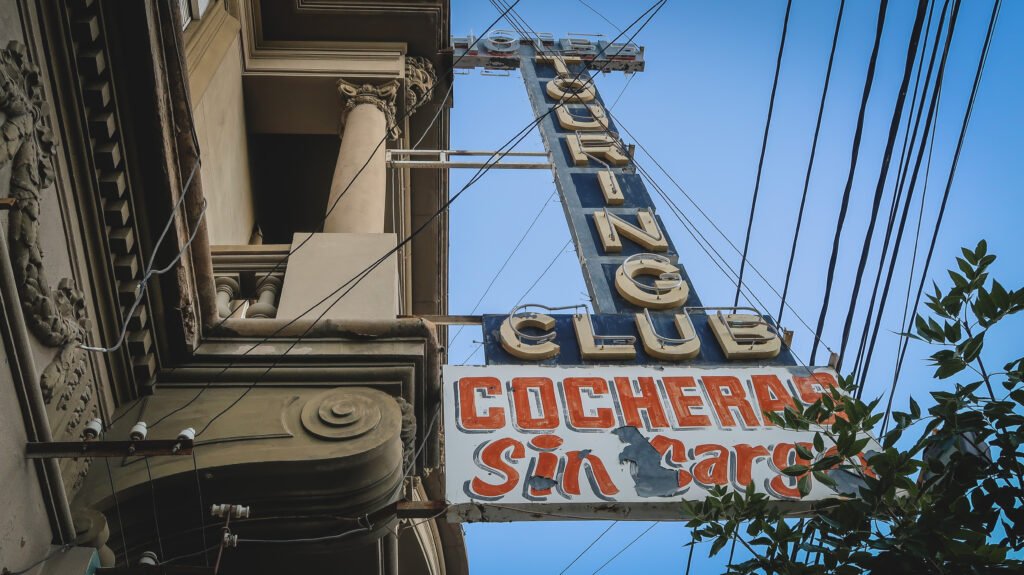 It may not look like it today, but Hotel Touring Club was once considered one of Argentina's most luxurious hotels. It was constructed in 1898 and remained the it place hosting multiple presidents through to the 1930s.
Today it oozes faded charm and stepping through its doors will transport you back to a different era.
Downstairs you can eat at the Touring Club Café with its wooden bar from a bygone era, walls covered in Butch Cassidy memorabilia, and bright fluorescent lights. The food is good, but we'll get to that in the restaurant recommendations down below.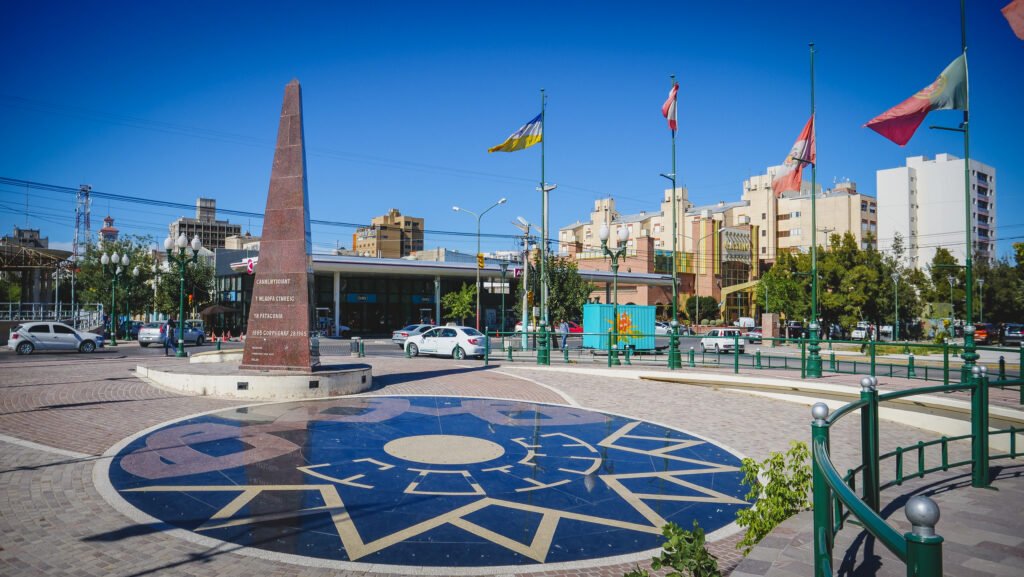 Regional Museum Pueblo de Luis
To learn a bit more about the history of Trelew, you can visit the Regional Museum Pueblo de Luis. The name really says it all: Pueblo de Luis is Spanish for Town of Lewis, which is Trelew in Welsh.
This museum is set in the former railway station which dates back to 1889. It tells the story of the Welsh immigrants who crossed the Atlantic Ocean, arrived on the shores of Puerto Madryn, and went on to settle the valley along the Chubut River.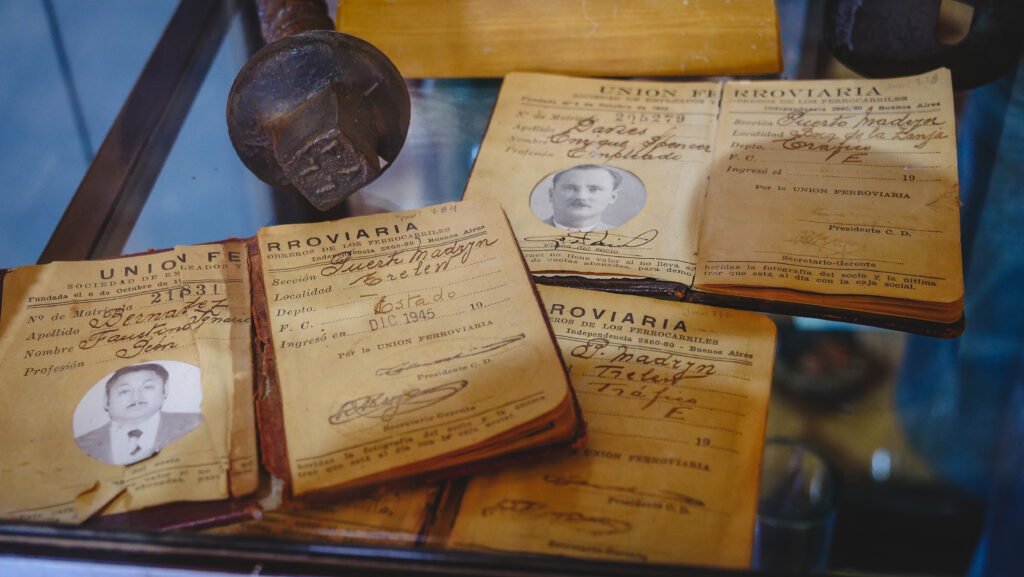 The museum is split up into different rooms starting with the Mapuches and the Tehuelches who lived in these lands, followed by the early exploration of the area between 1520 and 1865, and then the arrival of Welsh immigrants.
You can see farming equipment, furniture, homewares and other items that would have been brought over from Wales by the early settlers.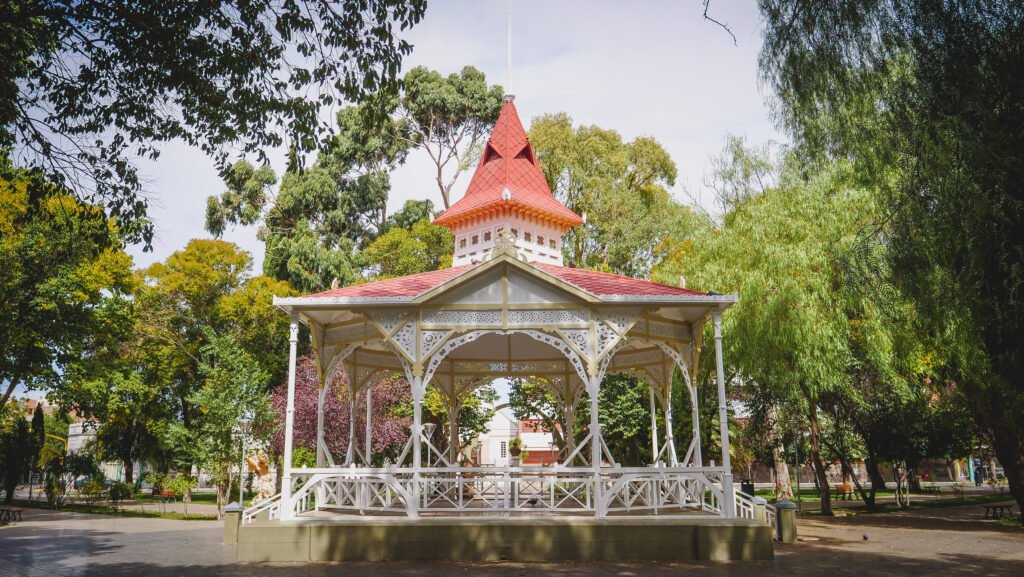 Plaza Independencia
Another place to visit in Trelew is Plaza Independencia or Independence Square.
This plaza has a beautiful pavilion and is surrounded by centuries-old trees, so it's a nice place to enjoy a quiet stroll.
It's where many city events are held and sometimes there's even live music.
Trelew Visual Arts Museum
Directly across from Plaza Independencia on the west side of the square, you'll find the Trelew Visual Arts Museum.
This museum showcases the work of local artists and the exhibition is constantly changing.
The works featured are mainly photography and paintings, and it makes for a short but enjoyable visit.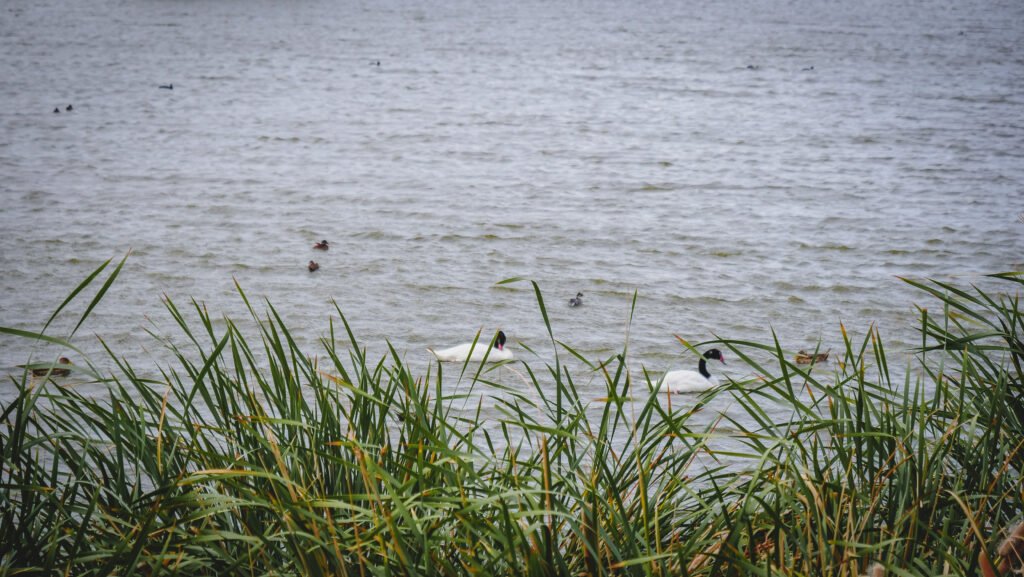 Cacique Chiquichano Lagoon
This lagoon is located in Trelew's city centre directly behind the bus terminal.
There's a 1.9 kilometre trail that goes all around the lake and it's a nice place for a walk or a run if you're looking to get a workout during your visit.
You can also see swans, ducks and flamingos.
Day trips from Trelew
There are multiple day trips you can take from Trelew ranging from 20 minutes to just under 2 hours of driving time. These include: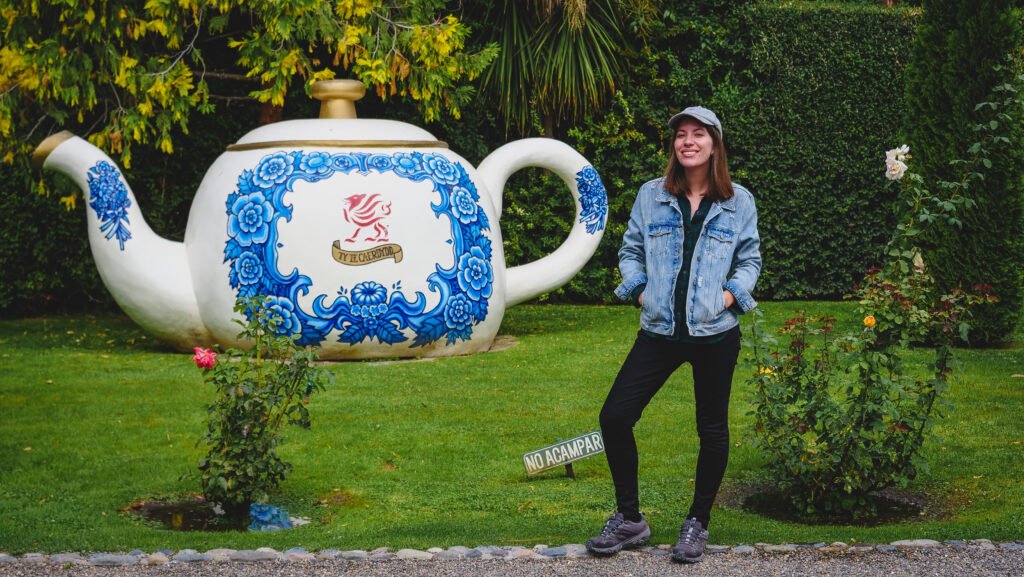 Gaiman
Driving time: 20 minutes
Gaiman is the place to visit if you want to experience a Welsh town in Patagonia. The main thing to do in Gaiman is to enjoy Welsh afternoon tea in one of the town's many tea houses. Some other highlights include visiting a local farm, and learning about Welsh immigration to Argentina in the town's various museums.
Rawson
Driving time: 20 minutes
Rawson was the first town founded by the Welsh immigrants who sailed to Patagonia aboard the Mimosa in 1865. The city rises next to the Chubut River not too far from where it meets the sea. If you're craving a beach day or wanting to do some dolphin or whale watching (season dependant) this is your destination.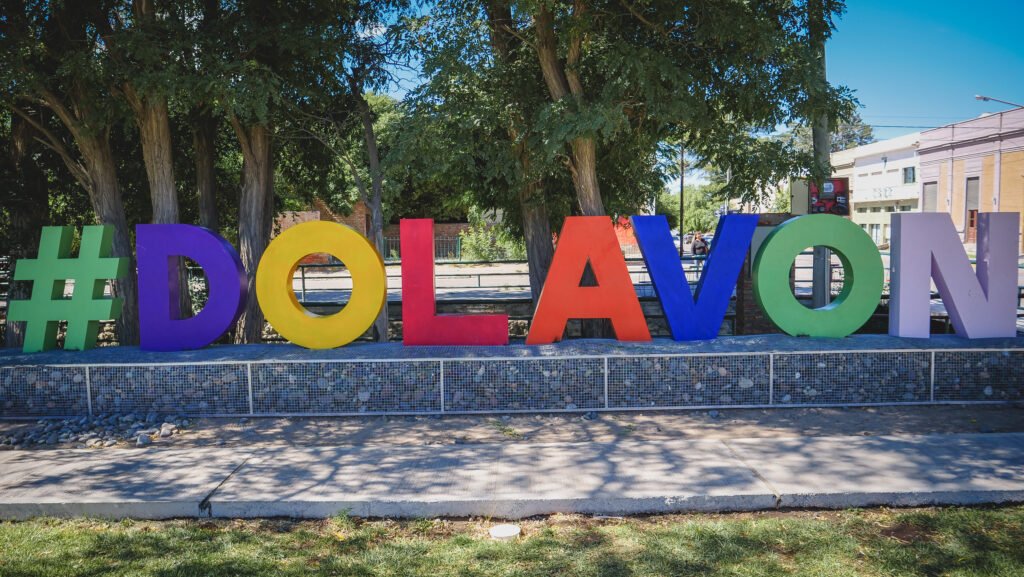 Dolavon
Driving time: 30 minutes
Dolavon is another Welsh community you can visit in Chubut and its name translates to 'river meadow'. This is a very small, sleepy town that can easily be visited in half a day. Some of the highlights include walking along the canals, and visiting the old mill turned museum and restaurant.
Bryn Gwyn Geopark
Driving time: 30 minutes
Bryn Gwyn Geopark is a natural geological reserve and its name translates to 'white hill' in Welsh. The park is in an area that separates the Chubut River valley from the Patagonian steppe. There is a hiking trail and along the way you can see fossils – both real and replicas.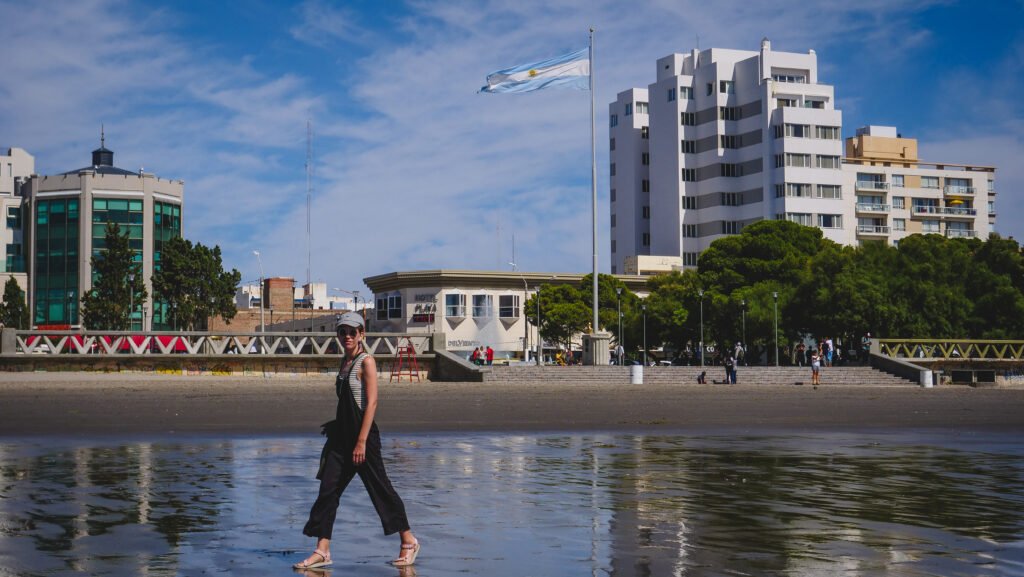 Puerto Madryn
Driving time: 50 minutes
You'll want more than a day to visit Puerto Madryn and Península Valdés, but if a day is all you have, a full day excursion is the best way to do so. You'll get to see this port city in passing and then continue towards the peninsula for some wildlife viewing. We're talking penguins, sea lions, elephant seals and more!
Petrified Forest Florentino Ameghino
Driving time: 1 hour 50 minutes
Last but not least, if you don't mind a bit of a drive, you can visit a petrified forest in the province of Chubut. Here you'll come face to face with petrified logs that were part of an extensive forest that were carried by rivers to the sea coast of that time. The tree logs are estimated to date back 60 million years!
Where to eat in Trelew
Trelew offers a nice variety of restaurants featuring all your classic Argentine foods, and that means plenty of steak, pizza and pasta! Here is a list of restaurants we enjoyed in the city: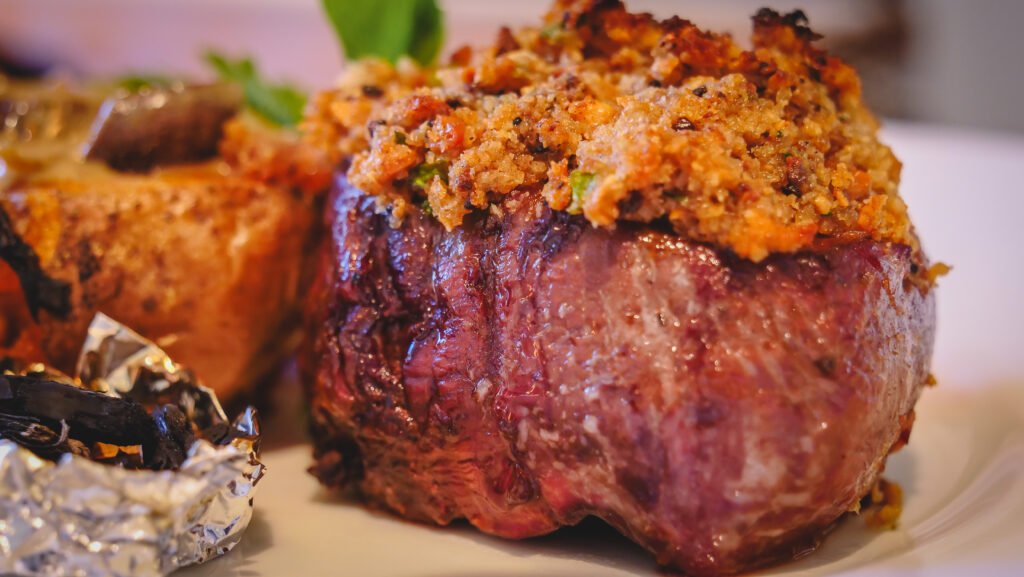 Sugar
Sugar is a gourmet restaurant specializing in Argentine cuisine with a contemporary twist. It is the best restaurant we visited in Trelew and it left us ooh-ing and ahh-ing at every bite! Their menu is ever evolving but we really enjoyed the smoke-infused steak and the beetroot gnocchi in a blue cheese sauce. A delightful foodie experience from start to finish.
Tía Camila
If you're craving pizza, then make your way over to Tía Camila for some of the most delicious pizza you'll ever have! This is very much a local eatery with prices to match. I'd recommend trying the Pizza Quattro Stagioni (Four Seasons Pizza), so you can sample 4 different pizza toppings.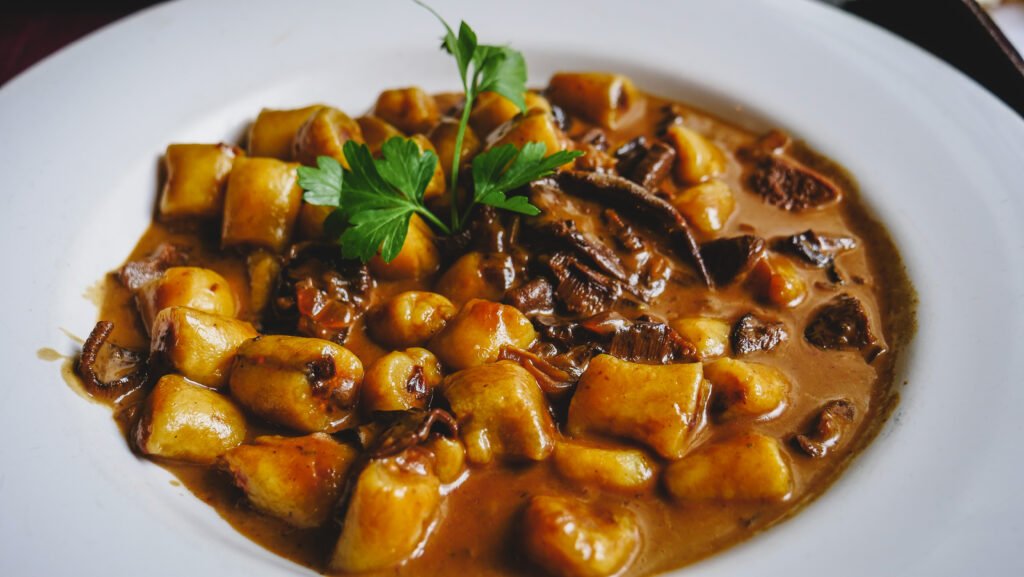 Raíces
Another restaurant we visited in Trelew is Raíces, which specializes in pasta dishes. We tried the spinach and ricotta cannelloni with a tomato and beef sauce, as well as the plum and bacon-stuffed gnocchi in a creamy mushroom sauce. Pair that with a bottle of red wine and you've got yourself a wonderful meal!
Francesca
This is a cute cafe for breakfast or afternoon tea. They have all sorts of pies, tarts, cakes and pastries to choose from. If you're craving something savoury, you can't go wrong with their classic grilled ham and cheese sandwich. It's a relaxed setting where you can linger in between all the sightseeing.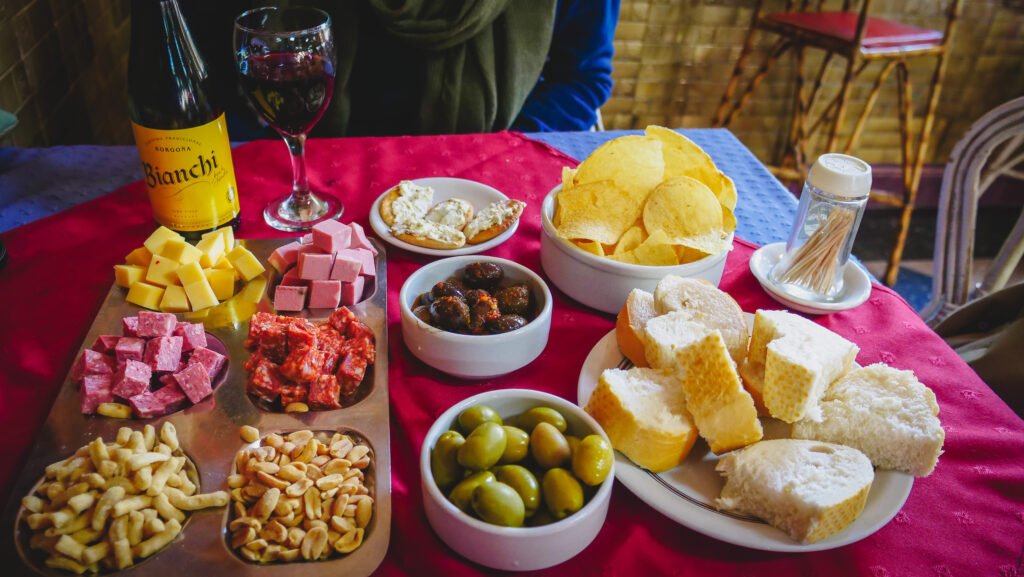 Hotel Touring Club
We mentioned this place under the attractions, but don't miss out on the chance to eat here. The vibe is a bar stuck in time and the food is good. I would recommend ordering the picada, which is Argentina's version of a snack. Expect lots of little plates with salami, cheese, mortadella, olives, peanuts, chips, fries, grilled ham and cheese sandwiches. Order a pint of beer to go with it and it's a complete meal!
Where to stay in Trelew
Hotel Libertador – This is a centrally located 3-star hotel close to most attractions and offering breakfast.
Apart Hotel Argenta – These are spacious self-catering apartment-style accommodations with a kitchen, living and dining area.
La Casa de Paula Bed & Art – This is a bed and breakfast option set in a residential neighbourhood with a familiar touch.
Hotel Touring Club – If you're visiting Trelew for its history and Butch Cassidy connection, then you may be interested in this hotel, however, keep in mind it is a 1-star hotel!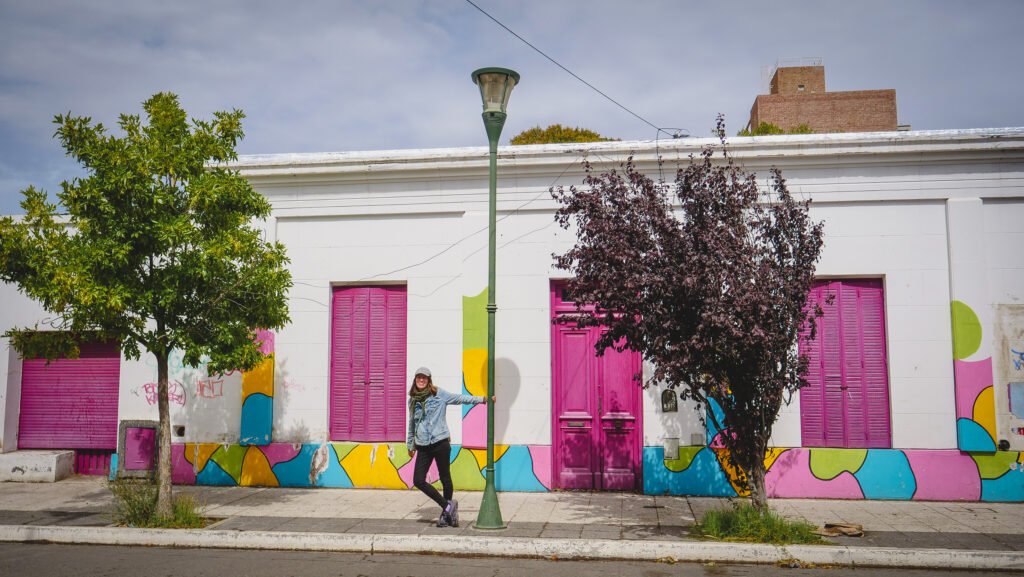 How to get to Trelew
Trelew has a small airport (Almirante Marcos A. Zar – REL), so it is possible to fly into the city. The national airline Aerolineas Argentinas operates a few weekly flights.
However, you're most likely to arrive in Trelew by bus via the port city of Puerto Madryn. There are two bus companies that operate regular routes between Trelew and Puerto Madryn and those are Mar y Valle and 28 de Julio. The travel time between the two cities is 53 minutes.
If you feel comfortable driving in Argentina (keep in mind most cars are manual transmission!), an even better way to explore Trelew and the surrounding area is by renting a car. This will give you the flexibility to explore at your own pace without having to depend on public transport. Plus it'll make the day trips a lot more accessible.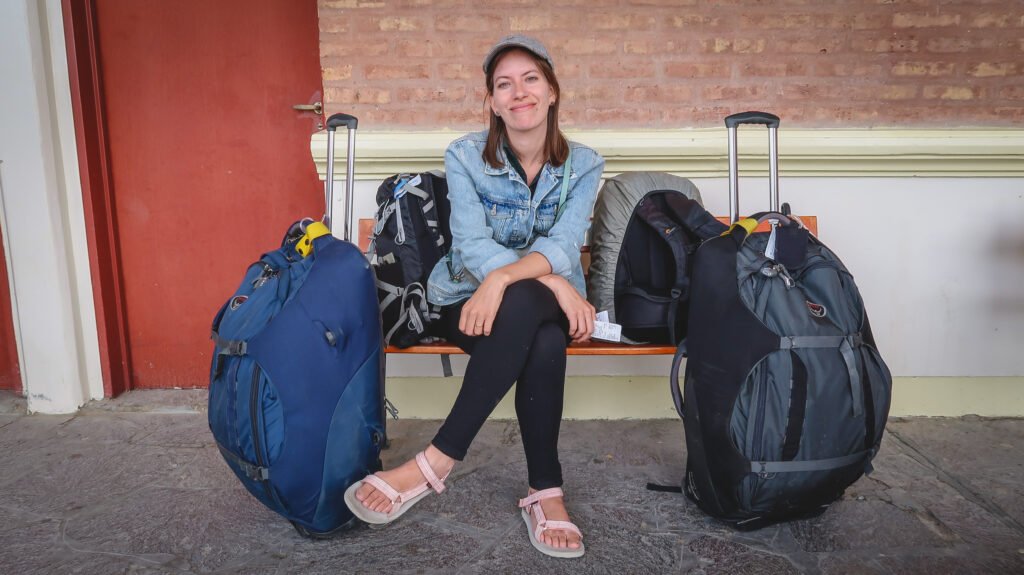 That's our travel guide to visiting Trelew! Hopefully this blog post gave you a few ideas of things to do and day trips to go on during your visit.
Now over to you. Let us know if this Welsh city in Patagonia is on your travel itinerary.