Are there any things to do in Comodoro Rivadavia and is it even worth visiting?
When we first told Argentines we were travelling to the oil town of Comodoro Rivadavia in Patagonia, we got some wide eyes and plenty of whys.
"There's nothing to see there."
"Why would you want to go to an oil town?"
"It's just sand and wind down there!"
These were some of the things we heard about Comodoro Rivadavia. Yet admittedly, most of the people telling us these things had never been there!
That piqued our curiosity and so, we took it upon ourselves to add Comodoro Rivadavia to our coastal Patagonia travel plans and see what the city had to offer.
After all, this is the biggest city in the Province of Chubut!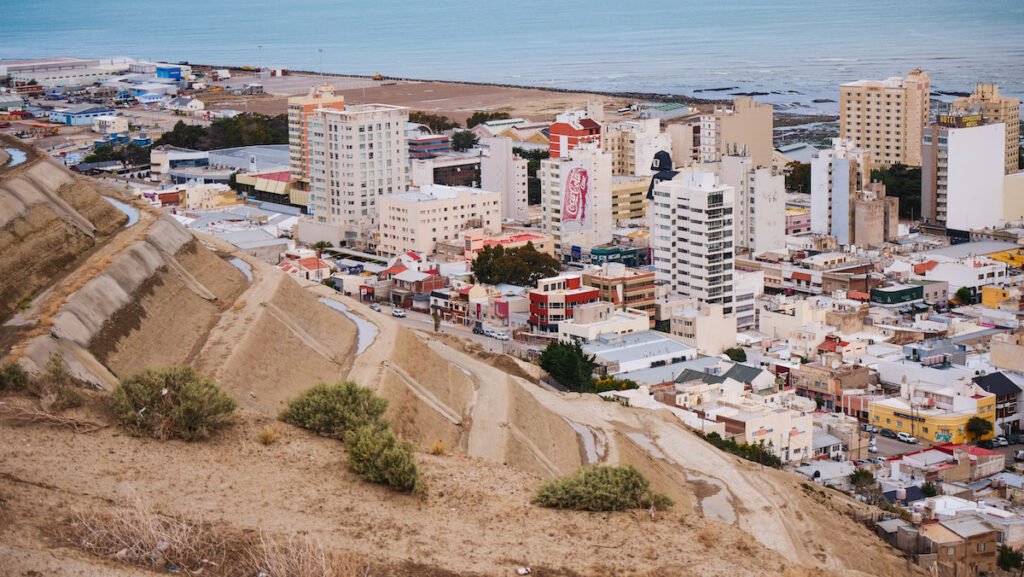 History of oil in Comodoro Rivadavia
The story of how oil was discovered in Comodoro Rivadavia is a little murky. Popular narrative says a team was drilling for water and they got lucky and struck oil instead, but that isn't quite how things unfolded.
But first, let's set the scene. Comodoro Rivadavia was founded by decree in 1901 as a port for the inland settlement of Sarmiento.
The early settlers were Boers and Welsh immigrants who worked in agriculture. One of the challenges they faced was a shortage of water, which required them to haul water by oxen. It was supposedly at the insistence of these settlers that drilling for water began and that's how they found oil.
Except this does not line up with any of the events that unfolded.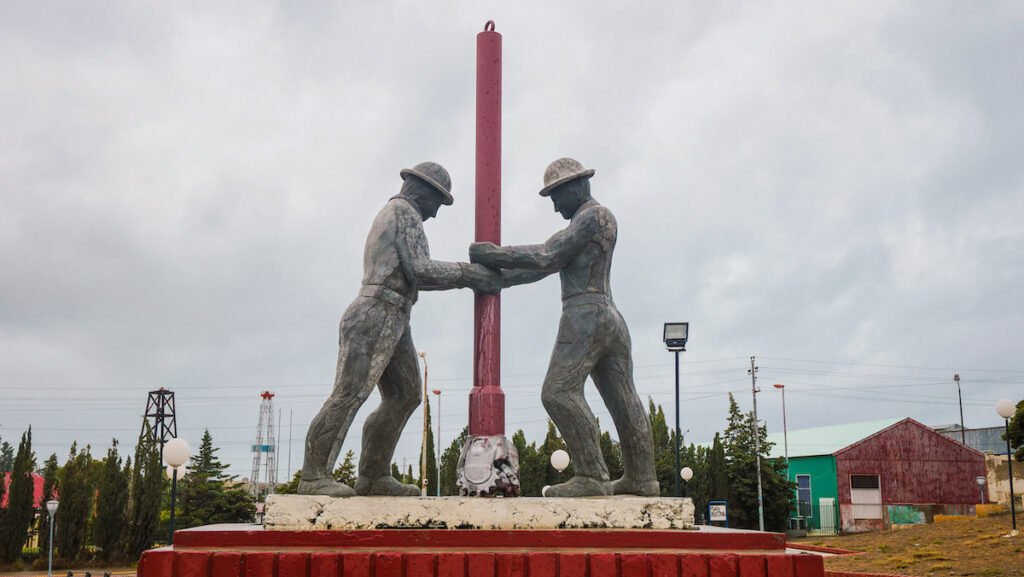 In 1903, the National Mining, Geology and Hydrology Department sent down a rig to supposedly drill a water well. The problem with this story is that you don't drill for water at the depths this team was drilling.
The first perforation went down 172 metres and no water was found. Now just to give you some context, water in this area can be found at a depth of 50-100 metres!
They kind of overshot the mark a bit, don't you think?
Then in 1906, a team of German engineers was assembled and a new rig was sent down for a second attempt at drilling for 'water'. Two of the key figures on site were Humberto Beghin in charge of operations and José Fuchs in charge of drilling. This was organized by Julio Krause, Head of Drilling of Argentina's Mining Department whose involvement already raises some questions.
Plus, do you really bring a whole team over from Germany just to drill for water?
This second perforation reached a depth of 500 metres and still no 'water'.
But then, a change in fortune. On December 12, 1907 an oily substance started bubbling out – it smelled of kerosene.
The following day on December 13, the drilling team reached a depth of 540 metres and declared the discovery of oil. A telegram was immediately sent to the President alerting him of the news and the rest is history.
That's how Argentina's oil capital of Comodoro Rivadavia was born!
Things to do in Comodoro Rivadavia
So what are some things to do in Comodoro Rivadavia?
Admittedly, many of the attractions in town revolve around petroleum – this is an oil town after all!
However, this seaside destination also offers excellent seafood, cool lookout points, and easy day trips to a beach town and a sea lion colony.
So in this blog post we'll be giving you a few ideas of what you can do during your visit.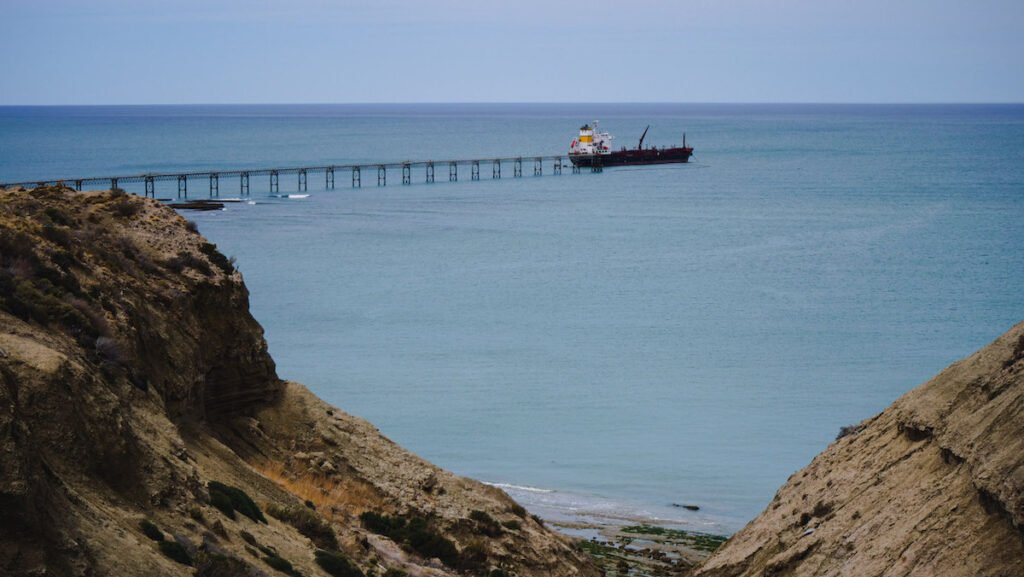 Visit the National Petroleum Museum
The most important place to visit in Comodoro Rivadavia is the National Petroleum Museum, locally known as Museo Nacional del Petróleo.
This is the place to learn about the first discovery of oil and the role it played in making Comodoro Rivadavia what it is today.
The museum is located in the General Mosconi neighbourhood about 3 kilometres north of the city centre. It is built in the very spot where the teams first struck oil.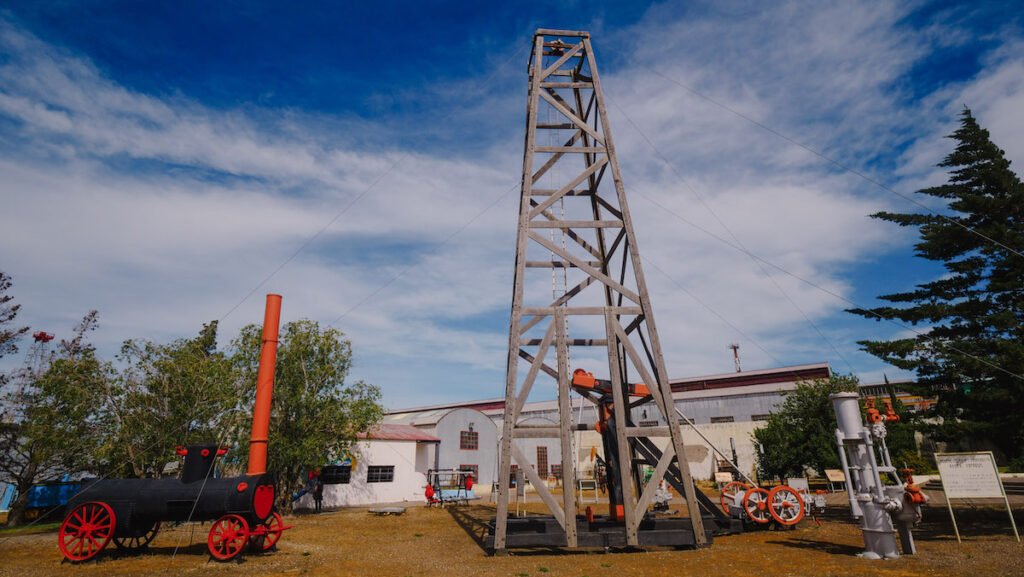 The nice thing about this museum is that there is a guide on site to share the history of oil in Comodoro Rivadavia and answer any questions you may have.
You are also free to explore the museum at your own pace and there's quite a bit to see between the outdoor and indoor components.
Outside you can visit the second perforation where they struck oil and you can also view all of the machinery that was used to drill to such great depths.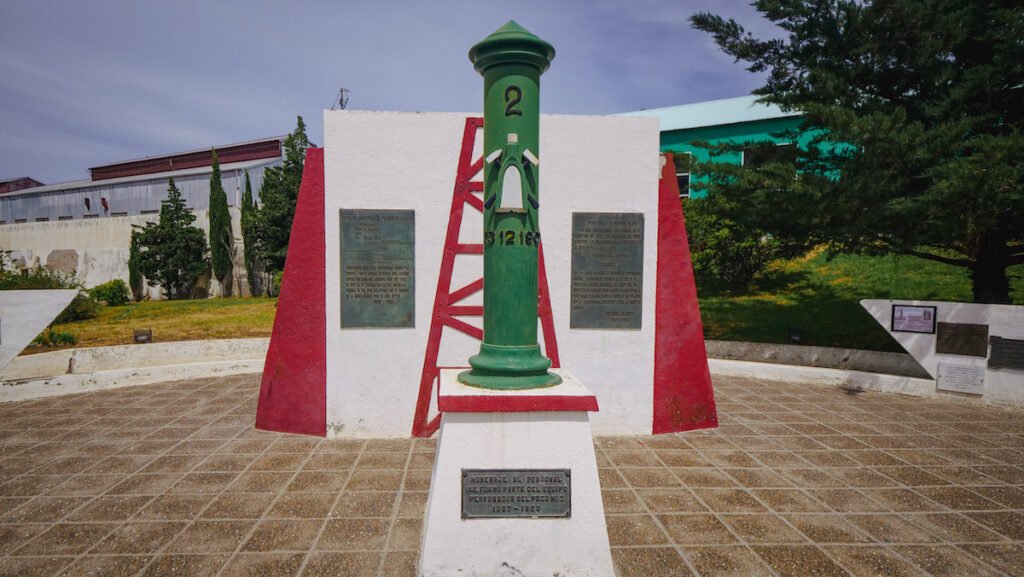 Then indoors, you can go into this simulator that shows you what it would be like if you could shrink down and travel to the bottom of an oil well. I'm sure it's an experience meant for children, but it was actually a lot of fun!
They also have interesting displays that show you what petroleum can look like (all sorts of surprising colours!), photos of the National Oil Queen pageant, and exhibits on the uses of oil through time dating from the Middle Ages to Ancient Egypt.
Enjoy the views from Cerro Chenque
Another thing to do in Comodoro Rivadavia is to enjoy the views from Cerro Chenque.
It's impossible to miss this hill as it dominates the cityscape. It rises 212 metres above sea level and offers great panoramic views of the city and the coastline facing south.
The name 'chenque' means cemetery or grave in the native Pehuenche language, since this was used as a burial ground.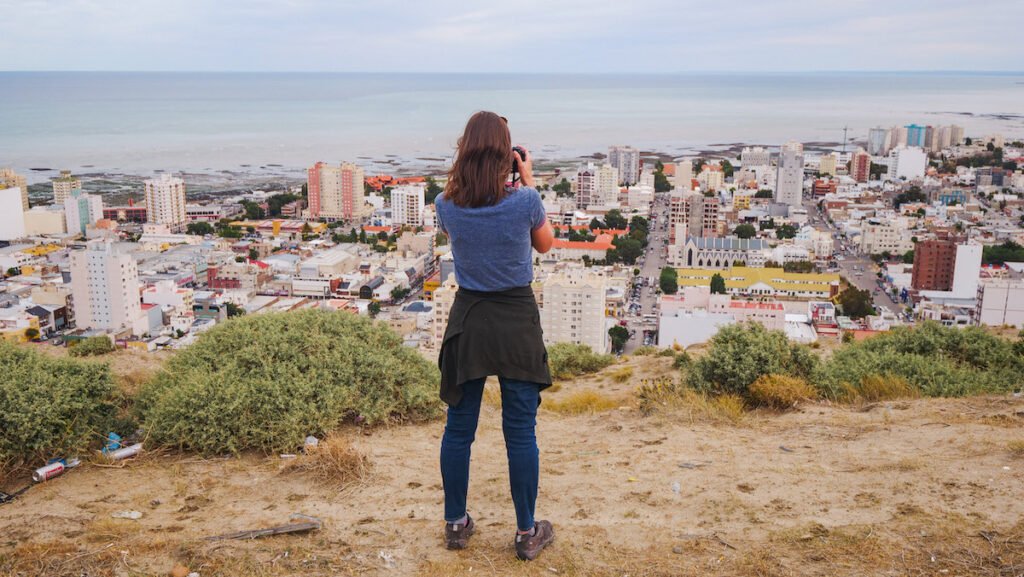 While it is possible to walk up Cerro Chenque, it is a busy road shared with heavy traffic and you have to walk along a gravel path on the side.
If it's just the views you're after, you can hire a taxi to drive you to the top and wait for you while you snap some photos before driving back down.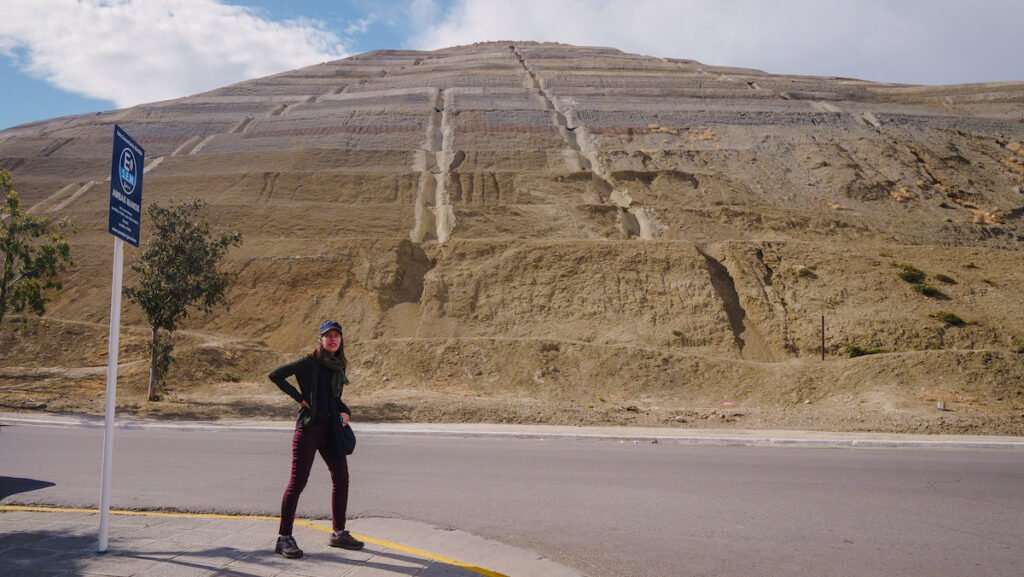 If you prefer to walk from the city centre, the easiest way to do so is by taking Ruta del Centenario on the west end of the hill and then coming back down the same way once you've reached the viewpoint.
Visit the other museums
Aside from the National Petroleum Museum, which is the main attraction in town, there are a few smaller museums scattered across Comodoro Rivadavia. But again, I emphasize these are very small and have very limited hours of operation. So you'll want to check each museum's schedule online before you attempt visiting:
Railway Port Museum
Patagonian Regional Museum
Museum of Mining and Geology
Military Historical Museum
Museum of Paleontology Astra
We tried visiting three different ones on this list, but only one of them was open!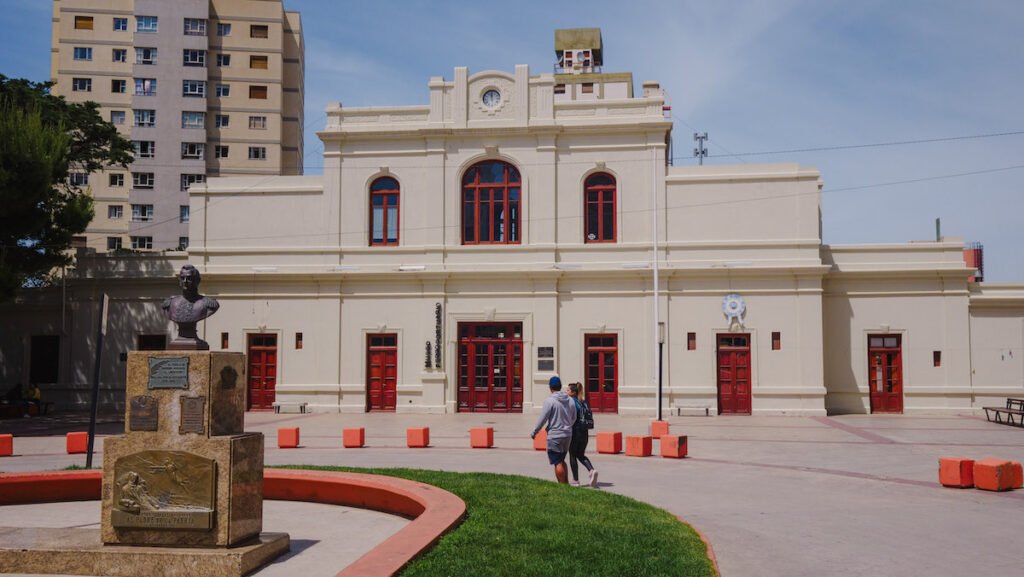 Walk along the Costanera
Comodoro Rivadavia is a seaside city and that means you can enjoy some beautiful coastal walks along the Costanera.
We did the walk along Playa Costanera, starting at Plaza Soberanía and heading north along the coast. You go through a bit of an industrial shipping area where you can see some old abandoned boats covered in graffiti, and you eventually reach the beach.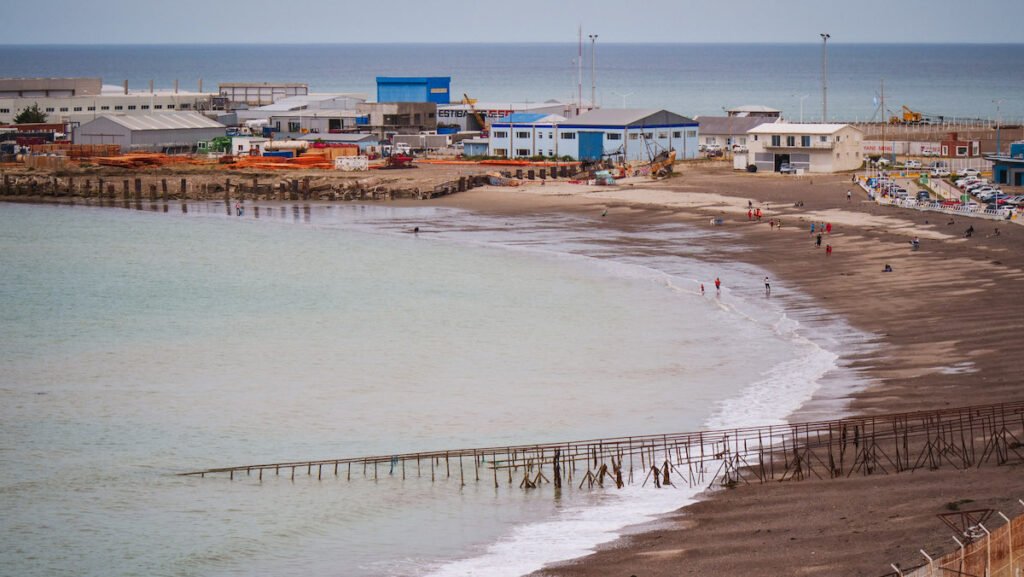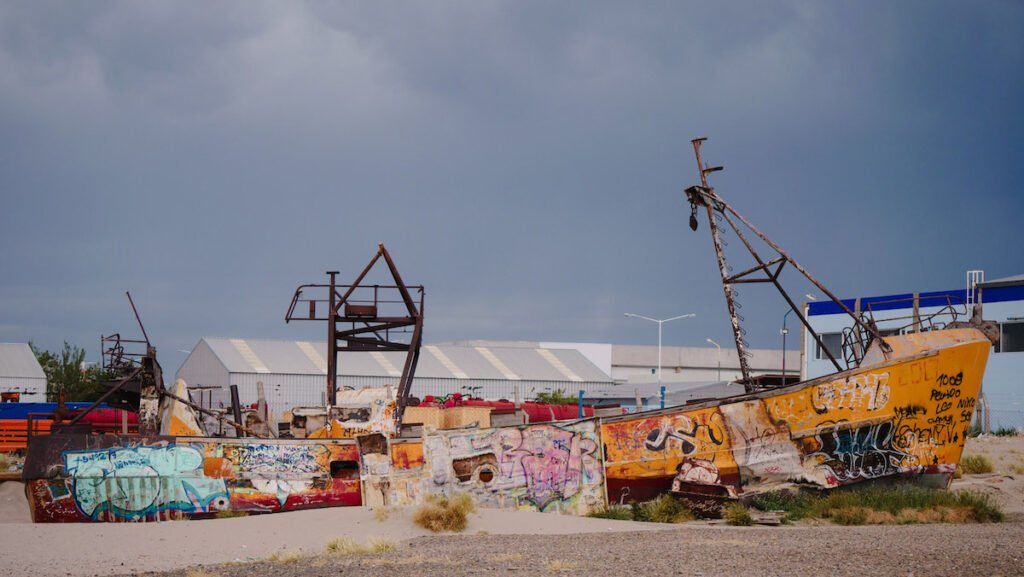 The coastal walk then continues along these towering cliffs. If you do this walk on a sunny day when the light turns the waters turquoise, you almost feel like you've been transported over to the Caribbean!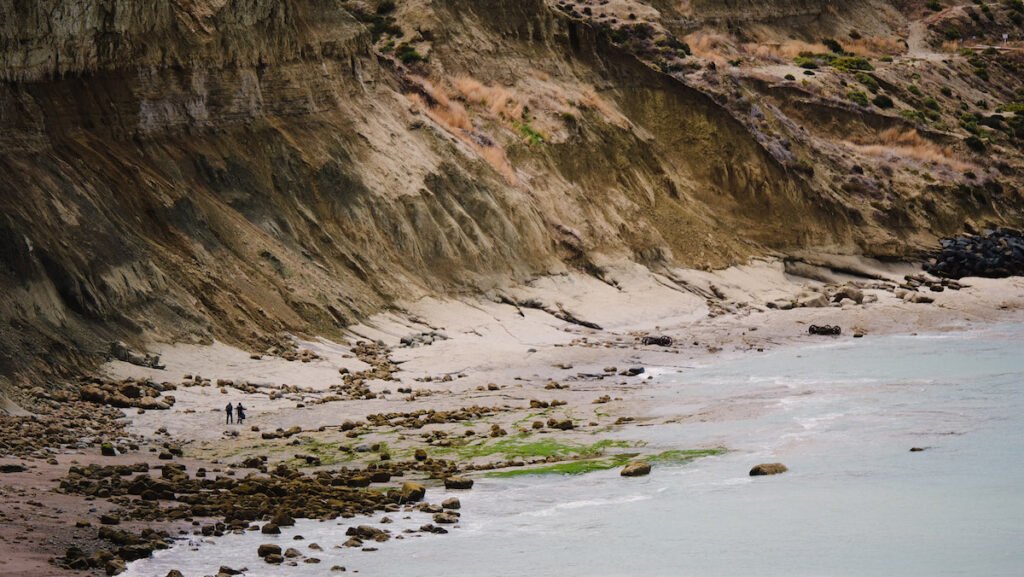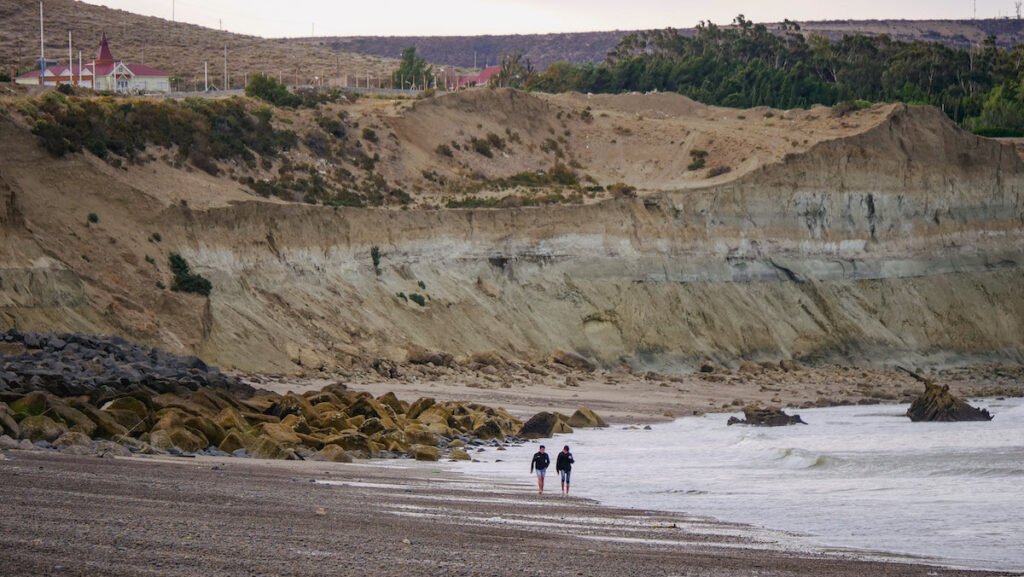 Take a day trip to Rada Tilly
Another thing to do during your visit to Comodoro Rivadavia, is to take a day trip to Rada Tilly.
Rada Tilly is a beach town located just 13 kilometres from Comodoro Rivadavia and it's considered a weekend getaway and summer destination for those with oil money.
The waterfront is lined with elegant homes and mansions – some that look like they were inspired by Santorini! – and the beach is right on their doorstep.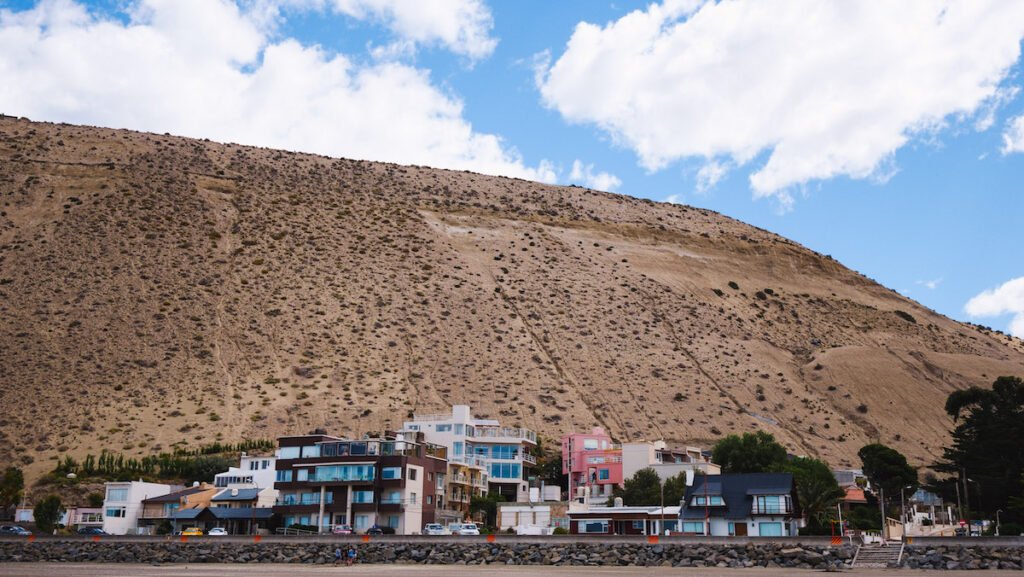 During low tide the beach is incredibly wide and you can walk all the way down to the cliffs on the south end of the beach looking for shells.
The beach is also a popular destination for windsurfing, kitesurfing, and even landsailing – a sport where three-wheeled carts with a sail attached to them move with the force of wind.
Rada Tilly feels a bit more upscale than neighbouring Comodoro Rivadavia, but it still maintains a casual beach town feel, so if you want to see something a little different this day trip is worth it.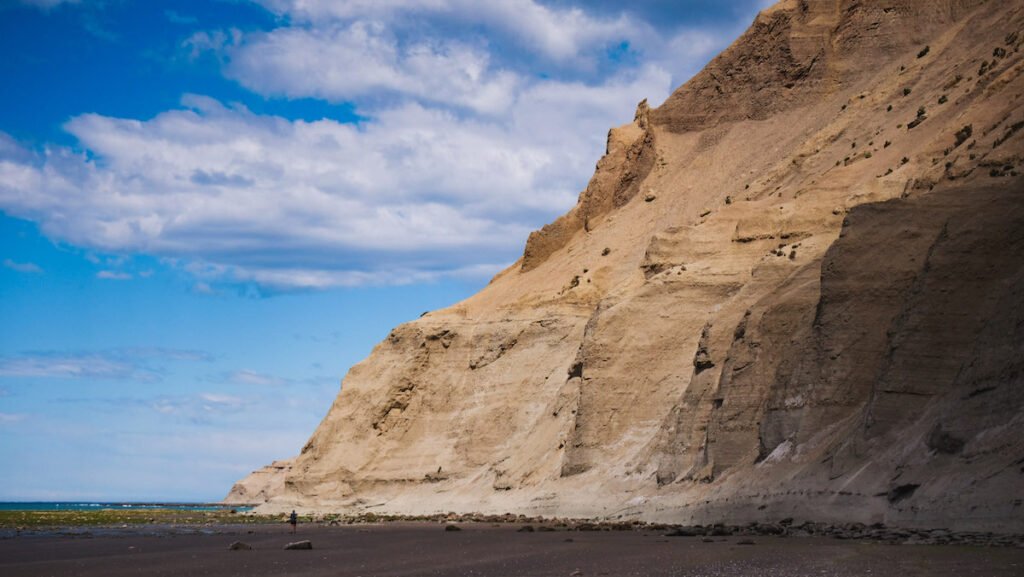 See sea lions at Punta Marqués
Another popular day trip from Comodoro Rivadavia is to Punta Marqués to see sea lions.
If Península Valdés in northeastern Chubut isn't on your itinerary this time around, then you can get your dose of wildlife viewing here.
Punta Marqués is a 19-kilometre drive from Comodoro Rivadavia or a 6-kilometre drive from Rada Tilly.
You can easily get there by car if you're planning on renting one, or otherwise you can reach the point by taxi. Here's a map of how to get there.
This natural reserve is an opportunity for visitors to see the sea lions that live on the cliffs year-round, though you'll find the highest concentration of them from October to December.
Where to eat in Comodoro Rivadavia
Cayo Coco del Mar
Our favourite restaurant that we visited multiple times over the course of our trip was Cayo Coco del Mar.
This seaside restaurant is located on Playa Costanera and it looks out over the ocean. Of course, we had to try the seafood!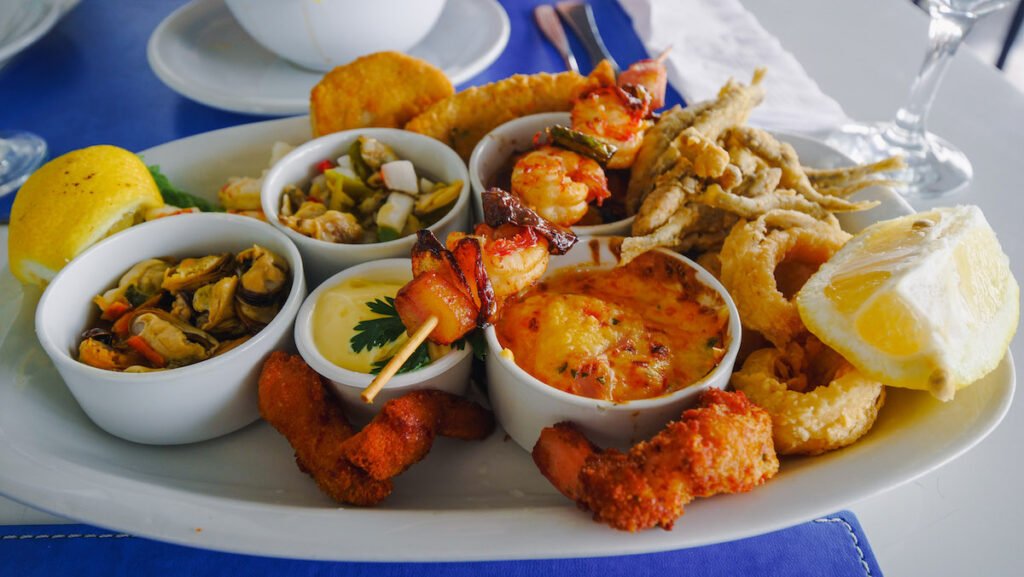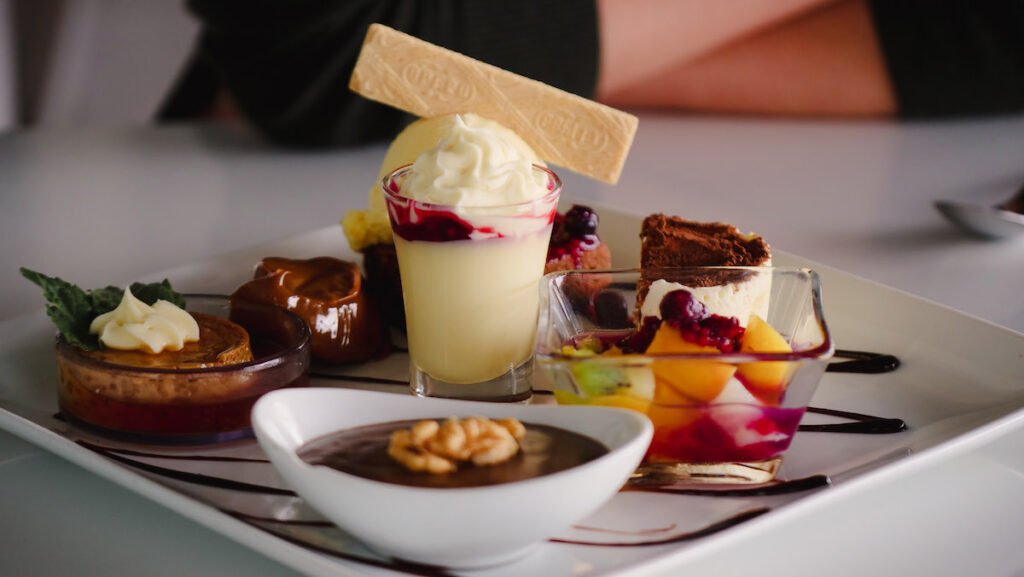 We really enjoyed their seafood platter featuring calamari, shrimp casserole, breaded fish, mussels and more. It was a mix of hot and cold dishes and a nice option if you want to try a bit of everything on the menu.
We then went back to try their paella and seafood stew, so we sampled a good part of their menu!
Puerto Mitre
This pizza restaurant came highly recommended and it did not disappoint.
They have an interesting list of Patagonian pizzas featuring regional ingredients. Especial del Mar has shrimp, Del Lago has smoked trout, Brama has smoked deer and so on.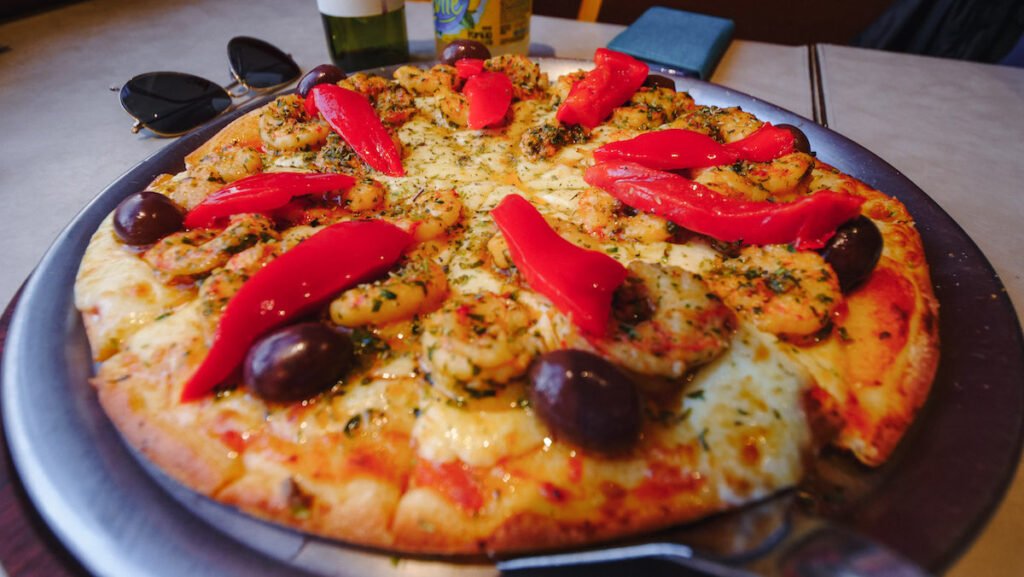 We opted for their shrimp pizza and let me tell you, these were plump shrimp!
We paired the meal with a bottle of wine and were very happy with our selection.
Cayo Coco
I can only imagine this restaurant must be affiliated to the seaside restaurant Cayo Coco del Mar?
While the former focused on seafood, this one was all about classic Argentine favourites. That means pizza, pasta and parrilla (BBQ)!
Because this place was so close to our hotel we ended up eating here a couple of times.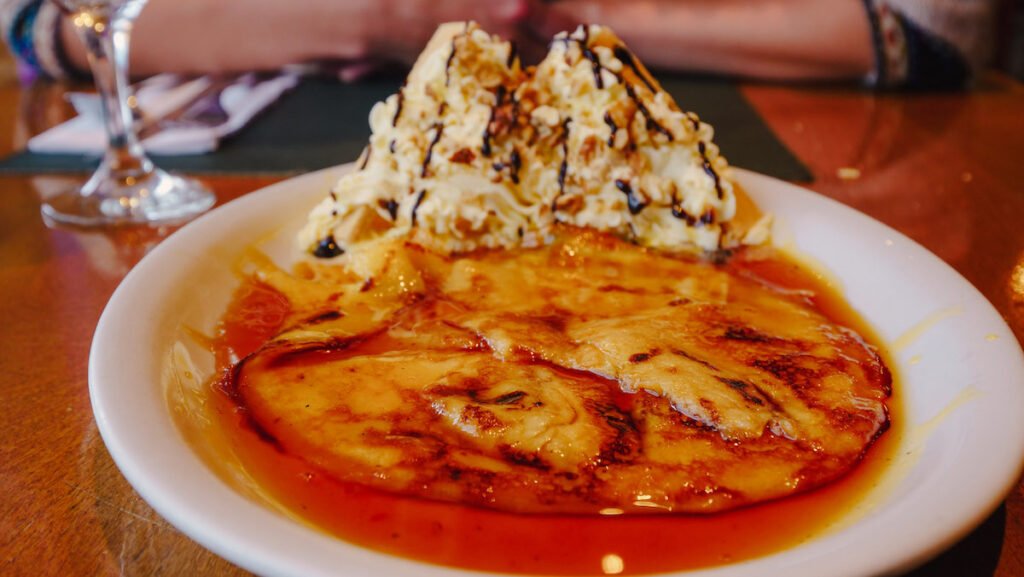 We opted for pizza (surprise, surprise!) and also tried their shrimp salad with avocado and palm hearts. And we were also very into the flambéed pancakes!
Chocolates
You might think this is a chocolate shop based on its name, but it's also an ice cream parlour and cafe serving up cakes and specialty coffees.
The place also has an arcade and a random carousel, so it's popular with families with young children.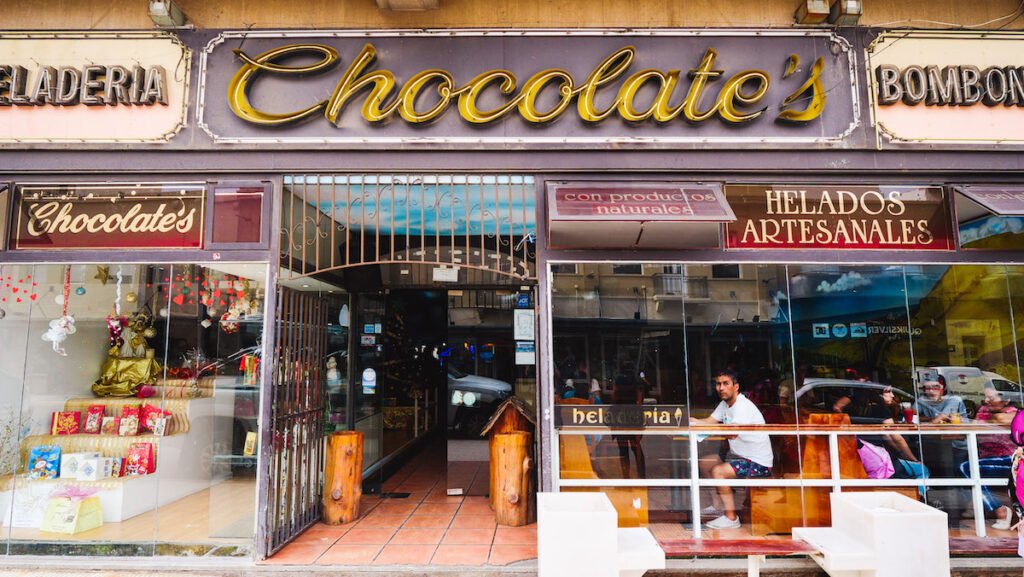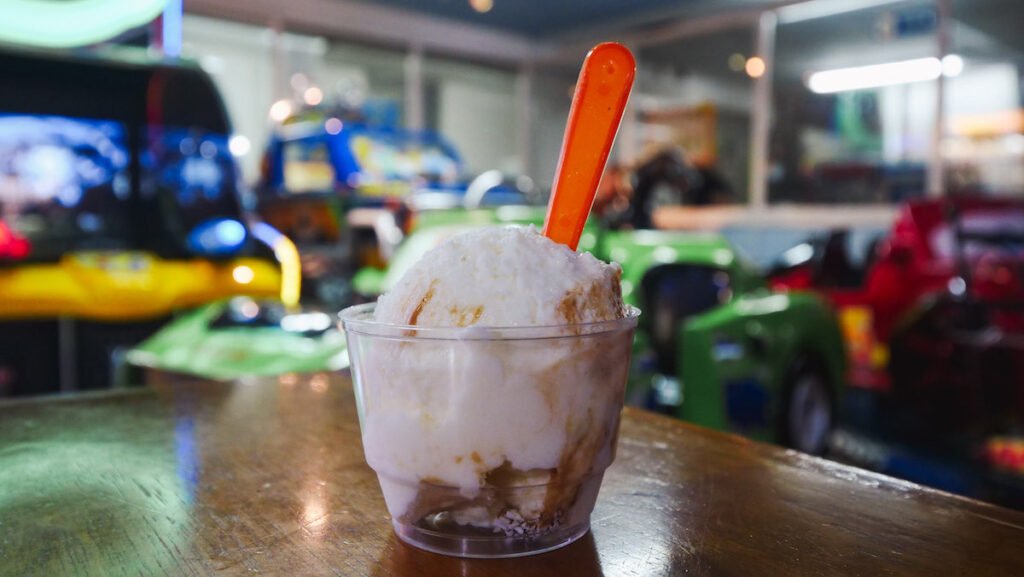 We opted for some artesanal ice cream and tried their coconut with dulce de leche, which was amazing!
When in Argentina you always order at least one scoop of dulce de leche – a creamy, caramel spread made by slowly heating sugar and milk over several hours.
Where to stay in Comodoro Rivadavia
Because this is an oil town that sees a lot of people travelling for business, Comodoro Rivadavia has a nice selection of business hotels with buffet breakfast and fast internet. Here are a few options to consider:
Comodoro Hotel – 3-star hotel, centrally located with lobby bar and buffet breakfast. This is where we stayed!
Lucania Palazzo Hotel – 4-star hotel featuring bright and spacious rooms, a piano bar, gym and sauna.
Austral Plaza Hotel – 4-star hotel with an in-house restaurant specializing in seafood dishes and regional cuisine.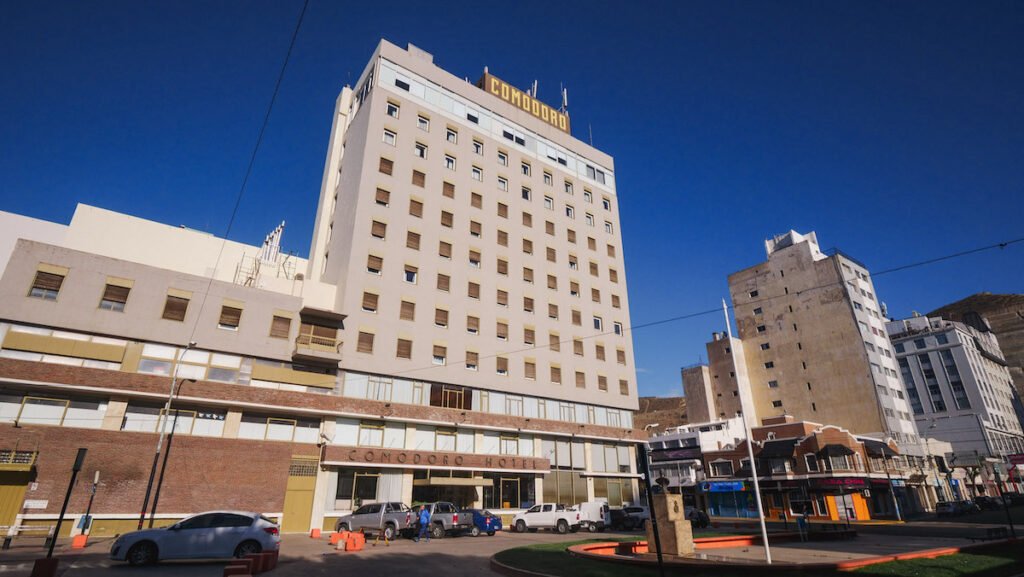 How to get to Comodoro Rivadavia
By air
The easiest way to reach Comodoro Rivadavia is by air. There are multiple direct flights from Buenos Aires every day, as well as select flights arriving from Ushuaia, Trelew, Neuquén and Córdoba.
From Buenos Aires, you're looking at a travel time of 2 hours and 25 minutes.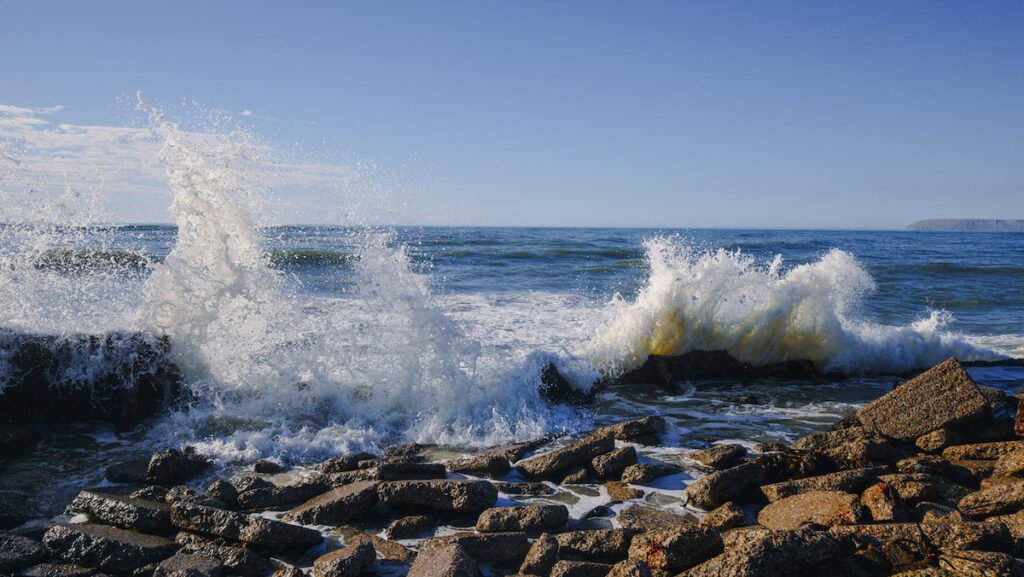 By bus
Comodoro Rivadavia is well connected by bus and the journeys aren't that long if you consider some of the epic overnight bus journeys to cross Patagonia.
If you're coming from Puerto Madryn in the north it's 5 hours and 30 minutes, from Esquel in the west it's 9 hours, and from Rio Gallegos in the south it's 10 hours and 20 minutes.
Maybe consider upgrading your bus seat so you can travel in comfort. You can choose from Semicama (half-bed), Cama-Ejecutivo (executive bed) and Cama Suite (bed suite).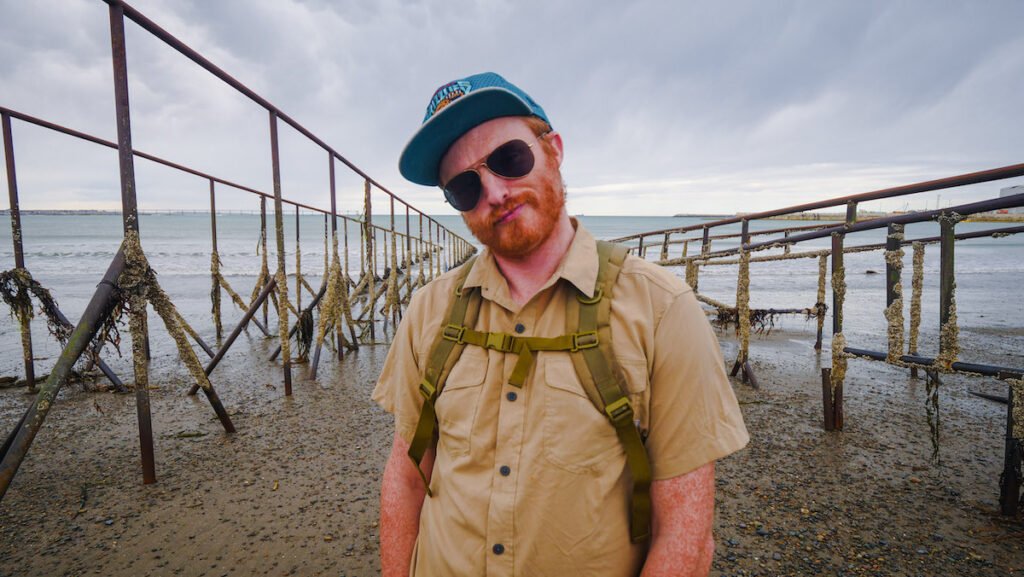 Final thoughts on Comodoro Rivadavia
That concludes our visit to Comodoro Rivadavia.
Are we glad we visited?
Yes!
Is it everyone's cup of tea?
No.
Like with many frontier cities, Comodoro Rivadavia can have a bit of a rough feel, but the people were warm, the attractions were interesting, and the seafood was amazing! So we had a good time.
As I've mentioned before, we enjoy travelling to off the beaten path destinations and visiting places that aren't necessarily on everyone's travel radar, so if that matches your travel style, then consider visiting Comodoro Rivadavia.
If you're doing an epic overland journey across the length of Patagonia, this destination is also a nice way to break up the trip.