Today we're sharing some things to do in Tolhuin, a sleepy lakeside town on the Andes Mountain range at the ends of the Earth in the province of Tierra del Fuego.
This is one of the most popular Ushuaia trips visitors can take from the southernmost city on Earth.
Some people choose to visit Tolhuin for a half day, others for a full day, but if you really want to experience the magic of this tranquil lakeside town, you should give yourself at least 2-3 days.
Maybe you've had a few busy days sightseeing around Ushuaia, maybe you're fresh off an Antarctica cruise, or maybe you're just looking for a quiet destination to end your Patagonia trip.
Whatever is that brings you here, we have some ideas of things to do in Tolhuin, as well as recommendations for where to stay and where to eat.
The following is our travel guide to Tolhuin, Argentina.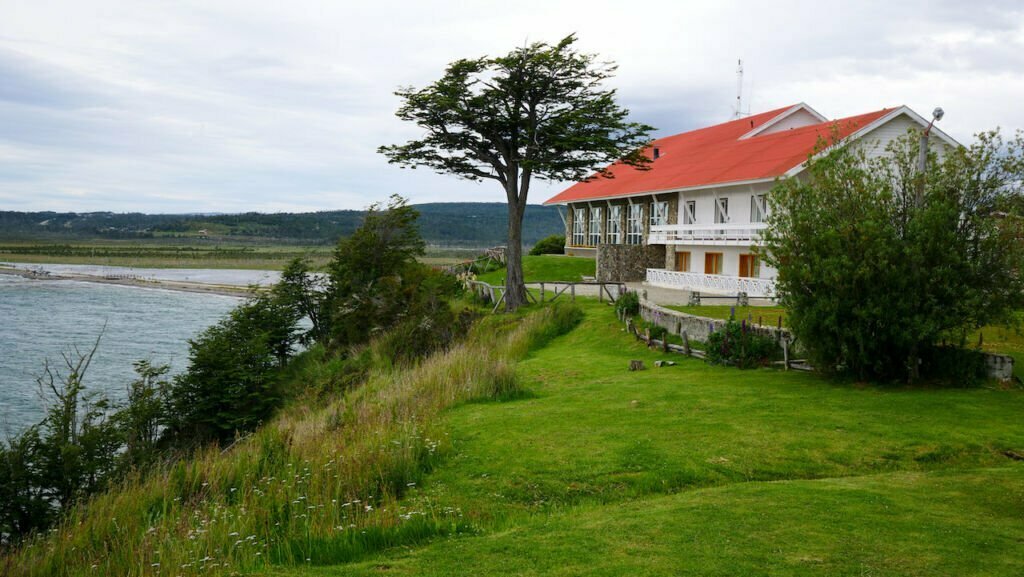 How to get to Tolhuin
The distance between Ushuaia and Tolhuin is 103 kilometres or 1 hour and 20 minutes.
The easiest way to get to Tolhuin is by taking a bus or a combi from Ushuaia.
Alternatively, if you feel comfortable renting a car in Argentina, you can do so.
Just keep in mind that most cars are manual and this is a windy road that involves crossing the Andes Mountain range at the bottom of the world.
However, if you're only interested in visiting Tolhuin for the day, I would recommend booking a tour that takes care of transportation and sightseeing.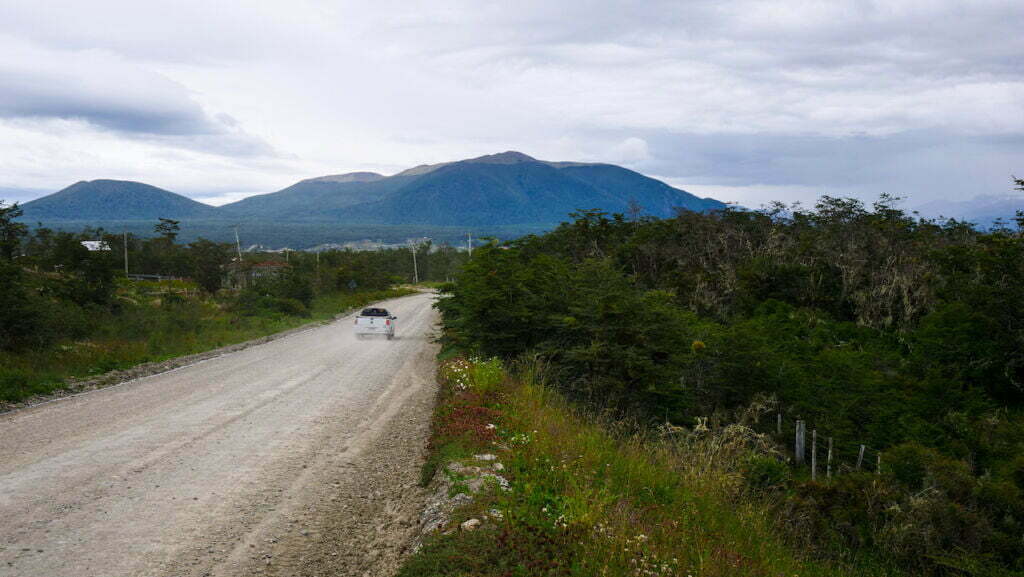 Tolhuin Day trip from Ushuaia
If you do decide to visit Tolhuin on a day trip, this full day 4×4 tour with an Argentine BBQ is the most popular option. 
This tour departs from Ushuaia, takes you to the Garibaldi Pass, which is the only paved route across the Fuegian Andes and also the highest point on Argentina's Ruta Nacional 3.
From the Garibaldi Pass you get to see Lago Escondido which means 'hidden lake', and you then begin an off-roading adventure along the lake's edge and through the forest before reaching Lago Fagnano.
This tour ends with a traditional Argentine asado featuring choripán (chorizo on a bread bun), bife de chorizo (striploin steak), salad, Malbec wine and cheese.
You won't get to visit the actual town of Tolhuin, but you'll get to see some of the main attractions in the area as well as enjoy some Argentine hospitality with a delicious meal.
Where to stay in Tolhuin
If you would like to spend a few days in Tolhuin, I would recommend Hostería Kaiken, which is where we stayed.
This is a beautiful guesthouse set atop a cliff overlooking Lago Fagnano, and it offers hotel rooms in the main building as well as cottages up on the hill.
If you're looking for a quiet place to relax and unwind in nature, this place fits the bill. It's one of the most underrated places to visit in Patagonia.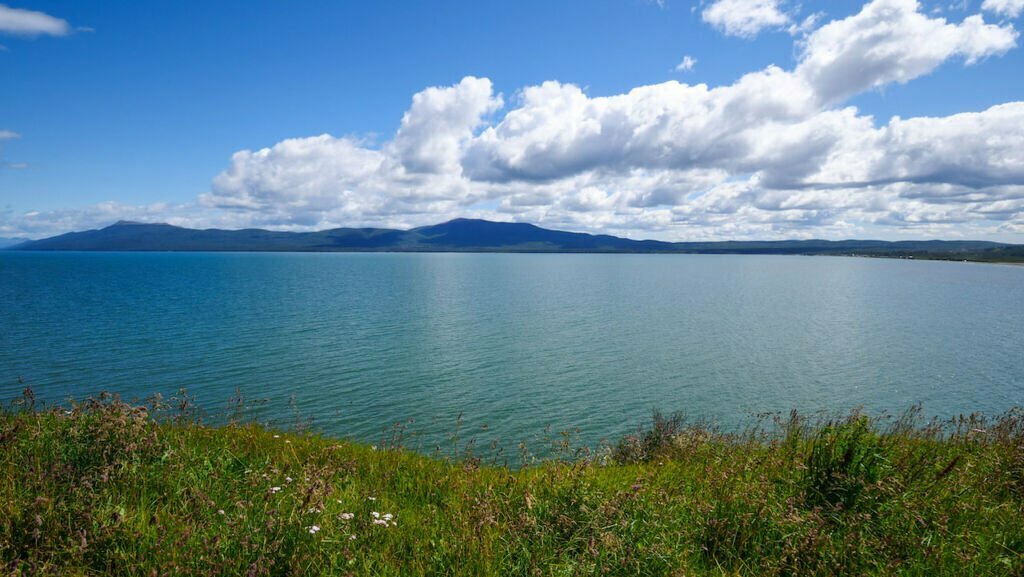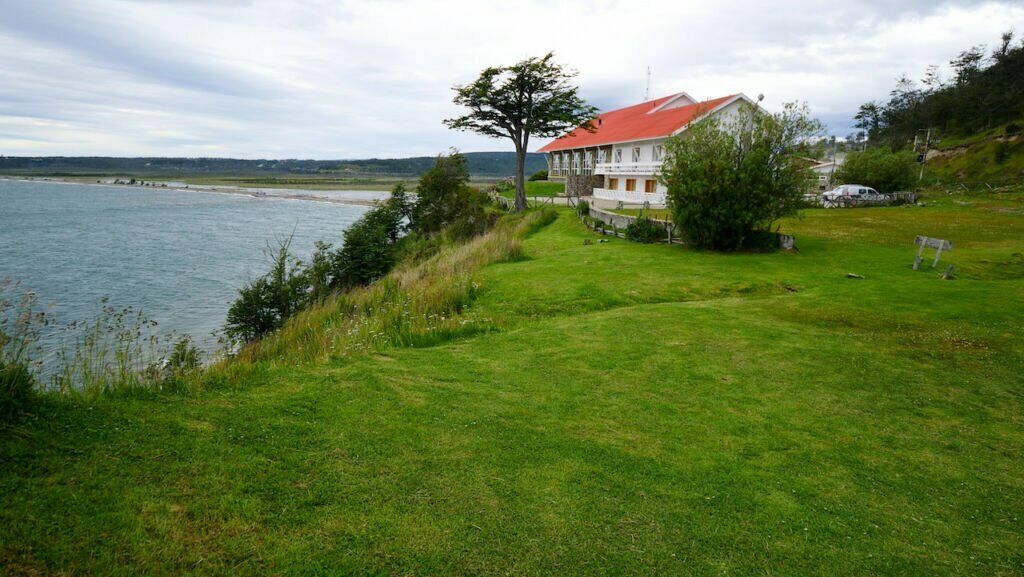 They also have an excellent restaurant on site called Restaurant Shelk'nam where you can enjoy all sorts of traditional Patagonian dishes.
The only downside is that it's a long walk to town, but the hotel was always happy to call us a taxi.
Tolhuin is quite small and there are limited accommodations, so if you're planning to visit during the summer season, it's a good idea to book in advance.
Things to do in Tolhuin
Lago Fagnano
One of the big draws to Tolhuin is Lago Fagnano, a lake shared by both Argentina and Chile. It is known as Lago Cami on the Chilean side; the word Khami means 'large waters' to the Selk'nam people.
The lake is of glacial origins and it runs east to west stretching 98 kilometres, 72.5 km of which sit on the Argentine side of the border.
With Lago Fagnano, you never know what you're going to get! One day it could be calm as a mirror and another day the ferocious waves could make you think you're entering the Drake Passage!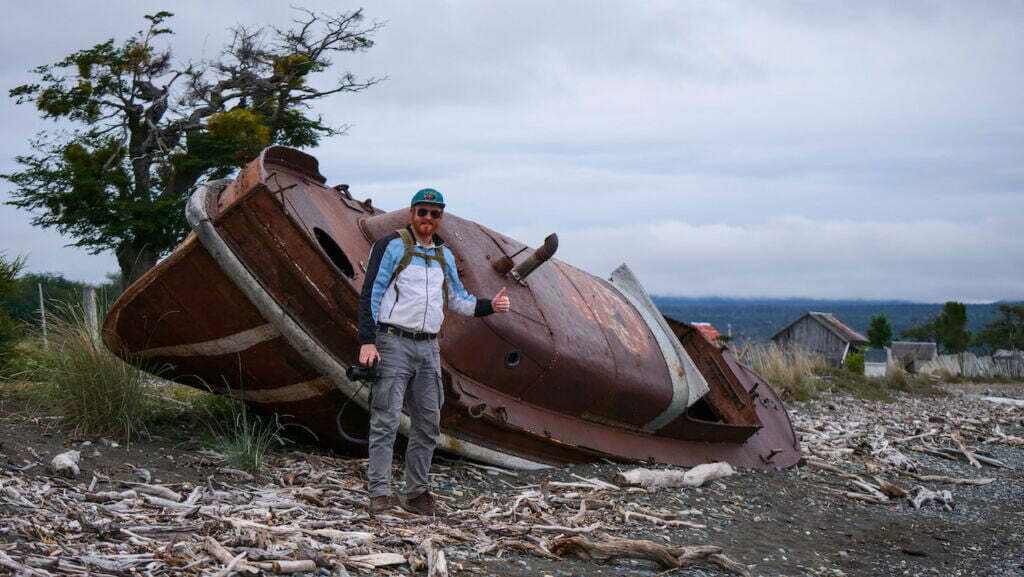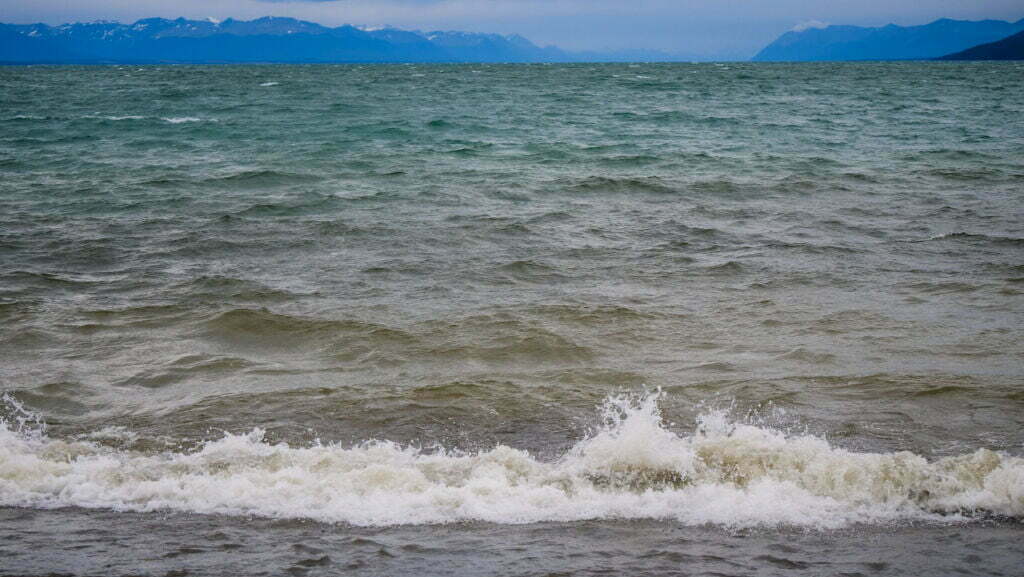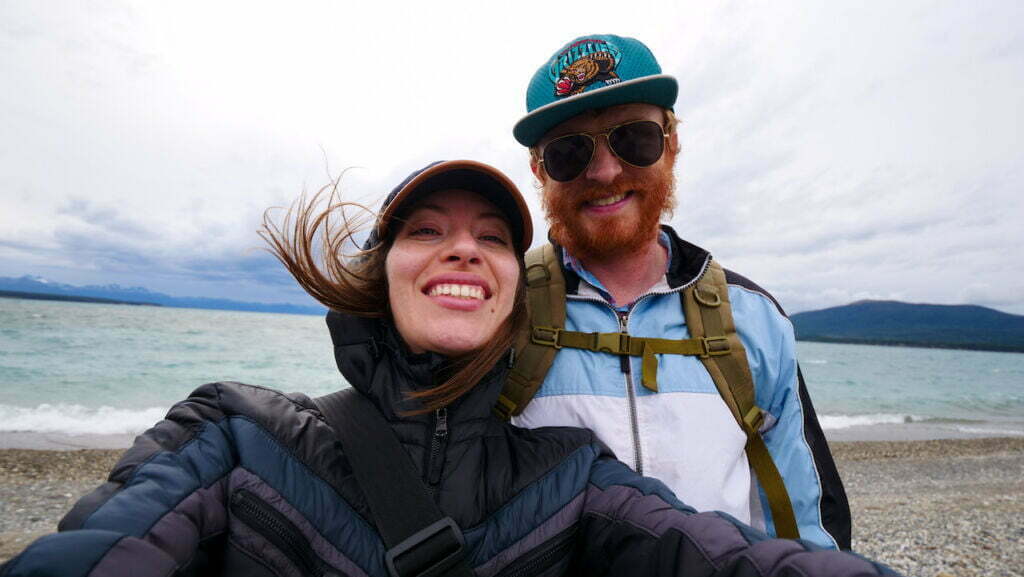 When the lake is calm, kayaking is the activity of choice. Puerto Khami Extremo and Aventura Tolhuin are two local operators that offer kayak and canoe rentals.
If you really want to go kayaking, it's a good idea to have some flexibility in your schedule and do this activity sooner rather than later. The weather is quite unpredictable around these parts, so make the most of those rare days with calm waters and clear skies.
Fishing is another popular activity, and if not, you can also enjoy a stroll along the pebbly shores.
Camping Hain
Perhaps one of the most unusual places you can visit in Tolhuin is Camping Hain.
Don't be fooled by the name, even if you're not planning to camp out by the lake, you'll want to see what they've built here.
This place is an art project meets recycling centre meets junk yard, where somebody's trash is someone else's treasure.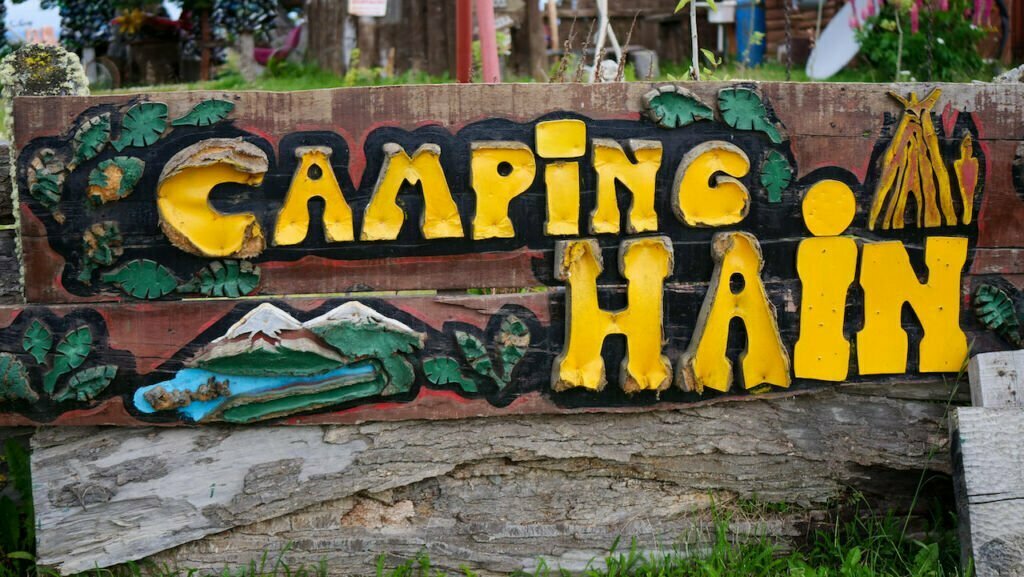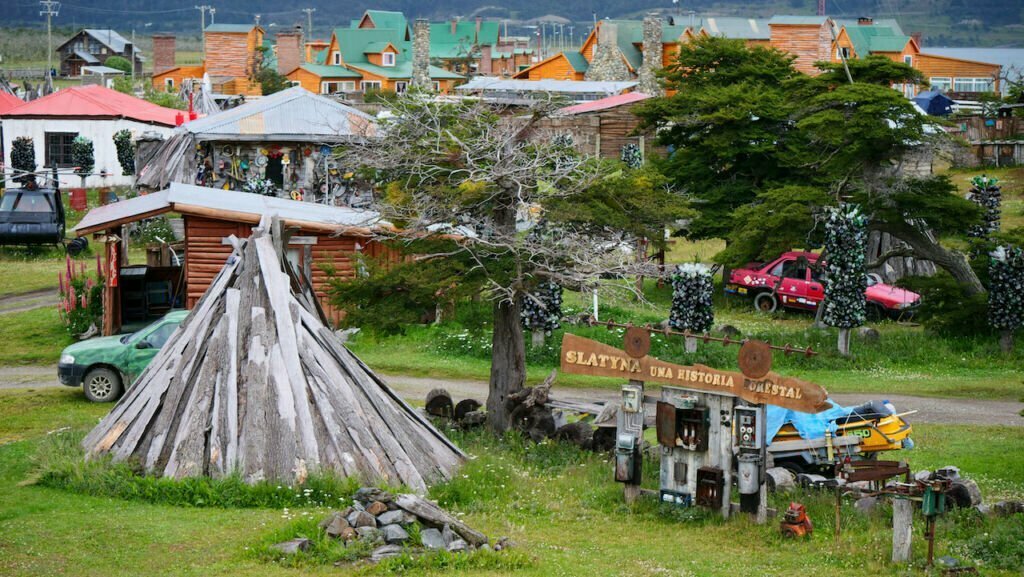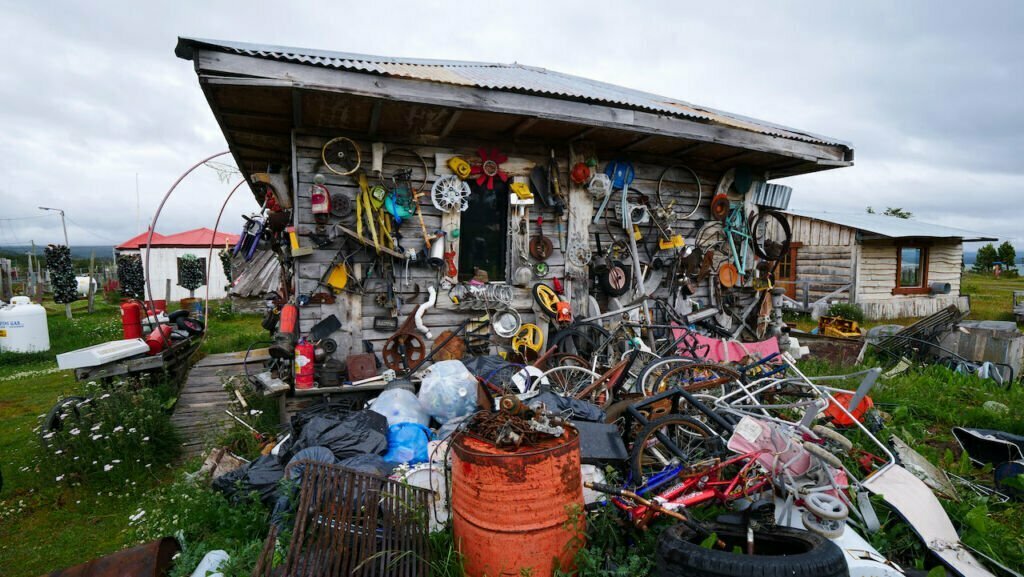 The family that runs this campsite has taken it upon themselves to reuse glass, plastic, wooden pallets and all sorts of random objects by repurposing them as art in this quirky outdoor gallery filled with the carcasses of old tractors, cars and planes.
It's hard to describe this place because it's not something you see every day, but for a small admission fee you can tour the grounds, chat with the mastermind behind the place, and take some one of a kind photos.
Laguna Negra Provincial Reserve
Another activity to enjoy in Tolhuin is hiking in the Laguna Negra Provincial Reserve.
This nature reserve sits on the northeast end of Lago Fagnano, and it is accessed via a coastal trail that begins at Camping Hain.
The hiking trail starts at the pier and follows the lake's coastline going across southern Fuegian forest, through peat bogs, and continues past the 'black lagoon' where it ends shortly thereafter.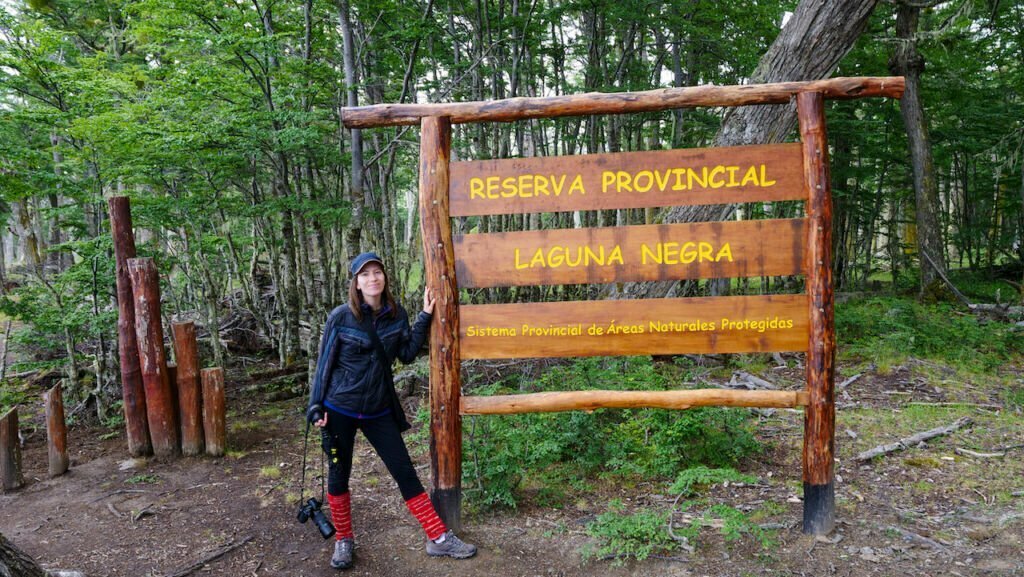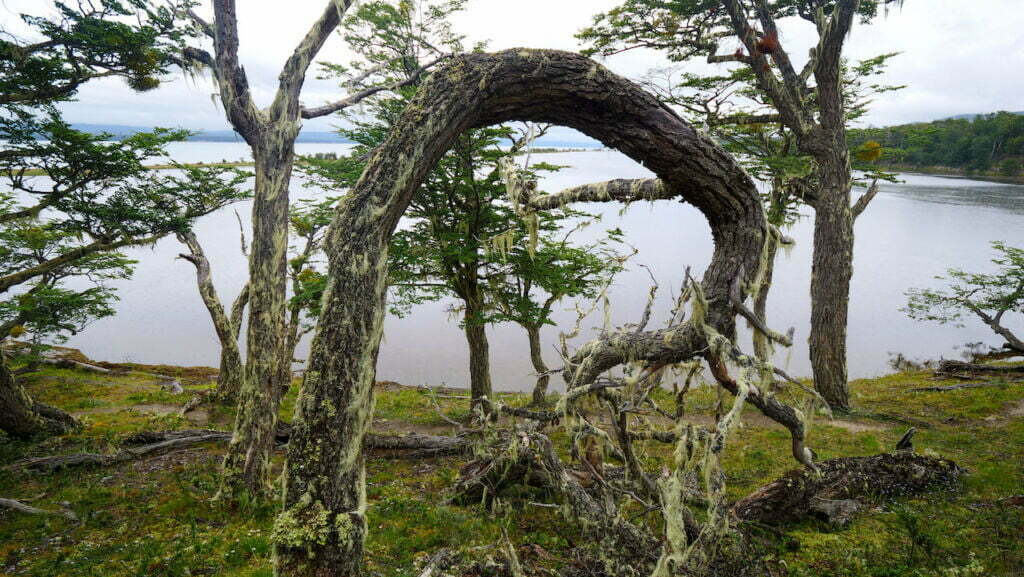 The trail is 3.9 kilometres in length, takes 2 hours to complete, and is considered low difficulty.
Another fun fact is that the Magallanes-Fagnano fault system runs through here, so you have the South America Tectonic Plate and the Scotia Tectonic Plate, which are slowly shifting a few centimetres each year. You'll notice a sign for it along your hike.
Where to eat in Tolhuin
La Posada de los Ramirez
If you happen to be in Tolhuin on a Sunday, La Posada de los Ramirez is the place to be!
This is asado or barbecue day at the restaurant and people come from as far as Ushuaia and Rio Gallegos to enjoy the meal which features Patagonian lamb, various cuts of meat, chorizo, morcilla and more. It's an event in and of itself.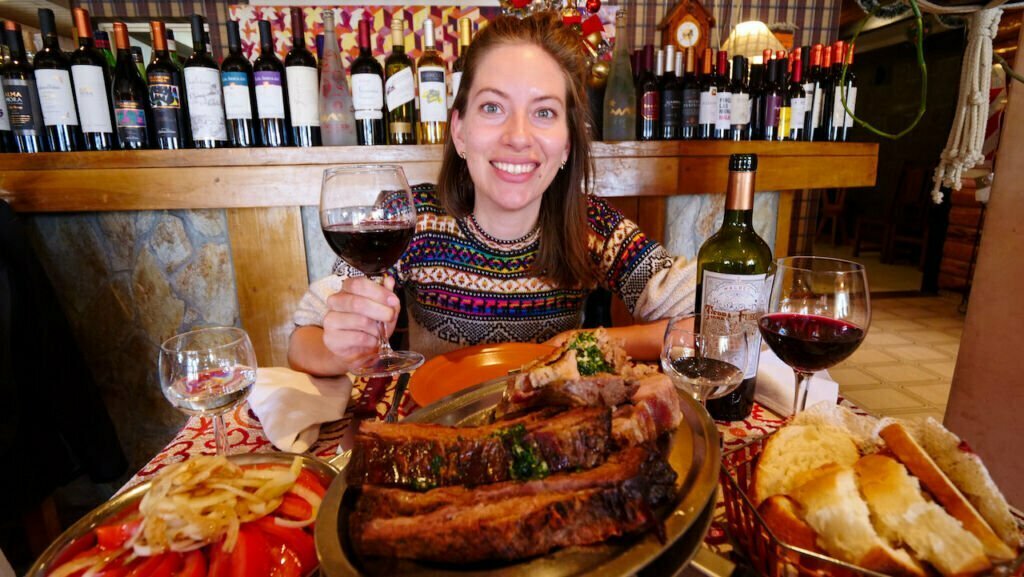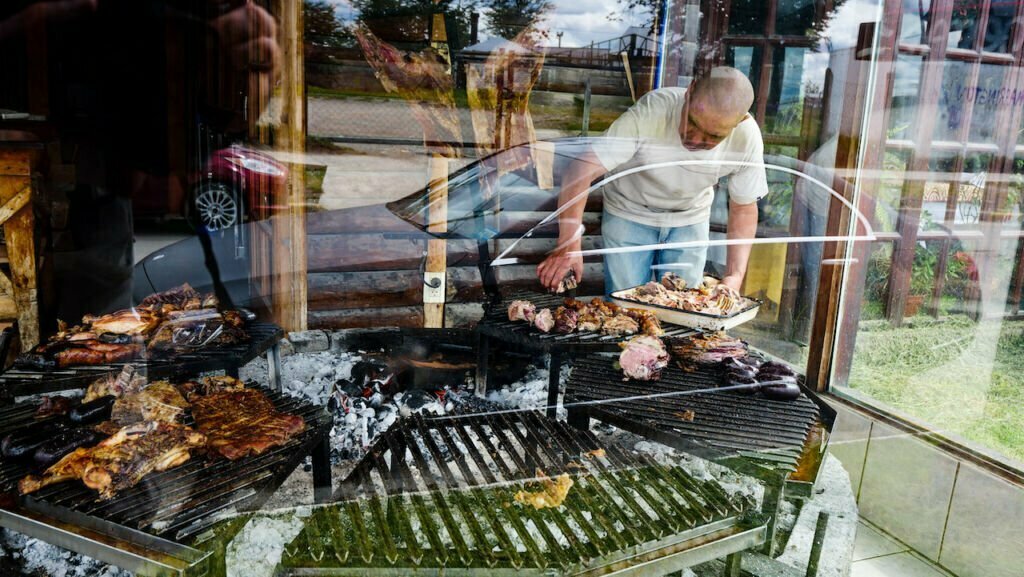 Fret not if you find yourself here midweek, while there may be no BBQ, you can still order steak, seafood, pastas and more, so you certainly won't go hungry.
Restaurant Shelk'nam
This restaurant is located in Hostería Kaiken and it's worth a visit even if you're not staying there!
Restaurant Shelk'nam specializes in Patagonian dishes and the food quality is excellent. We ate there numerous times during our stay and managed to sample large part of their menu!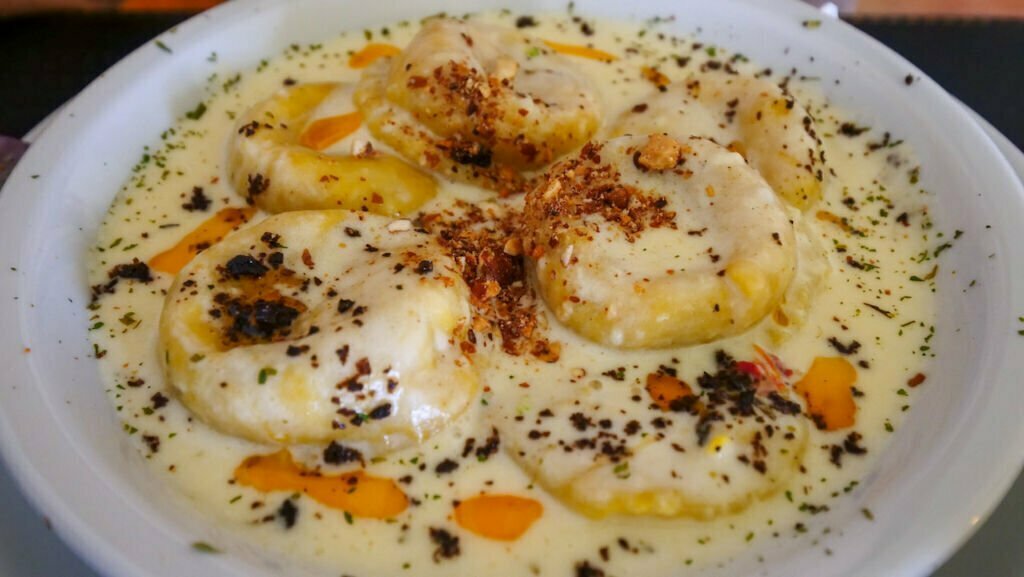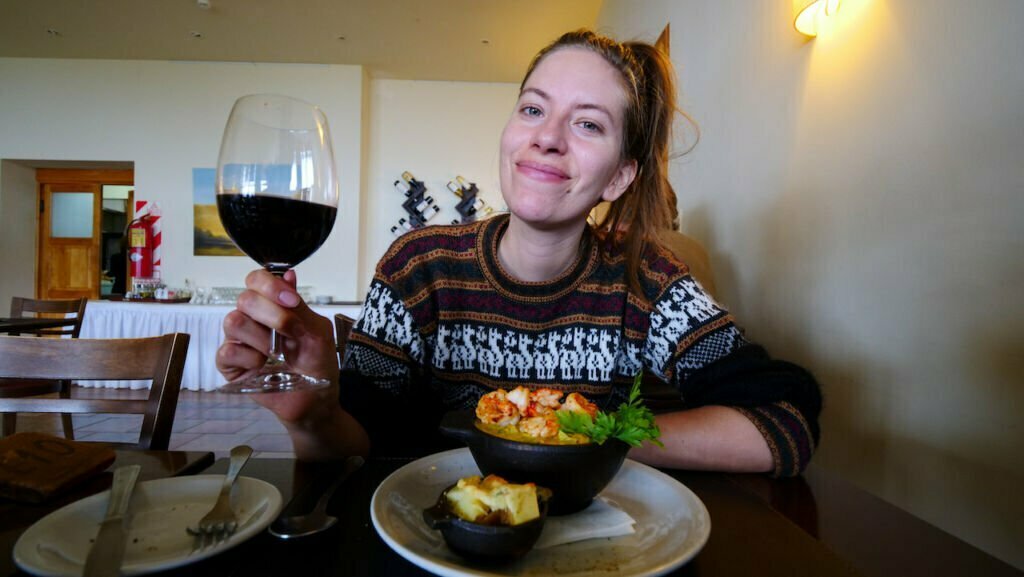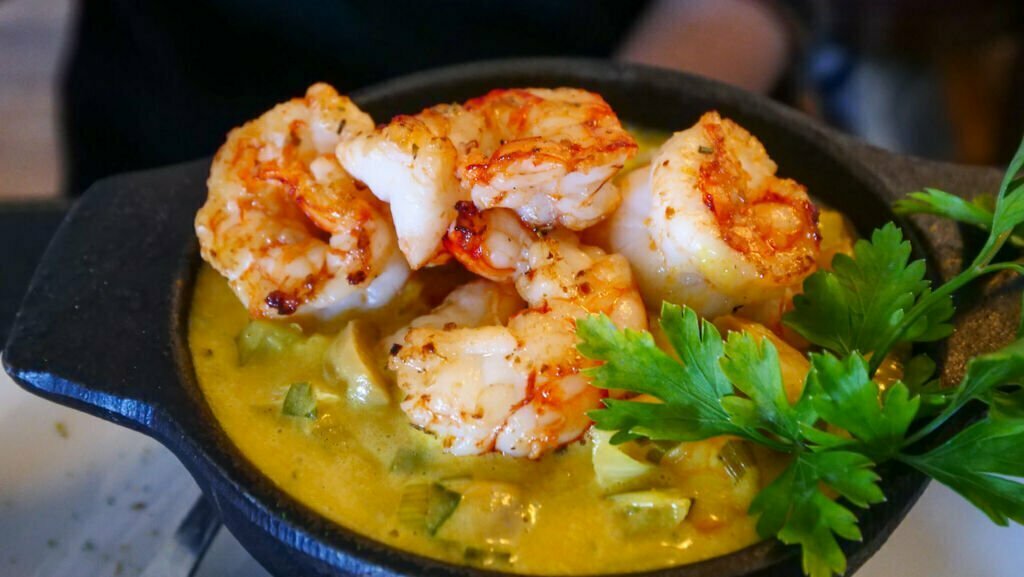 We tried the creamy shrimp chowder, the sorrentinos stuffed with mushrooms and walnuts, the cheesy veggie lasagna served with a tomato and cream sauce.
Not to mention their chocolate volcano brownies with ice cream and their apple crumble.
And then the wine – every meal was paired with an exquisite bottle of red wine!
Plus the views were stunning; the dining room is set in a salon with large windows overlooking the ever-changing Lago Fagnano.
Panadería La Union
Panadería La Union is a very famous bakery in Tolhuin and it's one of the main tourist attractions in town.
Buses completing the long journey from Rio Gallegos to Ushuaia tend to stop here for a break and to give people a chance to grab a bite.
Aside from being a tourist stop, the bakery is also well-frequented by locals who use it as a gathering place to meet up with friends, watch sports on television, and enjoy some delicious baked goods! Plus over the years it has welcomed all sorts of celebrities and even presidents.
The bakery experienced a horrific fire in January 2021 that destroyed the building, but the community rallied together (both locals and visitors alike) to raise funds, and it's now back bigger and better than ever.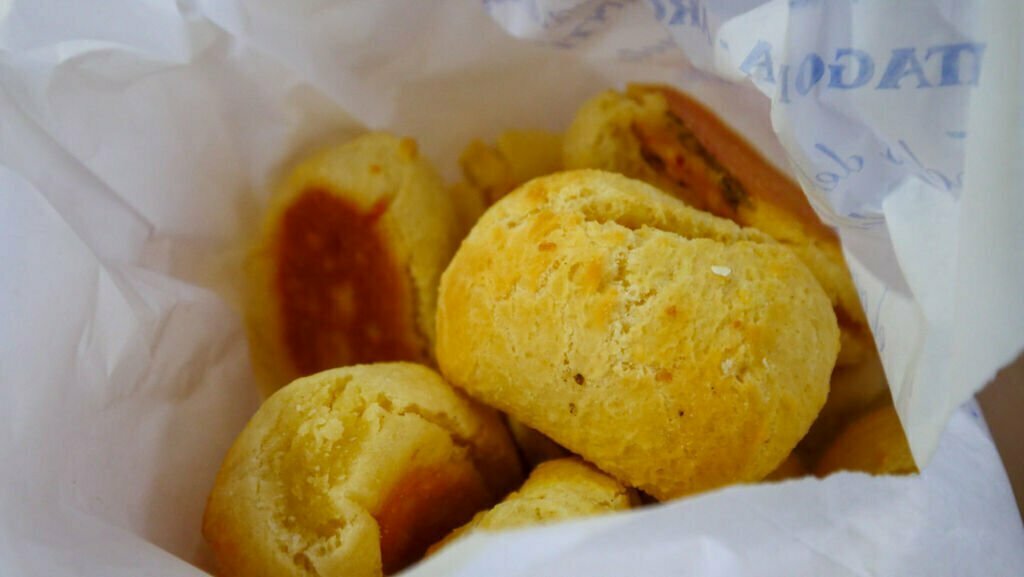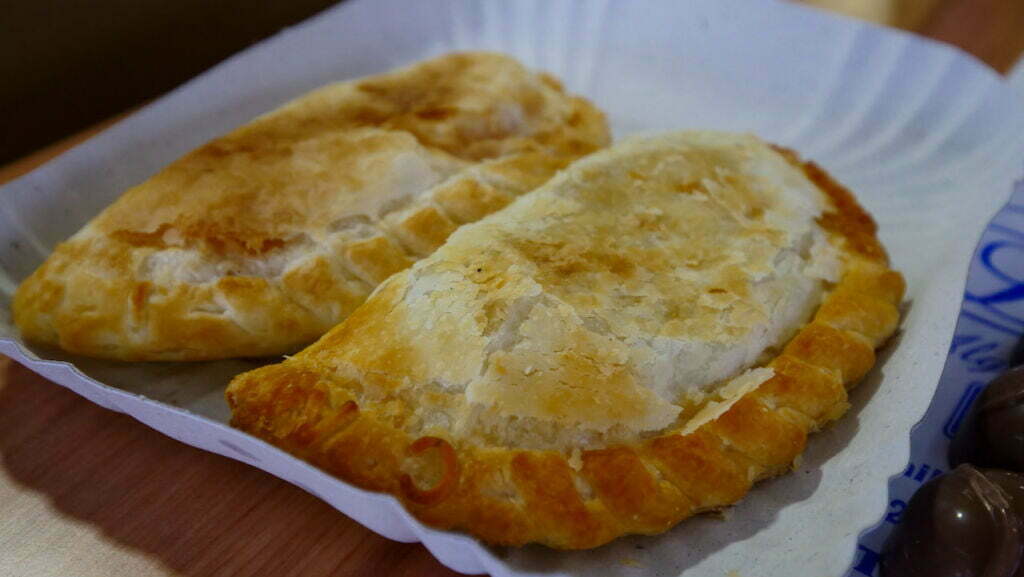 So what can you eat at Panadería La Union? They have empanadas (stuffed meat pastries), facturas (viennoiserie), chipá (cheese bread balls), artisanal chocolate and more!
There are also some really friendly dogs who like to hang around the entrance and greet visitors, so don't be shy and give them a pet!
So there you have it! If you're travelling in Ushuaia and you've already visited the post office at the end of the world, travelled aboard the train of prisoners, sailed the Beagle Channel, feasted on Fuegian cuisine, are in the mood to see a different side of Tierra del Fuego, visit Tolhuin!
This is a great place to enjoy a few days of leisure at the ends of the Earth.