So you're in the midst of planning your trip to Argentina and you're wondering where to stay in Cordoba. Well, you've come to the right place!
Argentina's second-largest city may still be relatively undiscovered by international tourists, but it's a destination with a lot to offer.
In Cordoba, you can explore the Jesuit Quarter which is sprinkled with cathedrals, churches, crypts and other historic buildings from the city's early days.
You can browse the artisanal fair at Paseo de las Artes or shop at the ornate mall known as Patio Olmos. Mornings can be spent wandering through museums and art galleries and afternoons strolling the gardens of Parque Sarmiento. The options really are endless!
But let's get back to where to stay in Cordoba because each neighbourhood has its own distinct flair. In this guide, we're going to highlight 3 different neighbourhoods in Cordoba that are ideal for travellers – that means walking distance to the main attractions and plenty of options for dining and shopping.
Plus, we'll also share some of our top picks for boutique hotels, mid-range hotels, and hostels in the city.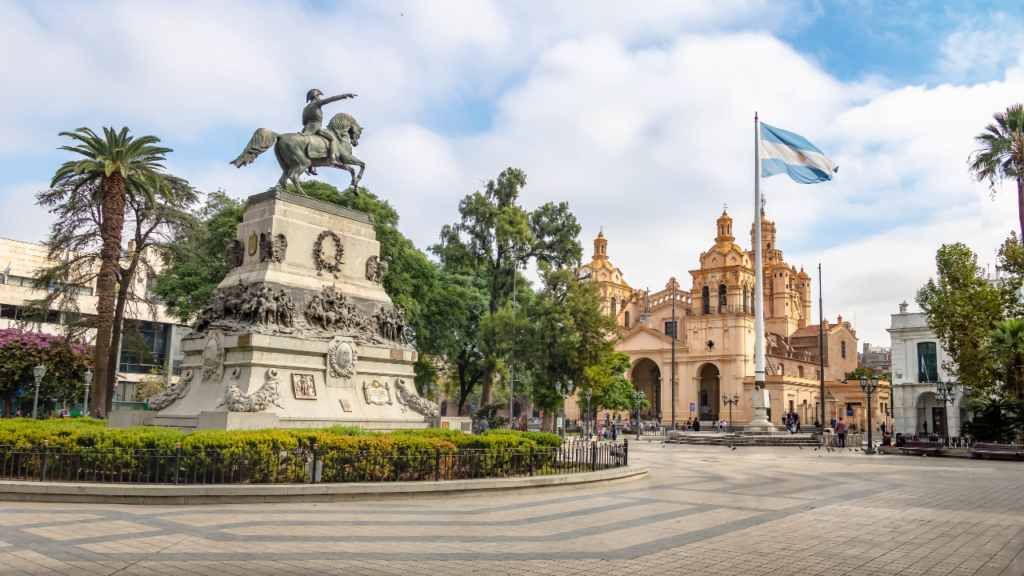 Where to Stay in Cordoba
Being centrally located and able to reach the city's main attractions on foot is an important thing to consider when booking your accommodations. If you only have a few days in the city, you don't want to be in a quiet residential area that doesn't have much to offer tourists or have to put up with a long commute into the city centre.
That's why we're going to highlight three neighbourhoods that are ideal for travellers, and each of these offers something a little different ranging from historic areas with colonial architecture, lively boroughs with plenty of nightlife, and neighbourhoods that offer art and culture but are also close to green spaces.
Centro
Best neighbourhood for history and culture
If you want to live and breathe Cordoba's colonial history, stay in Centro which is the Old Town. This part of the city is home to the Jesuit Quarter or Jesuit Block, which is a UNESCO World Heritage Site. This is where the city saw its early beginnings and walking through these streets will transport you back through time. In Centro, you'll find attractions like Cordoba Cathedral, the Jesuit Crypt, the Society of Jesus Church, and the National University of Cordoba (the oldest university in Argentina and the third oldest in the Americas).
Nueva Córdoba
Best neighbourhood for art, culture and greenery
Nueva Córdoba is considered a student neighbourhood so it has a very youthful atmosphere. It is home to a couple of universities and its numerous faculties. Here you'll find bars, cafés, and cultural venues. Some of the top attractions in Nueva Cordoba include Paseo del Buen Pastor, the Church of the Capuchins, the Fine Art Museum, the Latin American Craft Museum, and the Anthropology Museum. The neighbourhood is also right next to Parque Sarmiento offering a nearby green escape.
Güemes
Best neighbourhood for nightlife and dining
Güemes is another neighbourhood to consider if you prefer a lively atmosphere. This is Cordoba's trendiest neighbourhood known for its bohemian vibe, walls covered in street art, and pulsating nightlife. Here you'll find restaurants, bars and nightclubs that stay open late. There are plenty of boutique shops to browse during the daytime, plus you can walk along the tree-lined stream known as La Cañada and browse the handicrafts in Paseo de las Artes. Güemes is a nice place to explore, but if sleep is your priority, keep in mind that you may hear music and conversation until the early hours of the morning, especially if you end up in a street-facing hotel room.
Remember that Córdoba is a relatively compact city, so you can easily explore multiple neighbourhoods during your visit. Each neighbourhood has its own unique charm and attractions, so be sure to choose the one that aligns with your interests and preferences.
Boutique Hotels in Cordoba
View this post on Instagram
Azur Real is a family-run boutique hotel set in the heart of Cordoba's Centro neighbourhood. The building dates back to 1915 and is steeped in history; over the years it has been a leather workshop, a pharmacy, a school, a Chinese restaurant and a dance club, just to name a few of its roles.
By the time this building was acquired by its current owners, it sat in ruins and was painstakingly renovated over the course of four years. The result is a warm and homey atmosphere that showcases Cordoba's architectural history.
The hotel's key selling feature is its spa called Baños de Azur, where you can enjoy their Ancient Baths Circuit. This is a 2-hour tour by candlelight through 12 different areas where water in its different states and temperatures promotes a state of relaxation.
The rooms have a contemporary-meets-rustic feel and range from standard to more luxurious suites with a private patio, large dressing room and jacuzzi.
Azur Real Hotel Boutique has an onsite restaurant called Bruma, which uses fresh, organic and locally sourced ingredients. Itacú is their tea house featuring artisan teas, native mountain herbs and yerba mate.
Read reviews for Azur Real Hotel Boutique.
Address: San Jerónimo 257
View this post on Instagram
Hotel Virreinato is a boutique hotel set in a historic building that dates back to 1670 in the Jesuit Quarter. It stands in what used to be the courtyard of a tile-making workshop during the city's colonial days.
Today, the interior of this hotel is exquisitely decorated with antique wood furniture and lots of art, chandeliers, tapestries, figurines and treasures from the past few centuries. Walking through the halls is like wandering through a museum and the surrounding pieces really do take you back in time.
If you stay here, be sure to join their private guided tour of the property. During this tour you'll learn all about the building's Jesuit history, and the couple who made this place what it is today, filling it with an impressive art collection from across the globe.
Enjoying breakfast in the living room surrounded by pieces of history is one of the highlights of staying at Hotel Virreinato.
Read reviews for Hotel Virreinato.
Address: Avenida Duarte Quirós 167
View this post on Instagram
Sacha Mistol Art Hotel is Cordoba's first themed boutique hotel where art invades every corner of the old mansion which dates back to 1927.
The boutique hotel is situated in Centro in a house that belonged to Emilio F. Olmos who was Mayor of the City and Governor of the Province of Córdoba. The construction showcases the styles that were prevalent at the time of its construction. The result is a colonial horizontal house with a dash of Neoclassicism and a central inner patio as the protagonist.
Sacha Mistol Art Hotel has 9 unique rooms each featuring murals, installations, and works by different artists.
The hotel also offers a spa and wellness centre where guests can enjoy hot or cold stone massages and body scrubs.
Read reviews for Sacha Mistol Art Hotel.
Address: Rivera Indarte 237
Mid-range Hotels in Cordoba
View this post on Instagram
Yrigoyen 111 Hotel is located in Nueva Cordoba and offers bright, modern and spacious rooms.
This Cordoba hotel has 109 rooms spread out across 2 towers and 14 floors. Guests can choose between twin, double and triple rooms.
Some of the hotel's highlights include the spa, sauna and swimming pool which are located on the hotel's rooftop offering city views.
An American-style buffet breakfast is served daily and guests can also make use of the 1906 Lounge Bar.
Read reviews for Yrigoyen 111 Hotel.
Address: Avenida Hipólito Yrigoyen 111
View this post on Instagram
NH Córdoba Urbano is located in Centro overlooking La Cañada and is just a couple of blocks away from the Jesuit Quarter. Its central location makes it a great base for exploring Cordoba on foot.
The hotel has 72 guestrooms ranging from standard to suites decorated in a classic-meets-contemporary style. Suites on the 14th and 15th floors have their own private balcony with city views.
One of NH Córdoba Urbano's key selling features is its rooftop swimming pool with a wooden sun deck and lounge chairs – the perfect way to cool off in the city on a summer's day.
Read reviews for NH Córdoba Urbano.
Address: Avenida Marcelo T. de Alvear 363
View this post on Instagram
Vilaut Smartflat is the first coliving space in Cordoba and it is situated in Centro. This former hotel was completely renovated and transformed into a new type of accommodation geared at students, digital nomads, and visitors balancing work and travel.
Vilaut Smartflat has shared coworking spaces, a gym, a rooftop swimming pool and 24-hour security.
Guests can choose between studios and apartments, making it an ideal option for anyone planning a longer stay in Cordoba.
Read reviews for Vilaut Smartflat.
Address: Corrientes 207
Hostels in Cordoba
View this post on Instagram
Selina is a new hostel chain with numerous locations across the globe, and they've most recently added a new hostel in Nueva Cordoba.
Selina Nueva Cordoba offers private rooms (suite, standard or micro) as well as 8-person dorms. Some rooms have a private bathroom while others have shared bathrooms, depending on your selection.
Some of the hostel's highlights include an outdoor pool (much needed during Cordoba's summer months!), yoga classes, a cafe and a bookstore. In the evenings they have a bar that serves up cocktails, live music and an outdoor cinema using a projector.
This hostel caters to travellers as well as digital nomads working abroad for extended periods of time.
Read reviews of Selina Nueva Cordoba.
Address: San Lorenzo 163
View this post on Instagram
Hostel Alvear is located in Centro in a large historic home that's just two blocks away from Plaza San Martin and Cordoba Cathedral.
The hostel has lots of large communal spaces including a rooftop terrace, a billiards room, table tennis, a games room and BBQ facilities – all great opportunities to connect with fellow adventurers!
Rooms at Hostel Alvear are simply furnished yet comfortable. They offer 4-bed and 6-bed dorms with private bathrooms or shared bathrooms.
Read reviews for Hostel Alvear here.
Address: Gral. Alvear 158
View this post on Instagram
Aldea Hostel is located in Centro just one block from La Cañada and within walking distance to a lot of the city's main attractions.
The hostel's name 'Aldea' means 'village' and they've leaned into that creating cool rooftop space for guests to meet and socialize.
They offer a variety of private rooms (single, double, triple and quadruple) with private or shared baths, as well as dorm rooms for those looking for a more budget-friendly option.
Read reviews for Aldea Hostel here.
Address: Santa Rosa 447